With the imminent recent release of our immense Circuit de Spa-Francorchamps, Studio 397 are delighted to announce a special 3-hour invitational race on the tortuous 7.004 km Belgian Grand Prix circuit.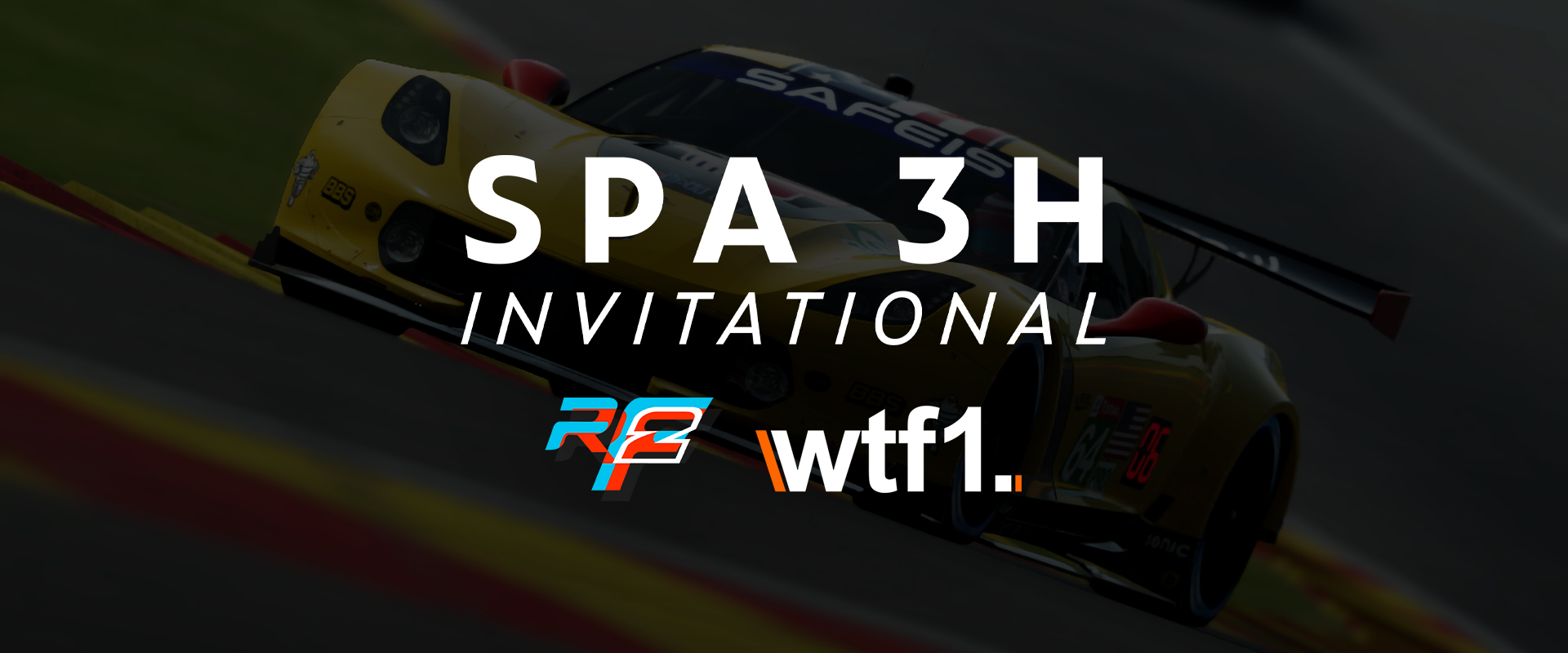 Comprising entrants in the LMP2 and GTE category, our Spa 3-Hour Invitational brings together some of the best esport drivers, community racers and rFactor 2 experts for a challenging encounter on our new laser scanned Circuit de Spa-Francorchamps track. Multi-class racing at the king of European endurance venues – in rFactor 2 – just doesn't get better than this.
Support for the main Invitational will be in the form of the nimble Tatuus F.3 T318 and fearsome Porsche 911 GT3 Cup cars, set to take place before the main event in two 25 minute sprints to the flag. No pit stops, no time to rest, just pure and unadulterated racing from green to chequer.
With all the action set to unfold on the evening of December 4th, you have plenty of ways to get involved, from joining us out on the circuit to watching the live broadcast from the comfort of your own home – here's how to get in on the action:
Event Format and How to Take Part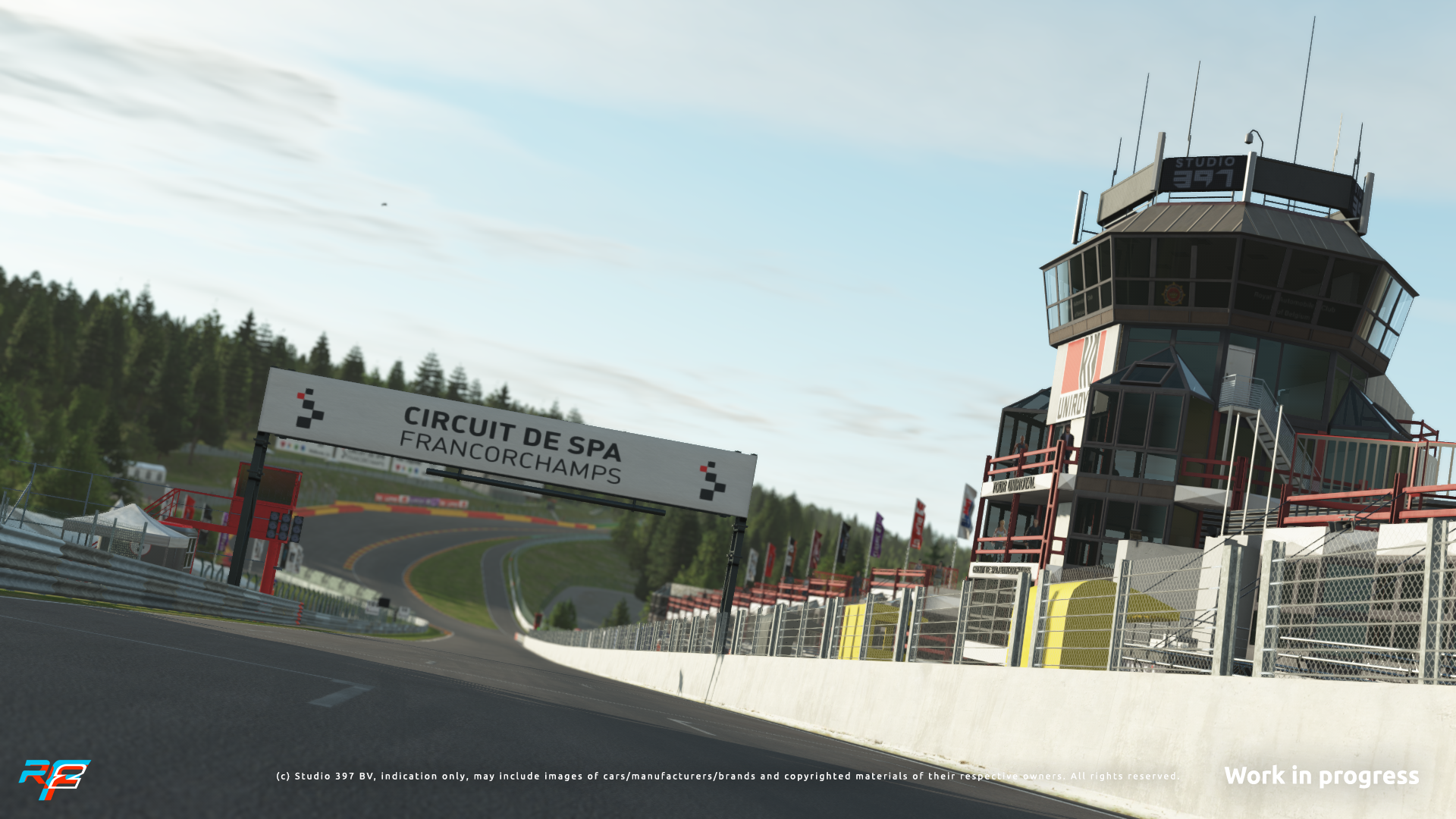 Sprint Races
As well as running our main 3-hour 'Invitational' endurance event, we've also lined up an action packed support race package for drivers and fans to enjoy. Comprising two short and sharp 25-minute sprints in the Porsche Cup and Tatuus F3, we expect the action to be fast and frantic throughout – with plenty of overtaking and drama sure to unfold.
These sprint races will proceed the main endurance centrepiece, and are open to invited drivers and community racers who qualify via our event hot lap competition, setting a lap within the top 20 times. To register for the hot lap competition, be sure to click THIS LINK. The hot lap competition will begin on Friday 20th November, with the final deadline for completing your lap time of 23:59 CET on Friday 27th November.
If you aren't one of the lucky ones who manages to compete for a place in these races, you can still catch all the track action on the rFactor 2 Twitch Channel (19:00 – 20:30 CET) and WTF1 YouTube channel (20:30 – 00:00 CET) on Friday 4th December.
Endurance Race
The showpiece Spa 3-Hour Invitational event is without doubt our premium track activity during this festival of racing. Bringing together the beautiful LMP2 and GTE cars of rFactor 2 for a semi-endurance race at Spa Francorchamps is something we have been looking forward to putting together for a very long time. Featuring invited teams and drivers from the world of motorsport and esport alongside community entrants, we fully expect this will be a race of high drama and excitement, a perfect way to welcome this much sought after and iconic track into the rFactor 2 family.
rFactor 2 | Endurance Bundle Steam Store: Click Here.
Representing the world of real life motorsport, the Spa 3hr Invitational will feature entrants from the likes of Porsche and BMW taking to the stage alongside big name esport stars. Merging the world of real and virtual motorsport is an important aspect of what we do here at Studio 397, and we think it will be fascinating to see how the esport and community talents fair against their real world racing counterparts.
To join this exciting race, CLICK HERE to complete the registration process and be in with an opportunity of taking on some of the best virtual racing drivers on the latest new circuit to arrive in rFactor 2. Sign up procedure for this event will close at 23:59 CET on Tuesday 24th November.
Live broadcast
You can catch all the racing action from 19:00 CET on Friday 4th December. Live coverage of the support races will take place between 19:00 – 20:30 CET on the rFactor 2 Twitch channel, with the 3-Hour Invitational from 20:30 CET on WTF1 YouTube channel. 
Event Schedule (all times CET)
19:00 – 19:30 | F3 Qualifying (25 mins)
19:30 – 20:00 | F3 Race (25 mins)
19:30 – 20:00 | Porsche Cup Qualifying (25 mins)
20:00 – 20:30 | Porsche Cup Race (25 mins)
20:30 – 21:00 | Spa Invitational Qualifying (25 mins)
21:00 – 00:00 | Spa Invitational Race (180 mins)
For competing teams, please note the invitees and qualifiers will be invited to the events through email, and livery designs will have to be submitted no later than Tuesday 1st December. The mod for these races will be during the week prior to race start.
Support race broadcast will be live from 19:00 CET on the rFactor 2 Twitch channel, with the 3-Hour Invitational broadcast taking place on the WTF1 YouTube channel from 20:30 CET. Be sure to tune in and say hello in the comments section – this is going to be an exceptional sim racing event, on a fantastic new track in rFactor 2.