The brand-new INDYCAR Holiday Hot-Lap Challenge is coming to rFactor 2 this November 28th.
A new hot-lap competition within rFactor 2 is here, as we team up with the INDYCAR organisation to put on a series of three weekly events in the rFactor 2 Competition System, with the aim to find out which of our community is the quickest behind the wheel of the beautiful Dallara IR-18 INDYCAR within rFactor 2.
Developed as a competitive way to see you through the festive season, with slots suitable for any driver regardless of time zone, the INDYCAR Holiday Hot-Lap Challenge is set to be short, sharp, fun and highly competitive indeed!
Buckle up, get into that virtual cockpit of the rFactor 2 Dallara IR-18 and show us what you are capable of out on the track…
The Series
As the name suggests, the INDYCAR Holiday Hot-Lap Challenge is a test of raw outright pace. Using the current generation INDYCAR IR-18 within rFactor 2, across three very different circuits, drivers can put their ultimate pace to the test – with the fastest drivers from each event in line to win some awesome prizes, and the title of kudos of being the known as the quickest INDYCAR driver in rFactor 2.
Not the fastest of drivers in rFactor 2? Worry not, even if you aren't going to be setting the timings screens alight during these events, we have you covered with a range of awesome prizes set to be given out at random to select drivers who set a time – so if you want some fun in a great car, and a chance to win something cool, this is the competition for you!
How to Enter

Participation in the INDYCAR Holiday Hot-lap Challenge is simple – all you need is the rFactor 2 simulation and content, access to the internet and the desire to push yourself to the limits.
Held within the rFactor 2 Competition System, prospective drivers will need to sign up for the INDYCAR Holiday Hot-Lap Challenge event and register for the respective qualification sessions, as detailed in the calendar graphic below. Entry to the INDYCAR Holiday Hot-Lap Challenge is free, providing you own the content for the series.
INDYCAR Holiday Hot-Lap Challenge | Forum: COMING SOON
Calendar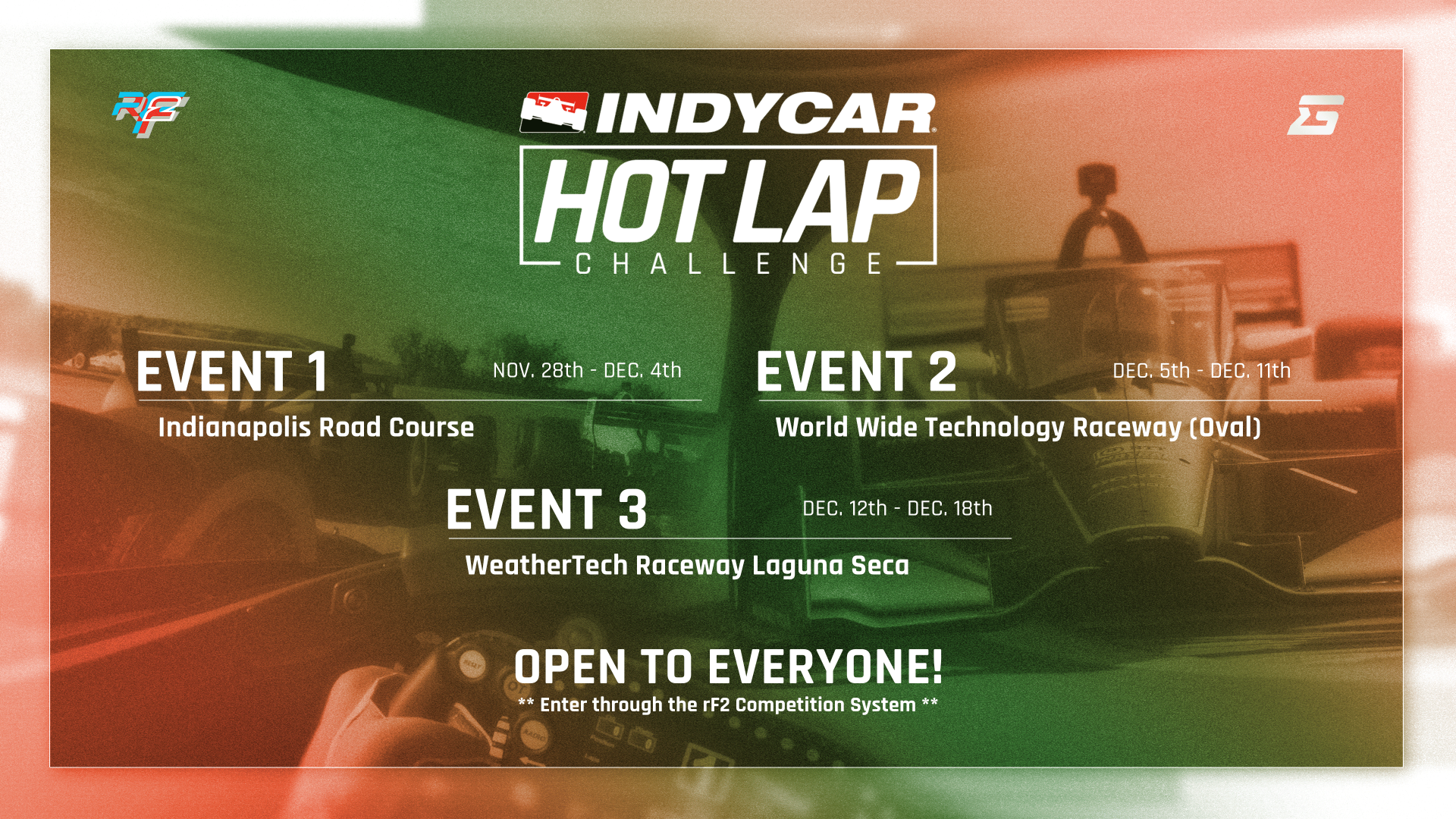 Rules and Regulations
A full list of the rules and regulations relating to the IndyCar Holiday Hot-Lap Challenge can be found HERE.
The official INDYCAR Holiday Hot-Lap Challenge is a new, quick fire and super intense esport competition for those with a taste for going quickly! Supported by INDYCAR and set to feature some great prizes, make sure you get signed up, and lay down those fast laps to beat the competition!