Hello Sim Racers!
We have been chomping at the bit in excitement and anticipation, ready to bring you our Q2 2023 Early Release Update and DLC drop. You may notice that this Q2 drop has slightly less content when compared to previous quarterly drops, but we believe the updates we are bringing are vital to the longevity and continued improvement of the rFactor 2 platform. We have moved this Q2 drop to an earlier date than was once planned to match with fundamental development across many different areas of the platform, such as electric motor systems and the multiplayer experience.
The jewel in the crown of our Q2 release is certainly the Gen3 ABB FIA Formula E car. Our development team has sunk many hours into perfecting every aspect of the car to give the most realistic electric formula racing simulation experience money can buy. Alongside this new addition to the wide library of cars available on rFactor 2, we have also made key upgrades to many areas of the platform which we will go into further detail on later in this blog post.
We hope you enjoy this new update, and love driving the Gen3 Formula E car – which you can purchase for €4.99 from our Steam store. Please continue reading this blog post to find further details on everything included in today's update, and a full guide on how to get the most out of the new Formula E Gen3 car.
KEY FEATURES
ABB FIA Formula E – Gen3 Car

The outstanding Formula E Gen3 car bursts its way onto rFactor 2, with our platform being the only location to experience the highest level of formula electric racing simulation. This newest addition to rFactor 2 is available now over on our Steam Store for only €4.99, which includes the Series' show-car plus all 11 of the team's stunning liveries from Season 9 of the ABB FIA World Championship.
To purchase the new Gen3 Formula E car, CLICK HERE!
The Gen3 car features more power and longevity than its predecessors, making it the fastest Formula E car yet with a top speed over 322 kph / 200 mph. The new design also features around 95% power efficiency from an electric motor delivering up to 350kW of power, the equivalent of 470BHP, compared to approximately 40% for an internal combustion engine.
Furthermore, our 'Formula E Pack', available on the Steam Store, has been updated to include the newest version of the Series' car – with the price increasing minimally to €25. Alongside the vehicles, this pack also includes our 6 Formula E circuits; Berlin, New York, Hong Kong, Rome, Diriyah, and London. These tracks have all received updated trackside branding and sponsorships, which breathes a fresh lease of life into the world famous street circuits in-game.
To purchase the Formula E Pack, CLICK HERE!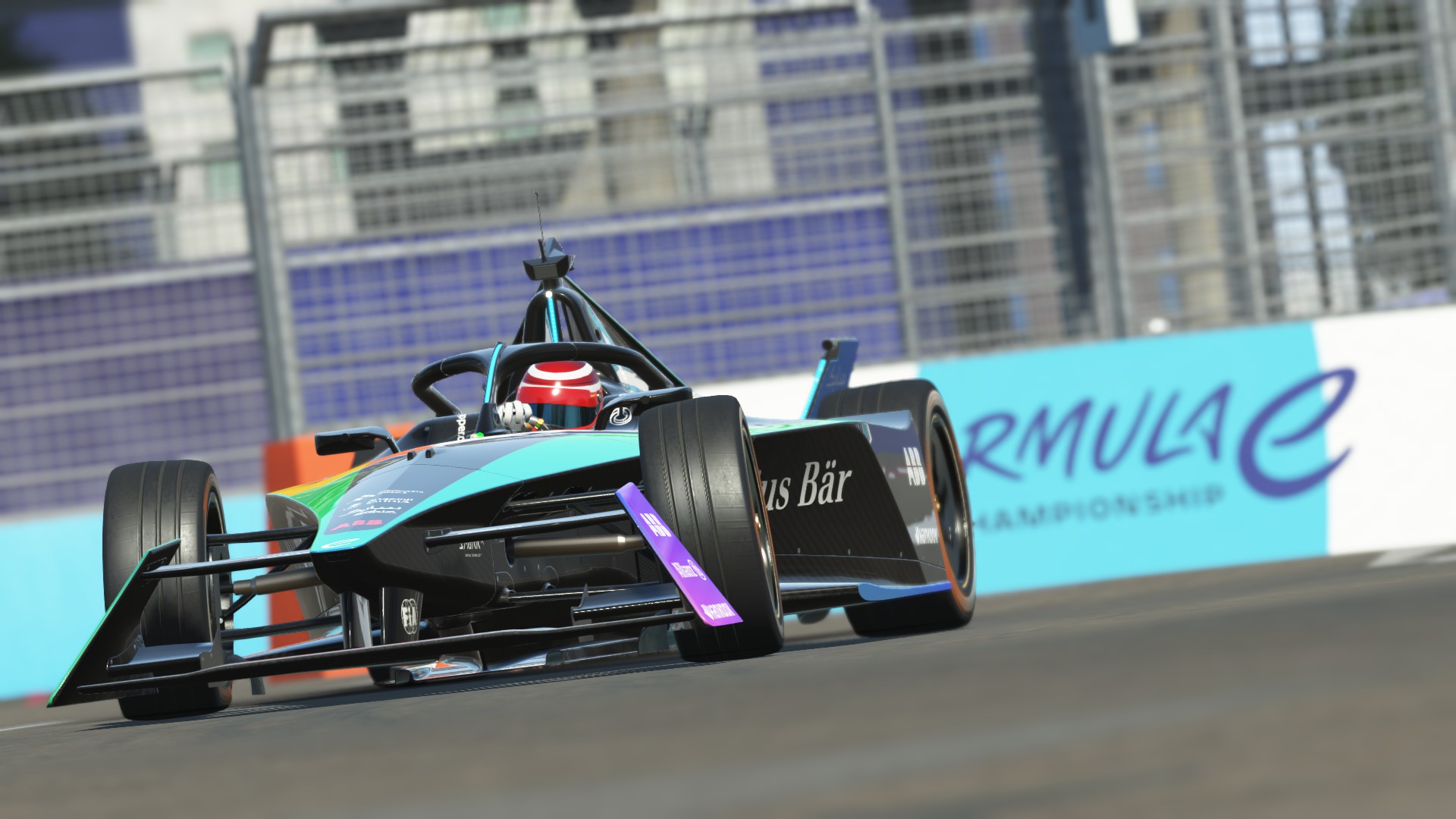 Finally, Formula E Accelerate, the official Esports Championship of ABB FIA Formula E, begins tomorrow (Friday 14th April) – which you are able to race in yourself! As long as you are 16 years of age or older, and own rFactor 2 plus all of the necessary content – you're free to compete. The season is sure to be action packed, with the drivers needing lightning quick reactions to remain at the front of the field (see what we did there!)
But how will the Esport Series work? For each Round (Berlin and Rome), there will be an open qualifying session to decide the top 88 drivers into Qualifying Races. Qualifying Races will be the second stage of qualification into rounds, consisting of 3x races. The top 22 drivers will then proceed to the respective Round event. Each Round will consist of 1x race following hot-lap qualifying and Qualifying Duels to determine the grid order. The top 11 drivers across the Berlin and Rome Round events will be invited directly to the London Finals held in-person at the London ExCel, location of the London E-Prix on the 29th July. If you decide to test your pace and compete in this top level sim racing competition, we wish you the best of luck!
Find out more about Formula E Accelerate HERE! The first session is now live over on the in-game Competition System.
Historic Car Updates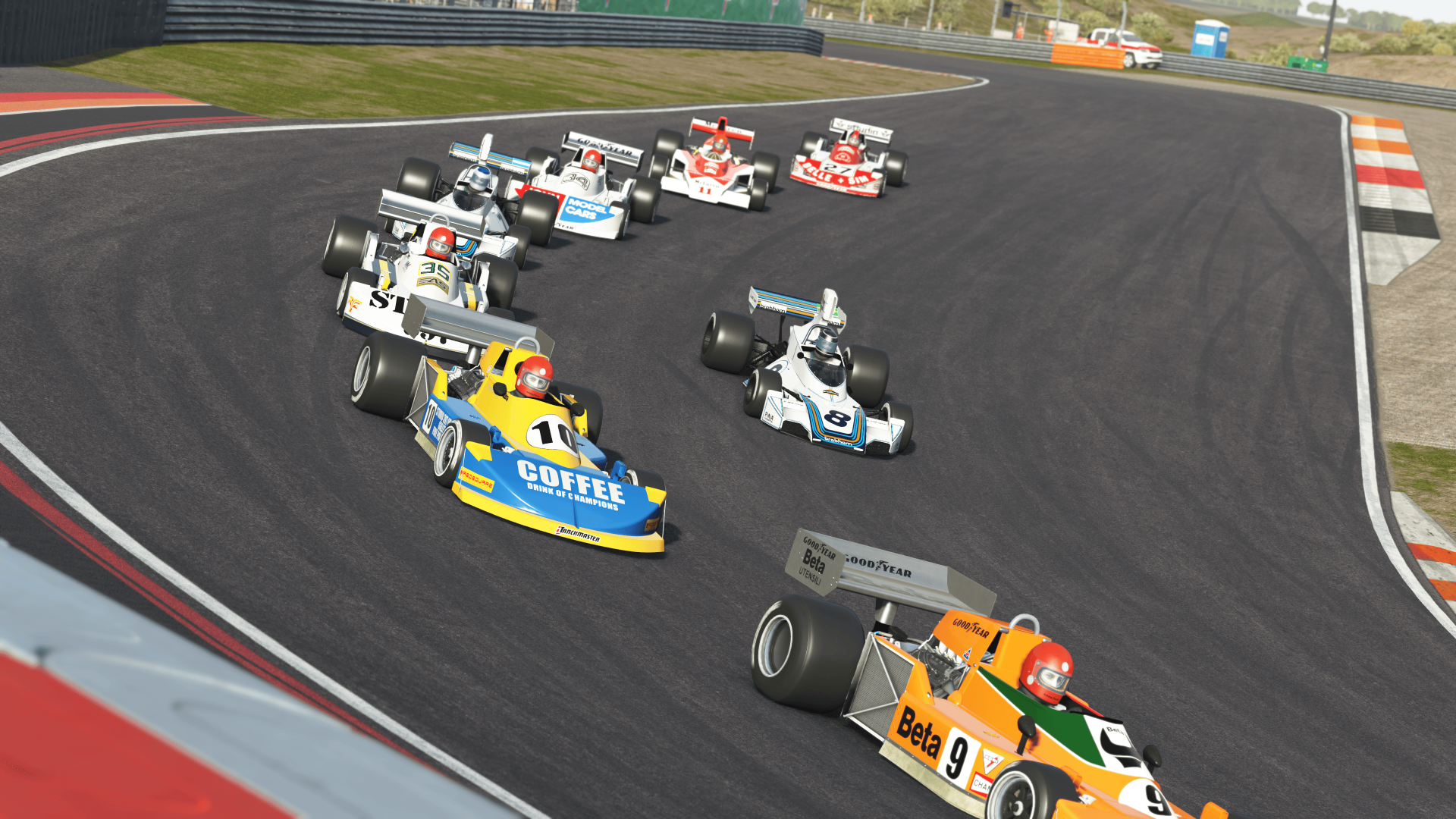 Our much-loved historic formula cars have been given a refresh thanks to rFactor 2 community member 'Gert-Jan van Osch'!
The Brabham BT44, March 761, and McLaren M23 have all been finely tuned to perform at their maximum potential, and create fantastic single-seater racing for you all to enjoy at home.
Once again, a massive thank you to Gert-Jan van Osch for putting time and effort into improving these unbelievable pieces of machinery! We love the rFactor 2 community! As a thank you, we have created a server for fun races using these three upgraded cars which is available for you to join over on the platform right now.
Formula E Gen3 Car User-Guide
Required Controls
There are two new controls you'll need to map:
Increment Electric Motor Map
Decrement Electric Motor Map
You'll find these under the electronics tab.
You'll also need Arm Attack Mode, if you don't already have that mapped.
Driving Style
For 2023, the races are usually ~100km, so you need to make your battery last. One of the methods will be to lift and coast when you get to a certain speed, usually around 220km/h, because at higher speeds, there's more drag, and it will require more and more battery power to go faster. Lift, coast, and brake hard, you can regen up to 600kW. Below is a lap at New York, you can see the throttle in green, brake in red, and speed in blue.

It will be important to use the HUD, and new steering wheel display to figure out exactly how much power you can use to make it to the end of the race.
To regenerate power, you must use the brakes. If you coast, you generate no power. Touching the brake pedal even 1% will give you a very light regen amount, around 20kW. The harder you brake, the more your regen. As for normal braking. The car has no physical rear brakes and as such all the braking is accomplished via the rear power unit. A pretty significant front motor, producing 250kW, is capable of doing about 80-90% of the total required braking effort around the typical street circuits that Formula E run. At high speed, the car will utilize some physical brakes on full brake pressure, as the speed reduces the need for this is reduced and eliminated for two reasons: The first is that at high speed, more torque is required to achieve maximum braking due to downforce, the second is the nature of electric motors to produce less torque at high rotational speeds. At higher speeds, at full brake pressure, the physical brakes will do a significant amount of the deceleration effort, and this will blend in to more electrical regeneration as speed bleeds off the car. Coasting therefore can help in two ways, by reducing energy used at high speed and by allowing the motor to stay in the sweet spot. Significant power saving is required to complete a full distance, so all these techniques need to be considered when getting from point A to point B in the shortest possible time on a given allocation of energy.
Dashboard Layout
Going from left to right, we have:
Engine mode. The engine mode is in red, there are four total modes, 100kW, this is for safety car periods, 250kW, this is not normally used, 300kW, this is normal race power, and 350kW, this is automatically used with attack mode.
SoC and Battery bar. This will show your battery amount in a number, and a bar to show how much battery remains. If you change your 'Battery Units' setting, it will display the remaining amount in kW, or percentage, depending on your choice.
M Temp, this is the temperature of the motor.
Speed, this shows your current speed.
Brake Temp, this shows your front brake temperatures, there are no rear brakes, so we have no need to display those.
Previous, this shows battery used on the last lap.
Purple box, this will show your current lap time.
Bias, this shows brake torque bias.
Tire Temp, this shows the current temperatures of the tires.
Target, this shows the amount of battery you can use per lap to make the end of the race. Note, this will be blank in practice sessions.
Gear, this shows what gear you're in.
Batt Usage, this shows the amount of battery you've used this lap. The number can go negative if you regen more than you use.
White box, this is the lap time delta.
Regen bar, this will show how much you're regening.
Full Changelog and Known Issues
General
Fixed assigned Screenshot button not working in UI in Retail
Fixed Photo Mode depth option not working
Linked Photo Mode Screenshot Format and Depth saving to player.json setting
Removed non functional copy to clipboard screenshot player.json setting
Disallow assigned Screenshot button in Photo Mode
Allowed toggling of showroom background in Retail (via key 1 or via button).
Added player.json setting "showroom background" for default state of rendering background.
Added Sideview UI showroom for taking screenshots of cars for icons.
Fixed UI resolution not setting correctly when switching from Windowed to Borderless in Game.
Fixed crash when changing resolution options in VR
Fixed intermittent crash when installing content
Configuration Application
Updated Config file to save last used resolution and refresh rate rather than an enumeration of the used mode for more consistent handling of game resolution when adapters change.
Setup a VR specific config file. This file will copy from the default file on first run of VR.
Allowed the option to configure multiple files from the config application
Fixed various inconsistencies in config app where by changing adapter or monitor would lose any previous setting changes
Fixed windows version reporting in config app
Updated displaying of PC Specs to show only relevant information in config app
Removed various unused settings from config file
Physics
Ensured that results files / ai report battery state when it's the primary energy source
Various fixes for battery energy consumption
Graphics
Updated Dashboard Elements Shader to use IBL Setup for better lighting
Added LowLumEmissive shader to replace old Dashboard usage on track assets (Start/Pit Lights etc) and in Car LEDs. The game will auto reassign these.
Updated Cockpit Readout format to allow offsets, to render multiple readouts to the same background
Added Cockpit Readout Icon format, which can render texture to background, with configurable number of elements, and options to change colours or uvw islands based on value, with options for Fuel, Battery, RPM, TC, TCActive, ABS, ABSLocked
Added various extra cockpit readouts: FuelLastLap, FuelFinishAverage, BatteryLastLap, BatteryFinishAverage, CurrentLap, Delta, TCSlip, TCCut, BatteryRegenLevel, ElectricMotorMap
Updated Moddev Tweak Bar displays for new options
Updated method for sharing if a rain light is active over network, to ensure better consistency when it is used to show in the pit lane, battery regen or due to the weather.
Enable rain light when battery is harvesting on throttle. Use CockpitInfo.ini params to configure:

RegenLightRequireThrottle=1/0 (requires higher throttle than brake)
RegenLightMinPowerWatts=15000 (requires 15kw regen to show the light)
AI
Reworked AI throttle behaviour

Less overshooting, more controlled deceleration
Improved acceleration with less wheelspin
Improved corner exits
Eliminated even more sources of oscillation
Improved laptimes for certain vehicles
Pit speed limit won't be overshot
Stop positions (grid, pit box) will no longer be overshot

Reworked AI reaction to other vehicles (road courses)

AI will now properly slipstream other vehicles
Overtaking occurs if AI can achieve overlap before the next corner, otherwise the AI will save fuel
Multiclass: Faster classes will no longer slow down when trying to overtake slower classes
Multiclass: Faster classes avoid overtaking unless they can get fully past before the apex
Multiclass: Faster classes will attempt to carry more momentum, and lift off early if no overtaking opportunity exists
AI will now be more cautious when other cars are around
AI can now use more of the space following other cars, for proper drafting behaviour
More cautious when yellow flags are ahead or under FCY
Player and other cars will no longer be rear ended unless a sudden unexpected lane change makes a reaction impossible
When cars ahead are in a fight, AI will now set up for an overtake on corner exit
AI won't hesitate to go 3-wide if the situation allows for it, but will pull out before the next braking zone if an overtake seems too dangerous
Less incident prone with large grids
HUD
Updated Default HUD with multiple options for different element combinations
Added Battery State & Usage options, as well as LEDs for P2P and Battery
Fixed HUD only rendering one gauge correctly
Added Throttle, Brake and Clutch gauge options to HUD
Added ability to change text colour in MFD in HUDs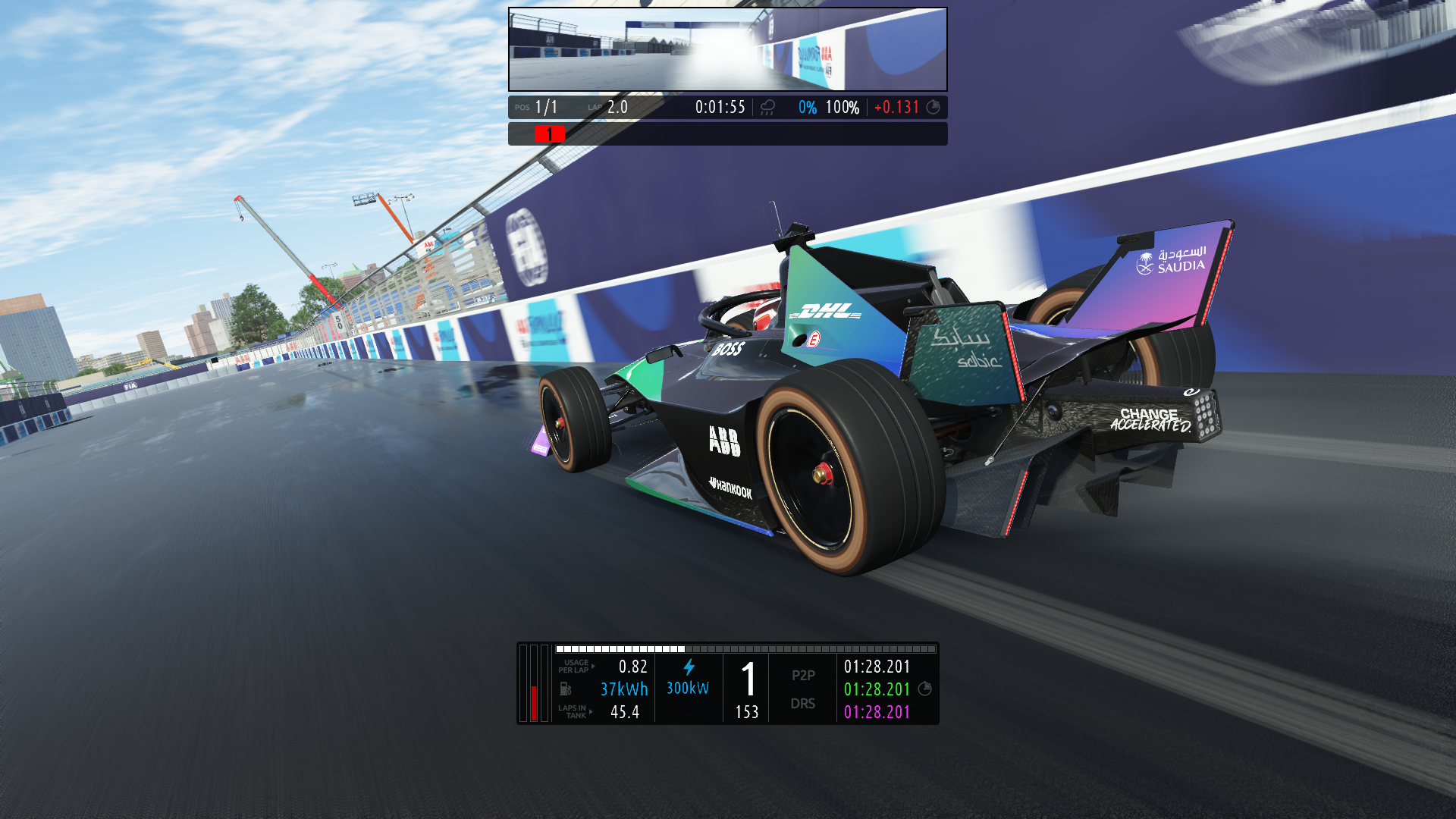 UI
Added Battery Unit setting (Percent or kW(h))
Fixed multiplayer joining getting triggered again after changing graphics settings and restarting when joining with +connect
Package Management
Server now verifies that connected clients own the content they are using
Modding
Map Converter Updates

Now checks for file updates every 500ms.
-f (force all textures to update) command will only run once and exit.
-o (once) command will only run once and exit
DDS files are only copied from source folder on first pass.
Improved output display with more information.

Mod Dev\Scene Viewer

Added extra lighting debug information for fog and direct light direction
Added toggling of shadow groups via shadow key (U) in scene viewer.
Only allow one instance of the Scene Viewer to be open at a time (fixes issues with accessing Material Editor when previous instance doesn't exit for some reason).

Added missing Limit Path option to Static Cameras in Camera Editor
Material Editor Updates

Added ability to set blend modes per material
Added ability to set texture options for chroma and no detail reduction.
Known issues
AI will fail to line up for FCY
Formation lap speeds are capped too low, so if the grid gets pulled too far apart, the back will fail to catch up in time
AI aren't particularly good at evading cars parked on track and will slow down considerably, sometimes just lining up behind them
AI behaves badly when there is a large performance delta between cars
Auto Shifting on the FE Gen 3 will not shift out of neutral
Track Changelogs
Brands Hatch v1.05
Fixed Rear Paddock Garage 8 no 3 not leaving pits on Indy Layout.
Croft v1.07
Minor cut corridors adjustments
Minor adjustment to ai at pit exit
Fixed camera clipping
Sebring v1.59
Reviewed track limits at pit entry and pit exit
Berlin v1.37
FE 2023 Branding Updates
Track Limits Reviewed
Minor Terrain Gaps fixed
Hong Kong v1.93
FE 2023 Branding Updates
Track Limits Reviewed
London FE v1.07
FE 2023 Branding Updates
Track Limits Reviewed
New York FE v1.31
FE 2023 Branding Updates
Track Limits Reviewed
Minor AIW tweaks
Fixed start light casing not visible on lower detail settings
Fixed minor issues with Brake marker materails
Rome FE v1.25
FE 2023 Branding Updates
Track Limits Reviewed
Minor AIW tweaks
Fixed inverted digital flag mapping
Saudi FE v1.15
FE 2023 Branding Updates
Track Limits Reviewed
Electric Docks v2.38
Minor AIW tweaks
Fixed various LOD issues
Car Changelogs
Brabham BT44 v2.64
General visual update
Updated backfire animation
Fixed drivers toes sticking out of car
McLaren M23 v1.54
General visual update
Included missing files
March 761 v2.13
General visual update
Included missing files
Dallara IR18 v1.73
Stopped Push To Pass disabling when crossing start/finish line
Made it so Push To Pass could only be activated after the first lap of the race
Vandervell Vanwall LMH v1.29
Less rear downforce
More front downfoce
More drag
Braking torque to match brake bias 60%
Updated body decals to 2023 version
Renamed tires, soft cold, soft hard. Same tires, but different operating windows
Medium tires are a little harder, and -1.5% grip
Tire grip and downforce adjusted to match real data
Removed tire warmers
Drag/Power adjusted to match real data
Lowered tire thermal degradation
Formula E Gen3 2023 v1.03
Fixed missing shadows on wings
Main Game: 10989730
Dedicated: 10989737
LOOKING TO THE FUTURE
2023 is a very exciting year for rFactor 2, and we have plenty more content and multiplayer updates which we look forward to bringing to you very soon!
We can't let you in on all of the secrets just yet though…
Happy Racing!