Despite a very different world situation than the last time our event took place back in January 2020, Sim Formula Europe is set to return once again – bigger, better, bolder and more engaging with larger prizes than ever before!
THE SERIES
Sim Formula is an annual rFactor 2 Esport competition that aims to bring together some of the best virtual racing drivers for a short, sharp and dramatic series of events with great prizes up for grabs. The latest sim racing hardware from Heusinkveld, Coolermaster computer technology and large cash prizes, Sim Formula Europe 2021 has something for everyone – either out on the circuit, from the comfort of your own home, and even budding livery designers looking to bring their creations to life within the rFactor 2 simulation.
Earlier this year we hosted an incredibly entertaining series of races at the immense MECC Arena in Maastricht, with live viewers enjoying a superb performance from Risto Kappet to take home first place in the grand finals, a set of Heusinkveld Sim Pedals Sprint and a 3,000 euro cash prize.
Sim Formula Europe 2020 | Missed the action from January Finals Day? | Click HERE.
While we are delighted to confirm our continued collaboration with the City of Maastricht and the MECC Arena, due to the current health pandemic the 'formula' for next season will look a little different… and with these necessary changes comes great opportunities to open up interaction and engagement in exciting ways not previously possible.
In due course we will be writing to you again to explain exactly how the various Esport aspects of Sim Formula Europe 2021 will be shaped, but for now we would like to introduce something new – our Heusinkveld Peregrine Mod Competition!
THE HEUSINKVELD PEREGRINE MOD COMPETITION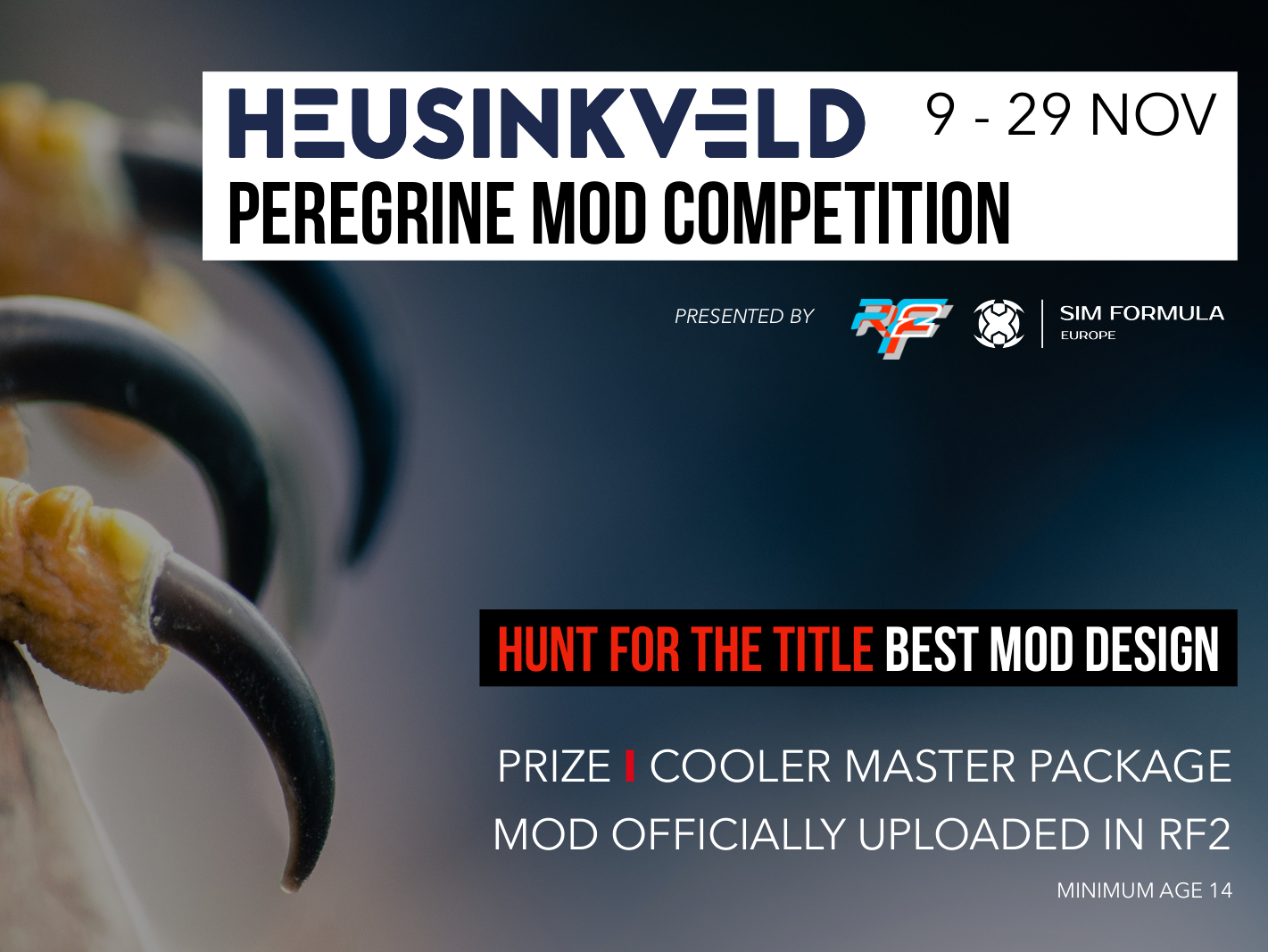 We are delighted to announce that 10 community created livery designs will be selected for use in the Heusinkveld Peregrine Mod Competition aspect of Sim Formula Europe 2021. The selected liveries will adorn the cars used by our Peregrine competition finalists, and the overall winning design will then be added to rFactor 2 as default content on the 2019 Audi R8 LMS EVO. Furthermore, the winning livery designer will also take home an incredible package of computer gaming goodies from our generous sponsors at Cooler Master – worth almost 500 euros in value!
The livery competition begins today (Monday 9th November) and closes at 23:59 CET on the evening of Sunday 29th November. Livery submissions should be sent to peregrine-comp@studio-397.com no later than this date, and all submissions should be packaged in a suitable mod format to work within rFactor 2.
rFactor 2 | How to create a livery mod: Click HERE.
THE CAR
Livery designs are for the 2019 Audi R8 LMS EVO available as DLC content within rFactor 2.
Audi R8 LMS EVO 2019 | Steam Store Page: Click HERE.
THE SUBMISSION
Liveries should be submitted in line with the guidance issued below, and using the logos provided within the 'Logos and Resources' section of this post. Each mod submission should be sent to peregrine-comp@studio-397.com before the end of November 29th and include at least 4 images of the design (front, back, top and side view).
The livery should be packaged as a mod that can be installed in rFactor 2, and should be applied to the Audi R8 LMS GT3 EVO 2019 car model.
THE LIVERY
Each livery submission must include sponsor logos from our partners Heusinkveld, rFactor 2, Sim Formula Europe and Studio 397, and the design should be based around our competition theme of the Peregrine Falcon.
Why a Peregrine Falcon? As the fastest animal on Earth, this majestic bird is capable of achieving speeds up to 389 km/h and is the embodiment of strategy, aerodynamics and speed – something we think is entirely fitting with the ethos of our esport racing activity this season.
As Heusinkveld are the primary backer of this series, the Heusinkveld logo should appear as the most prominent 'title sponsor' of all submitted livery designs.
LOGOS AND RESOURCES
All the logos required for your livery design can be found below:
PARTICIPATION RESTRICTIONS AND TIME LIMITS
This livery design competition is open worldwide to anyone over the age of 14 years old, and will run from 09:00am CET Monday 9th November to 23:59pm CET Sunday 29th November inclusive. The 10 nominated mod designs will be communicated on December 19th via the official Sim Formula Europe 2021 launch trailer and social media activities.
The overall livery design winner will be announced on Saturday, January 23rd 2021.
Peregrine 2021 needs to be symbolized in drawing and/or in words within the livery – submissions may not use licensed photo's illegally.
Studio 397 will select the winning 10 livery designs to be used within the Heusinkveld Peregrine Mod Competition presented by Sim Formula Europe and Studio 397, with the overall winning design and Cooler Master Prize Package winner to be announced following the conclusion of the Sim Formula Europe 2021 competition.
THE PRIZE
The designer of the overall winning livery entry will take home an incredible package of Cooler Master items worth almost 500 Euros. The prize package from Cooler Master includes a CK350 RGB Mechanical Gaming Keyboard, MM710 Gaming Mouse, MP750-M RGB Gaming Mouse Pad, MH650 Gaming Headset and the impressive Masterliquid ML240L V2 RGB New Generation Dual Chamber Pump.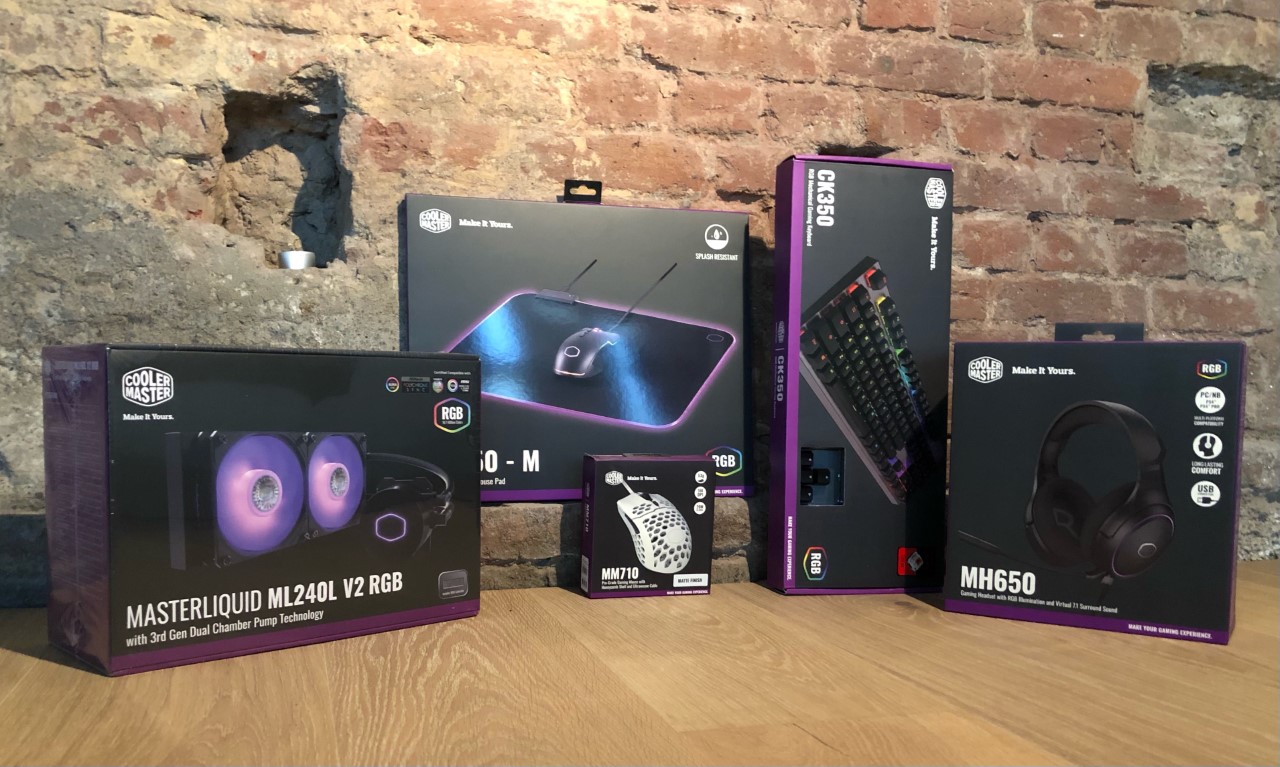 The Heusinkveld Peregrine Mod Competition is just one aspect of the upcoming Sim Formula Europe 2021 series of events and activities, and we can't wait to announce further news about exciting additions to our hugely successful Sim Formula program. Stay tuned in the coming weeks as we reveal more from the 2021 event… and get designing – we can't wait to see your submissions!
By submitting a livery, you grant the organizers (Sim Formula Europe, Studio 397 and Heusinkveld) the perpetual right to use your livery for promotional and marketing purposes.
To find out more about Sim Formula Europe 2021 and the competition, visit simformula.eu for more information.