Six exciting racetracks are set to play host to the BMW SIM M2 CS Racing Cup Season 2 this year, starting at the new Monza circuit for rFactor 2 – the racing is set to be incredible once again.

Prizes
The top-3-placed drivers in each race of the BMW SIM M2 CS Racing Cup will receive prize money in accordance with their final race position:
1st EUR 500
2nd EUR 250
3rd EUR 100
The winning driver of each race will qualify for participation in the BMW SIM M2 CS Racing Cup Final at BMW SIM Live 2021. If the winning driver of a race has already qualified for participation in the final, the best-placed driver that has not yet qualified will move up. The distribution of the prize money remains unaffected by this postponement.
The money will be transfered AFTER all 6 races.
Schedule
For this second season of competition, the BMW SIM M2 CS Racing Cup will form part of the GT Pro event package, acting as support to the GT Pro series. Each round will be held on the same tracks as GT Pro, with track activity completed ahead of GT Pro qualification.
Qualification
Qualification will be open to any registered rFactor 2 drivers, and will consist of one 2-hour track session per day, for three days preceding the race. The top 30 drivers from across the three days of session (plus reserves) will be invited to the following race event.
29.07 – 31.07 – Qualification for Round 1
12.08 – 14.08 – Qualification for Round 2
26.08 – 28.08 – Qualification for Round 3
09.09 – 11.09 – Qualification for Round 4
23.09 – 25.09 – Qualification for Round 5
07.10 – 09.10 – Qualification for Round 6
Races
09.08.21
Round 1 – Monza
23.08.21
Round 2 – Sebring International Raceway
06.09.21
Round 3 – Lime Rock Park (uphill chicane)
20.09.21
Round 4 – Loch Drummond
04.10.21
Round 5 – Circuit de Spa-Francorchamps
18.10.21
Round 6 – Indianapolis Grand Prix
Each race will be run for a duration of 20 minutes, with an in-game time of 15:00. Events will consist of a Practice, Qualification and Race sessions, run to the following schedule:
18:00 – Open Practice
19:15 – Qualifying
19:30 – Race start
All times CET/CEST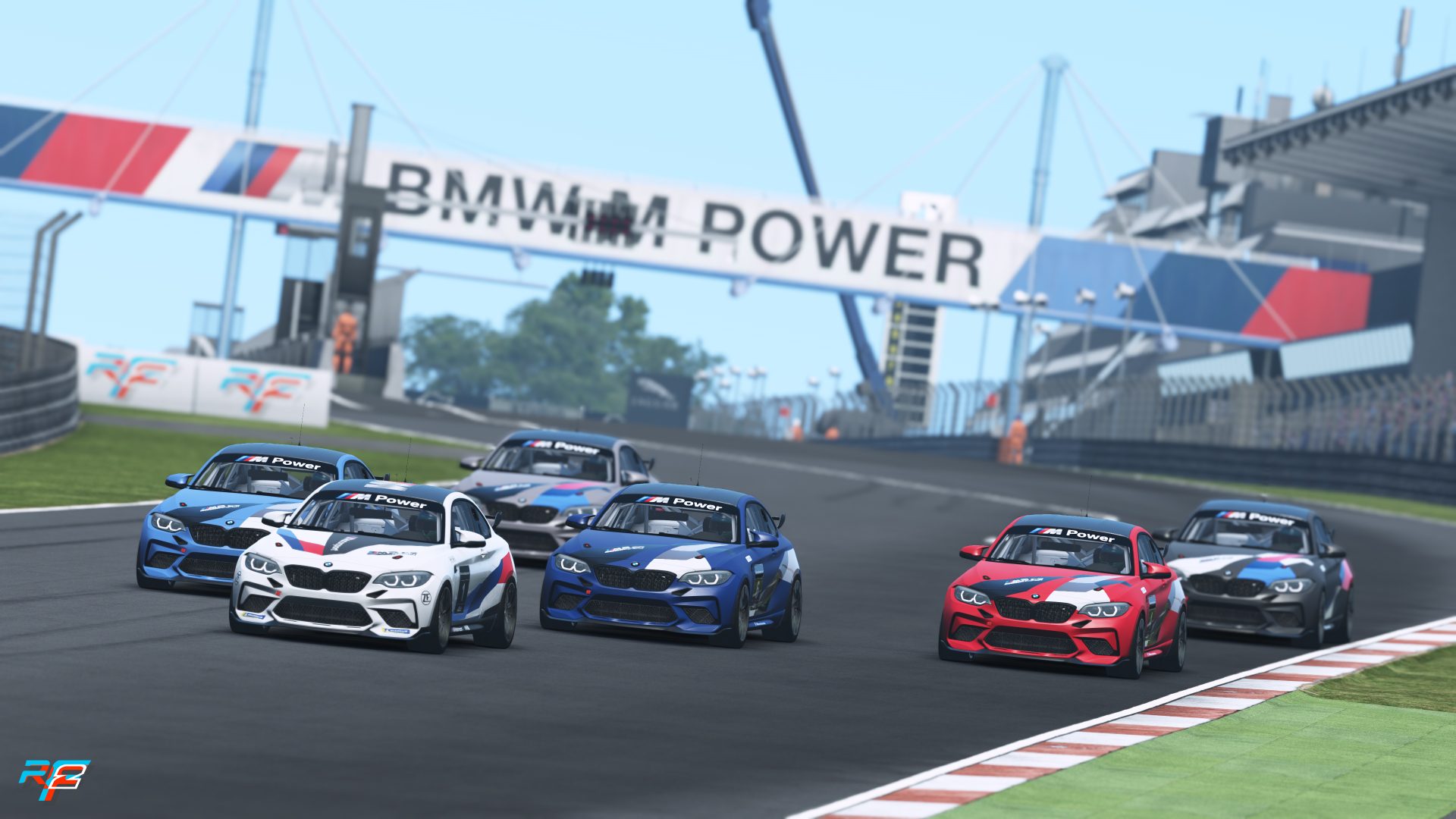 Broadcast
All race events will be broadcast live and exclusive on the rFactor 2 Twitch channel, from 19:20 CET on the day of the race.
rFactor 2 Twitch:  https://www.twitch.tv/rfactorlive
Format
So, how does it work!?
Pre Qualifying starts on July 29th, with three 'two-hour' open qualification sessions in the days ahead of each race event. At the end of the qualification competition the top 30 (+ reserves) will get invited into the qualifier races, for the chance to qualify for the BMW SIM M2 CS Racing Cup and take on the world at the virtual racetracks. Follow @bmwmotorsport Twitter for the latest news!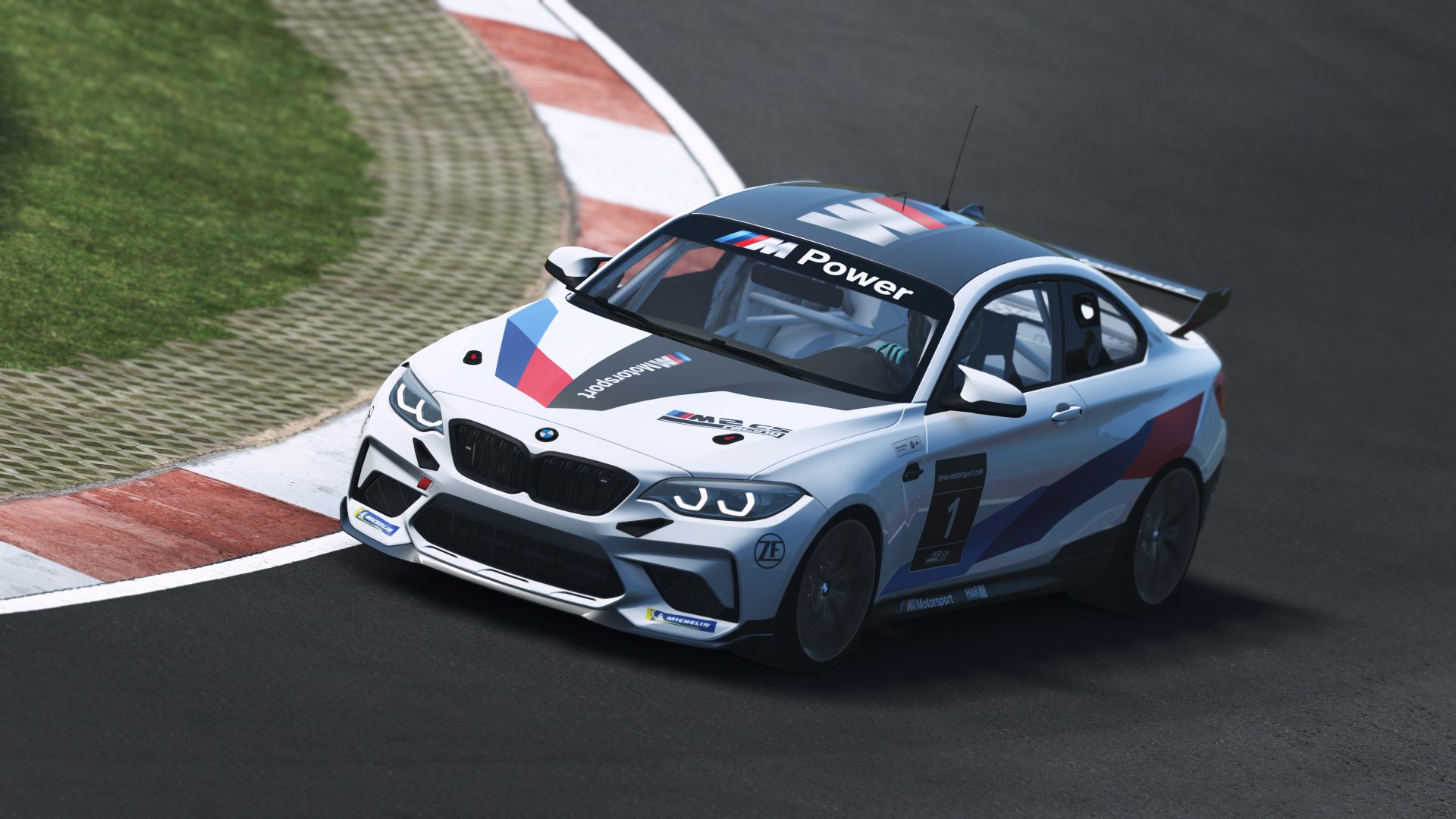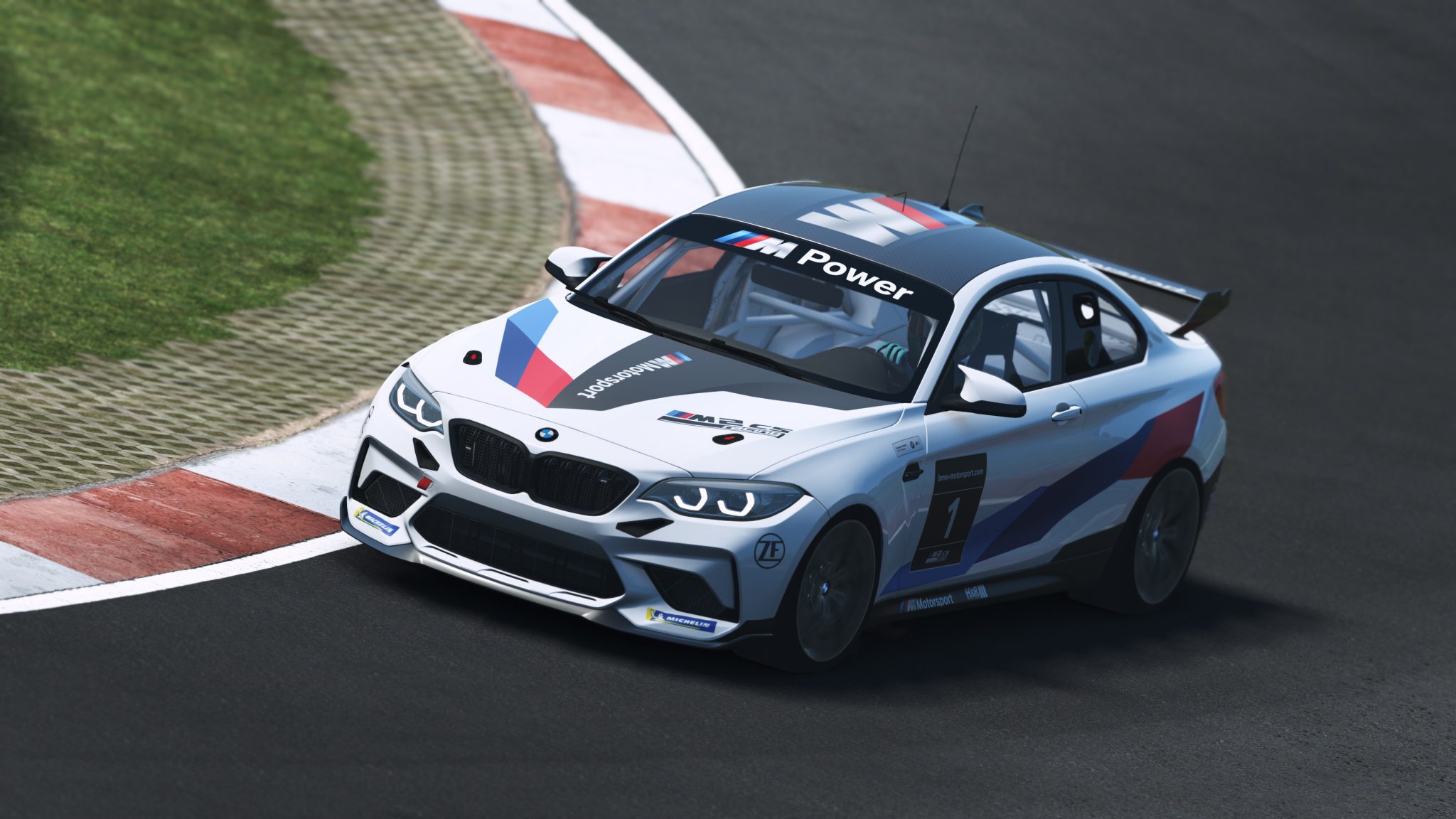 What do I need to start?
Before you begin, if you haven't already, you will need to have a copy of rFactor 2 installed and the BMW M2 CS!
If not, there are a few steps required to get going.
Step 1
Firstly create a Steam account, download and install rFactor 2 here
Then you will need to purchase the incredible BMW M2 CS here.
Once installed, we suggest you set up your wheel and options in single player.
Step 2
Pre-qualification sessions will be held in the rFactor 2 Competition System, found within the rFactor 2 UI in the simulation. To register qualification  session, you must navigate to the Competition tab within the UI, select the BMW M2 competition event, and click the 'Register' button – this will sign you up for the overall series.
Once signed up for the series, you will find a listing of each qualification event of that series, with registration to each individual event set to open 15 minutes ahead of the session start. When the 15-minute counter has been reached, you will be presented with a register button, that once clicked will place you in the queue ready for the server to launch.
Step 3
Race fair, do your best, and have fun!
Rules
Please be sure you have read and understood our code of conduct and Terms & Conditions for the series before committing an entry. Do not use external software to modify performance and respect your competitors and the competition and its partners.
Good Luck!