As the weather gets cold all around Europe and the northern hemisphere, everyone at Studio 397 is currently in motion and working on exciting projects cranking up the heat! It's already November, but we're not finished yet bringing you updates and new content for rFactor 2 this year. Next month we'll look back at the year, but for now we are dedicated to working on the future of simracing and bringing everybody together for exciting and thrilling digital motorsport action. So get off the track, slow down and park your cars in the pits for a while and let's talk about what awaits you in the rFactor world this coming month. Spoiler alert: before the clock strikes twelve, you will have heard back from us at least three more times! That's how much we have planned to end the year on a high. And as you will see, we are already announcing a big event in 2020!
Screenshot Contest Winners
Last week we announced a screenshot contest, featuring our Nissan GT500. Thank you everybody for making an effort and submitting screenshots of your own liveries! We could not decide on a winner, so we picked two! And the winners are…..BrianB and ek0z from Discord – Congratulations! We will be in touch next week.
Formula E 2020 Season Release
Just last weekend we saw the ABB FIA Formula E Championship start into its 6th season, with a grid so packed and full of big names that exciting racing was inevitable! Not hyped enough by what happened at the Diriyah ePrix, or missed it? Check out all the action here! Let's start off with an interesting fact before diving into our actual announcement. Season six of the ABB FIA Formula E Championship is the first ever championship that sees all four German premium automotive brands battle it out on the same tracks, namely Porsche, Audi, Mercedes and BMW. Of course there are even more manufacturers in this season, with Nissan and Jaguar both coming back to strike hard against the German brands.
But enough about the new season. How does that relate to rFactor 2? As you probably guessed by now, we're proud to continue our relationship with Formula E, and we're releasing the 2020 season teams and liveries! Intense street racing with quick and agile open wheelers is waiting for you, featuring the new debutantes, Porsche and Mercedes, as a free upgrade to the current Formula E Gen 2 car. Go get it here!
And check it out, we also added the top wing cam!
Sim Formula 2020 at InterClassics in Maastricht
On January 16-19th, 2020, the MECC in Maastricht will host the biggest simracing event in the Benelux. In collaboration with InterClassics, Sim Formula will host a 4 day long event, focused on simracing. The event is freely accessible every day. Known brands in simracing will be showing off their latest developments and products. There is also a simracing arena featuring various activities. For example, on Saturday there will be a hotlap competition on Circuit Maastricht (which is freely available in the rFactor 2 workshop if you want to come prepared). On Sunday afternoon you can witness the finals. René Hoogterp, a professional Dutch commentator, will participate in the live broadcast of this race.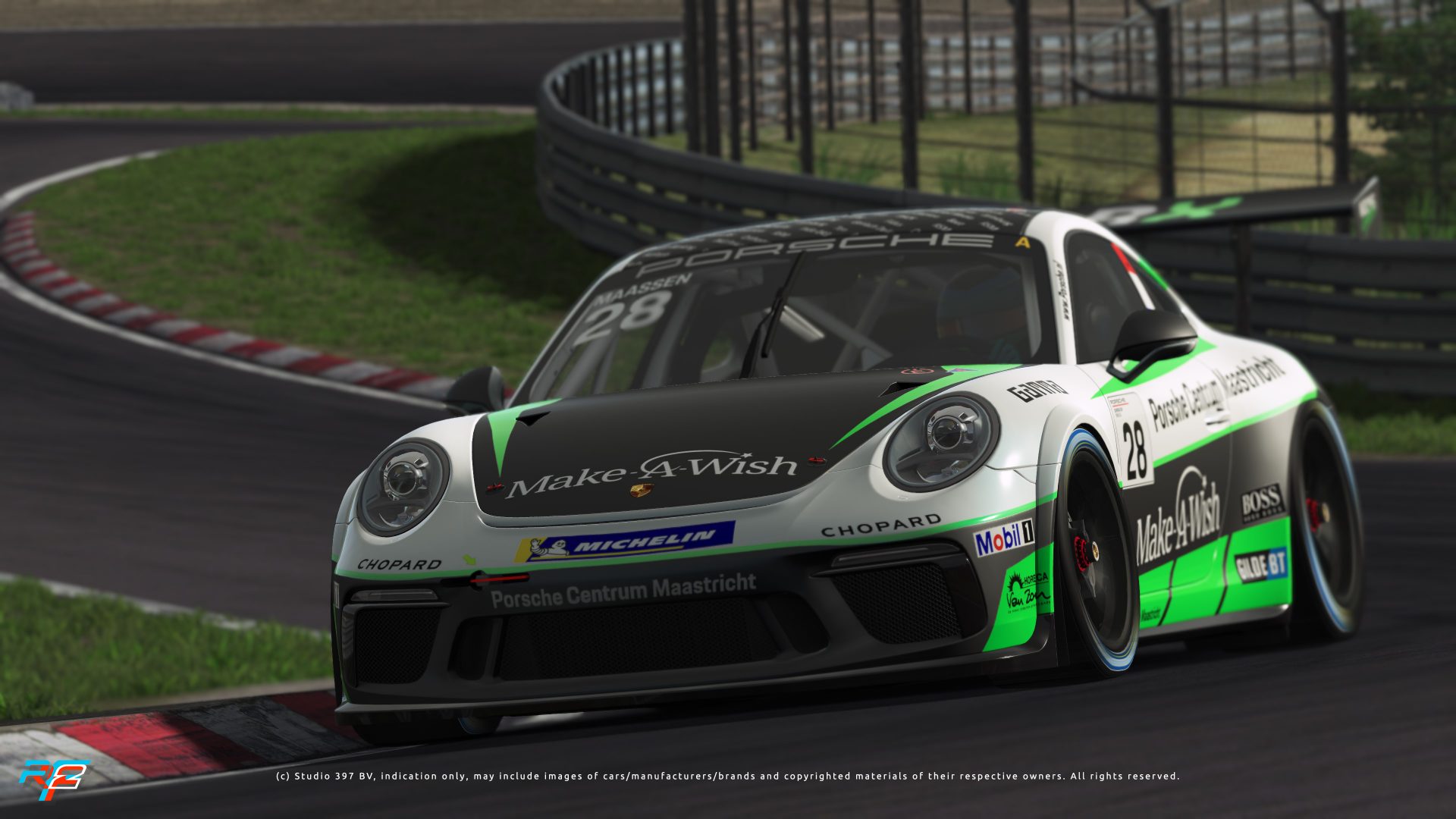 Qualifiers and Prize Pool
December 2019 will feature an online qualifier competition using rFactor 2, consisting of both hotlaps and races. In the first week of December we will open up a hotlap competition where the top 25 (with 5 reserves) will qualify for a series of races in the week of December 10-15th. In each of those races, a qualification session will be followed by two short sprint races, one with a reverse grid, to determine the fastest driver of that day who will then qualify for the final. More information on how to join will be published here on Monday.
The 5 fastest from these qualifiers will be invited to compete against each other on January 19th at the MECC in Maastricht in full-motion simulators provided by Upracer to determine who wins the first edition of Sim Formula. The total prize pool for this event is €10.000. Note that we are not covering travel expenses, so make sure you are able to travel to Maastricht to compete in the final if you join the qualifiers!
Masterclasses and Congress
In collaboration with Adrenaline-Xperience by Atze Kerkhof all visitors of the event will be able to win one of three masterclasses. To participate, you can fill in a card during your visit to the event and drop it in a spot on the podium of the racing arena. The winner of the hotlap competition on Saturday will win the fourth masterclass. On Thursday evening, there will be an esports congress (for which you do need to buy a ticket). If you want to learn more about the world of esports, this is an excellent opportunity to listen to and discuss with an impressive line-up of well known, international speakers. For more information and tickets, visit this page.
Co-hosted with InterClassics
The Sim Formula 2020 is full of action, but there is a lot more to see at InterClassics, the biggest car show of the Benelux, featuring many classic and fast cars. Just what the doctor ordered!
Finally
In case you're wondering how the public beta of the new UI is coming along, we are on schedule to release that mid-December. It will be released as an "opt-in" public beta on Steam, so you will need to enable it yourself and you can quickly switch between the two. Both versions will be fully multiplayer compatible.
Enjoy the last month of the year!