Hot on the tail of the Halloween Sale, we're here to present you another monthly roadmap. As usual we have a lot going on and some juicy announcements we're sure you'll salivate over. Every month, we work in many diverse areas – that's why the roadmap exists: we sew it all together and deliver it in a neat little package for you to digest. So let's get started, you know the drill!
rF24h the Rerun – start your engines!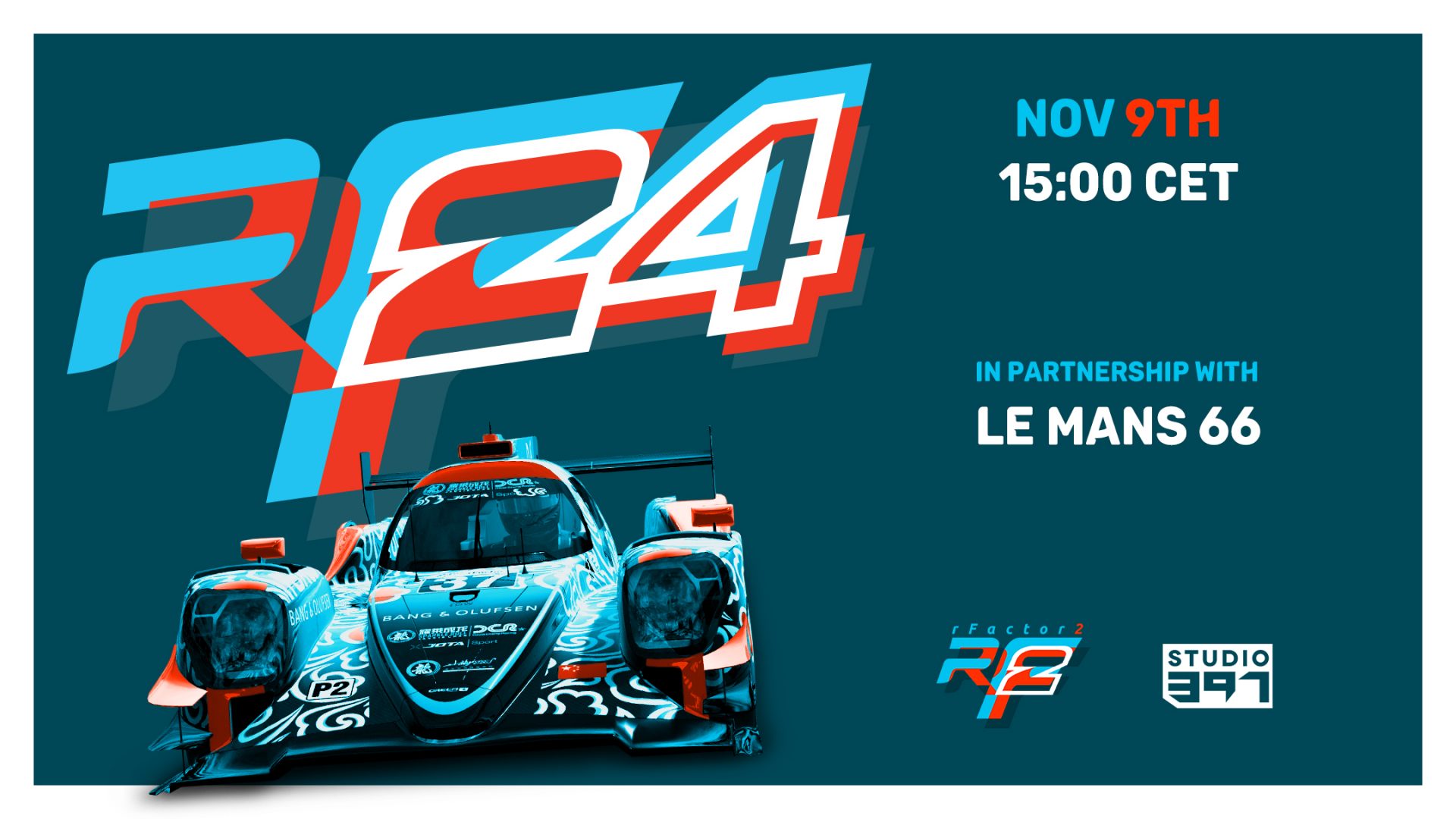 The fight for the endurance crown on the iconic Le Mans Circuit isn't over for this year, and as promised previously, we are bringing back the rF24h event for the official rerun. France is calling on the 9th of November for the best of the best to once again take on the challenge.
One might say that a rerun isn't a thrilling thing to announce, but we are sure you'll get excited about this one. To ensure that the endurance battle will be at the top of its game and to honor the effort and time the top teams from around the globe put into our big events, we decided to come up with a juicy prize pool that should get every single driver to strive for nothing short of victory.
The 2019 rF24h – Le Mans Circuit will offer a total prize pool of €15.000!
This is split into our two classes as follows:
LMP 2:
1st place €3.500
2nd place €2.500
3rd Place €1.500
GTE:
1st place €3.500

2nd place €2.500
3rd Place €1.500
That is a big chunk of money right there for the best teams in the simracing world to grab! As this is a rerun, teams from the first iteration of this year who confirmed their attendance are set for this race as well. Remaining spots will be given out with a small qualifier event to make sure we have a full grid that we will all enjoy watching.
Talking about watching, of course we will broadcast our major event as we did for the previous one. So gather your friends, drinks and chips and head on over to http://www.twitch.tv/rfactorlive from the 9th – 10th of November to witness simracing at its best.
Not much more to say other than that we can't wait to hear the screaming sounds of cars throughout the night as drivers are battling not just their opponents but also themselves as the clock is moving on.
LEMANS 66 – new partner for the rF24h
The announcement of the return of the rF24h – Le Mans Circuit isn't the only exciting news we want to share with you in this month's roadmap. When looking for partners for our events, we want to make sure that they fit right in – no artificial ways of connecting them to what we do and love. With "Le Mans 66 – Gegen jede Chance" (the German language version of the movie 'Le Mans 66') we found just the right partner for this major rFactor 2 event. In case you live under a rock or behind the moon on the right side (same for everyone that lives on the left side or down the road), let us quickly inform you what this is all about. As you can probably tell by the title already, the main focus of the new movie by 20th Century Fox is the story around the iconic Le Mans race back in 1966, for which American car designer Carroll Shelby (Matt Damon) and driver Ken Miles (Christian Bale) team up with Ford to battle Ferrari for the top spot at the prestigious endurance event. Based on a true story, this movie highlights the heroes behind this major achievement in motorsport, just like the heroes and their stories in our events.
The movie will be released on the 14th of November in cinemas across Europe, which gives us enough time to celebrate this release in and around rFactor2. "Le Mans 66 – Gegen jede Chance" will not just be our main sponsor for the rF24h – Le Mans Circuit, we will also get some hotlap challenges running (only for Germany) until the release of the movie, where you can win tickets to watch this epic battle unfold on the big screen yourself.
As a result of this partnership, don't be surprised if your daily launch of rFactor 2 looks slightly different (wink)
We are very proud of the chance to partner up with 20th Century Fox and the "Le Mans 66 – Gegen jede Chance" movie to get people excited about everything around fast cars and thrilling races!
New User Interface
We've been teasing the new UI for what seems like ages, and you've been waiting patiently on the sidelines for "that day" to come. All along the way, you've been part of the development process through sneak previews and updates in our monthly roadmaps. To keep you in the know, we've shared our progress in as much detail as possible. The challenges and the overall complexity we faced required a steady and determined approach to get this very essential set of new features firing on all cylinders.
But all things need to eventually see the light of day, so we are now "revving the engine" with intent! We're proud to be launching the first 'public beta' of the UI in mid-December – it's your chance to finally get your hands on it to test drive!
This first public beta will allow us to gauge two important things. Firstly, how well the system is working for everybody in terms of performance and stability. Secondly, and this is an important step for us, on how you want this system to evolve. By collecting this data based on your participation, we will be able to systematically improve the system in the months to come. Our goal is to make sure the whole system is robust, and then make it the default. When that happens, we will also switch our releases to 64 bit only.
Competition
Expect the first public beta to not yet include the new competition system. We simply did not want to throw too many things at you at once. By December, we will be in a good position to test the comp system, and rest assured that there will be a steady stream of updates from the first public beta onward.
The first steps will include testing both the "mechanics" of the different competition formats, as well as collecting data based on your participation so we will be able to test out our 'driver rating' algorithms. Here too, your personal feedback will be a crucial element in deciding how we go forward and which particular improvements we focus on during the next phase of development.
To show you an in-development sneak peek of the competition system, here's a look at the current front-end.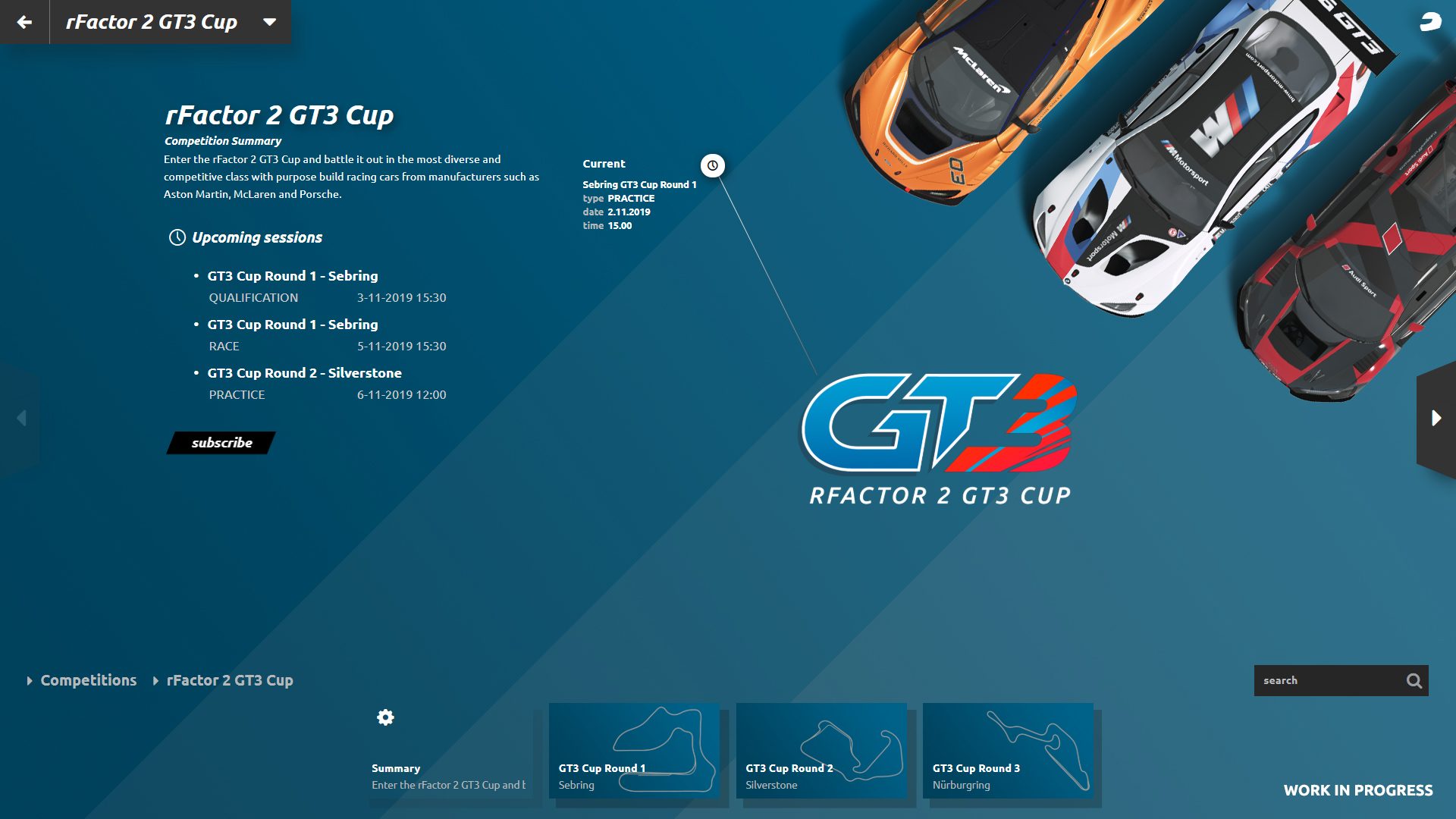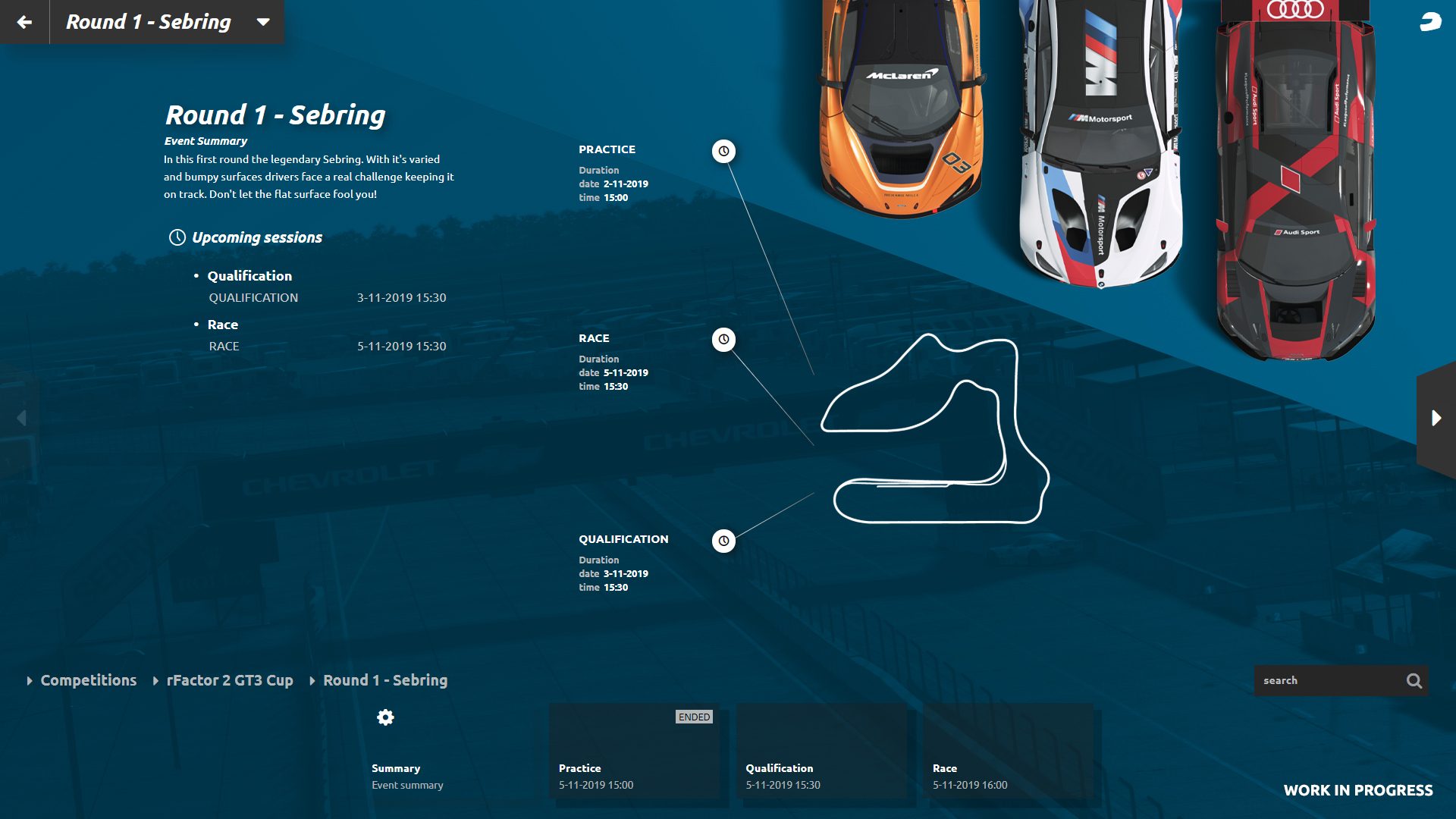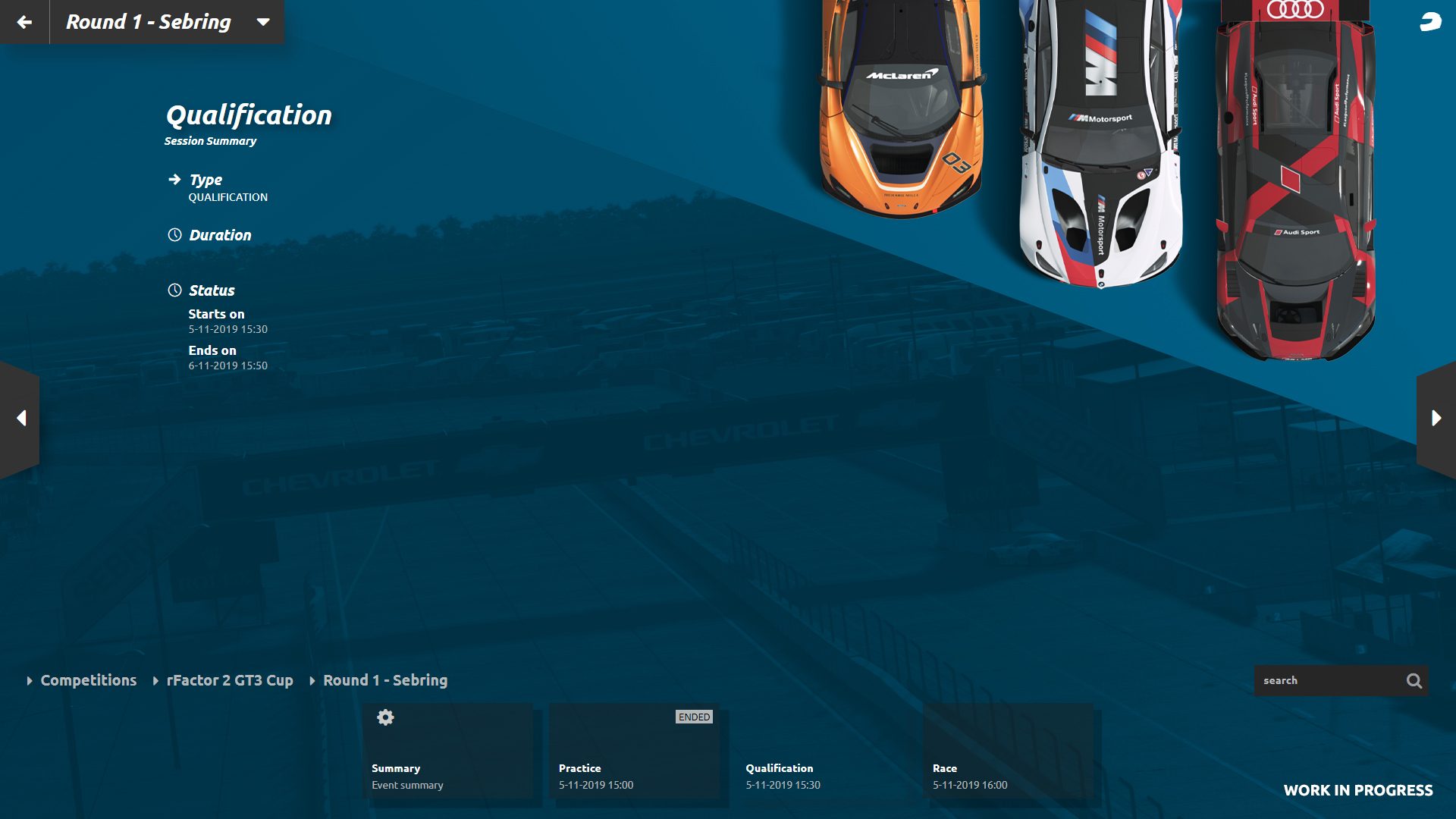 Content
On the content side of things, we are uber busy working on new top secret projects, so we can't announce anything just yet.
In the meantime, here's a snap update we've done for the Nissan GT500 to bring it in line with the new materials! We can't wait to see your new skin creations on this enigmatic Japanese beast! Look out for this update to come down in the next few days.
And in other news,  the Nürburgring is the track that keeps on giving! There are three new layouts incoming in the next few days: two 'Sprint' layouts (with and without chicane), these are shortened versions of the GP layout, and of course the epic full 'Endurance' layout that combines most of the GP layout as well as the full Nordschleife.
That's it for this month! Happy racing and until the next one!