Free content update!
Hello sim racing fans, and welcome to our latest full PBR content update and refresh in rFactor 2. The subject of our latest lavishing of love and attention is a little gem of a circuit, and one that we hope will go some way towards re-establishing this mighty venue back into the hearts of our rFactor 2 community – yes, Lime Rock Park just got updated, and if we do say so ourselves, it looks fabulous!
At just 2.462km in length, Lime Rock Park is a tantalisingly fast and challenging course that provides a perfect playground for the diverse range of racing machinery available within rFactor 2. Comprising just seven unique yet challenging corners in the main classic configuration, Lime Rock Park forces drivers to fully commit to each and every turn in order to record a competitive lap time. Based in the Lakeville Connecticut area of the United States, Lime Rock Park is often overshadowed by better known venues in North America, however, what the track misses out with in terms of international recognition it certainly makes up for in driving pleasure – offering old school thrills and spills that leave drivers with little room in which to make a mistake, and a thirst to find that extra tenth of a second per lap.
Lime Rock Park | Steam Workshop: Click Here.
Included Layouts:
All Chicanes
Uphill Chicane
West Bend Chicane
No Chicane
The original Lime Rock Park circuit deployed to rFactor 2 all the way back in 2013, and over the following years it would be fair to say that the simulation has undergone something of a transformation in terms of graphical prowess, leaving this superb little track feeling a little left out alongside the more recent pieces of content we have brought to the sim of late. Despite a substantial 'v2' update in late 2014, the track still required quite a bit of work to bring it back in line with the recent quality standards of rFactor 2, something that we are delighted to achieve in this new update. The new track build deployed today represents a significant step forward from the original track that came to the Steam Workshop back in 2013, with various new assets and PBR updates having been applied to the venue in recent weeks that really help this popular piece of content stand-up and be counted alongside much more recent releases.
Thanks to the parkland setting of the circuit in real life, Lime Rock Park is a spectacularly scenic racetrack, with lush green fields and trees surrounding much of the exterior elements of the track to help give the circuit its unique old school vibe. Drivers looking for masses of trackside run-off or huge fences blocking goliath grandstand constructions need not bother with this one, as Lime Rock Park is certainly something of a time capsule from a bygone era of motorsport. While this makes for a visually impressive racing, it does leave our track artists here at Studio 397 quite the challenge to bring a realistic visual experience, whilst keeping frame rates and performance high enough to produce a smooth experience on a variety of different specification gaming machines – something we believe we have achieved as part of this new update.
We can certainly say that thanks to our new graphical technology and PBR shaders employed within rFactor 2 in recent months, our ability to dramatically improve the trackside furniture and parkland aspects of this circuit have made for a distinct improvement over the original release, breathing new life into the content and substantially improving the visual representation of this stunning little venue for our players to enjoy. In this new PBR update we have worked hard to ensure the track now looks better than it has ever done before, with new trees, new atmospheric effects, improved road surface details, reworked AI, various trackside object reworking and improvements and a whole host of other changes, fixes, tweaks and improvements that have come together to make this new track update a significant improvement over the original content.
So, what changed do I hear you ask? Read on for the full update notes from the new PBR refresh of this small but mighty American venue: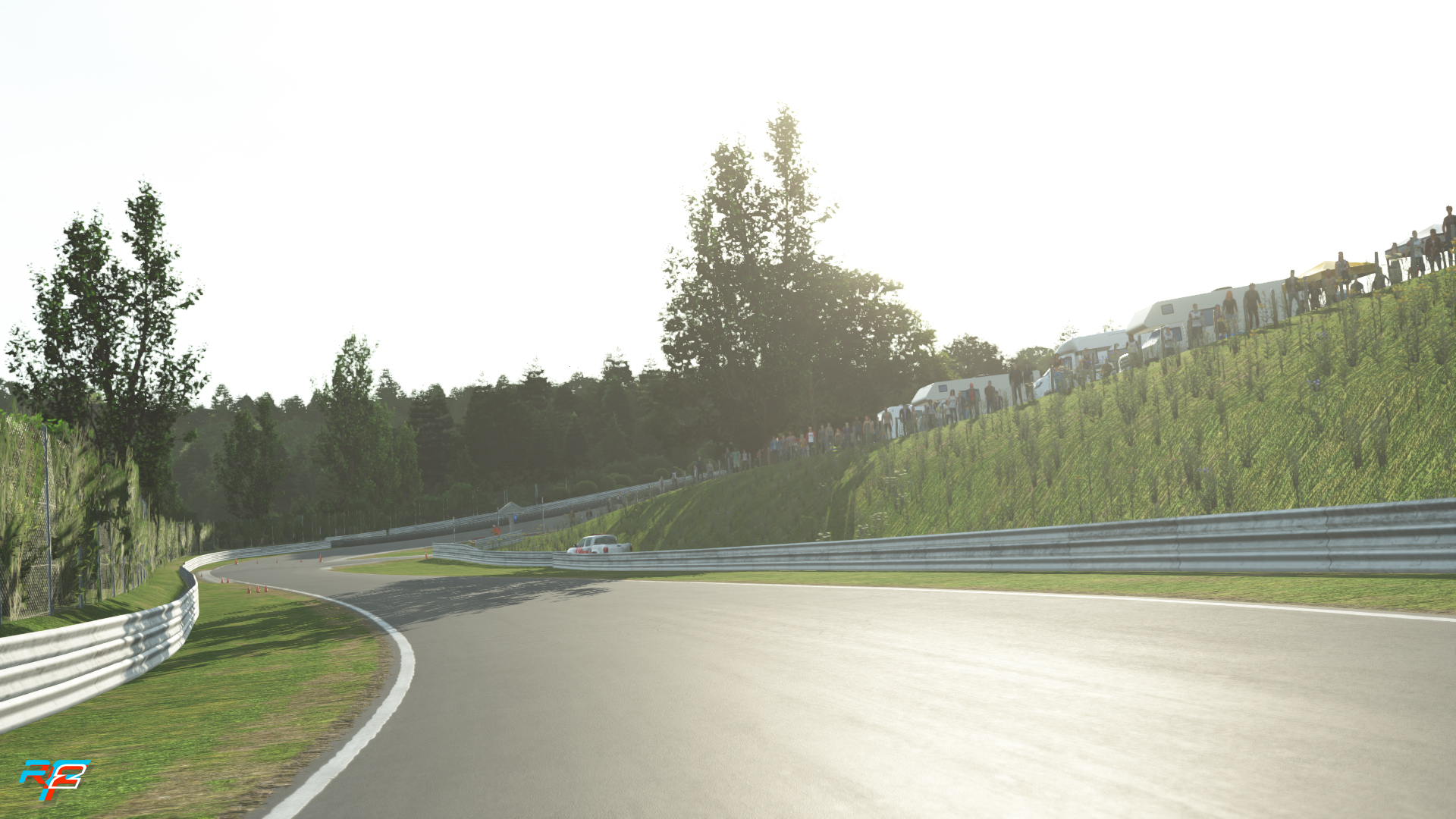 Lime Rock Park v3.00
Release Notes
Full Update of track to latest PBR materials
Updated track side vehicles, marshals, crowds and more
Reworked Paddock Area
Added New Pit Lane objects
Clearer Directions out of Pit Lane
Improved night lighting
Reviewed TDF parameters for road and grass surfaces
Improved AI Fast Lines on all layouts
Reviewed Cut Detection
Fixed several collision issues and gaps
Fixed marshals clipping into camera
Added no rain zones under bridges
Fixed scoreboard not working on several layouts
Fixed various Lodding issues
Fixed a few floating objects
Adjusted file naming so that it does not clash with previous versions.
Lime Rock Park | Steam Workshop: Click Here.
We've always been proud to have Lime Rock Park represented within rFactor 2, one of the few virtual recreations of this fantastic little venue anywhere in sim racing, and even in its previous form before this new update the track still very much offers a fantastic change of pace to drivers looking for a more frantic and challenging driving experience. Despite a lower profile than some other venues in the US racing scene, Lime Rock Park is the third oldest 'continuously operating road racing venue' in America, having opened its doors for the first time in 1956. Part of the National Register of Historic Places since 2009, the circuit continues to host top level national and international racing for a variety of different racing disciplines, as well as remaining the home of the world-famous Skip Barber Racing School, whose founder, Skip Barber remains the owner of the circuit outright.
Recent years have seen the IMSA WeatherTech SportsCar Championship and Pirelli World Challenge take to the fabled tarmac of Lime Rock Park, often with great racing produced by the stars of the series. Although mainly used in the 'Classic' layout of seven turns, just like in real life, rFactor 2 offers players the choice of four individual configurations – All Chicanes, No Chicanes, Uphill Chicane and West Bend Chicane.,
Turn 1 & 2 | 'Big Bend'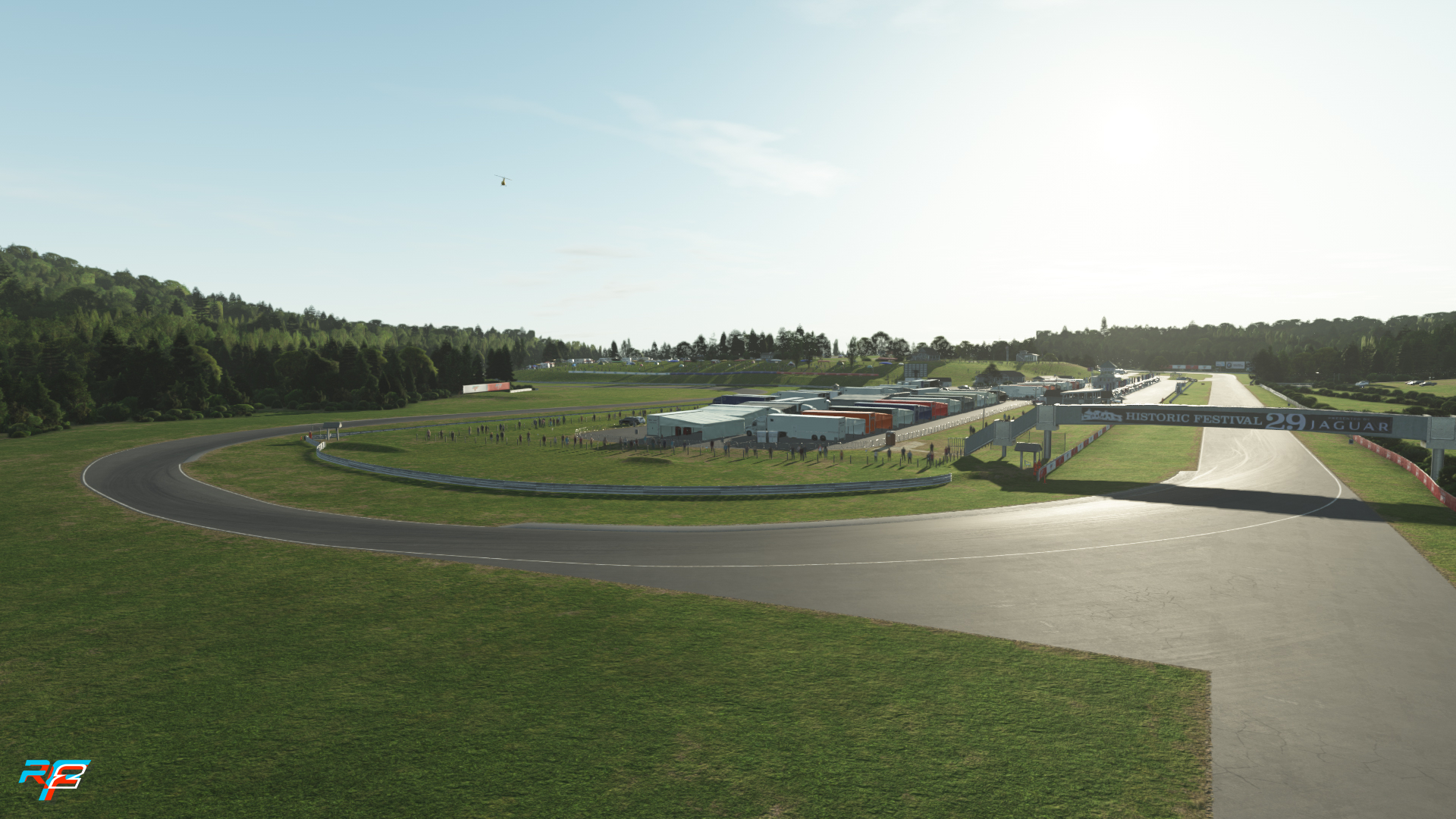 Approached at speeds in excess of 150 mph, the opening foray into the lap sets the tone perfectly for this mischievous and compact venue. Encouraging the driver to dive into the double apex right-hander at Big Bend with maximum commitment, keeping all four wheels stabilized and within the boundaries of the circuit, big wins can be made in overall lap time with enough commitment, finesse and bravery for those with a car underneath them capable of delivering the grip and stability this corner demands. Get it wrong, and very quickly a driver will find themselves running out of racing room, and a trip to the immaculately presented grass will be your reward.
Turn 3 & 4 | 'The Esses'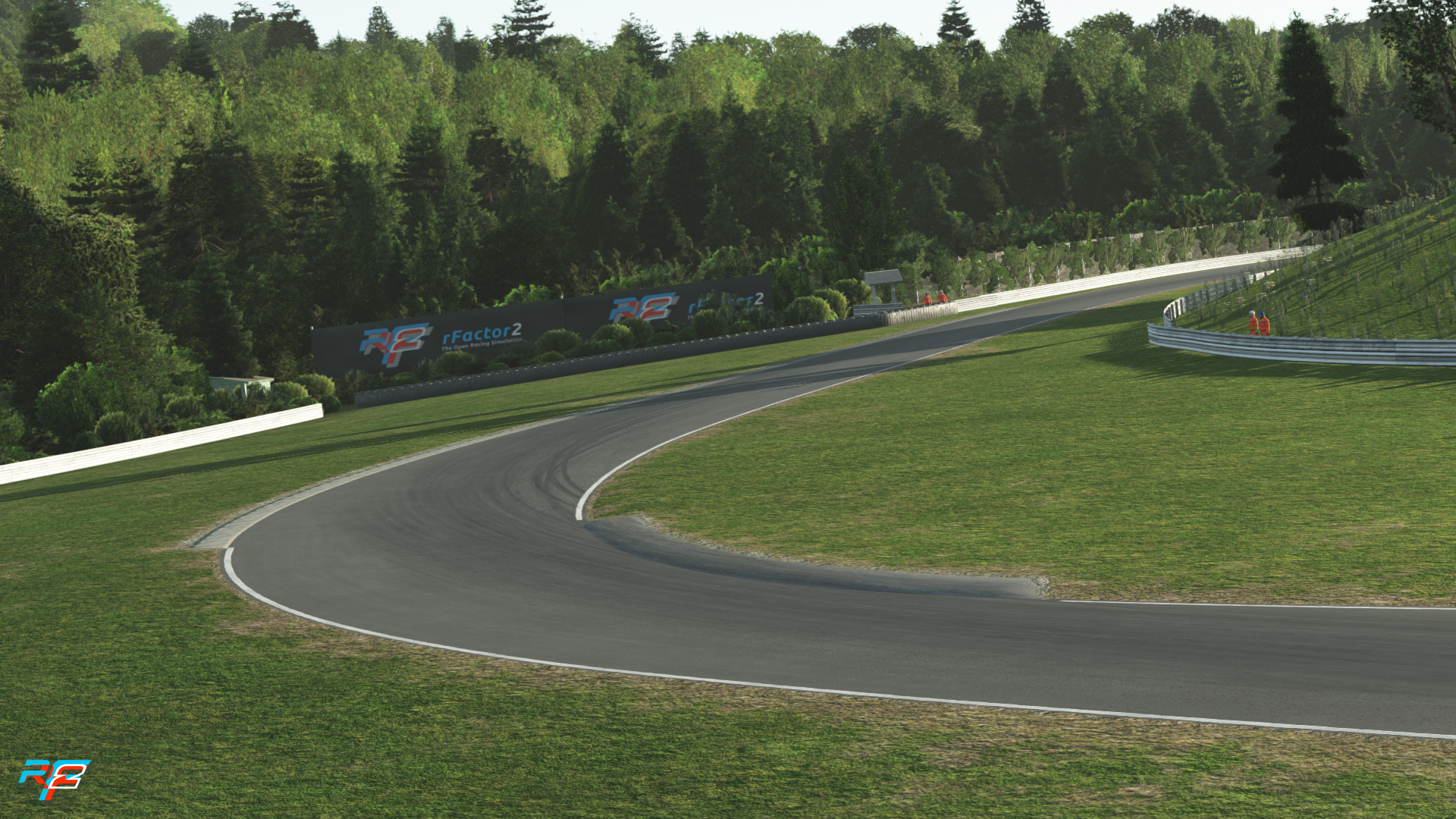 Turns three and four are all about carrying the speed through the middle of the corner, keeping up the minimum speed and performing an efficient direction change in order to position yourself with the best possible exit out onto the uphill backstretch. Here a driver needs to be conservative with their steering inputs to reduce stress on the tyres, whilst avoiding becoming to acquainted with the ever present threat of those inviting, but often vicious curbs that lay in wait for the over eager.
Turn 5 | 'The Uphill'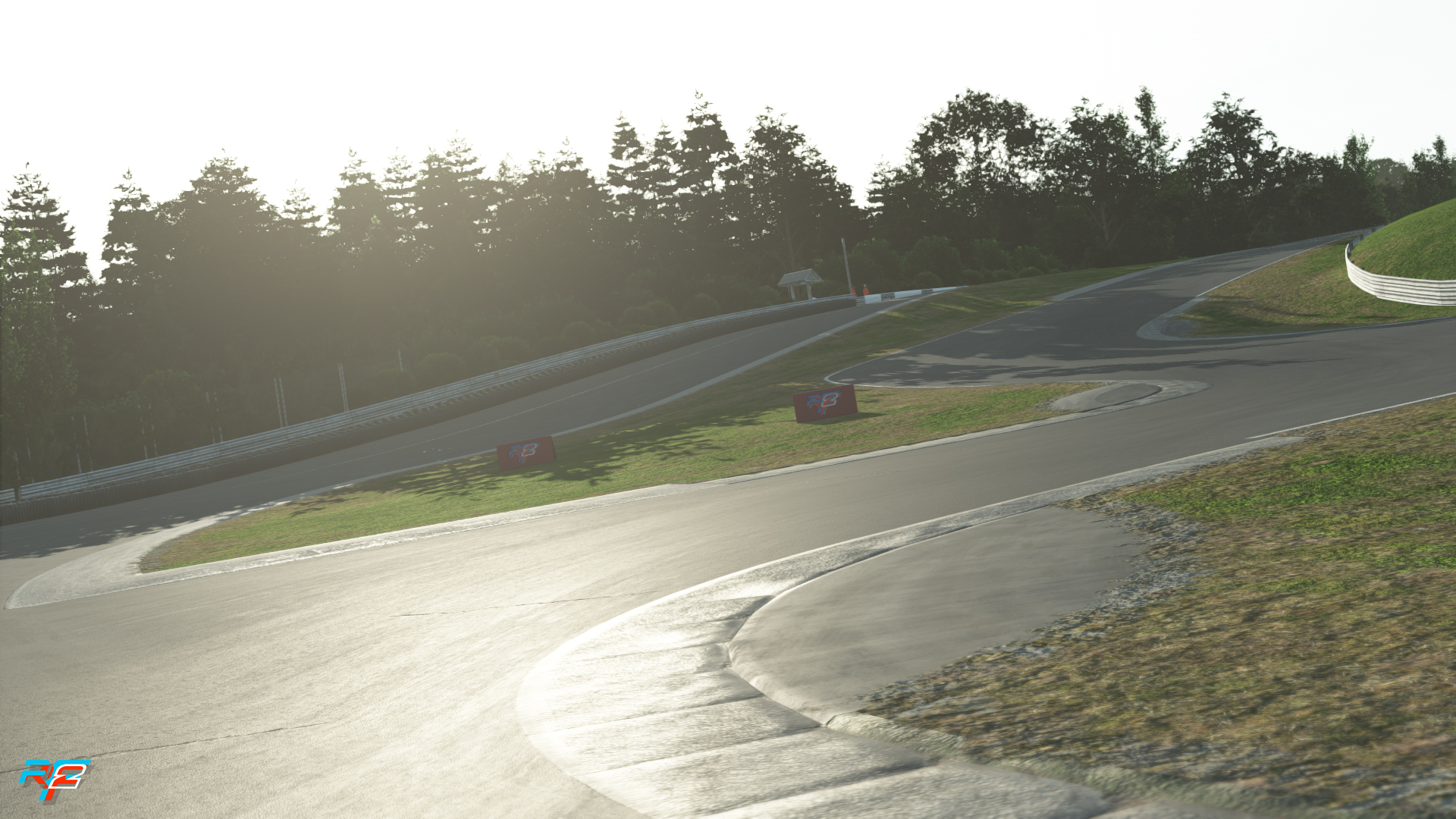 Simply put this is a crazy corner. Throw the car into the right-hander with faith that you have enough road to bring the front around in time, whilst negotiating the elevation changes that often leave a driver unsighted, or if the exit isn't quite right, potentially opening up the opportunity to lift off the tarmac thanks to the severe change in elevation as you begin the run down into West Bend. Easily one of the most dramatic corners on the track, and a part of the circuit where massive time can be both won and lost depending on how the driver manages to negotiate their way around this critical corner.
Turn 6 | 'West Bend'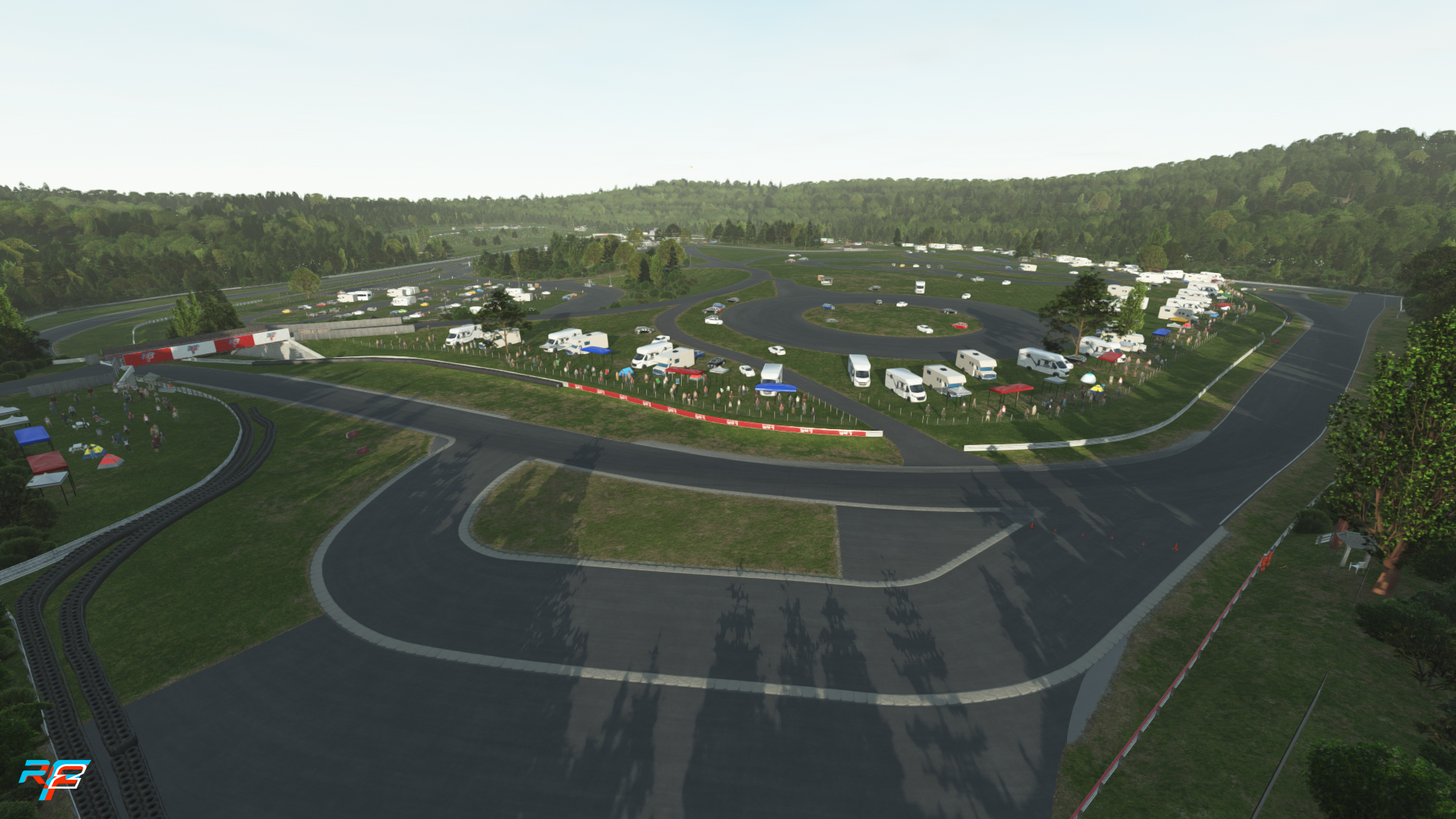 By comparison to those that have gone before, West Bend is somewhat simple in nature, with a gentle flow to the right requiring only the lightest of throttle lifts in the majority of cars. Simple as the corner appears on paper, West Bend certainly has the potential to catch out those who are unawares, with the open nature of the circuit meaning any mistake on this corner, and drivers will quickly find themselves out of control on the exterior grass, and heading straight for the unforgiving Armco barrier that lines the circuit boundary.
Turn 7 | 'The Downhill'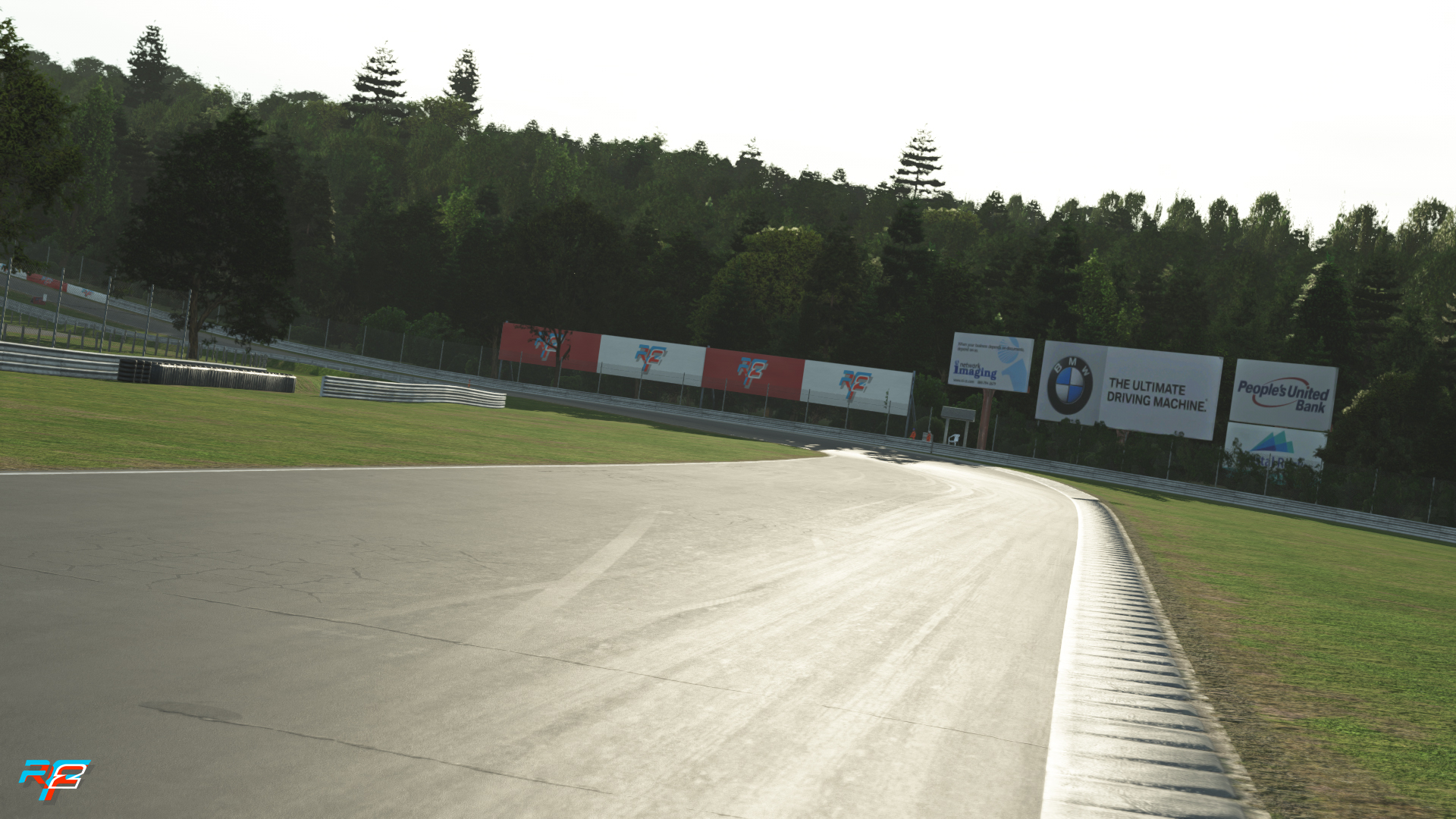 As the name suggests, the final turn on the traditional 'classic' layout of Lime Rock Park is approached downhill at maximum velocity, resulting in this right turn being the fastest corner on the whole circuit – with the added importance that turn 7 immediately leads onto the Sam Posey start / finish straight – get a slow exit through The Downhill and you get hit with the double disadvantage of time loss on your current and next timed lap. Usually approached in top gear, most cars can attack The Downhill at full throttle, however heavy fuel loads or worn tyres can quickly make a relatively simple corner into a fine balancing act of safety over speed.
We have thoroughly enjoyed breathing fresh life into this wonderful free track within rFactor 2, and we hope you all enjoy driving and racing on it just as much as we've enjoyed putting everything together.
Online racing fan? Don't forget the Beta release of our rFactor 2 Competition System is now live, with plenty of daily sessions featuring interesting and regularly updated combinations of officially licenced content from within rFactor 2. Look out of the Competition tab within the UI, sign up for an event and enjoy some great racing action!
The fabulous Lime Rock Park track and many more interesting and exciting content additions for rFactor 2 are available to download now on the rFactor 2 Steam Workshop, and in the rFactor 2 Steam Store, Head over to Steam now, download some great content, and we will see you out on the virtual circuits soon!
Lime Rock Park | Available Now