Great news everyone – today we are absolutely delighted to announce the fantastic INDYCAR IR-18 will be heading to rFactor 2 next week – bringing arguably the toughest and most impressive open wheel racing category in the world to our simulation for what should be an incredible driving experience.
Ever keen to ensure our players have the opportunity to experience the thrills of racing a wide variety of interesting and exciting content within rFactor 2, we couldn't help but notice the astounding resurgence of INDYCAR racing in recent years, quickly coming to the conclusion that this type of car would be a perfect fit to replicate within rFactor 2.
Featuring cars that look incredibly aggressive and powerful from the outside, and demand a very physical and robust manner of driving in order to squeeze the maximum performance and lap time from behind the wheel, together with the help of our new colleagues within the wider Motorsport Games group, we knew these were cars we just had to bring into rFactor 2 – superseding the older DW12 already within the simulation and adding another fantastic variable for our drivers to take out onto the virtual racetracks of the world.
The Car
IndyCar has progressed significantly since our release of the Dallara DW12 back in 2014, having undergone a rigorous programme of development, with numerous updates large and small having been issued to the spec series chassis over recent years.


Now in its third iteration following a race debut for the 2012 season, the new IR18 features subtle (and not so subtle) changes to the visual representation of the cars – from the removal of wheel coverings and extraneous aerodynamic devices, to the more dramatic and somewhat controversial introduction of a fighter jet style frontal driver protection canopy developed by Red Bull Technologies, commonly referred to as the Aeroscreen.
Packing upwards of 700hp depending on the course configuration style, as INDYCAR run specific chassis setups for road course, superspeedways and short ovals, and without such driving aids as power steering to help lighten the load behind the wheel, these cars represent a true driving challenge, one that requires a driver to produce maximum concentration in order to keep the car pointing in the right direction, especially when pitched against a field full of equally competitive opponents looking to steal away any advantage possible.
Technical Specifications
length: 5123.18mm
Width: 1943.1mm to 1917.7mm minimum (1917.7mm minimum and 1949.45mm maximum for ovals) measured outside rim to rim
Wheelbase: 2984.5mm to 3086mm
Engine: Honda HI21R Indy-V-6, Chevy IndyCar V6
Capacity: 2.2 litre (134.25 cubic inches) V-6, twin-turbocharged
Output: 550-700 horsepower, depending on turboboost pressure used at track
Transmission: XTRAC #1011 gearbox. Six forward gears, one reverse gear, Mega-Line Assisted Gear Shift (paddle-shift)

The IR-18 set to arrive for rFactor 2 will feature the latest 2021 specification INDYCAR IR-18, complete with all the teams, drivers and liveries of the 2021 NTT IndyCar Series – allowing our players to recreate one of the most competitive open wheel championships in existence today.
The car will come with both Honda and Chevrolet engines as per the real INDYCAR season, and will of course offer up chassis options for racing on road, oval and superspeedway type tracks – developed with the full cooperation of INDYCAR and the teams that compete within the American series – meaning we are set to have a highly detailed and ultra-realistic new car for our racers to enjoy, and one that replicates what is probably the best open wheel racing series in the world – sounds fun doesn't it?!
New Features
In order to ensure we can produce an experience as close to reality as possible, these new cars also come complete with two brand new physics features for rFactor 2 – Push to Pass, and Weight Jacker. Both of these features are enabled with the INDYCAR IR-18 car, and can be found within the new 2022 UI Update menu options.
INDYCAR Pro Challenge and Competition System Races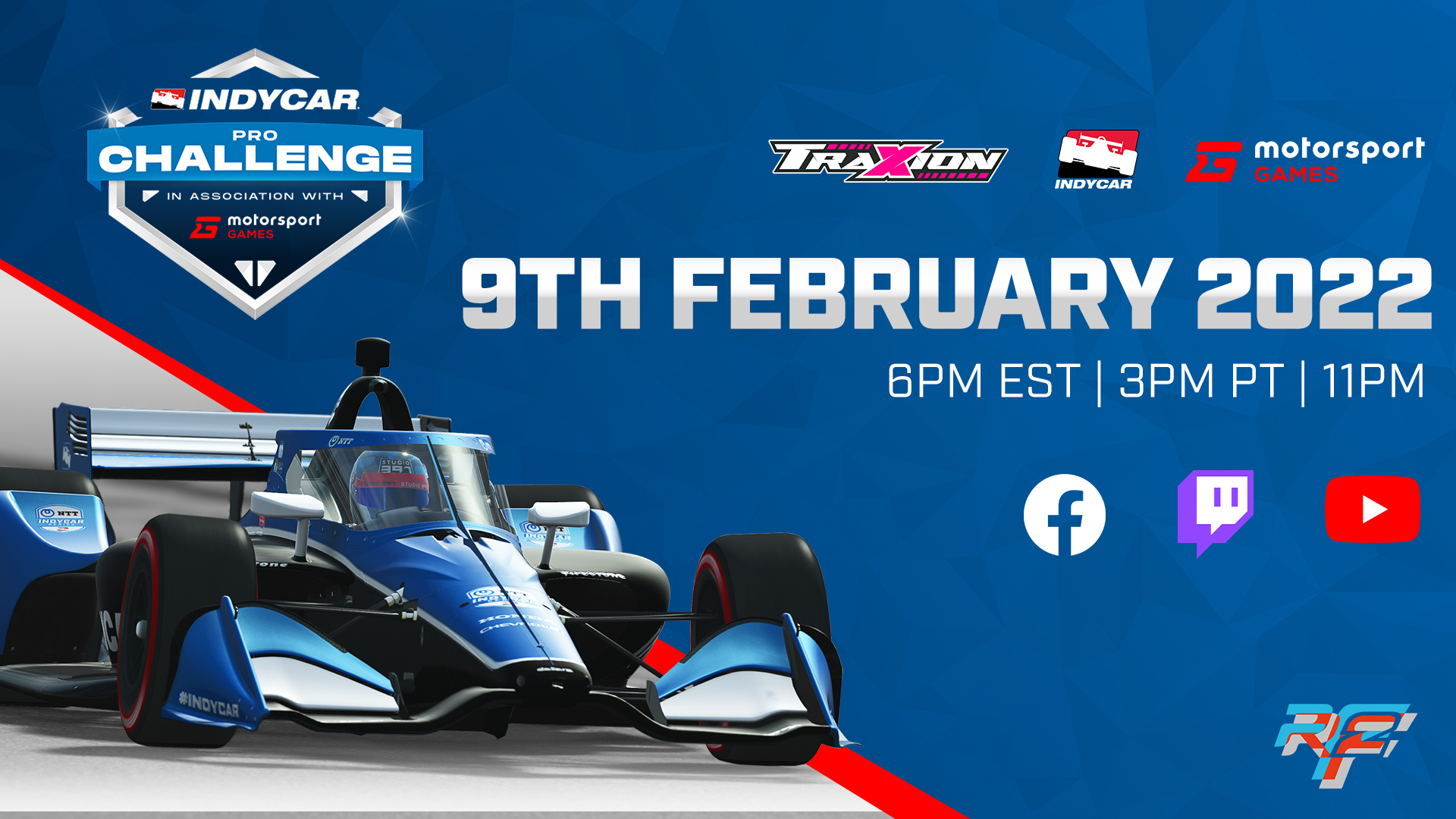 To celebrate the upcoming release of the new INDYCAR in rFactor 2, a special edition esports event featuring IndyCar stars the likes of reigning champion Alex Palou, Helio Castroneves and two-time series champion Josef Newgarden will be taking place on Wednesday, 9th February. Consisting of three heats of two 10 minute and one 20 minute race, with points awarded to each driver, this celebratory event should be a great way to kick off what is set to be a very exciting time for players of rFactor 2. 
Set to air on the TraxionGG Twitch, YouTube and Facebook channels from 00:00 CET, make sure you tune in and take the opportunity to catch the stars of the real series going head to head in rFactor 2!
In addition to the Pro Challenge, players will be able to participate in official INDYCAR events through the rFactor 2 Competition System. Dates for these events, and the new schedule of activations within the Competition System will be made available in the coming days.
Release Details
The new INDYCAR IR-18 is set to release to rFactor 2 as part of a large content drop on Monday, February 7th 2022, alongside the previously announced Daytona International Raceway and Ligier JS P320 LMP3 – plus one more announcement to come!
INDYCAR IR-18- Coming February 7th to rFactor 2!