The wait is over….
We're super excited to release our first car: Studio 397 presents the "Cooper Tires USF2000 Powered by Mazda" Series!
The Cooper Tires USF2000 Series an accessible American open wheel series officially sanctioned by INDYCAR, is a popular proving ground for ambitious drivers wanting to progress to the next level.
The USF2000 car from Van Diemen is an excellent entry-level low-downforce car. It's grippy, yet nimble. While it can be tail happy at times, it remains catchable and is always rewarding to throw around. We've enjoyed some very close, smile-on-your-face, wheel-to-wheel racing testing out the limits of the USF2000. Daring overtakes and massive trail braking really show off it's capabilities.
The 2016 spec USF2000 uses Van Diemen/Elan DP08 chassis and is powered by Mazda's MZR 2 liter, 4 cylinder DOHC engine with fuel-injectors, tuned by Elite Engines to 170 hp thus capable of achieving a top speed of about 150mph.
The car is available in two classes: the Championship class with a 5 speed sequential gearbox, and the slightly lower tier National class, with two transmission choices – the 5 speed (same as in the Championship class, but with a 50 lb weight penalty) and an older, 4 speed H-shifter variant available with three different final ratios.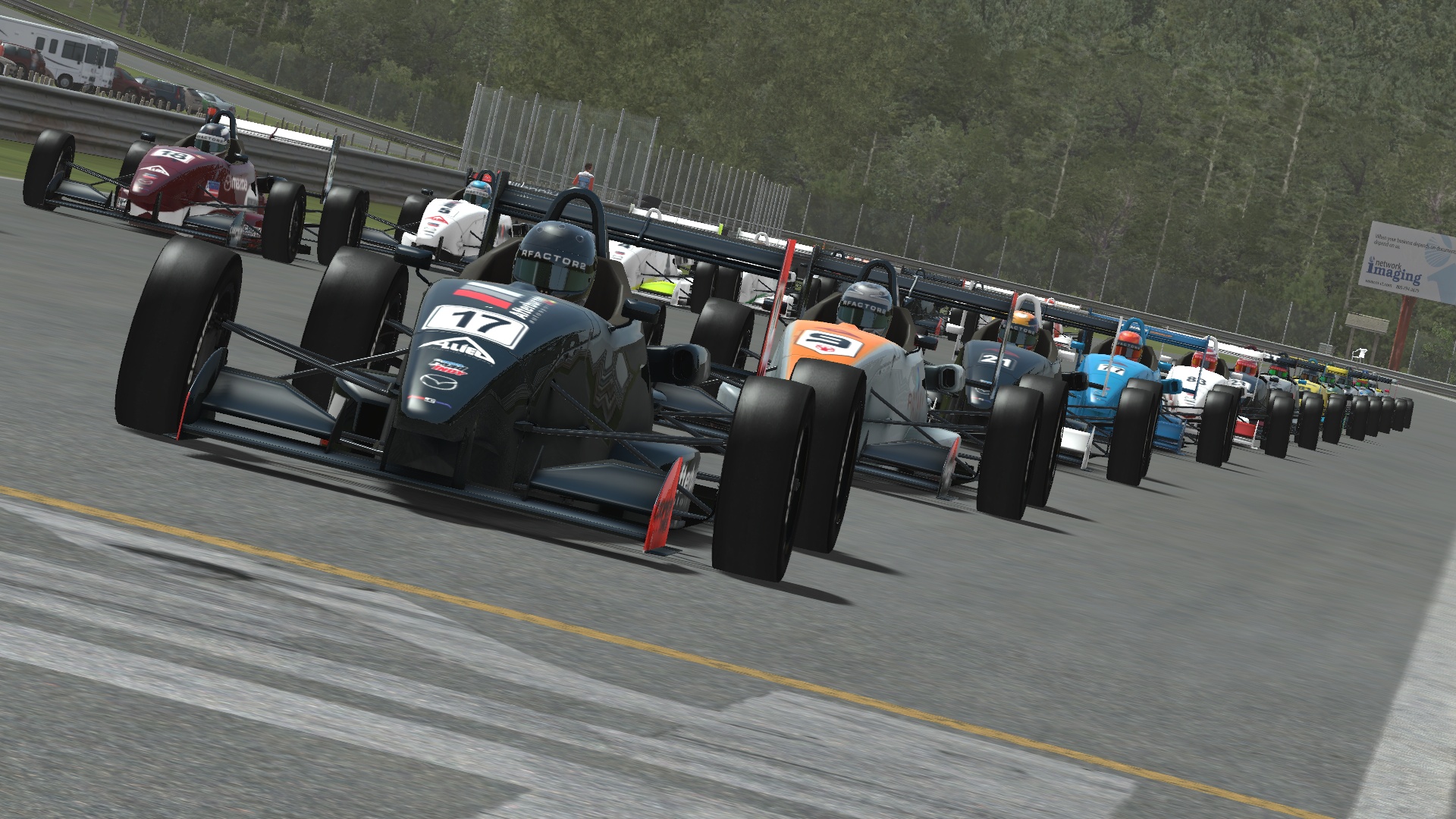 As amazing as this car is already, we are especially proud of how it came to be the Studio's first release. It started with a very engaged community member, Mike Peters, and his ambition to see a mod become a reality in our product.
Mike Peters worked closely with us and John Cummiskey Racing, before contacting Tim Wheatley to ask whether the car could become a third party affiliate mod. We were immediately on board, and the Studio 397 content team got behind the car. From there the USF started evolving and taking shape. Initial testing reports from our test team were overwhelmingly positive, giving the development effort an extra push.
The level of detail and precise access to physics and 3D data would not have been possible without the members of Mike Peters' group: John Cummiskey, Tyler Bell, and Grant Peters. Grant and Tyler, interns starting their 2nd year with JCR, compiled all of the data and setup information for the Studio 397 team to complete work on the car.
The USF2000 is available in the Steam workshop, where you can subscribe to it to have it downloaded and installed into rFactor 2 automatically.