Christmas has come early for sim racing fans today – please give up a very warm rFactor 2 welcome for our latest addition to the family … the Endurance Bundle 2 DLC!
'Tis the season to be jolly… a time for giving, a time for receiving, festive merriment, a glass of something nice and more mince pies than is either reasonable or healthy. Rather than putting that much-needed pair of new socks or a thickly lined winter jumper under the tree this year, give the gift of endurance racing to your nearest and dearest (or treat yourself!) – why not take out some rather awesome endurance cars for a spin in rFactor 2?
Yes dear sim racers, we've gone and put together our latest car pack DLC for the simulation – and I must say we feel pretty pleased with the outcome – three epic endurance machines that include some of the most beautiful, iconic and potent race cars in modern motorsport.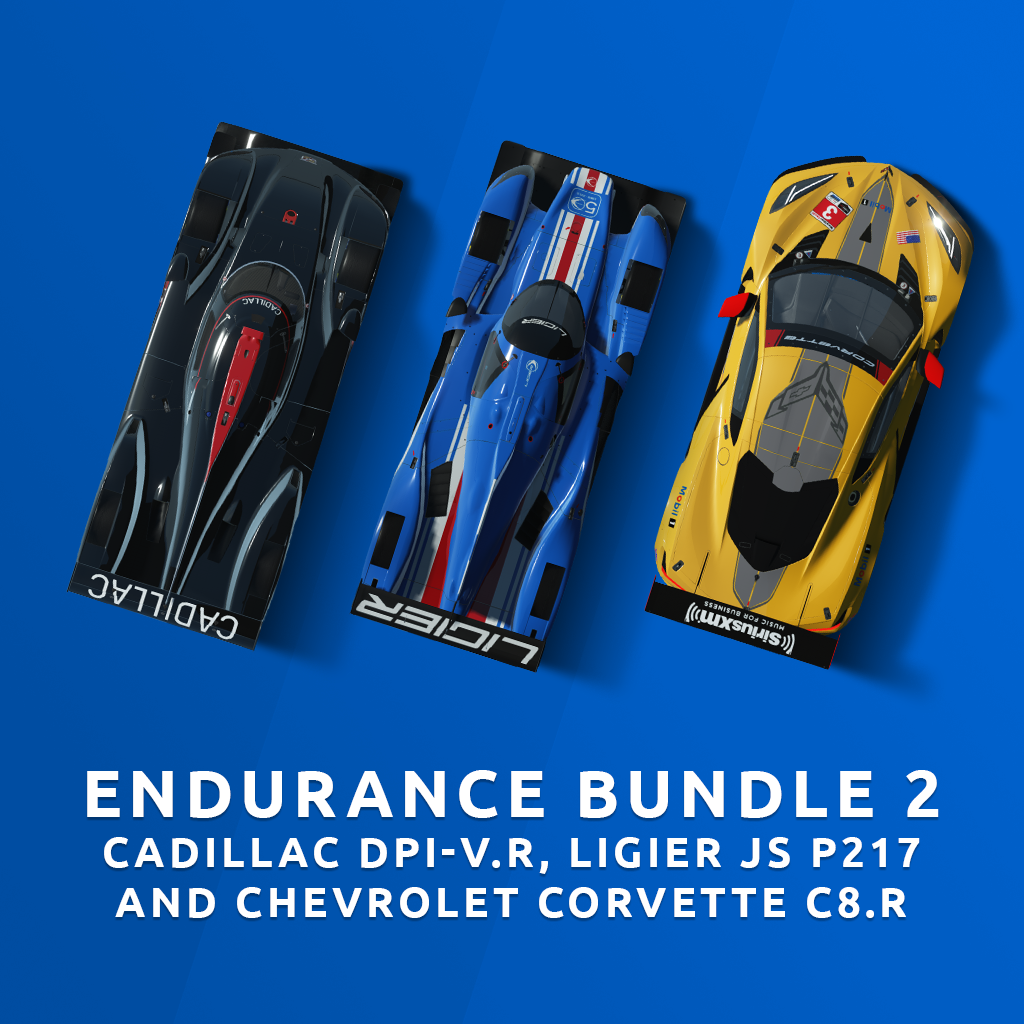 Endurance Bundle 2 | Steam Store: Click HERE.
It's hard to argue against the fun of multi-class endurance racing. That feeling of slicing a Prototype through slower traffic in the fight at the head of the field, or powering your GT racer within a crowded pack of cars while keeping half an eye on the mirrors and blue flags ready to let faster cars to pass – it's something that just cannot be replicated in any other form of motorsport, and with rFactor 2 now containing four of the best endurance tracks in the world (Le Mans, Sebring, Silverstone and Spa), these cars never had a better place to be put through their paces against your rivals.
Endurance Bundle 1 | Steam Store: Click HERE.
With this new Endurance Bundle DLC, we at Studio 397 have tried to keep an eye on our existing content to both bring something new to the simulation, and add further depth to the popular car classes already available within rFactor2.
Endurance Bundle 2 DLC Contents:
Cadillac DPi-V.R
Ligier JS P217 LMP2
Corvette C8.R GTE


2020 Cadillac DPi-V.R

Built in close collaboration with top North American sportscar team JDC-Miller Motorsports, the Cadillac DPi-V.R represents the very finest in American endurance racing engineering, having taken the IMSA WeatherTech Sportscar Championship by storm since an incredible debut in 2017, winning no less than the first seven events it contested in the category, including the prestigious Rolex Daytona 24 Hours. Wayne Taylor Racing pairing Ricky and Jordan Taylor would dominate the drivers' standings in the new machine, securing the title convincingly from sister entry Whelen Engineering, themselves taking a victory at the demanding Mobil 1 SportsCar Grand Prix at the Canadian Tire Motorsport circuit in Ontario, Canada.
2018 would be just as successful for the popular return of the Cadillac brand, with a further four wins courtesy of Mustang Sampling Racing (2), Wayne Taylor Racing (1) and Whelen Engineering (1) enough to secure a clean sweep of drivers and teams' championships for the iconic American manufacturer.
A further four wins in 2019 would again see the Cadillac DPi-V.R at the sharp end of the IMSA WeatherTech SportsCar Championship despite increased competition from the likes of American powerhouse outfit Penske and Mazda, although championship success would elude the manufacturer for the first time, with the Brazilian driving duo of former Formula One driver Filipe Nasr and SportsCar star Pipo Derani narrowly missing out on top spot in what was generally considered to be the most competitive championships in the recent history of the IMSA series.
Fast-forward to a truncated 2020 season and again Cadillac would prove to be force to be reckoned with, this time with JDC running two cars under the JDC-Miller Motorsports and JDC Mustang Sampling banner alongside entries from Konica Minolta and Whelen Engineering. Despite having to perform in front of mostly closed door audiences and with a hastily amended calendar, the American teams would put up another determined fight against racing royalty in the form of Acura Team Penske, with the manufacturer taking a total of three race wins and runners up position in the championship for the #10 Konica Minolta car of Australian Ryan Briscoe and Dutchman Renger van der Zande.
With JDC in the unique position of being the only team to run two Cadillac DPi-V.R entries this season, we found them to be the perfect partner to team up with as we looked to maximise the available data and resources when creating this new car. Our collaboration with JDC has been nothing short of sensational these past months, and working alongside our colleagues at the team has opened up some exceptional opportunities to really get under the skin of this outstanding car, and most importantly for the players at home, recreate what we consider to be one of our most accurate and detailed vehicles for rFactor 2 so far.
Key Performance Stats
Engine: 5.5L V8
Power: 580HP
Weight: 930kg
Top speed: 360km/h
2020 Ligier JS P217

As costs continued to spiral during the previous generation of endurance racing regulations, many teams and drivers found themselves migrating to the much more financially friendly and increasingly competitive LMP2 category of racing – high downforce prototype machines that don't quite reach the ultimate lap pace of the table topping LMP1 / LMdH / LMH group, but offer seasoned professionals and up and coming drivers multiple opportunities to race in championships throughout the world.
With the recent influx of professional teams and drivers to the category, the popularity of LMP2 has exploded over the last few years. Offering arguably the most competitive and sizeable grids week in, week out in endurance prototype racing, LMP2 has become what the original Le Mans Prototype class never quite managed to achieve – the peak competitive proposition for prospective drivers looking to carve out a reputation and career in endurance prototype racing.
With such popularity and the sheer volume of cars produced, many championships throughout the world have been quick to adopt LMP2 regulations within their own series, either as a standalone category, or as part of a wider multi-class structure, such as can be found in the World Endurance Championship, IMSA WeatherTech SportsCar Championship and European Le Mans Series.
We already have the Oreca 07 LMP2 car within the simulation, and keen as we are to ensure rFactor 2 has a wide range of vehicles suitable for close and competitive racing as possible, we felt the time was right to introduce another mighty LMP2 car. With the technical knowledge of a former Formula One race winning outfit in the form of Ligier, the French marque partnered up with Onroak Engineering to produce an exceptionally efficient and competitive vehicle, one that competes with some success in national and international endurance racing events.
Debuting in time for the 2017 racing season, the car immediately proved to be competitive in the hands of numerous racing teams, with a debut fourth place finish (and fifth overall) at the 2017 Le Mans 24 Hours in the hands of United Autosports proving without doubt that the new JS P217 is a car to be reckoned with. That form would be carried forward in the European Le Mans Series by the US squad, the team snapping up an impressive three outright race victories for the new car en route to second overall in the teams standings.
Further Le Mans LMP2 success would come the way of this attractive closed top prototype, despite the numerical dominance of Oreca within the category, with United Autosports once again carrying the flag for Ligier with a exceptional class podium in 2018, following up with a further top four finish within the series the following season.
Having released in 2017, the JS P217 immediately showed promise on the circuit, and the following years have seen the car wrap up wins in various categories throughout the world. A mainstay in series such as WEC and stateside with the IMSA WeatherTech Sportscar Championship – we are sure you will agree that this is a great car to add to our ever growing collection of official content within rFactor 2.
Key Performance Stats
Engine: 4.2L V8
Power: 600HP
Weight: 930kg
Top speed: 330km/h
2020 Chevrolet Corvette C8.R

Replacing the venerable Corvette C7.R was never going to be an easy task for Chevrolet, however the new Pratt & Miller developed machine has immediately picked up the baton dropped by its predecessor and proceeded to firmly establish itself as a competitive force to be reckoned with in the IMSA WeatherTech SportsCar Championship. Straight off the bat following its debut at the Rolex 24 Hours of Daytona the two car entry proved to be quick in the hands of the works Corvette Racing Team, going on to secure wins in over half the rounds of the 2020 season, unsurprisingly culminating with titles in both the team and drivers championship at the conclusion of its debut year of competition.
The eighth-generation Corvette represents something of a departure from expected norms from the American brand. Gone is the traditional front engine concept so revered by the partisan fanbase of the car, and in its place comes a move to the somewhat divisive modern mid-engine design, Still kicking out in excess of 500hp to the rear wheels and a top speed of just under 200 mph from the fire breathing 5.5 litre V8 engine, the car is very much a Chevrolet under the skin, but with significantly different handling characteristics than those that have traditionally been associated with the bright yellow machines of years gone by.
According to Corvette Racing driver and sportscar ace Antonio Garcia, the new C8.R is "very agile" compared to its elderly predecessor, allowing the driver to "fight it harder and push pretty hard", which should translate into a very popular choice of car for our online players to select in the white hot heat of battle!
The C8.R should stick to the road better than the C7.R as well, with an estimated additional 10% downforce possible from the new model thanks in part to the aggressive styling characteristics and complex aerodynamic details, coupled with a flat floor design as per the IMSA series regulations, These design touches, and plenty of ingenious work creating a much more use friendly and driver focussed interior layout have all contributed to the incredible success of the car on the world stage, right from its very introduction into racing at the beginning of 2020. With fierce competition from the likes of both Porsche and BMW chomping at the bit to recover lost ground to their American rivals, the race for GTE honours looks set to be another glorious one next year, and you can recreate it at home in rFactor 2 from the comfort of your own racing rigs!
Key Performance Stats
Engine: 5.5L V8
Power: 500HP
Weight: 1260kg
Top Speed: 300km/h
Don't forget, as it is the Holiday season we've also got our Steam Winter Sale in full swing, with some exceptional offers on content for rFactor 2. If you've been missing a few key items, want to complete that collection or just fancy taking a look at something a bit different, head over to the rFactor 2 Steam Store page now and check out some brilliant new deals – the Steam Winter Sale ends on January 5th, so act fast!

These new cars represent the pinnacle of modern endurance racing as we head into 2021, and coupled with the already rich array of Prototype and sports car machinery within rFactor 2 (with more to come next year), we feel pretty confident that the Endurance Bundle 2 is a great way to say goodbye to what has been a fantastic year for rFactor 2, and set the tone nicely for what should be an even better 2021…
Enjoy the cars, enjoy the festivities and see you out on track soon.