Roadmap Day!
Hello fellow virtual racing fans and welcome to the latest of our monthly rFactor 2 Development Roadmap postings. It will come as no surprise that once again the last four weeks have been pretty full on here at Studio 397 as we continue to push hard on the development of rFactor 2, with plenty happening both on the public facing side of the business, and behind the scenes and in our quest to keep improving and expanding the title.
So, without further ado – let's have a look at the great and the good of the past, present and future in rFactor 2…

New Builds & Bug Fixes
As we detailed in the last Development Roadmap back at the end of January, a lot of the attention from our development team continues to be focused on addressing a number of the identified and existing bugs within the simulation, with extra attention having been spent in recent weeks verifying and analysing a wide variety of different aspects of the software that can be fixed in the short, medium and long term development of rFactor 2. In an effort to ensure we deploy our resources in a sensible and structured way, we have gone to great lengths to understand where we can make the most impact on the highest number of important fixes within the sim, whilst keeping a close eye on the potential effects this might bring into the codebase within the software. When working on a piece of software as complex as rFactor 2, it is often the case that one change within the development code has unintended consequences elsewhere, and what initially felt like it would be a relatively straight forward change ends up eating into considerable amounts of time that we have budgeted for the fixes, which in turn can have an impact on how many issues we can address in a given timeframe.
In order to facilitate our ongoing development process, we have taken the decision to have a closer look at the underlying code within rFactor 2, and how various pieces of the software depend on other aspects of the code, and what these functions aim to achieve in how rFactor 2 operates behind the scenes. This is proving to be a fruitful exercise, and many fixes and improvements have already been identified and resolved by the development team – which helps put us in a stronger position moving forward. The downside to this is a lot of our resource has been applied to fixing areas of the software that will perhaps not manifest themselves as noticeable changes to the public, but they have certainly been required in order to give us the stable base on which we need to keep pushing forward, and start bringing together those big ticket changes that really uplift the user experience for our players.
Earlier this month we deployed a new build update to the 'Release Candidate' branch of Steam (more on RC builds below) that contained the first round of tweaks and improvements we have been working on. So far, we have received a positive reaction to this build, and community feedback suggests we are very close to putting these fixes into the main public branch of the software. The benefit we've found in having a release candidate branch has been significant, as it allows us to gauge the reaction of our community and identify if any issues become apparent that did not show themselves during our internal testing, whilst still offering players the opportunity to stick with the main stable branch of the software if they so choose. We are pleased with how this is working initially, and will continue to adopt this development strategy for the foreseeable future.
Another positive benefit of having a Release Candidate branch for our new update is it allows us to split development focus between closing up any outstanding issues on the RC build that may appear, whilst simultaneously continuing to advance the process of creating our next build – something that is well underway at the Studio and should be very, very close to being deployed to the RC branch once we've moved the current changes into the public version of the software. Oh and yes, wheel and pedal inputs will return for the next update…!

'Release Candidate' Builds
As detailed above, rFactor 2 currently has two main builds which players can choose to activate. As described in the last Development Roadmap, and again detailed below, players can select 'None' in the beta tab of rFactor 2 on Steam, which will give them access to the main public build of the software, or they can choose the 'Release Candidate' option that allows players to drive with the latest updates developed by Studio 397. After a period of time the Release Candidate changes will be transferred into the main public build of the simulation, and will become the default installation setup.

In the last development roadmap we spoke about a streamlined way to report issues with the latest build of the software, and we are still finalizing and tweaking how this will work in reality. The goal of the process is to efficiently capture as wide a selection of community identified areas of rFactor 2 that you want us to review, but without making the process overly burdensome for the end user to provide valuable information for us to action. As an added aside, we also want to make it so we can clearly and easily see what has been reported, with hopefully all the information we need in order to translate that report into an actionable instruction to our development team. We anticipate these reporting feature are very close to being rolled out to the public, however once the final version has been developed and tested, we will speak more about how you can contribute to this important initiative closer to the time.
Currently In Development
As we continue to dig further and further into the codebase of rFactor 2, and continue to monitor and action community generated reports about the software, we are pleased to see considerable progress is being made around finding, replicating, reviewing and resolving a wide variety of different aspects of the simulation that we would like to see fixed and improved. Of course, this is very much a long term process and quite frankly no piece of software will ever be entirely free from the need to update and improve, especially one such as ours where we intend to build upon the core offering with more and more functionality and features over a number of years into the future.
Already we've released a new build and a new 'Release Candidate' build that we discussed earlier in the roadmap, and much of the next 'RC' build is already at an advanced stage of development and testing – so expect some nice changes to brought to the wider community in the not too distant future.
Of these changes, we have continued to focus on the core bug fixing aspect of the title for now, so those of you at home eagerly awaiting brand-new features and physics updates will, I'm afraid, have to remain patient for a little while longer as we continue to work hard to ensure our core base of the simulation is robust enough to allow us to develop the improvements we would like to see brought into the title in the days, weeks, months and years ahead.
That said, we have managed to sneak in a nice collection of tweaks that we think the community will be pleased to see added or returning to rFactor 2 as part of this developing new build, This list is not complete yet, so make sure to check out our changelog once that new build becomes our next release-candidate.
Related to content, we fixed a CTD when you tried to launch with a series selected that was uninstalled, we made sure there are no ways anymore to select upgrades that were different from the ones the server forced, and we addressed an issue where sometimes when you tried joining a server you would end up selecting cars from the wrong list. Finally, we have extended the logging to include more details about the content that's being loaded.
Fixed issues with the UI sometimes running at an insane framerate. In the options screen, if you would change FFB settings, they would not register until you go on the track for the second time. The session settings screen saw a bunch of fixes, most of them related to making sure settings get reset at the proper time, such as when changing tracks or series. In the package management screen, we fixed a sometimes not working refresh button. Favorites are also refreshed if you add new ones from the full server list and finally the garage screen now also shows wheel loads.
In the graphics department, after discovering, in testing, some graphical glitches in the skies, included those in the permanent fixes we did that would also sometimes cause the car bodies to glitch and "blow up". We removed the faint boundaries you would see in VR when looking at the edges of the UI. Last but not least we fixed an issue where secondary wet weather reflections would not show up on damp road surfaces.
Added driver and car info displays to the full screen replay. This includes inputs like steering, brake, clutch and throttle and a g-force circle graph. On top of that we also now always display the correct driver before and after driver swaps. In a race session we now show the time remaining in a session. The message centre now consistently shows the same naming and numbering for values as the garage when changing settings such as ABS and TC while driving.

New Content Next Week – Diriyah Formula E
Moving on to the world of content releases, as our ever insightful Discord community have already managed to work out, we are incredibly close to releasing a brand-new circuit to the simulation – yes, the Saudi Arabia round of the ABB Formula E World Championship is coming to rFactor 2 – the Diriyah E-Prix! The new track DLC should be released as early as next week, and having enjoyed the pleasure of driving it in rFactor 2 these last couple of weeks I can safely say I'm confident our sim racing community are really going to enjoy the challenge it offers to players. Unlike many street circuits typical of the Formula E calendar, Diriyah offers up a very high speed combination of corners, many of which are blind on corner entry and require the driver to fully commit to the racing line well in advance of a clear line of sight to the apex – something that is incredibly challenging with walls lining the circuit on either side, and I must say it's a rather thrilling experience, especially in the new Gen2 2021 Formula E cars we recently added to the game.
Formula E 2021 | Steam Store: Click Here.
The new track will be our fifth E-Prix release, after the original Hong Kong, Monaco, New York and Berlin circuits that we brought to the sim over the last couple of years. The circuit has 21 corners, as mentioned before many of which are high speed, and benefits from the rather unique desert location, which coupled with the impressive architecture scattered around the perimeter of the circuit, certainly lends itself to a visually impressive and immersive piece of new content.
Of course, being a part of the 2021 Formula E season, the track will include or latest Formula E specific feature, Attack Zone, where players have the ability to activate an onboard 'attack mode' for two additional boosts in speed during the course of the race, following successfully navigating through the attack zone gate located within the circuit configuration.
Another Track Coming Soon
Not content to rest on our Formula E laurels with the Diriyah E-Prix release in the first few days of March, the coming month will also see another new circuit addition rFactor 2 – although just to keep suspense a little longer I'm going to hold off telling you exactly which track it is – but I can confirm this is a surprisingly fast, very technical and rather undulating layout that is an absolute blast to drive… stay tuned to the rFactor 2 Social Media channels in the days and weeks ahead for more news about the track, and when to expect it to become available for the sim later this month…
Additional Track Updates In Development
As well as working on the actual code itself, the studio have also been rather busy in the track development department, as our super talented artists continue to work on both new projects, and breathing life into older content within the simulation. We have a fairly substantial schedule of updates for a number of circuits in the near future, including a new build of Azure with greatly improved AI across the varied car types within the sim. Azure is pretty close to final testing now, so expect that one to drop during March, but we've also got a few other tracks that are currently receiving fixes and PBR graphics updates – some of which are edging ever closer to hitting our testing team for final approval.
It's probably a bit too early to give estimates of when exactly these updates are likely to appear in the public, and we don't want to set expectations by telling you exactly which tracks are at what point in development, but I think it would be fair to say that we can expect a couple of nice new builds of popular venues to be dropping into the sim in the reasonably near future…, more on those a little later in the month…

Competition System Blog Going Strong
In this section of the roadmap we want to take the opportunity to thank our awesome community for their outstanding engagement in our weekly Competition System blog posts. Frankly, we have been astounded with the level of interest and engagement in our new system, and the curiosity the community have to find out more about our direction of development travel, and what the short, medium and long term goals are for the studio in relation to getting the CS fully feature rich and into a main V1 public build status.
In all honesty, we took a bit of a dip into the unknown with these blog postings, with a very open mind as to the level of interest and how many questions we would actually receive with such a regular posting schedule. As I'm sure you have noticed, despite the Competition System being still very much in a beta phase and with little in the way of promotional activity behind it, our community have really taken the potential behind this system to heart, and are seemingly full of interest to hear more about how the mechanics of it work, and what is coming up next.
We love taking the opportunity to try and answer your questions and provide further clarity on the system itself, even if it has resulted in a few late night dashes to the finish line in order to get it out on our regular Wednesday slot! Please do keep the questions coming, and we will continue to try and be as open and honest in our responses as we possibly can be. Plenty more updates and improvements are on the way, so I'm sure we will have much to discuss in the weeks and months ahead!
If you want to catch up on everything Competition System related that you may have missed, be sure to check out these handy links to our blog postings released so far:
A Postcard From The Desert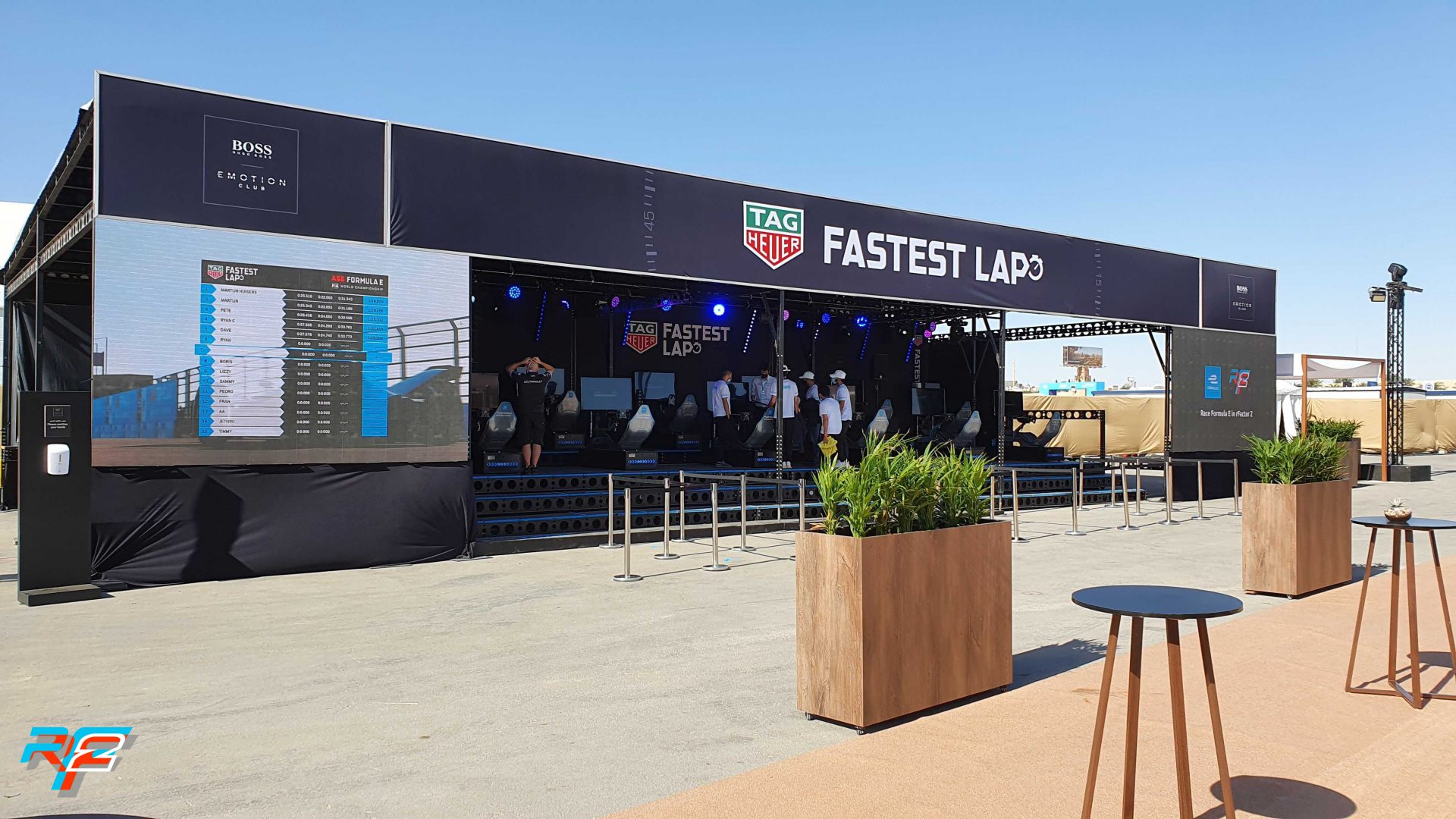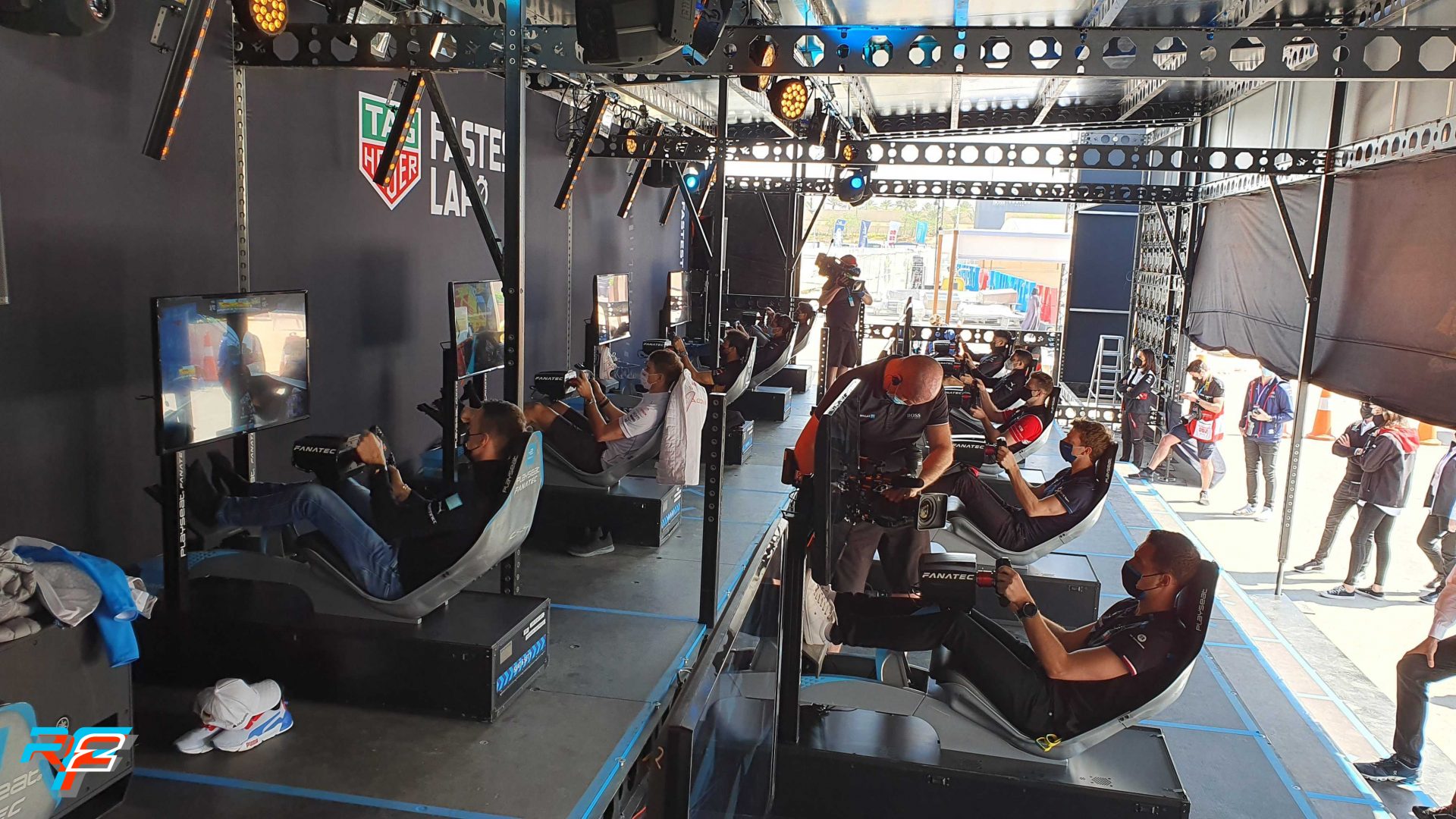 I'm sure a fair proportion of you will know that this weekend the first round of the newly World Championship classified ABB Formula E championship kicked off in Saudi Arabia on Friday and Saturday, marking the return to action on a circuit outside of the many configured Berlin street course for the first time in nearly a year for the series – but what you perhaps don't know is rFactor 2 has a very strong presence trackside this year, thanks to our special Formula E specific 'Game Zone' that will be following the championship throughout the season.
Sadly, the current travel restrictions prevent the staff here at Studio 397 from having a bit of friendly 'who gets to go out to the track' rivalry between ourselves, but our colleague Martijn has been fortunate enough to represent the studio on site, and ensure everything continues to run smoothly on the various rFactor 2 simulators that are available to both the real drivers and members of the public to try their hand on the simulation.
Unsurprisingly, it looks like it's pretty warm in Diriyah, and a fair bit of sand keeps making its way onto the stage too….
Looking Back On February
Now that we've spoken at length about the future of rFactor 2, let's take a few moments to review what happened during the first month of the new year, with a quick recap at some highlights for rFactor 2 players in the month of January.
Indianapolis Motor Speedway PBR Update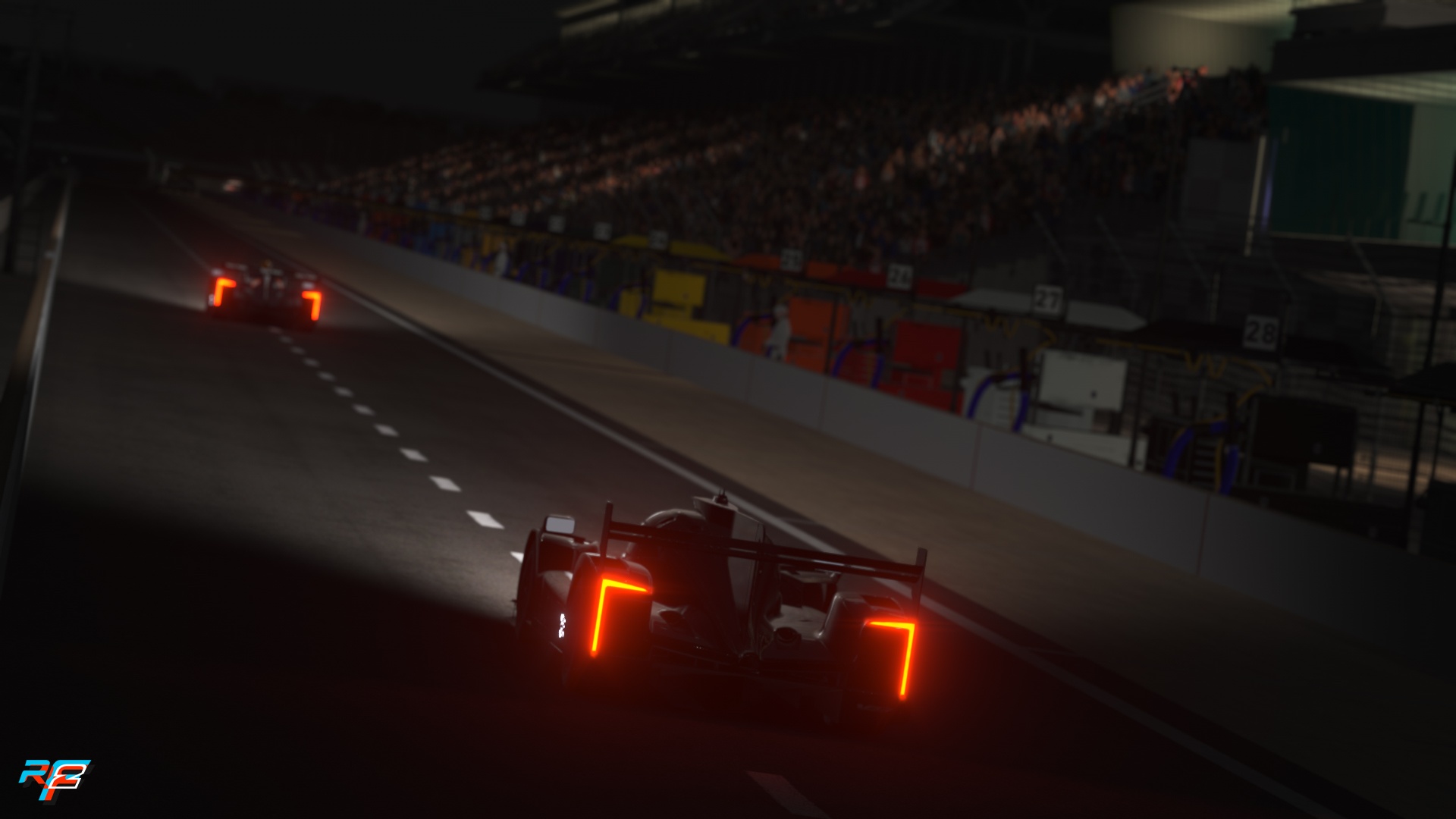 Indianapolis Motor Speedway | Steam Workshop: Click Here.
This is one that we've been looking forward to deploying for quite some time. OK, I think it's fair to say that the modern incarnation of the Indianapolis Motor Speedway road course configuration is a bit of a 'marmite moment' for many sim racers – you either seem to really love the way the circuit flows and the corner variety, or on the other end of the spectrum you really, really don't like the track at all! That's perfectly understandable, and it would be fair to say that oval aside, no one is going to remember the layout as a legendary circuit in the same breath as somewhere like Spa-Francorchamps or Suzuka, but even so the track certainly has its own particular unique charms, and it often seems to generate really close and intense racing, no matter the category or style of car.
As one of the older circuits within rFactor 2 (having released all the way back in 2014), and despite further post-release updates, the circuit was certainly starting to show its age in comparison to more recent content releases for the simulation. As a staple venue in the world of endurance racing, and as part of our significant schedule of content updates that we have been methodically working through in recent months, it felt like the ideal time to give our American track a bit of the PBR magic treatment, bringing the track up to spec and taking the opportunity to add a few more handy fixes, optimizations, tweaks and improvements. We are really happy with how the update has turned out, and we are sure you will agree that the track looks and drives better than ever.
RCCO eX ZERO 2021 1.17 Update
RCCO eX ZERO 2021 | Steam Store: Click Here.
Also on the topic of updates, our most recent car release has seen some positive improvements brought to it earlier this month, as we spent time as a studio looking adding yet more new technology to the rather splendid RCCO eX ZERO 2021. As many of you will be well aware by now, the ex ZERO is a high technology electric race car that we developed for rFactor 2 in conjunction with Mike Rockenfeller and the RCCO team. Although the car exists only within the realms of rFactor 2, the physics calculations and parameters used within its creation marry up to those of real life – giving players a realistic and believable experience of how this car would behave should it ever make it into production in the real world.
As the car is powered by a 100kWH battery, one that produces an astounding 1000hp, we thought it would be a good opportunity to add some additional regeneration technology into the power unit, effectively adding the ability for drivers to charge their power supply when out on circuit, by way of regenerating electricity through heavy braking on the track. This has required a bit of back end coding in both the car and simulation, and we feel this added element to the driving experience really helps further differentiate how this car behaves in comparison to more traditional internal combustion engine machines within the sim.
Although the regen technology was a significant upgrade to the car, we also took the opportunity to further upgrade the visuals on the eX ZERO, adding new LED lighting and customisation options, as well as a revised animation for the windscreen wipers and updates to the audio effects produced by the car.
With these latest changes, and considering the fact this is a 1000hp, 4WD high downforce, high torque thoroughbred racer, we think this is firmly one of the most challenging, and satisfying cars currently available within rFactor 2.
GT3 BOP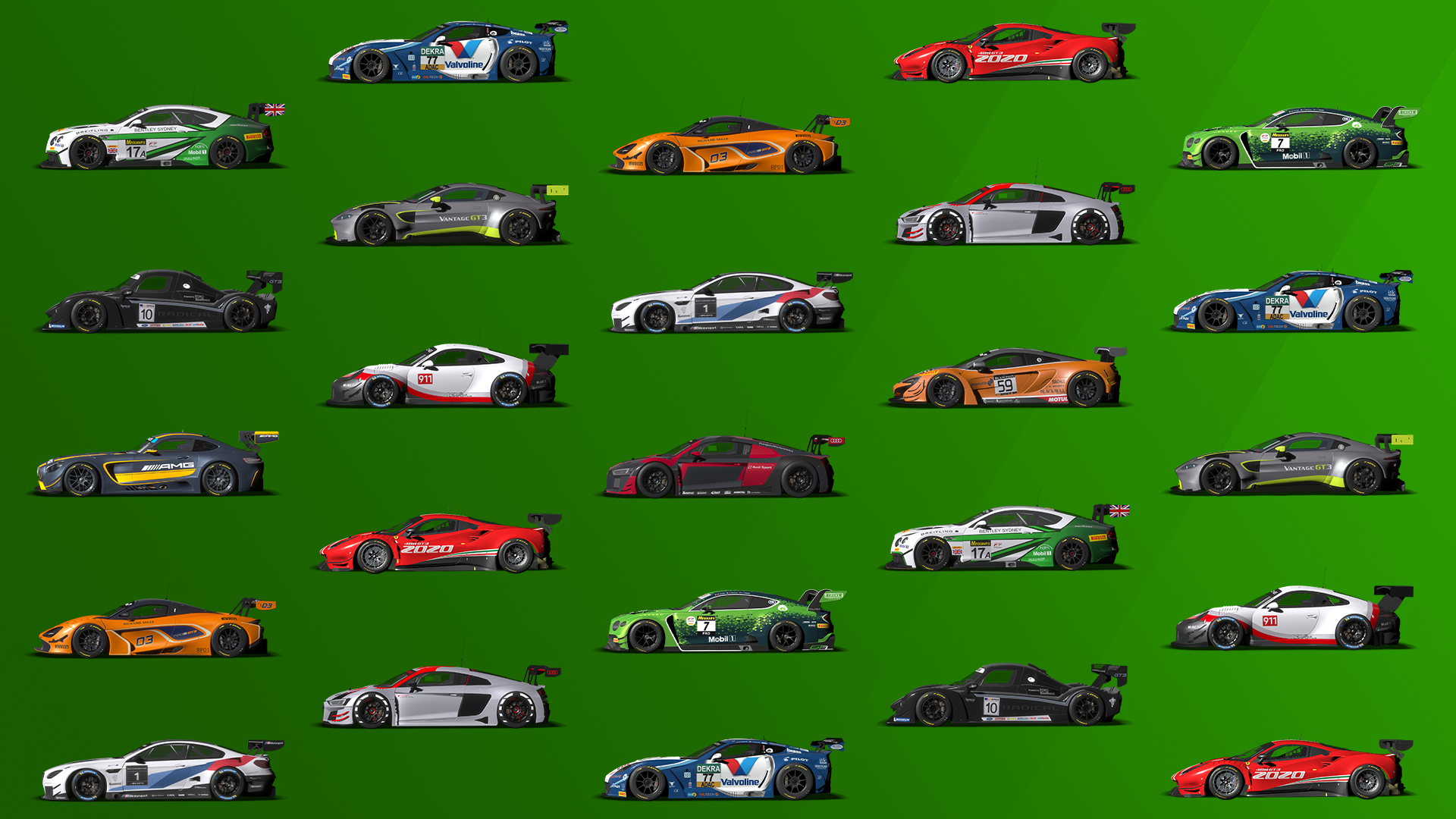 GT3 Bundle DLC | Steam Store: Click Here.
Moving on to Internal Combustion engine machinery, and probably the most popular class of racing in the world today, the month of February would also see a significant update applied to our sizeable collection of GT3 cars within rFactor 2 (13 and counting). Earlier this month we deployed our February 2021 BOP update to the GT3 class, where we strived to ensure a level of performance parity across the category to ensure all our drivers have the opportunity to choose their favourite car to race, whilst maintaining a reasonable chance of keeping the car somewhere near the sharp end of the grid.
It's always something of a challenge to come up with a reasonable and fair balance between such varied types of machinery as we currently enjoy in rFactor 2, and I'm sure plenty of people in the community would argue that their favourite brand has been disadvantaged in some way or another – but we are confident that our data and the many thousands of laps logged during this testing phase have resulted in a very solid approximation of parity across the class – helping to further strengthen our most popular form of racing within the sim.
As an additional note, although this release was firmly marketed as a BOP update, we also used the opportunity to review some physics behaviour with these cars, with a view to providing a slightly more realistic experience with tyre behaviour and driving characteristics. We feel that the update has certainly moved us a step in the right direction here, although we acknowledge we have more to do in order to get these cars, and by extension the whole collection of cars within the simulation, working within a range of parameters that we feel satisfied maximizes the full potential of the simulation. We certainly aren't in a position to talk about the measures we have undertaken to review how tyres / sliding ./ temperatures behave within rFactor 2 just yet – however rest assured that significant work is being undertaken behind the scenes on this front, and we hope to see the early fruits of these labours in the near future.
Competitions
Just before we sign off for another month here on Development Roadmap duty, we wanted to take a few final moments to signpost you to some outstanding esport content on the horizon that you might want to keep an eye out for, either as a spectator or even as part of the racing action yourself.
As a premium racing simulation, we take a lot of pride and put in considerable efforts to ensure events and series that we are a part of reflect the nature of the product we are developing. From home grown categories like the GT Pro and GT Challenge series, to partnered events such as the RCCO championships and Formula E Accelerate, we are delighted to see rFactor 2 continue to be strongly represented by a fine selection of drivers, communities and organisations througout the world.
Hopefully you have had the opportunity to take in some of the racing action yourself in recent months, but if you are yet to sample so of what rFactor 2 has to offer in a competitive online environment, here are just a small selection of things you might want to check out for yourself during the month of March:
Monday 1st March | 20:00 CET | GT PRO Draft | rFactorLive Twitch
Sunday 7th March | 20:45 CET | Formula Simracing Round 1 | The Race YouTube
Monday 8th March | 19:00 CET | BMW SIM Round 1 | rFactorLive Twitch
Monday 8th March | 20:00 CET | GT PRO Round 1 | TraxionGG YouTube
Thursday 11th March | 20:00 CET | Formula E Accelerate Round 4 | Formula E YouTube
Saturday 13th March | 16:50 CET | Virtual Endurance Championship Round 6 | VEC YouTube
Monday 15th March | 20:00 CET | GT Challenge Round 1 | rFactorLive Twitch
Thursday 18th March | 20:00 CET | Formula E Accelerate Round 5 | FE YouTube
Sunday 21st March | 20:45 CET | Formula Simracing Round 2 |The Race YouTube
Monday 22nd Match | 19:00 CET | BMW SIM Round 2 | rFactorLive Twitch
Monday 22nd March | 20:00 CET | GT PRO Round 2 | TraxionGG YouTube
Thursday 25th March | 20:00 CET | Formula E Accelerate Round 6 | FE YouTube
Monday 29th March | 20:00 CET | GT Challenge Round 2 | rFactorLive Twitch
As always, thank you for taking the time to keep up-to-date with the latest happenings here at the studio. Don't forget you can join the conversation over on our ever expanding rFactor 2 Discord channel for instant chat with fellow fans of the simulation, and stay safe, stay healthy and see you out on the virtual circuit soon!