Today we are pleased to release a substantial collection of updates and improvements to four of our Formula E circuits within rFactor 2 – as well as some further tweaks and refinements to the current Gen2 car that is the star attraction of the ABB Formula E FIA World Championship this season.
The new release today is mostly about adding further refinements and improvements to the New York E-Prix, Hong Kong E-Prix, Berlin E-Prix and Lester Electric Docks test circuit, plus our current generation 'Gen2' Formula E car complete with the innovative and Formula E exclusive 'Attack Mode' functionality.
Formula E Bundle | Steam Store: Click Here
By the time you read this post the new updates should already be live, and will download automatically to owners of the content next time you restart your Steam client. In further good news, all the updates released today are compatible with the current opt-out and Release Candidate builds of rFactor 2.
Gen2 Formula E Car
Introduced at the start of 2018, the second generation Spark SRT05e Formula E car offers a significant improvement in performance, energy efficiency and safety over the original SRT_01e used for the first four seasons of Formula E competition. Now capable of completing a full race distance on a single charge, whilst allowing drivers an increased power output of 250 kW for speeds of up to 280 km/h (174 mph), plus the introduction of the FIA mandated Halo driver head protection system, the latest generation Formula E car firmly positions Formula E as a modern, high performance, entertaining and relevant racing series for the years ahead.
Alongside the original Formula E 'Gen1' car, the latest 'Gen2' machine offers rFactor 2 players a challenging and interesting driving experience behind the wheel. As well as the relatively low grip all-weather tyres and the need to employ driving techniques such as lift-and-coast to maximize energy regeneration, the current iteration of electric open wheeler also makes use of the innovative 'Attack Mode' – an exclusive feature of the ABB Formula E World Championship. Designed to increase opportunities for drivers to overtake on the often tight and twisty street circuits used throughout the Formula E calendar, Attack Mode presents drivers with the opportunity to engage an additional 50 kW of power for limited periods of time during a race session, activated by driving through a specified 'Attack Zone' section of the circuit. When 'Attack Mode' is activated by the driver, the LED display on the Halo will flash blue until the mandated power boost period has been completed.
The Gen2 Formula E car is available as both a standalone DLC alongside the original Gen1 machine, and as part of the wider Formula E Bundle DLC pack within the rFactor 2 Steam Store.
Following a period of further review and fine-tuning by our car team here at Studio 397, we are pleased to bring the following updates and improvements to this incredibly exciting to drive machine.
Update Notes
v1.37
Updated liveries based on manufacturer feedback
Hong Kong E-Prix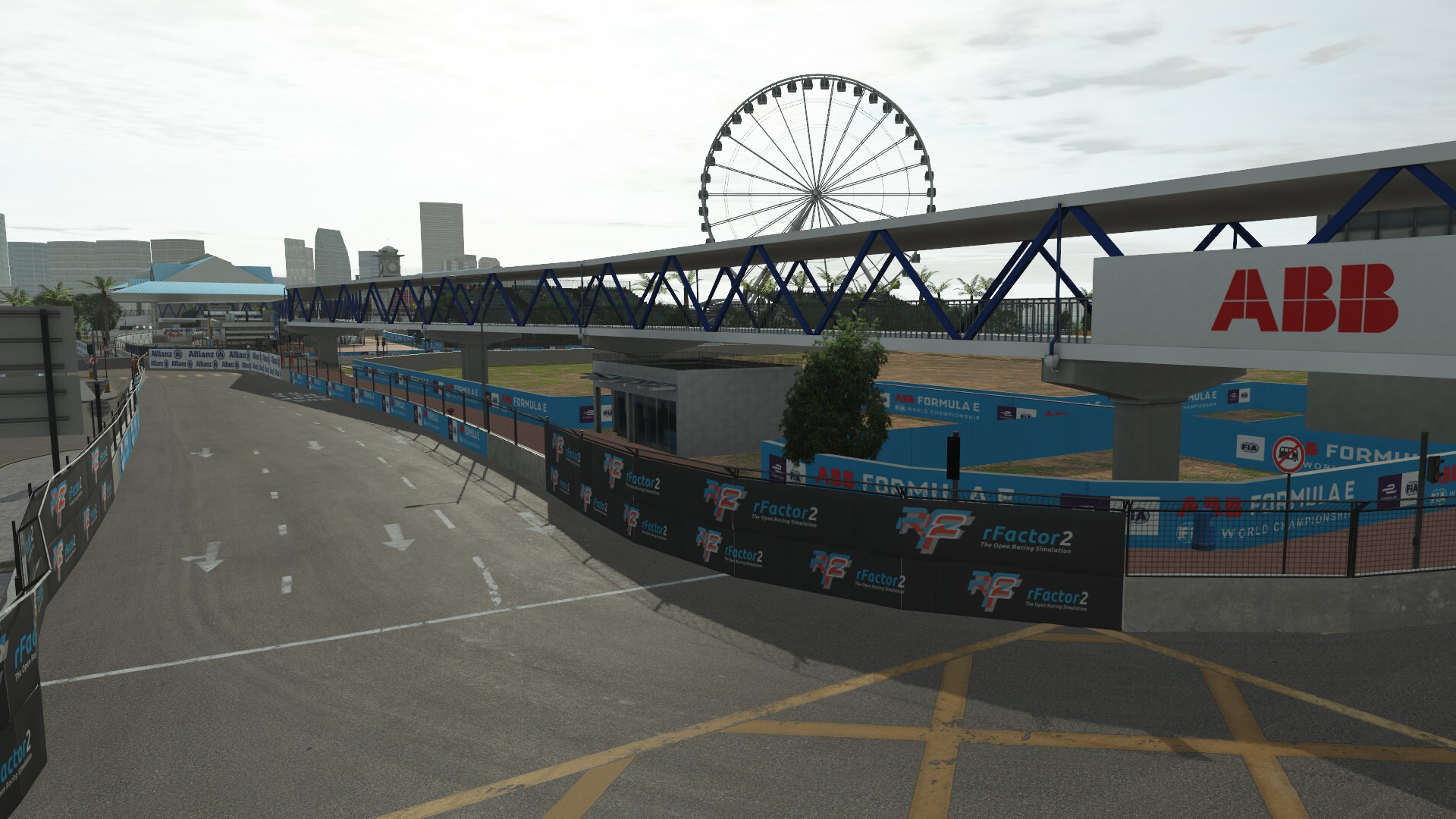 Hong Kong E-Prix | Steam Store: Click Here.
The very first official Formula E circuit to be released for rFactor 2 as part of our original Energize Formula E DLC back in late 2017, Hong Kong is the quintessential Formula E track. Located amidst a stunning city skyline backdrop and offering drivers zero opportunity to make a mistake thanks to the ever present threat of race ending contact with the unforgiving walls that line the circuit perimeter, Hong Kong has been meticulously recreated using detailed data to offer rFactor 2 players a unique and exciting driving experience within the simulation.
To give it its full name, the Hong Kong Central Habourfront Circuit is a 1.860 miles (2.993 km) street circuit that comprises 10 corners and produces a lap time of slightly over 60 seconds. One of the shorter tracks on the ABB Formula E FIA World Championship calendar, Hong Kong can often be relied upon to produce a dramatic race, thanks in part to the mix of potential overtaking opportunities coupled with a long back straight and 90 degree hairpin turns.
Update Notes
v1.83
Fixed: Pit official SCN error.
Fixed: Cut Detection Issues.
Fixed: Minor Material Updates to Road Surfaces.
Fixed: Various material errors.
Minor Advertisement Updates.
Berlin E-Prix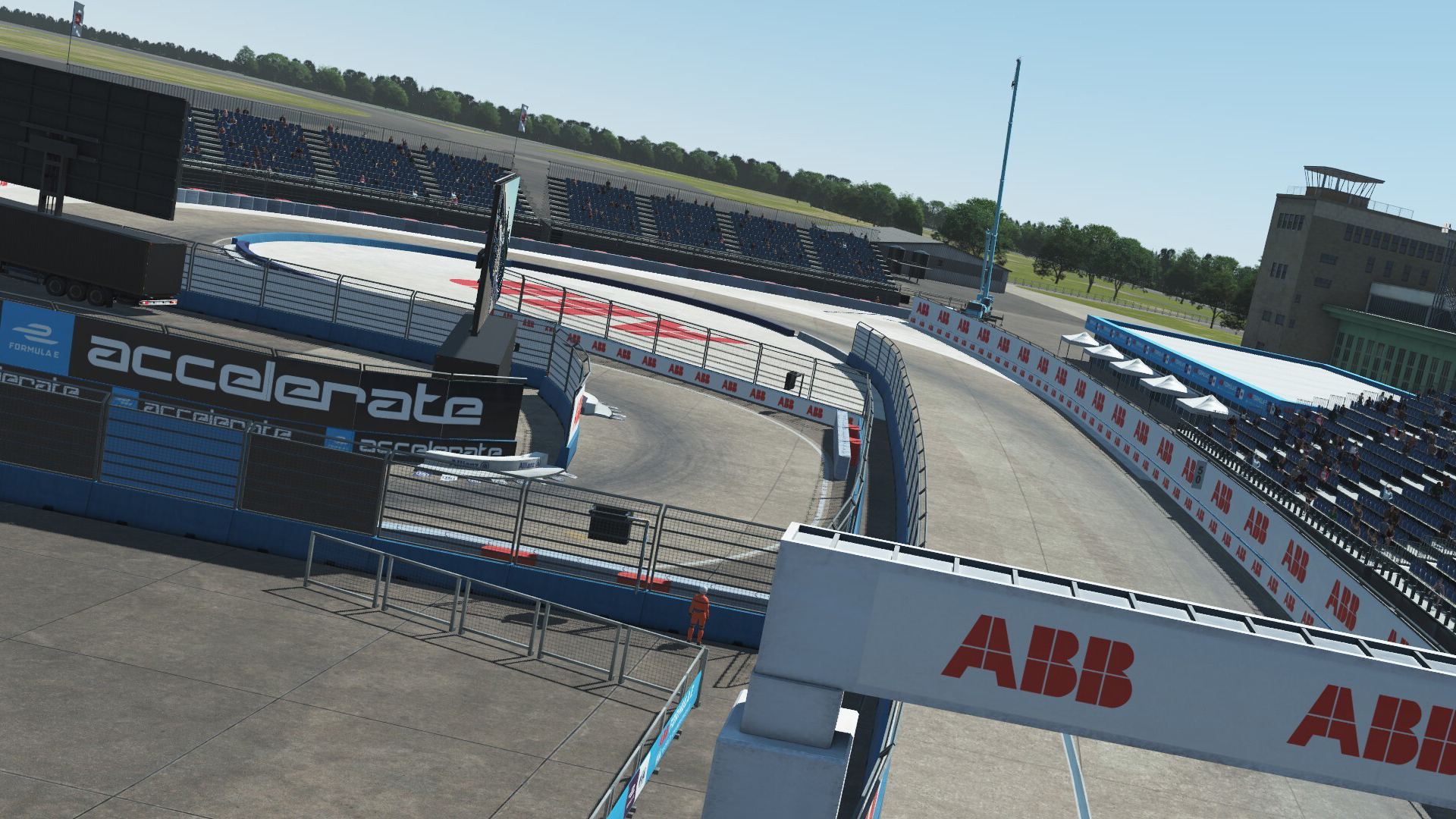 Berlin E-Prix | Steam Store: Click Here.
Beautiful Berlin – one of the most prominent tracks in Formula E folklore thanks to the historic decision to run no-less than six back-to-back rounds at the Berlin Tempelhof venue last season, in what was a challenging year for global motorsport due to pandemic related restrictions in place throughout the world. Now we hope that such a situation doesn't occur again any time soon of course, and maybe drivers have pretty much had their fill of Berlin for the foreseeable future thanks to the strange end to 2020, but that doesn't distract from the fact that our Berlin E-Prix in rFactor 2 is a fantastic street racing venue that represents one of the most action friendly layouts on the Formula E racing schedule.
Debuting on the ABB Formula E schedule all the way back in the 2014-15 racing season, Berlin has been a mainstay in the series ever since, although not always using the same location and configuration during its 12 race history in the championship. The version found within rFactor 2, as currently raced in Formula E, weighs in at 2.250 km (1.398 mi) across 10 corners, with two particularly fast straights that lead to solid overtaking opportunities.
Update Notes
v.1.25
Fixed :Closed terrain gaps, new rrbins, fixed lines mapping.
Fixed: Hat collision on two objects.
Fixed: Pitworker animation.
Fixed: irradSpecular and refmap texture flag issues.
Fixed: Cut Detection Issues.
Fixed: Minor Material Updates to Road Surfaces.
Moved Atmospherics to GDB file.
Minor Advertisement Updates.
New York E-Prix
New York E-Prix | Steam Store: Click Here.
The Big Apple. New York is one of the destination cities in the world, with iconic buildings, masses of people and as Frank Sinatra once sang, is long regarded as 'the city that never sleeps'. Having very much established itself as a premium event on the Formula E calendar since making its debut in a double header race during the 2017 season, New York is certainly one of the more popular venues visited by the championship. As is somewhat typical of a modern Formula E track, New York is another healthy mix of high speed straights and tight corners, with 14 turns and three significant straights making up an interesting 2.374 km (1.475 mi) layout.
On paper, the Brooklyn Street Circuit doesn't appear to offer a challenge on the scale of something like our recently released Diriyah E-Prix venue, however once players drill down into the unique characteristics of the track, the need to really push for every last tenth on corner apex and exit really brings out the nuances and challenges of taking the most out of the 70-second plus lap time at New York – a beautiful venue, and a perfect showcase of how close and exciting racing on these types of circuit in Formula E can be.
Update Notes
v.1.19
Fixed: Pit officials animation update
Fixed: irradSpecular and refmap texture flag issues
Fixed: Set atmospherics
Fixed: Cut Detection Issues
Fixed: Minor Material Updates to Road Surfaces
Reduced bumpiness in TDF
Rdt balancing
More safe cut settings
Minor Advertisement Updates
Formula E Test Track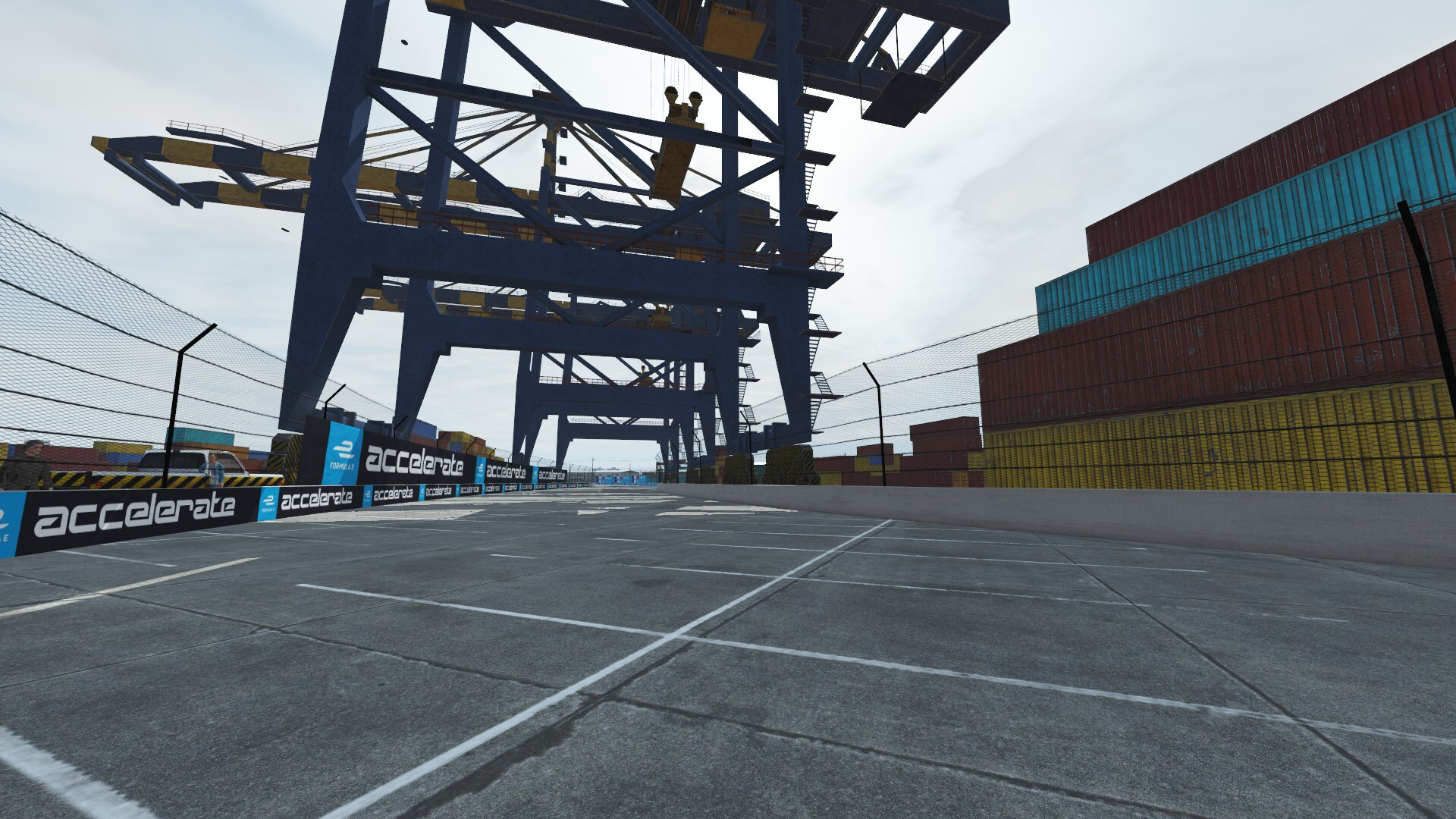 Formula E Test Circuit | Steam Workshop: Click Here.
Electric Docks. Also known as Lester, and something of an outlier in our Formula E content offering here within rFactor 2. Originally developed as a traditional street circuit, back in 2019 we gave the venue the Formula E treatment and the Formula E Test Track was born. Keeping many of the characteristics that made the track so popular, but adding in some Formula E specific layout changes to better suit the style of racing so well-loved in this electric open wheel championship, the Formula E Test Track has benefitted from a gradual evolution since it first entered the Steam Workshop back in April 2019, now reaching the point where we believe this circuit not only offers a great selection of corners to really test the ability of a modern Formula E car, but also produces some exceptional racing in both Formula E and a variety of different racing machines – a wonderful, and free, addition to the ever expanding roster of high quality tracks within rFactor 2.
Update Notes:
v2.19
Fixed: Much stricter track cut detection.
Fixed: Camera at SF not able to see down pitlane.
Fixed: various collision issues.
Fixed: Start light issue.
Fixed: Wall shadow issues.
Regenerated RRBIN.
FE Advertisement updates.
Adjusted default session times.
Updated Crowds.
Added Digital Flags.
Road Material updates.
Reworked barriers around chicanes.
Tightened up T1 Chicane.
Revised Cut Corridors.
Updated Advertisements.
Replaced Tyre Stacks with TecPro.

As always, we hope you enjoy these new updates, and we look forward to seeing you out on the virtual racetracks of rFactor 2!