Hello sim racers!
You have spoken, and we have listened – today is the day we can finally reveal some fruits of our recent labours – announcing a wholesale update and refresh of the rFactor 2 UI!
That's right, next week rFactor 2 players will be given access to a brand new, fully ground up re-designed and modern UI interface for the rFactor 2 simulation, adding a wealth of usability improvements, visual enhancements and design decisions created in order to enhance and improve the gameplay experience, from launch of the simulation right through to once you are out on track.
Key Highlights
With such a substantial rebuild of the entire rFactor 2 UI experience, below you will find a brief bullet point list of some of the key areas that have been improved or expanded upon within this new build. Please note, these are just some areas of change, as this new build fundamentally affects the entirety of the rFactor 2 user journey – with some aspects of the new 2022 UI Update adding substantial changes and improvements over the existing UI release.
Brand-new audio and visual design across all pages.
Main menu improvements for clearer navigation, more call to actions and an easier layout to understand for new users.
All single player related functionality brought together into one area with cross navigation from, and to, any page in this area in order for optimized user flow.
Enhanced layout of every page to improve user flow and simplify interaction.
The settings menu has undergone a big update with clearer navigation, an easier layout and simplified user flow with fewer pages.
The setup area has undergone a big update with clearer navigation, an easier layout and simplified user flow with fewer pages.
Event screen optimizations and user flow improvements.
2 brand-new showrooms.
Overview and Rationale For Change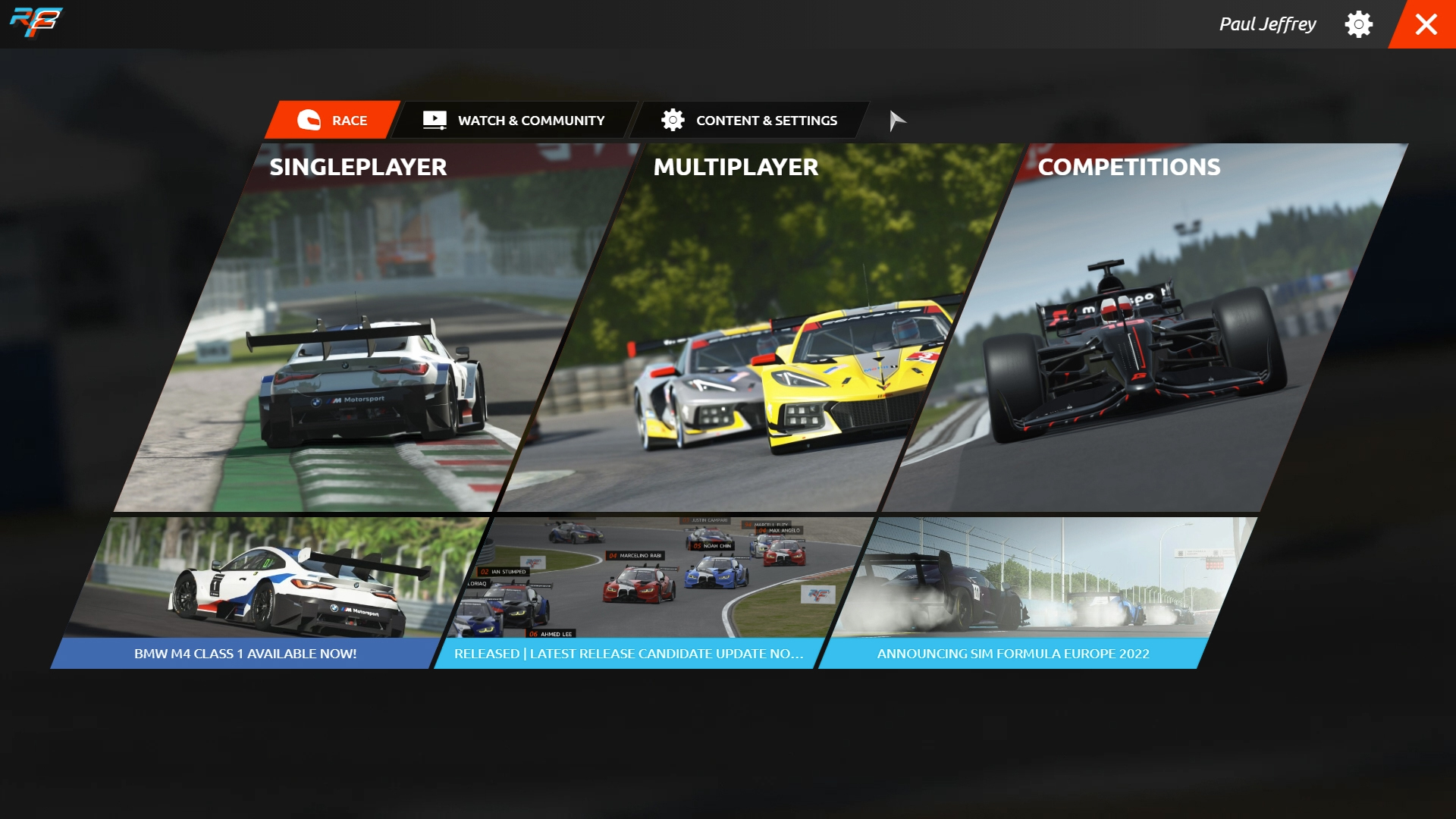 When creating this new 2022 UI update, we developed each change with four significant pillars in mind – taking into account how each aspect of the player journey would be experienced by both new and established users of the simulation. Developed to help streamline and rationalize how a player interacts with the software, the 2022 UI update has been build by sim racers, for sim racers, and hopefully reflects how the majority of our new and existing player base will wish to interact with the various aspects of a title to the scale of rFactor 2.
The four pillars of development applied to the creation of the 2022 UI update are as follows:
Function over form.
Simplification: fewer clicks, less mouse movement, consistent button placement.
Better visibility: fewer pages and less scrolling and clearer categories. Clear lower centre area of screen.
Better performance: better frame rate than before (not final step).
Utilizing our own experience combined with the wealth of feedback from our community, and adhering to our scope of creating a fit for purpose, modern UI interface, we believe the results of our endeavours will very firmly speak for themselves once you all get your hands on the new build next week.
Release Date and Future Developments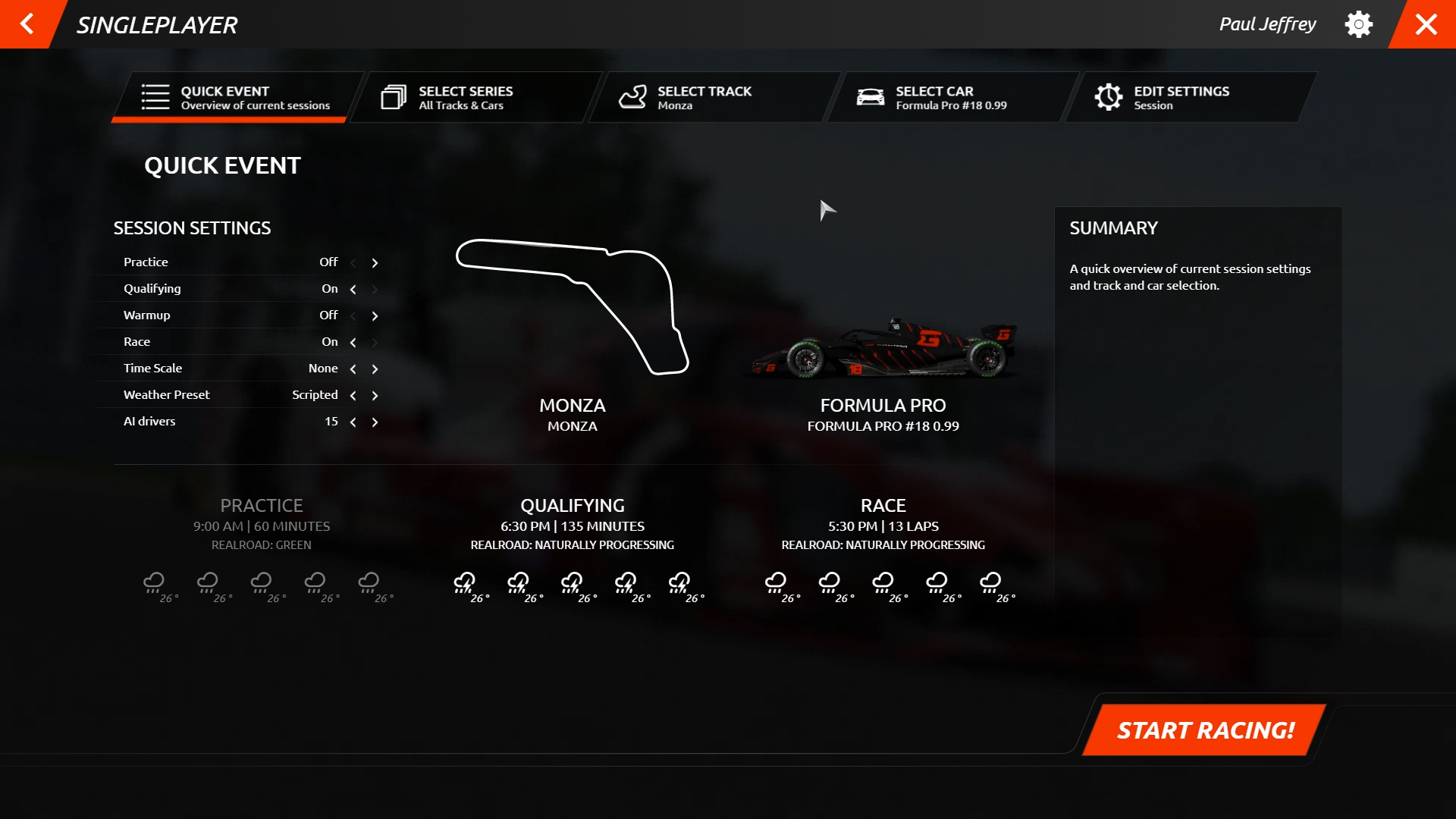 The big question on everybody's lips then… when will it be released?
Having already undergone a robust internal testing process, we do not need to run this update through the traditional Release Candidate process; as such we are delighted to confirm the 2022 UI update build of rFactor 2 will be made available to the public Opt-Out branch of Steam this Thursday 27th January!
Existing owners of the simulation will receive the update automatically on Thursday morning (time TBC), and any new player purchasing the sim from Thursday will automatically default to this new UI design featuring all the latest improvements and changes, more details of which will be released as part of the update notes associated with the build on January 27th.
Although a considerable update in its own right, this new build is just the starting point for our planned ongoing development of the rFactor 2 UI. We are taking a phased approach to how we structure further UI updates, with January 27th marking the first of these development phases. Going forwards, alongside maintenance and patch updates where appropriate, we intend to bring a raft of new features and improvements to the UI in the fullness of time. Feedback from the community will be monitored and implemented where appropriate, alongside the exciting plans we already have in our development pipeline. More on those another day though, as for now, the new release next week should mark a very welcome improvement to the whole user experience when navigating through the simulation, one that we hope the community are as excited about getting their hands on as we have been developing it.
We hope you will enjoy the 2022 UI update development when it releases next week, and we look forward to reading your feedback and further developing and expanding both the UI and the different features and game modes it will offer in the months ahead.
This is just the very start of an exciting period of development for the simulation in 2022, so make sure you stay tuned to the rFactor 2 social media channels and website over the coming days, for plenty more news and announcements about the simulation.