Hello sim racers!
2022 is in full swing, and what a way the year has started for rFactor 2! Following on from the incredibly successful Le Mans 24 Hours Virtual, the team here at Studio 397 aren't lifting our collective feet off the gas any time soon, as we begin to ramp up to what should be a very exciting few months of news and developments coming to the title.
The New UI Refresh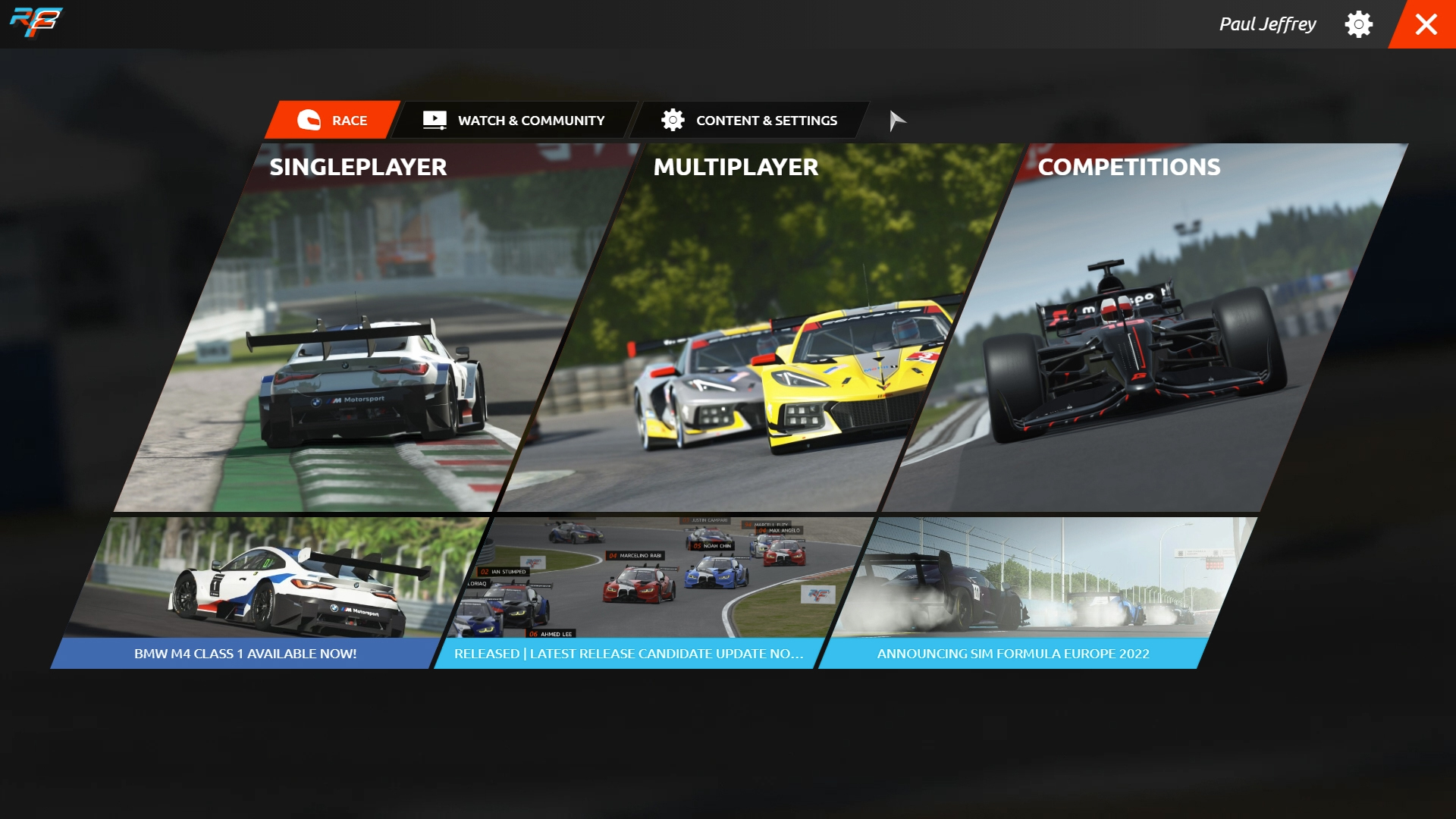 2022 UI Update | More Details | CLICK HERE
Late last week, we released our exceptionally well received big 2022 UI update to the public build of the simulation, and we are absolutely delighted to see the wealth of positive feedback these latest changes have generated. Whilst we are of course delighted with this first successful launch, and as we referenced in our release notes from Thursday, the new 2022 UI Update is just the very start of our journey into enhancing the player experience within rFactor 2 – so make sure you stay tuned to our social media channels and the rFactor 2 website for more news and insights over the coming weeks and months.
A New Release Schedule
Speaking of developments, to better streamline our improvement offerings to the community, we have taken the decision to reorganize the way we deploy content and updates to rFactor 2. For 2022, we are going to move development to a quarterly series of releases, committing our resources to producing scheduled updates and content drops on a three-month cycle, in order to maximize our own internal workflows, and to help the sim racing community have greater transparency and expectation as to when new and exciting changes are planned to come to the software.
While we will of course aim to adhere to these proposed schedules, software development is fraught with new and unexpected challenges, so please do consider these dates as a broad guideline – things may well move around a little over the year, and of course we will use the intermittent weeks between these releases as opportunities to bring any hotfix updates and small surprises as and when we can, too…
Our intention is to offer a healthy mix of new game update features, functionality, and quality of life improvements, alongside an exciting collection of premium content for the sim – some as free additions, and some as part of paid Steam Store content.
It would, quite frankly, be inviting risk to detail exactly what these items are this far in advance; however we can certainly share with you the dates of each expected update release – and of course we will very much look forward to announcing the content items themselves much closer to the actual date than previously was possible before.
Furthermore, although we deemed it unnecessary to adhere to our now standard Release Candidate strategy for the 2022 UI Update build of rFactor 2, we will be following that process with these quarterly updates. That means, on average, we will likely deploy the new Release Candidate around 4 weeks prior to updating the public branch of the build. This way, we can continue to monitor the feedback from our latest changes, and ensure any further tweaks and improvements have been tested with as wide a range of different hardware as possible, before moving to the main 'opt-out' branch of rFactor 2.
Below, you will find the intended months for when these release cycles will take place:
Quarter 1 Release – February
Quarter 2 Release – May
Quarter 3 Release – August 
Quarter 4 Release – November  
Again, to reiterate from earlier in this post, we will likely still deploy further hotfix updates and the odd surprise into the simulation outside of these months, however from here on in these are very much expected to represent the core development periods of rFactor 2 over the next year. We have some very exciting things in the pipeline here at Studio 397, please do stay tuned to the rFactor 2 social media channels and website over the coming days, as we begin to reveal the details of the new content that will make up our Quarter 1 drop in early February!
Stay safe and see you on the track!