Hello sim racers!
A brand-new season of racing action is right around the corner – ladies and gentlemen, Season 2 of the Competition System is here, and it's almost time to qualify for the 2022 Formula Challenge season!
Formula Challenge
Using the mighty popular Formula Pro open wheel race car within rFactor 2, but now with a reduction in power to 600hp specifically for the Formula Challenge Series, this season looks set to welcome any and all drivers from within the rFactor 2 racing community. Open to all via the rFactor 2 Competition System, the hotlap qualification process will be used to decide which split a driver will be allocated for the upcoming season, with the top split racers featuring on live broadcasted races with a chance to win qualification into the top level Formula Pro series – the highest profile open wheel race series in rFactor 2.
Once the Challenge Series begins, drivers will have access to the updated Formula Pro car, including Push 2 Pass and updated tyre behaviour – changes that will be released as part of the May Q2 content drop for rFactor 2.
What is Qualifying?
Formula Challenge qualification will feature the updated Formula Pro open wheel car, and run on the Spa-Francorchamps circuit. Drivers will be able to log as many laps as they wish, with the fastest laptime for that driver counting as their entry into the hotlap leaderboard. At the end of the qualification period, the top 26 drivers will be offered an opportunity to join the top split Formula Challenge series, with further splits opened up depending on your position on the hotlap leaderboard.
When Does it Run?
Qualification for the new season of Formula Challenge will open on Monday 28th March, with sessions run for three weeks until Monday 17th April. Sessions will be 105 minutes in length, running every 3 hours from 01:00 to 22:00 CEST each day.
How Do I Participate?
The hotlap qualification session and the Formula Challenge series will be run through the rFactor 2 Competition System. Drivers can access the Competition System by selecting the 'Competition' tab on the main rFactor 2 UI, and navigating to the 'Formula Challenge' event.
Competition System Season 2
That's right, a big few weeks are ahead for our rFactor 2 multiplayer fans, as we are today delighted to welcome back the hugely popular Formula Challenge series alongside the launch of our new Competition System Season 2 collection of races. During this period of activity in the Competition System, we have built upon our successful first foray into a season structure, with the return of our popular Rookies Cup races in the recently updated Alpine A110 Cup car, adding a collection of interesting new and free circuits into the schedule to ensure we always have something for everyone to race within the simulation.
Moving on to the Open Wheel Sprint, the immense USF 2000 returns, this time taking in new tracks from around the world. New Zealand makes an appearance in the form of Teretonga Park and Highlands Motorsport Park, sitting comfortably alongside such classic venues as Zandvoort, Silverstone, Adria and of course, the track pretty much tailor-made for these types of car – Lime Rock Park.
Those of you wishing to try your hand at something a little more powerful, the second season of our official INDYCAR Open Challenge headlines our new season here in the Competition System, with the mighty Dallara IR-18 INDYCAR visiting some of the finest road course in the world, from São Paulo to Portland, by way of Indianapolis, Spa, Zandvoort and Sebring – it should be a great few weeks of racing for those that find themselves with a need for speed!
Rookie Cup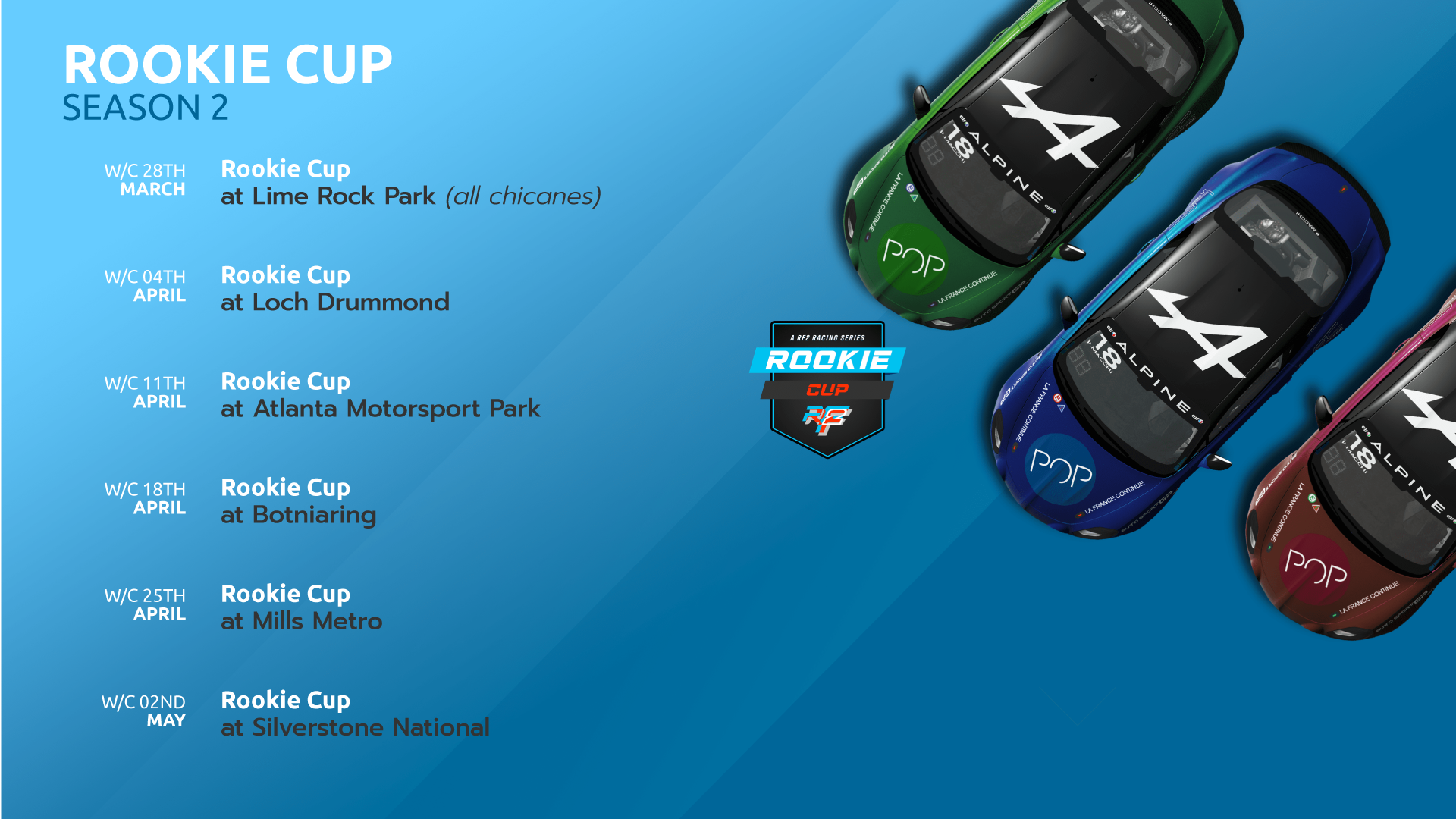 Car: Alpine A110 Cup (Steam Workshop: CLICK HERE)
Times: Daily, at the beginning of every hour
Format: 10 minute practice, 10 minute qualifying, 20 minute race
Open Wheel Sprint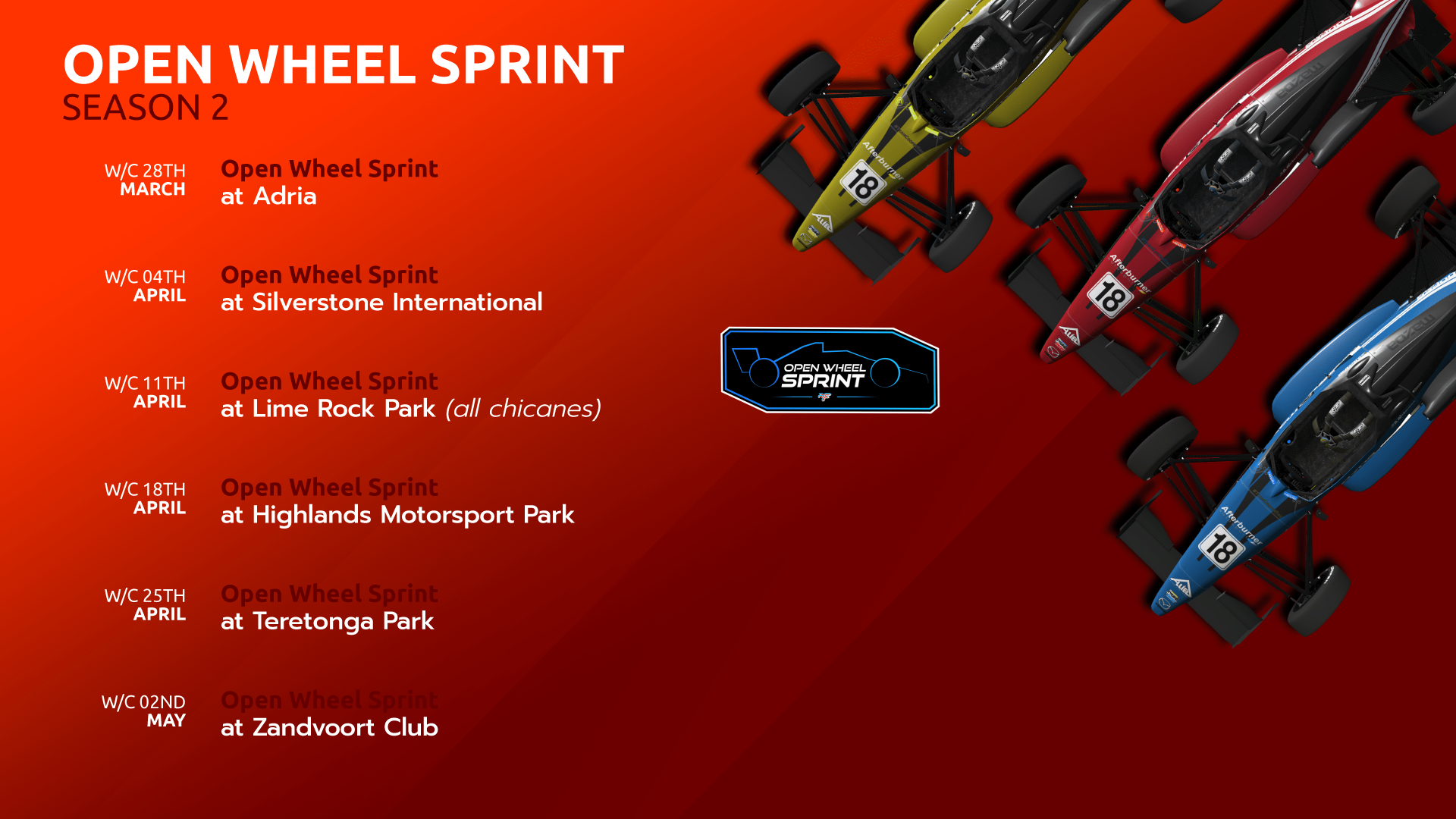 Car: USF 2000 (Steam Workshop: CLICK HERE)
Times: Daily, 30 minutes past every hour
Format: 10 minute practice, 10 minute qualifying, 25 minute race
INDYCAR Open Challenge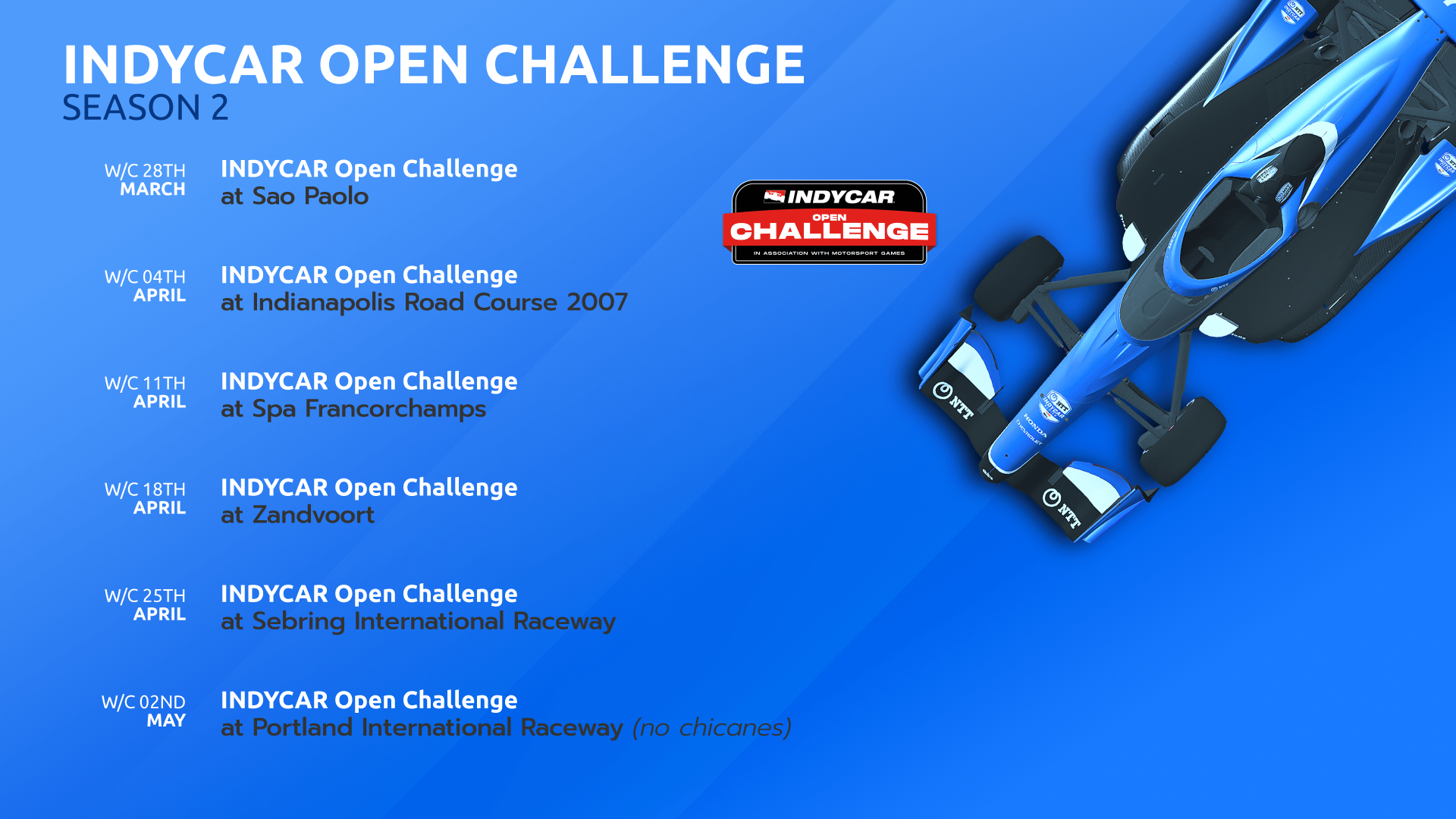 Car: Dallara IR-18 INDYCAR (Steam Store: CLICK HERE)
Times: Daily at 9pm CEST and 1am CEST (3pm EST and 7pm EST)
Format: 10 minute practice, 10 minute qualifying, 40 minute race
With the main series of racing taken care of, finally, as has proven to be exceptionally popular at the conclusion of Season 1, the 'Race of the Season' returns once again, with a live broadcast top split race set to showcase some of the finest racers within the rFactor 2 Competition System. This season, qualification for our ROTS event will close on Friday 1st May, with the top split server race set to be broadcast live on the Traxion.gg YouTube channel Saturday 9th May. The Race of the Season is a great opportunity for every driver in rFactor 2 to enjoy online racing against their rivals, with multiple splits based on qualification times, get ready for an incredibly tough event, where only the best of the best will succeed!
Race of the Season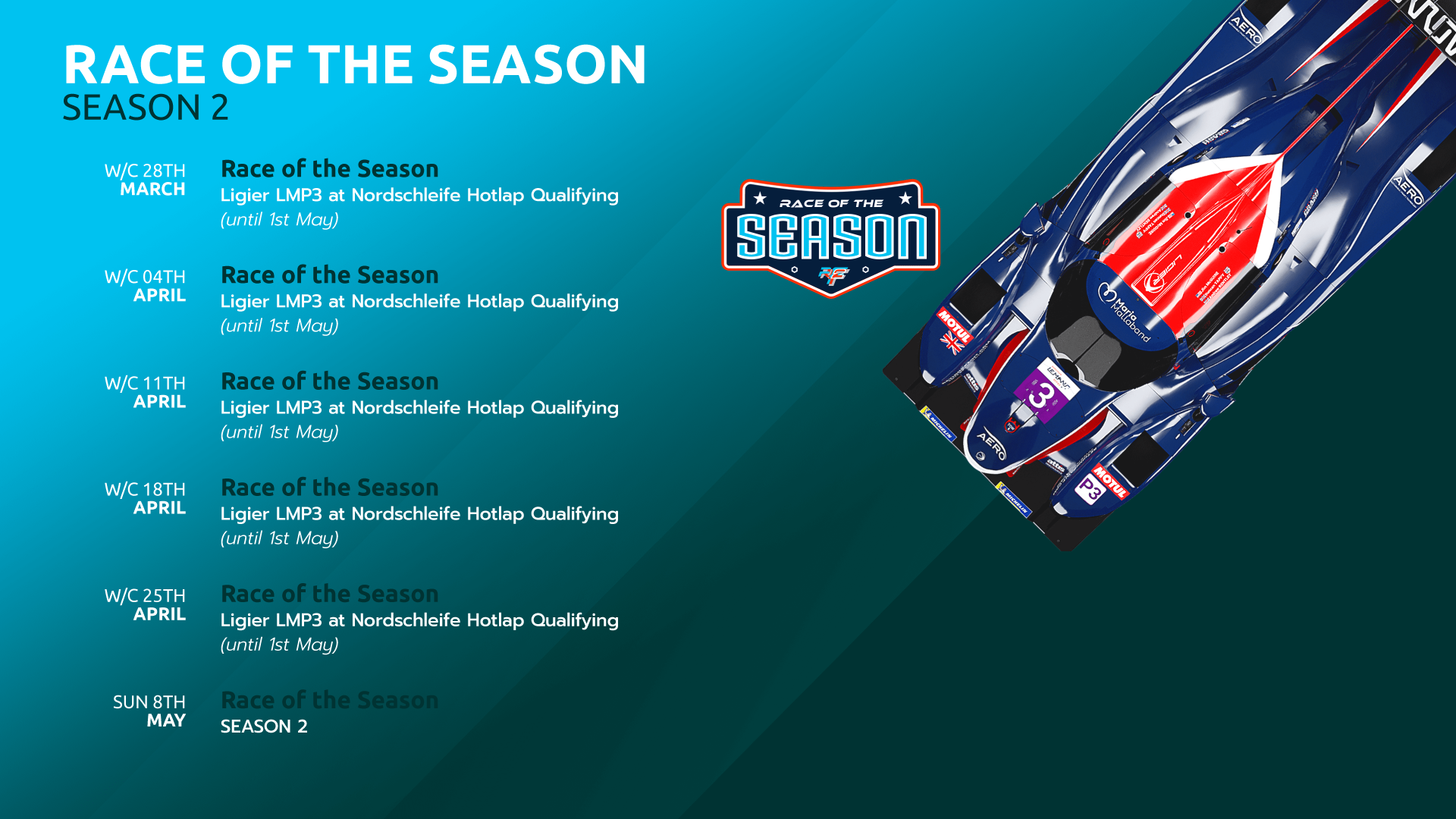 Date: 9th May 2022
Time: 21:00 CEST
Qualification: Hotlap competition until May 1st
Number of Drivers: 30
Race Details: Ligier JS P320 LMP 3 at Nürburgring Nordschliefe
Live Steam: Yes – TraxionGG YouTube
Formula Challenge qualification and Competition System Season 2 races open on Monday 28th March – we can't wait to meet you out on the track!