Hello sim racers!

The rFactor 2 development team are pleased to release a collection of updates and improvements to some of our key free and paid tracks within rFactor 2 – introducing a number of quality of life improvements to these circuits outside our standard quarterly release cycle schedule.
Having taken the last few weeks to review community feedback on a number of our current tracks, the Studio 397 track team have taken the opportunity to revisit some of these popular venues from within rFactor 2 to address a number of outstanding issues and bring forward planned improvements, as we continue to actively try to balance our resources between upgrading existing releases, and developing new and exciting pieces of content for our community to enjoy.
Although we are scheduled to deploy our next, new content drop in May, we couldn't resist taking the opportunity to get these updates out into the hands of the public, with all changes now available within the respective workshop or store items.
rFactor 2 Steam Store | Steam Store: CLICK HERE
On a similar note, despite planning quarterly updates, this week will have another nice surprise coming your way too… but more on that later in the week.
Daytona International Raceway V1.15
Daytona | Steam Store: CLICK HERE
Our most recent track release for rFactor 2 benefits from some minor quality of life improvements identified over the first few weeks of release. In this new version 1.15 update, our track team have worked on both the Road Course and oval layout configurations, including a further performance pass to improve framerates, multiple fixes to AI behaviour on the oval and road course configurations, and other, smaller fixes and tweaks.
V1.15 Update Notes
Improved Oval AI pit entry, prevent from brushing wall at T2 & T4, fixed occasional braking over Start Finish line and reduced chance of passing on yellow line during turns.
Improved RC AI at T1 and Bus stop.
Fixed Floating Marshal Inside RC T1.
Fixed some minor verge issues.
Fixed some issues with safety vehicles.
Optimized track side RVs with reduced poly count.
Optimization of RaceSurfaces for possible performance gains.
Removed Full Course Yellow settings from GDB files.
Lime Rock Park V3.05

Lime Rock Park | Steam Workshop: CLICK HERE
A firm fan favourite amongst rFactor 2 players, and a track that benefitted from a significant PBR update refresh as recently as May last year, Lime Rock Park in the USA again comes under the microscope of the track team here at Studio 397 for this latest update release. Key headlines for this new build is the introduction of further AI tweaks for a better offline racing experience, the addition of CBASH and RRSHD shaders for faster loading times, and various graphical improvements to further uplift the visual experience on track – amongst other, smaller tweaks as can be seen in the update notes below.
V3.05 Update Notes
Improved AI behaviour on all layouts, including pit entry behaviour.
Added Anti Cut Curbs at first chicane.
Fixed distance marker texture brightness.
Fixed minor verge issue near paddock exit.
Fixed Flag being rendered without poles.
Minor foliage & terrain material tweaks.
Minor adjustment to sky lighting.
Packed RRSHD & CBASH for improved loading times.
Autodromo Nazionale di Monza V1.33

Monza | Steam Store: CLICK HERE
The temple of speed – as one of the more recent track additions to rFactor 2, this update is all about mopping up a few outstanding issues and adding the shader packaging for quicker loading times within the sim. As such, we have taken the opportunity to review the AI Block Path for this track, and have identified areas for improvements that should see better behaviour when racing against the computer controlled vehicles. Further tweaks have been applied to some visual aspects of the track as part of this build, as can be found in the change notes below.
V1.33 Update Notes
Improved AI Behaviour on all layouts.
Slight refinements to Foliage materials.
Updated Start Finish Tower Materials.
Packed RRSHD & CBASH for improved loading times.
Sebring International Raceway V1.39

Sebring | Steam Store: CLICK HERE
With this new update, one of the most challenging tracks in rFactor 2 will enjoy a few minor fixes and changes to help remove some issues we have identified in recent weeks. As well as now being packed with the standard shaders for faster loading times, the version 1.33 update also fixes ambient lighting issues and pit marker visibility on different graphical settings, as well as minor track limit cut updates.
V1.33 Update Notes
Fixed pit entry markers not visible on low settings.
Slightly less strict track cut settings.
Fixed an issue with ambient lighting resulting in over-exposed clouds.
Packed RRSHD and CBASH for faster track loading.
Silverstone Grand Prix Circuit V2.16

Silverstone | Steam Workshop: CLICK HERE
One of the most iconic circuits in world motorsport, and home to the Formula One British Grand Prix, with this new build release we have taken the opportunity to bring on stream the new shader packaging process to help improve loading times, as well as introducing a few minor updates and tweaks to iron out any outstanding issues that have been reported with the track since it was last overhauled by the development team.
V2.15 Update Notes
Fixed Pit Out Lights on Old Pits layouts.
Fixed Historic Layout cameras, so they have cameras correct for the pit lane.
Adjusted Crowd billboarding settings.
Minor Terrain Material Adjustments.
Standardized Layout Names.
Fixed various minor collision inconsistencies between visual settings.
Packed RRSHD and CBASH for faster track loading.
Competition System – FUN WEEK!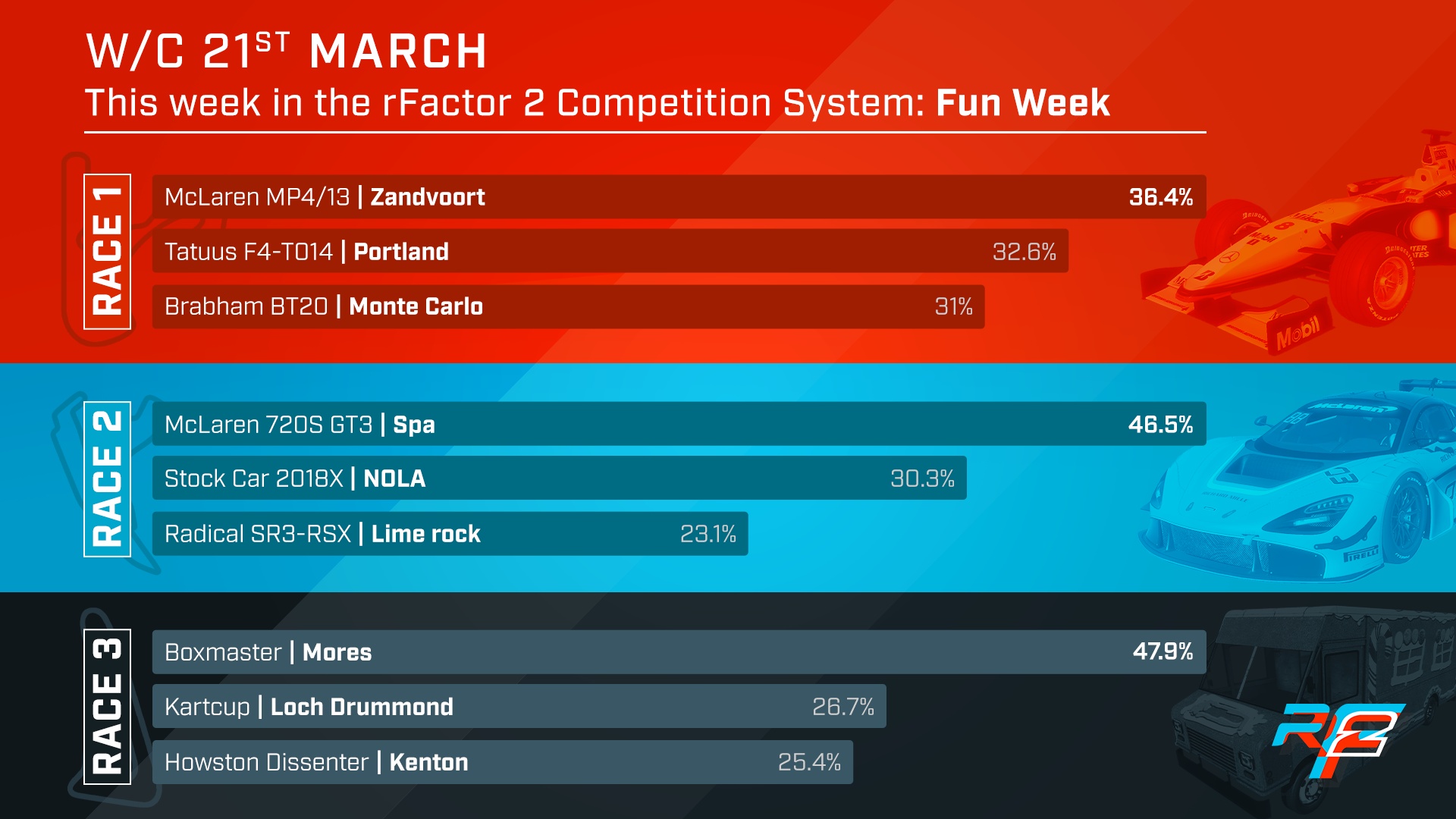 We asked, and you told us what you wanted – the rFactor 2 Competition System 'Fun Week' is here! Bridging the gap between the main seasons of competition, this week is all about having fun in unusual and interesting combinations as chosen by you, the sim racing community.
We put up a poll of different content options, and we were delighted with the level of engagement our community had with this fun new idea, and even more pleased to see some wacky content choices you've come up with! Starting today, Monday 21st March, we've got the legendary McLaren MP4/13 at Zandvoort to sink your teeth into, a combination that gathered 36% of the votes, followed by the ever popular GT3 and Spa for race two, and the exceptional Mores and Boxmaster for race 3 – an event where an astounding 47% of you picked to be our star race!
The rFactor 2 Competition System is free for anyone to join, and can be found under the 'Competitions' tab on the front page of the main UI.