Hello sim racers!
Welcome to Season 3 of the rFactor 2 Competition System!
If you cast your mind back to early February of this year, we launched our new initiative to put together what we have decided to call 'seasons' of racing action into the Competition System – designed to offer up an opportunity for our players to easily review and access what we hope are a satisfying mix of different types of online competition within the simulation. In the period between first launching this new schedule and today, we have seen a wealth of exciting racing across many types of car, from our ever popular Rookie Cup events, to much more powerful and dramatic machinery in the form of the recent Dallara IR-18 2022 INDYCAR – all designed and run with a view to making pick up and play racing in rFactor 2 as easy as possible for our sim racing community.
Now, as we sit here and celebrate the new Q2 2022 update and content drop for rFactor 2, it's time to launch Season 3 – including a brand-new and very exciting addition….
The big headline for this new season is without doubt the introduction of touring car racing for the very first time, as we bring into the fold the exceptional Infiniti Q50 and Toyota Corolla GR Sport NGTC cars as part of the Touring Car Challenge events that will be held every Friday evening at 21:00 CEST. Running over the course of six races at some of the most exciting touring car style tracks in rFactor 2, this is one we cannot wait to see you out on the circuit and giving it your all for the race victory!
If you don't yet have the BTCC cars in your inventory for this new season, fear not, dear sim racer – we continue to have you covered with our range of events that exclusively use free to download content. The Rookie Cup returns with the Alpine A110 Cup car and a selection of free tracks, and the move to use the Tatuus FT-60 for our Open Wheel Sprint series is again another series where tracks and car are freely available within the Studio 397 Steam Workshop – so no excuses, get yourself out on track and join us in some epic online racing action!
Season 3
Dates | 9th May to 19th June
Series | Rookie Cup, Open Wheel Sprint, Touring Car Challenge, Race of the Season.
Rookie Cup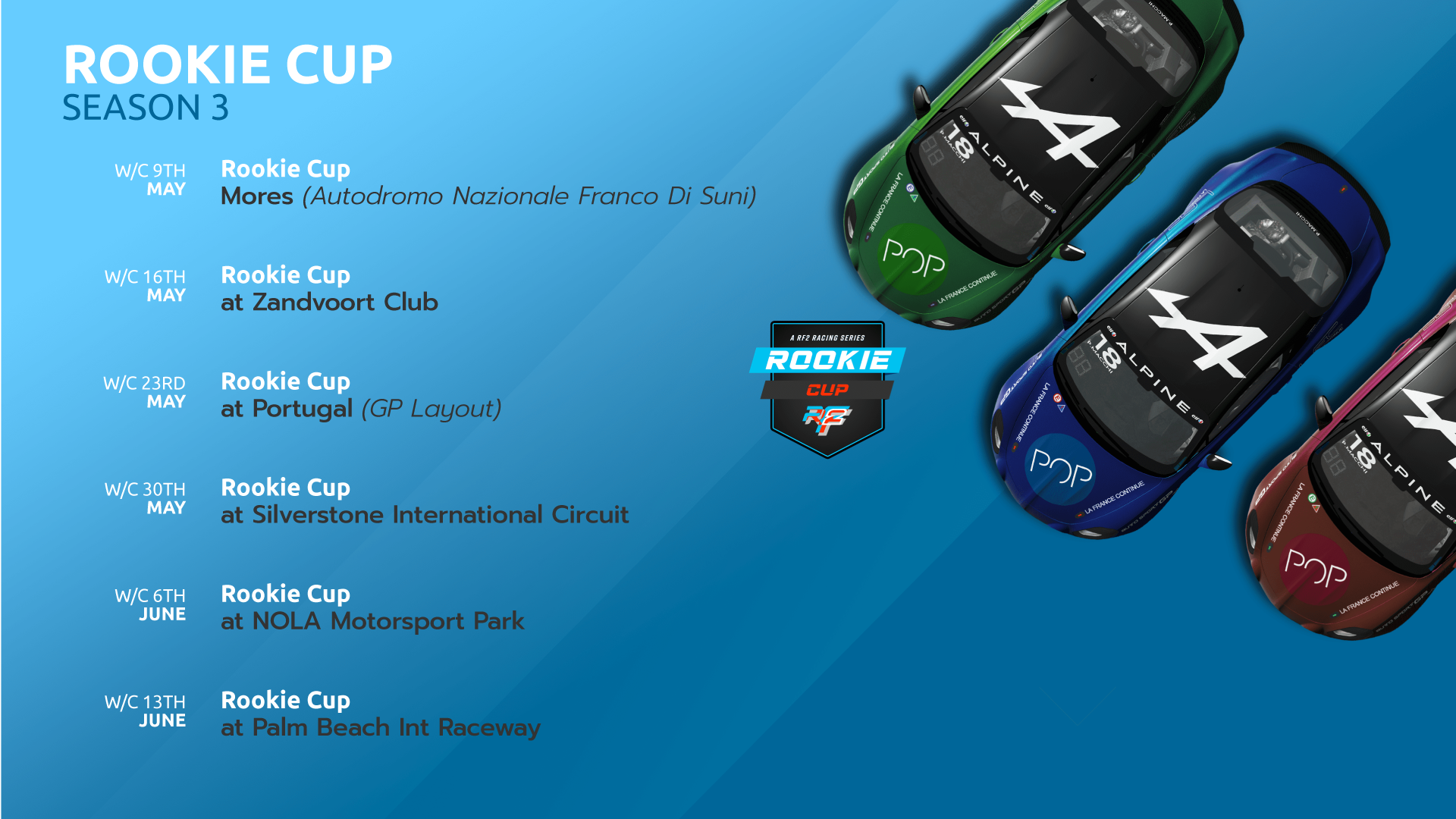 Car: Alpine A110 Cup (Steam Workshop: CLICK HERE)
Times: Daily, at the beginning of every hour
Format: 10 minute practice, 10 minute qualifying, 20 minute race
Open Wheel Sprint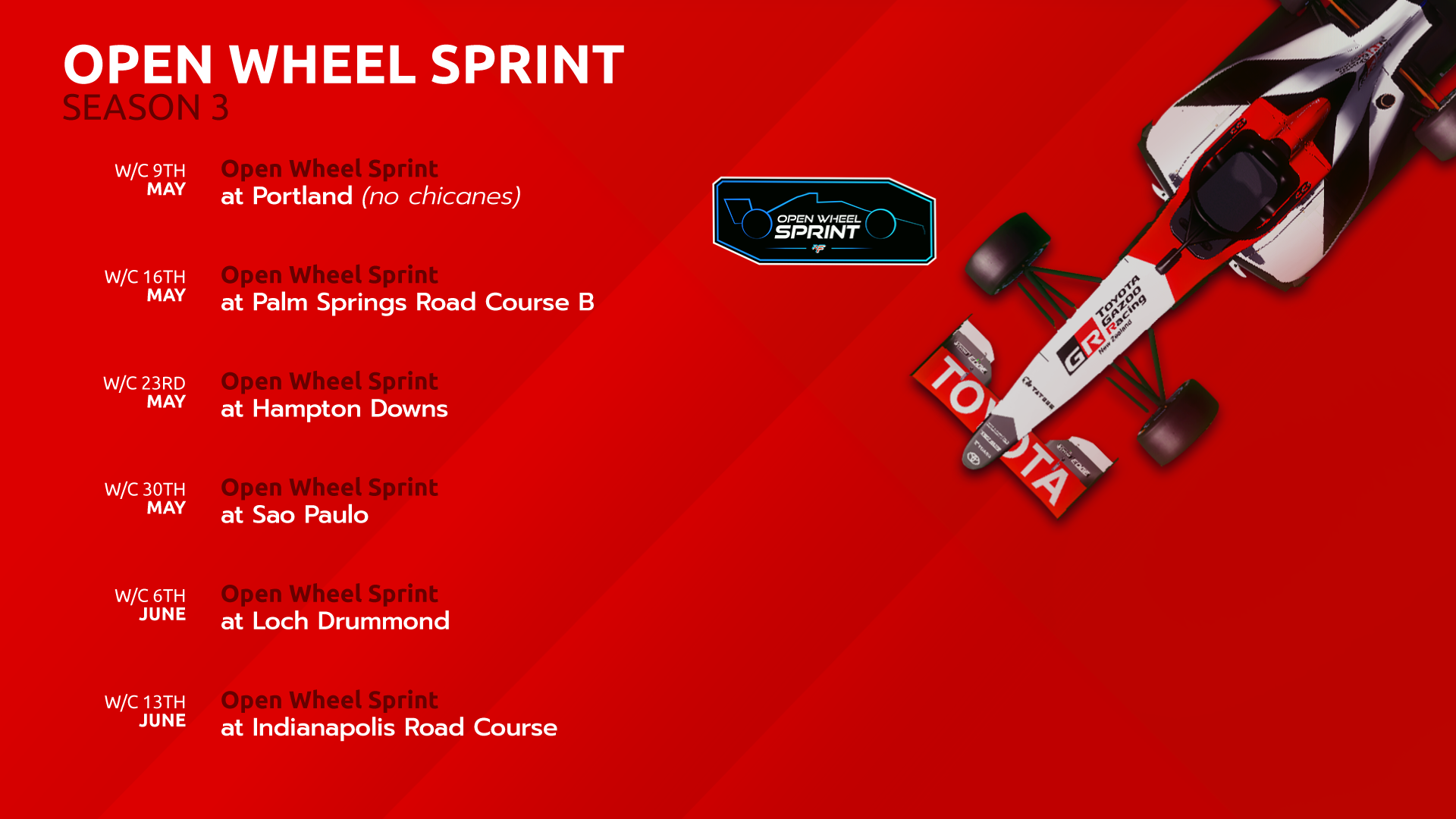 Car: Tatuus FT-60 (Steam Workshop: CLICK HERE)
Times: Daily, 30 minutes past every hour
Format: 10 minute practice, 10 minute qualifying, 25 minute race
Touring Car Challenge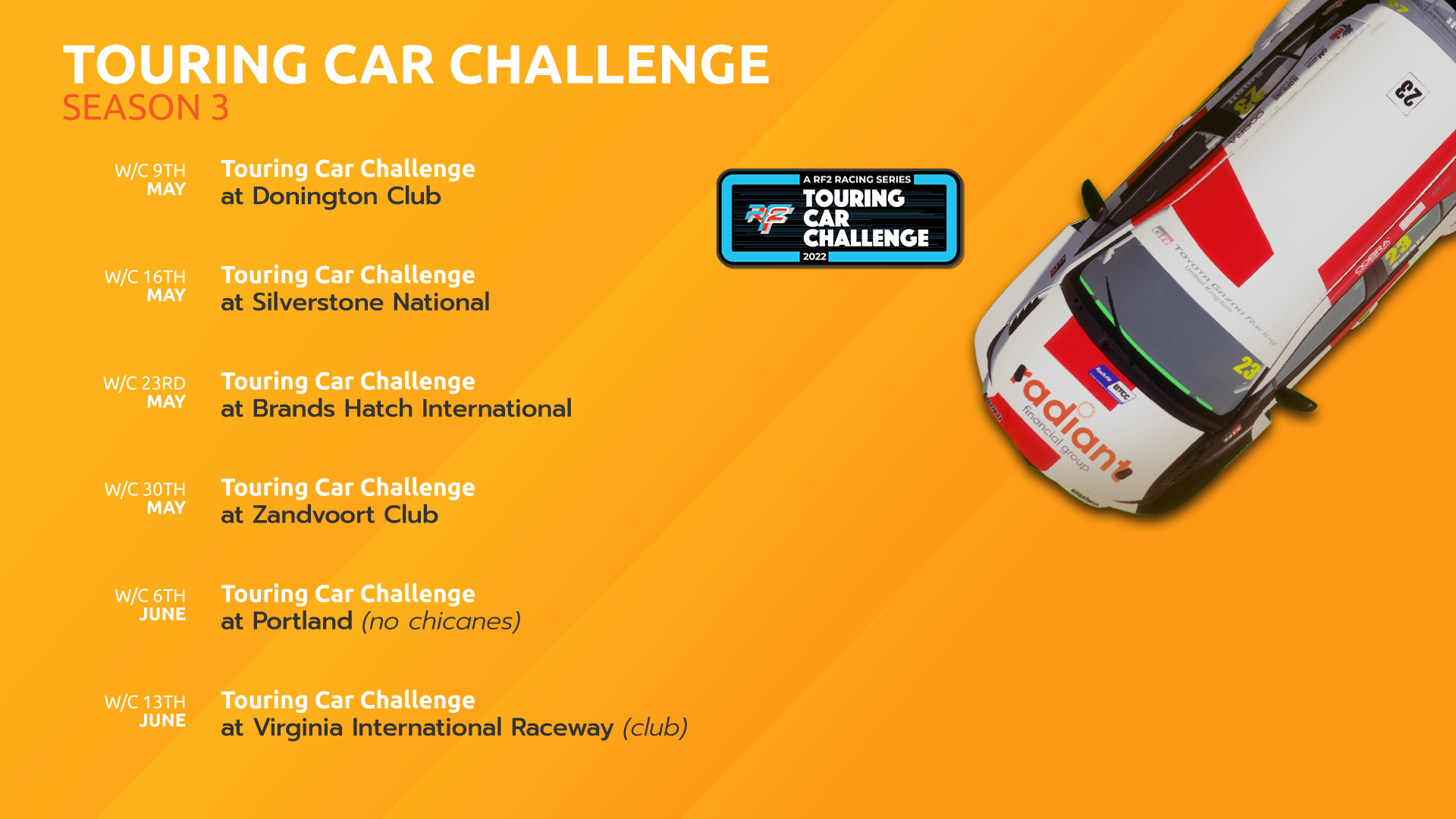 Car: Toyota Corolla GR Sport / Infiniti Q50 (Steam Store: CLICK HERE)
Qualifying: 1x Hot lap split qualifying Monday 9th – Thursday 12th May / Donington Club
Race: 1 x Race every Friday 21:00 CEST
Hot lap qualifying: This sets the split for the season
Format: 10 minute practice, 10 minute qualifying, race length varies per track
As it is now the tradition for each new season of racing in the Competition System, to celebrate the end of S3 we will be hosting our scheduled 'Race of the Season' special event, where we put some of our fastest drivers together in a live broadcast race on the Traxion.GG YouTube channel, to see who can come out on top with the ultimate performance on the day. As always, this Race of the Season event will be open to anyone within the rFactor 2 community, and we will allocate a split to each driver based on their hotlap performance over the course of a five-week period. At the conclusion of the qualification competition, the top 30 drivers will be entered into a 45-minute race with a mandatory pitstop, and the first three drivers to the flag will earn a virtual podium spot – and the new Race of the Season trophy for their collections!
Race of the Season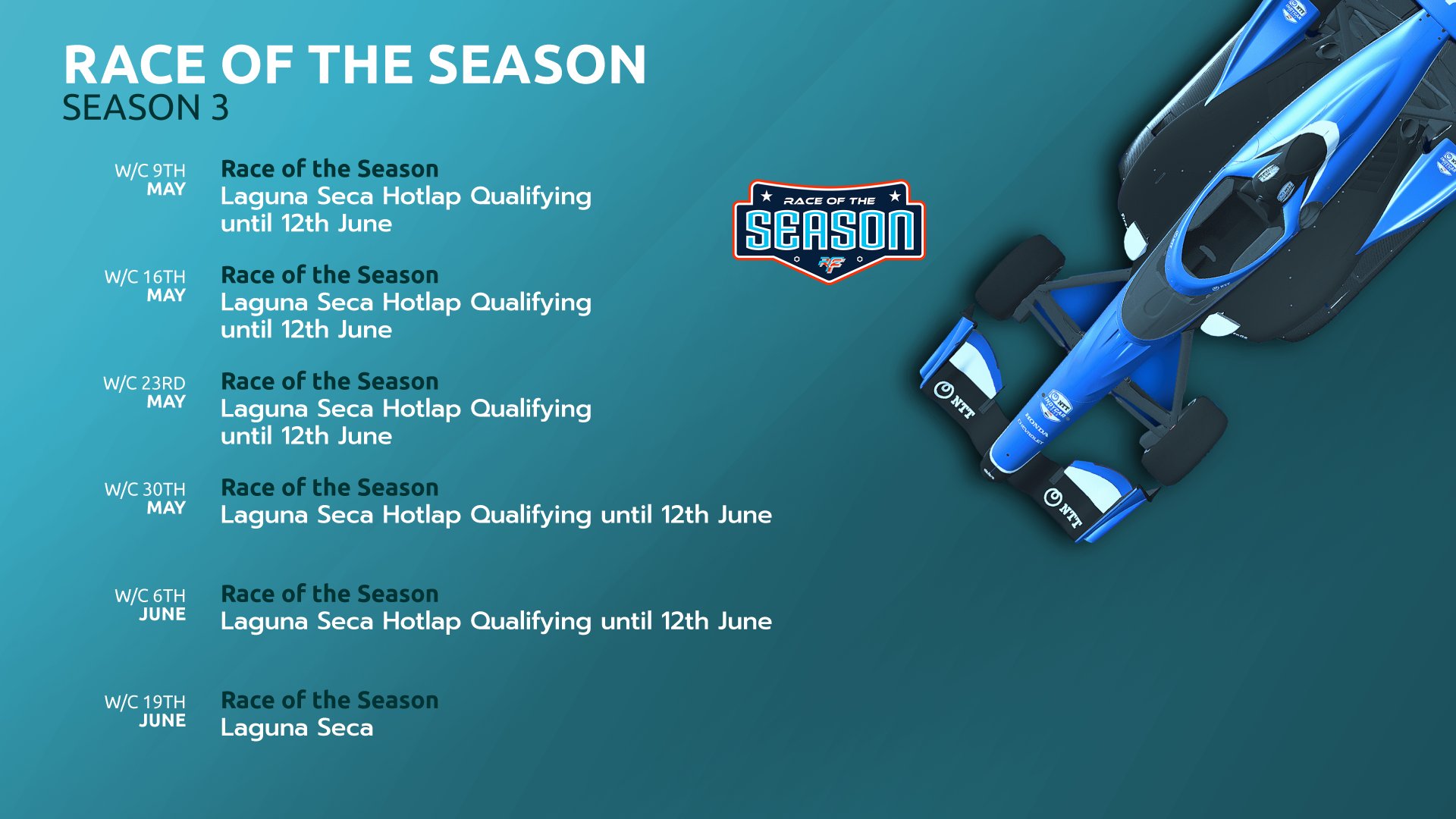 Car: Dallara IR-18 INDYCAR (Steam Store: CLICK HERE)
Track: Laguna Seca (Steam Store: CLICK HERE)
Date: Sunday 19th June
Time: 21:00 CEST
Qualification: Hotlap competition to run 5 weeks through the season
Number of Drivers: 30
Race Details: 45 minutes, 1 x pitstop – upgrade
Live Steam: Yes – TraxionGG YouTube
Formula Challenge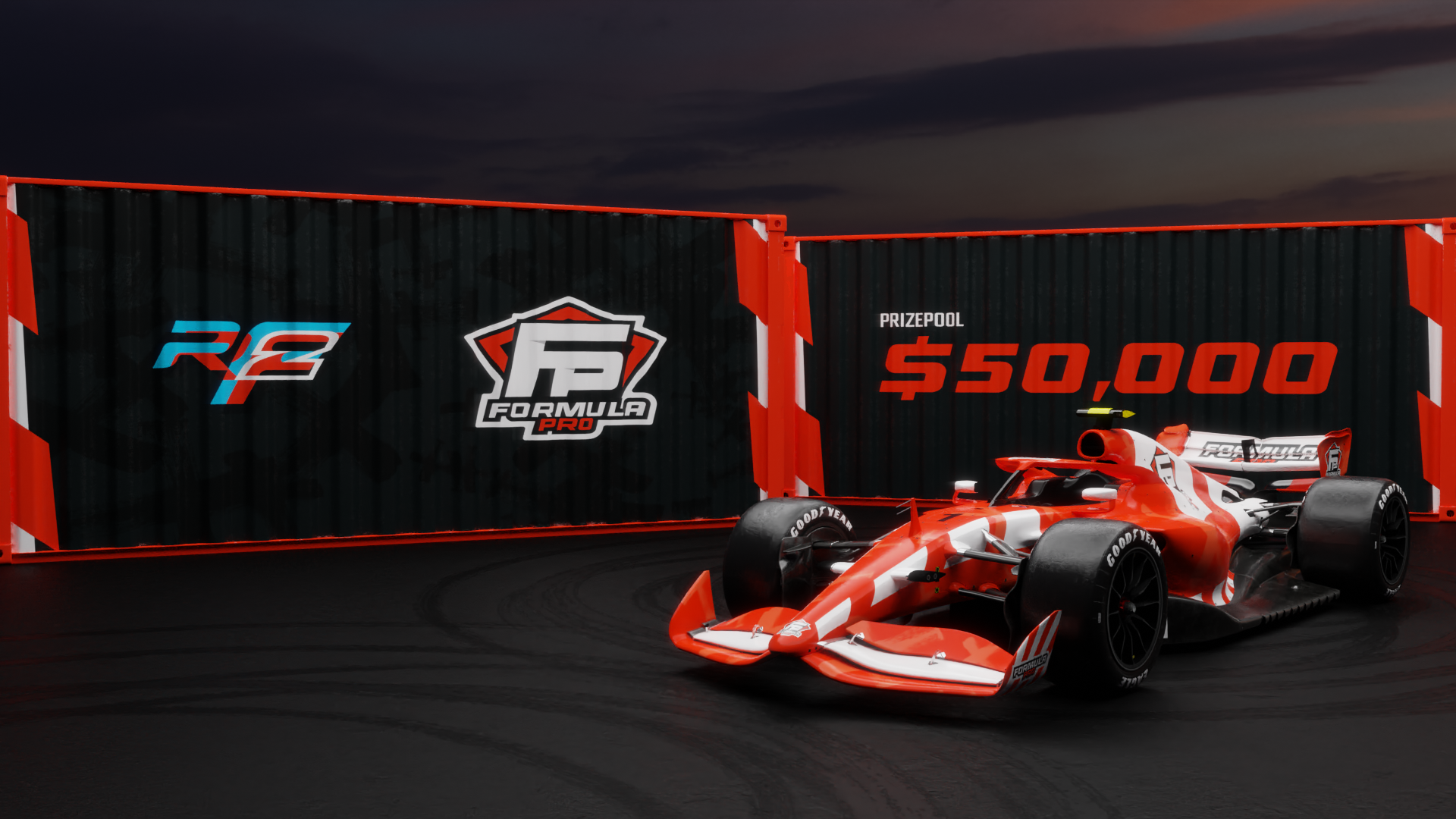 The best open wheel series in rFactor 2 is back with a bang, bigger, better and more exciting than ever before!
The Formula Challenge Series will be held on the Fridays in the same week as Formula Pro. Formula Challenge is the feeder series into Formula Pro, where drivers fight for a team spot in Formula Pro season 2. Drivers will qualify through the Competition System and will be sorted in splits for the season opener. Throughout the season, drivers will be able to move up and down between the splits.
The Formula Challenge car will have reduced power (bhp) and torque.
Hotlaps are closed, and the racing is right around the corner – get ready for awesome!
Season 3 is set to be another great period of online racing in rFactor 2, and we are just as excited as you to get things up and running – see you all out on the track(s)!