Hello sim racers!
Here on it let Monday 9th of May be forever known as rFactor 2 Q2 Release Day! That's right, you've been a patient bunch since our very popular Q1 2022 Drop back in February, and you are about to be rewarded handsomely with a hearty collection of fixes, improvements and new features – alongside a very tasty looking collection of fresh content to enjoy!
Today marks the second of our four planned major quarterly enhancements for rFactor 2 this year, and we hope that you have the opportunity to sit down and enjoy some quality time out on the virtual racetracks with our new build update and content releases. What you see below you is the fruits of many hundreds of man-hours development time within the simulation, and we are really excited to see how our community react to the improvements that have been brought forward for this release – we want another record number of concurrent Steam users alongside this build!
Although we are absolutely delighted with what have managed to pull together for this May update, the team are already pushing hard behind the scenes to make an even bigger and better splash with our August drop – rest never stays long in the world of racing simulation development!
Before we get too excited about that, though, let's take a few moments to go through some of the goodies that form part of the May Q2 Update in rFactor 2…
Key Highlights
New Sound Engine
A big part of this new update release is the introduction of a brand-new sound engine. A huge amount of work has gone into the new engine we will be using from now on, and it has allowed us to really step up a gear and bring forward significant improvements and enhancements, pretty much across the whole audio spectrum. Onboard and offboard audio should now be significantly enhanced from what our players are used to hearing, with a much richer, more detailed and immersive output possible with this sound engine change.
Another major improvement of our new sound engine is the ability for us to now properly filter between different types of car style within the sim. With this new release, the simulation can now automatically detect when the player is using an open cockpit car in comparison to a close cockpit machine, and adjust how and what audio effects are played back to the driver – allowing us the scope to really up the immersive aspect of the different types of car, and tailor the audio experience to best represent how things would sound within a real racing machine of the type you have chosen. As an additional benefit, we can now support HRFT, which as well as significantly improving the audio experience for headphone users, will also greatly enhance how drivers using Virtual Reality will be able to recognize and interact with the placement of sounds within the simulation environment – yet further increasing the immersive experience of the title.
New Wet Weather Update

This represents a big update to how wet weather conditions and racing behaves across the simulation. As part of this new build, we have reviewed our wet conditions in rFactor 2, adding a raft of improvements that should make for more immersive and realistic racing in wet conditions, from how the rain falls and dries on the circuit, to how the AI choose their tyres and manage the wet conditions. Drivers will now have to pick the best and most grippy line in all conditions out on the track, and the AI should behave in a realistic and believable way in terms of tyre choice and strategy. It is also worth noting here, users can now select the level of wetness on the track before the session, allowing players to dictate the track surface conditions to their own preferences.
New Particles and Sparks

Anyone who likes themselves a good motorsport picture has probably seen an early 90s Formula One car kicking up a rooster tail of sparks from the undertray at any given circuit, those types of pictures are firmly embedded in the minds of racing fans, and now you can recreate this for yourself in rFactor 2! The team here at Studio 397 have worked exceptionally hard to not only bring these features to the title, but to ensure they interact properly with the types of cars we have in this simulation, showing off the sparks, rain spray and off track debris kicking up, while also ensuring they behave in a way that is accurate and interacts with the shapes and styles of cars that produce them – another very important step in our quest to continue building upon our aim to mirror real life as closely as possible.
New Shift Protection, Engine and Brake Cooling

An important aspect of modern race cars, and race cars in general, is how the vehicle protects itself from agressive downshifting by the driver – basically preventing damage to the engine when using harsh and fast downshift techniques to leverage engine braking for increased ability to slow the car into corners. As well as the damage aspect, unrestricting this part of the vehicle behaviour can also lead to an unrealistic way of driving in order to gain laptime advantage, producing shifting techniques in certain circumstances that wouldn't be possible (or advised!) in real life motorsport.
With the introduction of shift protection, we are adding another layer of realism to the driving experience in rFactor 2, something that has often been requested by our racing community. On launch, shift protection will be applied and ready to use with the new BTCC cars, with further updates set to be deployed to different content items over the weeks and months ahead. The same applies to the new engine and brake cooling features brought into the simulation as part of this new build update.
Known Issues
Sparks cause performance spikes for some users running with uncapped frame rates they can be temporarily disabled by setting specialfx to low (This has minimal impact on other effects)
Toggling driver labels doesn't work in VR
Driver labels don't depth test when MSAA is turned off
Spotter may skip words
Some terrains may play incorrect scrub sfx
Steam Build IDs:
Client: 8703241
Dedicated Server: 8703245
General
Updated Safety Car added to Retail and ModDev. Old Safety Car removed.
Added a visual driving line feature, this can be toggled from settings.
Removed texture cache to simplify loading.
Added an option to set the amount of water on roads at the start of a session.
Increased the rate of RealRoad calculations by approximately x4.
Added a server option to disable faster real road calculations, as this adds approximately an extra 4KBps per client to server overheads.
Improved real road update rates. They're now separate per real road property, with wet road having a higher update rate.
Minor update to default weather conditions for different profiles (Rainy/Overcast/Sunny etc).
New algorithm for wet road calculations effecting how quickly surfaces get wet and dry, taking into account drainage, humidity, ambient temperature and sky weather conditions.
Updated tyre grip calculations on rubbered in areas when surfaces are wet.
Updated how road and rain conditions are reported. Old percentage values now snap to a set percent for each tyre of condition, masking the true absolute condition in the game. The Default HUD has been updated to show a text description.
Corrected Rear Flap System default wet weather disable point to work with new weather ranges.
Fixed an issue where Cameras constrained to specific paths would not work correctly in replays.
Extended Freelook mode to allow control via joypads as well as adjustments of exposure, aperture, sensor size and focus.
Graphics
Added spark effects.
Decreased interval of Static Mapper updates from 5 minutes to 10 seconds. This should result in smoother lighting changes at dawn / dusk and as weather conditions change.
Corrected Sky Colour to remove Cyan effect.
Slight adjustments to exposure for sky colour adjustments when sun at it's highest.
Minor Atmospheric Corrections, including linking AirMass to AirPollution.
Reducing fog brightness slightly.
Reduced Exposure a touch when the sun is around 10 degrees of altitude.
Improved cloud selection at different weather settings.
Minor cloud texture improvements.
Fixed an issue where Clouds would disappear at really high altitudes.
Fixed issues with lighting interpolation in sky rendering at Dusk/Sunrise, which would result in jumps in lighting values.
Fixed puddle splashes not setting when rain drops are not used (set to off or scene viewer).
Fixed lighting on spray during wet conditions, and tweaked particle profile.
Updated reflections on PBR Road and Curb Shaders.
Updated Rain Particle settings and fixed rendering on ultra wide screens.
Passed through particle settings refining Spray, Dust, Smoke and more.
Fixed an issue in VR where the scene would over exposure.
Fixed an issue in VR where replay mode would not render correctly.
Physics
Implemented enhanced cooling system for oil & water. This includes new parameters in the .hdv file. The new model includes:

Direct heat transfer between water and oil.
Oil radiator.
Switchover Thermostat.

Separated front and rear brake ducts.
Added configurable gear shift protection.
AI
Added AI Dry Tyre strategy (Random Dry Tyre in Practice, Softs in Qualifying and try to pick an appropriate tyre for race strategy in race).
AI now check if to change Tyre Type just before the pit road entry rather than at the start of the lap.
Fixed various issues around AI Tyre Selection when session changes and weather changes – such as not switching to wet tyres when it was dry before but now is wet.
Fixed an issue with calculating road conditions when changing session where they would not fully compute.
Fixed an issue where cars that don't allow pit stop refuelling would run a full tank in practice and qualifying.
Prevent AI from leaving pits in closed session.
Fixed an issue where if there was a set of valid wet tyres, intermediate tyres would default to dry tyres.
UI
Always show official sticky servers in the server list even if filters are active.
Enabled "Restart warmup" button also when event is in race session.
Updated button layout in session controls and setup summary.
Added fading out of screen when leaving event or replay.
Added condensing of tire name when too long to fit in event standings table.
Added help text when hovering over various settings.
Added music to showroom.
Changed breaking of long chat lines so they only break on full words.
Fixed getting stuck in assign control pop-up after assigning tab key.
Disabled user text selection everywhere except in text fields.
Added highlighting of assigned control key values when hovering over with mouse.
Improved transition between different profiles in graphics and gameplay settings menus.
Refined styling of car classes in event screen.
Refined styling of car classes in fullscreen standings ticker.
Disabled "Default max wheel angle" setting when "Max wheel angle mode" is set to automatic.
Disabled "Steering wheel range" setting when "Range set by vehicle" setting is enabled.
Hid the car selection list when the drive/spectate pop-up is showing when joining a server directly with a join link.
Changed searching for cars and tracks so that the list scroll position is kept at the top after search (clearing the search text will scroll to the selected item).
Enabled car selection on server during a practice session.
Made it possible to add multiple custom graphics profiles.
Made it possible to add multiple custom gameplay difficulty profiles.
Always sort "All Tracks & Cars" to the top of the list in singleplayer series selection.
Added fallback image for showcase tile in case the actual image cannot be loaded.
Updated showcase, news and store tiles background image positioning and scaling.
Added option to expand server chat window to full height.
Setup notes for the highlighted setup (the one you clicked on in the setup list but not yet loaded) are now shown on the setup summary page.
Setup notes can now be typed in the setup summary page (the setup still has to be saved to save the changes).
When saving a setup, the folder for the current track will be selected by default (instead of the folder of the loaded setup).
Removed automatically expanding all found items in car and track selection after search.
Added highlighting of selected opponent filters.
Fixed multiplayer screen with drive/spectate pop-up showing too soon when using +connect to join a server, and if and when content install is still in progress.
You can now select car upgrades directly from the car selection screen without going to the showroom (both in singleplayer and multiplayer).
Disabled singleplayer grid position setting if qualifying is enabled.
Added two new gearbox graphs:

Top speed per gear
RPM after upshift
The existing graph, gear spacing, is kept as a third option

Fixed occasional blank page in the first launch wizard when going to the exit screen and back.
Reordered difficulty settings and sliders.
Singleplayer RealRoad settings are now enabled only when the weather preset is set to "Scripted".
Renamed "Steering effects strength" setting to "Force feedback direction".
Singleplayer "Race Laps" and "Race Time" settings are now disabled/enabled based on the "Finish Criteria" setting.
A singleplayer session can now also be enabled by clicking on the disabled session button in quick event.
The "Drive" button now changes to a "Next session" button when session time runs out in singleplayer.
Skipping the first launch wizard now takes you to the content selection page, instead of skipping the whole wizard. You can also skip the content selection from there.
You can now skip the first launch wizard from any page.
Modding
Added IBL Visualizer Debug tool to Scene Viewer (already present in ModDev).
Added Texture UV Mip Debug tool to Scene Viewer (already present in ModDev).
Added AI Vocal Strategy Player File debug option for Mod Dev (Pit Strategies, Tyre Changes and when selected what they are doing – can be expanded in future).
Fixed overcast preview mode (note: this is not exactly the same as in game).
Updated sample wet masks at Loch Drummond.
Sound
New Sound Engine

New 3D rendering.
Vastly increased amount of simulataneously playing effects.
Environmental effects and filtering system.
Proper cockpit filtering.
Autodetection of open and closed cockpits for environment effects and filtering.
Sound effects such as skid, kerbs, gravel, wind, suspension and many more now work online and in replays.
Support for full surround sound setups.
HRTF support (Binaural headphone experience).
Vastly improved VR experience.
Backwards compatible.
Many new sound effects.
Support for trackside broadcast microphones.
Every car causes audible ambient noise around the whole track.
Brand new, modern, customisable file format with much more freedom for audio designers.
Improved debugging tools for dev mode.
New Content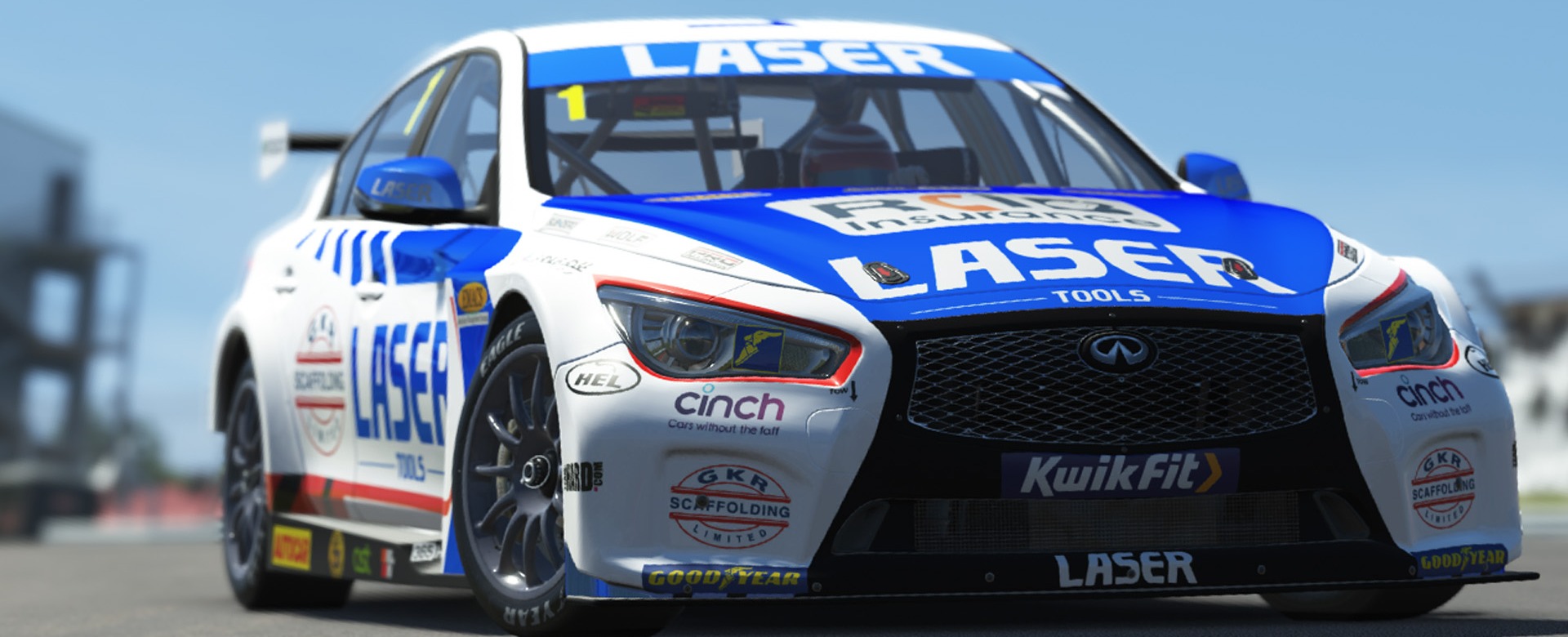 As has now become tradition here in rFactor 2 land, the latest major public build release for the software comes complete with a healthy collection of new premium content for our players to enjoy – and for this quarter, we have decided it would be a good time to stray away from the beaten path a little, and offer up something a bit different to the types of content we've been producing in recent months.
One of the big things our community have been asking for of late is more tracks, all in laserscan precision of course, and with this new May release we are delighted to release not one, not two but THREE brand-new and very exciting circuits to the title. From the world-famous twists and turns of Laguna Seca, to fan favourite British tracks that compliment our new BTCC cars very nicely indeed, we think this month we really have brought a very fresh and exciting set of content to the title.
Our three new tracks and the BTCC cars are available today within the rFactor 2 Steam Store. As usual, you can buy the new content both as individual items, or if you want to save a little money, check out the pack details below:
BTCC Car Park 1 | Steam Store: CLICK HERE
Touring Car Pack | Steam Store: CLICK HERE
Q2 Complete Pack | Steam Store: CLICK HERE
Cars
British Touring Cars
Toyota Corolla BTCC | Steam Store: CLICK HERE
The best of tin top racing the UK has to offer, the introduction of these two outstanding British Touring Car machines is a very welcome addition to rFactor 2, and just the very start of our quest to bring the full 2021 / 22 British Touring Car Championship field to the simulation this year.
Initially launching today with the car of reigning champion Ash Sutton in the form of the Infiniti Q50 (V37), as run by Laser Tools Racing, and the potent Toyota Corolla of Speedworks Motorsport, these two cars are a perfect way to experience how top level touring car action can feel within rFactor 2 – and trust us when we say, these two racers feel nothing short of outstanding out on the circuit.

Infiniti Q50 (V37) BTCC | Steam Store: CLICK HERE
Somewhat unique to touring car racing, the BTCC features both front and real wheel drive machinery on the same grid, which presents a very interesting opportunity for us to begin our BTCC journey with two very, very different driving experiences. Keeping the traditional front-wheel drive in the Corolla, drivers will need to adapt their driving style significantly in comparison to the more usual real wheel driven machinery found in modern motorsport. Torque steer and a need to understand how to best balance the car on brakes and throttle application will be key to unlocking the most laptime from the Corolla, whereas in the Infiniti, although a real wheel driven car, the fine line between grip and dancing over the edge of adhesion is never far from the drivers mind – which is, to be fair, a wonderful place to find yourself when you are out on the virtual racing circuits of the world.
Tracks
Donington Park

Donington Park | Steam Store: CLICK HERE
You can't help but think anything other than THAT lap from Ayrton Senna in 1993 when you stir up thoughts of Donington Park, and now you too can recapture the moment in the simulation with this new track addition! As one of the most iconic tracks in British motorsport, with a history dating all the way back to pre-war racing adventures, Donington has to be considered a jewel in the motorsports crown, a fast, technical and exciting lap that works perfectly with a wild array of different car types and weather conditions.
Known for its highly exciting undulations, not least of which is the dramatic drop through Hollywood and into the Craner Curves, before drivers need to hold on tight for a massive commitment into the deceptively fast Old Hairpin section at the foot of the hill – Donington Park has a little something for everyone within its modest 2.498 mile configuration.
Brands Hatch

Brands Hatch | Steam Store: CLICK HERE
Small, but oh so very mighty! Brands Hatch – in either the Indy or the full Grand Prix configuration – is a sure fire way to test a driver's skills and reactions, thanks to fast corners, uneven road surface and a distinct lack of run off area even in the fastest sections of the track – this is one venue that you need to be absolutely confident in your own ability and of the car underneath you, otherwise get ready for an appointment with those unforgiving trackside barriers.
The second of our two British circuits coming to rFactor 2 in this release, Brands Hatch is another very recent laserscan from the track team here at Studio 397, having been undertaken late in 2021 around the time of Donington Park, marking these two circuits out as the most recent and detailed replications of their real world counterparts in sim racing currently. Available now in both Indy and Grand Prix configurations, this is certain to offer both a challenge and pleasure in equal measure.
Laguna Seca

Laguna Seca | Steam Store: CLICK HERE
From the rain and dark skies of Great Britain to the endless summers of California, the next new track available today as part of our May 2022 update is one that for racing game fans will need no introduction – Laguna Seca! Very different in terms of visuals to our first two tracks this quarter, Laguna retains quite a bit of the character from Donington Park and Brands Hatch, in that the circuit carries significant old school vibes, while producing a layout that ensures drivers have to be very much in touch with the balance and feel of their car, should they wish to avoid leaving time on the table, or worse yet, heading off onto the unforgiving sandy run-offs that line this iconic circuit.
Featuring probably one of the most memorable corner sections in world motorsport, the famed 'Corkscrew', Laguna is a firm favourite of drivers and fans alike, and a circuit that should very much act as a venue of choice for our drivers in all manner of racing events and competitions.
Competition System Races
Alongside the new build update and content drop comes the debut of a new season of racing within the rFactor 2 Competition System. Building on the momentum established through our first two racing seasons, for this new release we see a welcome return of the Rookie Cup using the wonderful Alpine A110 Cup car from the Enduracers Modding Team, a free and fully licenced community mod. Alongside the Rookie Cup and keeping with a theme of low power, high thrills racing, we see the Open Wheel Sprint back on the calendar and now utilizing the Tatuus FT-60, as well as a brand-new series for the freshly released BTCC cars – the Touring Car Challenge! Sure to be an exceptionally popular addition to the rFactor 2 Competition System, we think Season 3 is set to be the best yet!
Season 3
Season 3
Dates | May 9th to June 19th
Series | Rookie Cup, Open Wheel Sprint, Touring Car Challenge, Race of the Season.
Rookie Cup
Car: Alpine A110 Cup (Steam Workshop: CLICK HERE)
Times: Daily, at the beginning of every hour
Format: 10 minute practice, 10 minute qualifying, 20 minute race
Open Wheel Sprint
Car: Tatuus FT-60 (Steam Workshop: CLICK HERE)
Times: Daily, 30 minutes past every hour
Format: 10 minute practice, 10 minute qualifying, 25 minute race
Touring Car Challenge
Car: Toyota Corolla BTCC / Infiniti Q50 (V37) BTCC (Steam Store: CLICK HERE)
Qualifying: 1x Hot lap split qualifying Monday 9th – Thursday 12th May / Donington Club
Race: 1 x Race every Friday 21:00 CEST
Hot lap qualifying: This sets the split for the season
Format: 10 minute practice, 10 minute qualifying, race length TBC
Race of the Season
Car: Dallara IR-18 INDYCAR (Steam Store: CLICK HERE)
Track: Laguna Seca (Steam Store: CLICK HERE)
Date: Sunday 19th June
Time: 21:00 CEST
Qualification: Hotlap competition to run 5 weeks through the season
Number of Drivers: 30
Race Details: 45 minutes, 1 x pitstop – upgrade
We hope you enjoy our new build update and content release, and we look forward to hearing your reactions over the course of the weeks and months ahead. Here at Studio 397 we continue to push as hard as possible to help rFactor 2 achieve the full potential we all know it is capable of achieving, and we are looking forward to sharing this exciting journey with you all for many years to come.
See you on the track!
May 2022 Q2 Content Drop – Available now in rFactor 2.