Release day!
February 7th is here at last ladies and gentlemen, and with it comes not only a bunch of new and exciting content to share with you all, but a bonus additional build update too!
Hot on the heels of our 2022 UI Update build release on January 27th, this new update is a further complementary release designed to pack in a few extra tweaks and improvements to the core simulation – as well as introducing the first of our new 3-monthly update cycle of content releases.
rFactor 2 | The Road Ahead: CLICK HERE
Under normal circumstances, the 2022 UI Update build released in January would have represented the main update for this February 7th deployment, however we just couldn't wait to get it out and into your hands a little earlier than planned. That said, we have still endeavoured to put together a few additional fixes and improvements to complement the content release today, both for the main rFactor 2 build and our previously released Indianapolis Motor Speedway and Norma M30 LMP3, details of which you can find below:
February Build Update Notes
Steam Build IDs:
Client: 8157914
Dedicated Server: 8157923
UI
Tweaked styling on the buttons in the manage content page.
Tweaked styling on the buttons in certain server related pop-ups.
Tweaked styling on the Load Replay button in the replays page.
Added smoother transitions when navigating between pages in the singleplayer area.
Added functionality to copy the controller profile name to the controller profile save text field.
Fixed issue where package list sorting on manage content page got undone after content installation.
Fixed issue where the driver column with high values in the multiplayer page was cropped.
Fixed issue where unintended graphics settings were shown in the event settings screen.
Fixed inconsistency in slider value percentage rendering in settings pages.
Fixed issue where the restart race button was greyed out in servers.
Fixed issue where users couldn't scroll down in the setup list.
Fixed issue where chat order got reversed around midnight.
Norma M30 LMP3 V2.45

Norma M30 LMP3 | Steam Store: CLICK HERE
Changes made as per 2020 LMP3 regulations: minimum car weight 950kg.
New engine – Nissan VK56 (35HP more vs older VK50 engine), one, fixed set of gear ratios, traction control is allowed.
Removed upgrades option for unrestricted tyre compounds.
Disabled pressureonthefly PITMENU option.
Indianapolis Motor Speedway V1.16

Indianapolis Motor Speedway | Steam Workshop: CLICK HERE
Updated Indy GP layout to have INDYCAR Advertisements.
New Content

As well as a new build update, February 7th also marks the first of our newly scheduled DLC drops. In this first batch of releases, we have brought together a collection of some iconic and exciting endurance and open wheel content to the simulation.
On the Americas front, we not only have the very peak of open wheel racing Stateside in the form of the INDYCAR Series, but we've also taken the opportunity to bring both the road and oval configurations of the classic Daytona International Speedway – adding an often requested track to our roster of venues, and a location that is perfect for endurance racing in the wide selection of cars on offer within rFactor 2.
Daytona Pack (Daytona, Ligier JS P320, BMW M4 GT3) | Steam Store: CLICK HERE
Q1 Release Pack (Daytona, Ligier JS P320, BMW M4, INDYCAR) | Steam Store: CLICK HERE
Daytona International Raceway

Daytona International Raceway | Steam Store: CLICK HERE
Arguably the premier International racing venue in North America, the Daytona International Speedway is steeped in history from its 60 years of active competition. From the daunting challenges presented by the 2.5 mile Speedway, to the 13 corners that make up the endurance road course, Daytona is without doubt one of those circuits that drivers love to race on and compete – and now you can take that opportunity yourself in rFactor 2, with this brand new laserscanned creation in all of its iconic glory!
Daytona International Raceway | More Details: CLICK HERE
INDYCAR Dallara IR-18

INDYCAR IR-18 | Steam Store: CLICK HERE
The very latest specification Dallara IR-18 INDYCAR is here, complete with all the teams and driversof the NTT INDYCAR Series, including 6-time series champion Scott Dixon and major international stars the likes of Romain Grosjean, Jimmy Johnson, Pato O'Ward and Simon Pagenaud. The Dallara IR-18 features a 2.2 litre V-6, twin-turbocharged engine with upwards of 700 horsepower, high downforce and push-to-pass in car driving adjustments, and of course the unique to INDYCAR Aeroscreen, this car is one of the fastest, engaging and most powerful open wheel racers available within rFactor 2.
The car comes complete with specific aero kit configurations for road and street courses, short ovals and superspeedways, as well as the full complement of Firestone tyre compounds – giving our players the opportunity to really sample just how much fun it is to drive these incredible cars in a virtual environment.
INDYCAR 2021 | More Details: CLICK HERE
BMW M4 GT3

BMW M4 GT3 | Steam Store: CLICK HERE
Beginning development life at the start of 2020, the brand-new BMW M4 GT3 has been created to represent the very latest flagship GT racer of the Bavarian marque. Adding to our highly popular and ever expanding GT3 class within the simulation, the BMW M4 GT3 represents the pinnacle of closed top GT engineering.
Succeeding the highly successful M6 that has been in competition since 2016 (also available in rFactor 2 – CLICK HERE), the new M4 GT3 certainly has a large legacy to fill, taking up the mantle of representing the best of BMW as it replaces the mighty M6, one of the most prominent and competitive cars within the GT3 category.
Created with the goals of achieving greater driveability, cost efficiency and operational improvements, BMW have left no stone unturned with this new machine, offering up to customers what is expected to be a car capable of running at the very front of the grid in the many GT3 specification series around the world.
BMW M4 GT3 | More Details: CLICK HERE
Ligier JS P320 LMP3

Ligier JS P320 LMP3 | Steam Store: CLICK HERE
Winner of the LMP3 Title in IMSA WeatherTech SportsCar Championship and the three major US endurance events in 2021: 24 Hours of Daytona, 12 Hours of Sebring and Petit Le Mans – the LMP3 category within rFactor 2 is about to get a lot more exciting, with the introduction of the mighty Ligier JS P320.
LMP3 can be considered more of an entry level class of prototype racing, which makes this car a perfect candidate to introduce our drivers to the world of closed top, high downforce machinery, without having to reply too much on experience in order to pilot the car successfully to strong lap times. All the fun of prototype racing, but with the capacity to allow drivers to really get under the skin of the car and produce some great, close racing on track.
Ligier JS P320 LMP3 | More Details: CLICK HERE
Competition System Races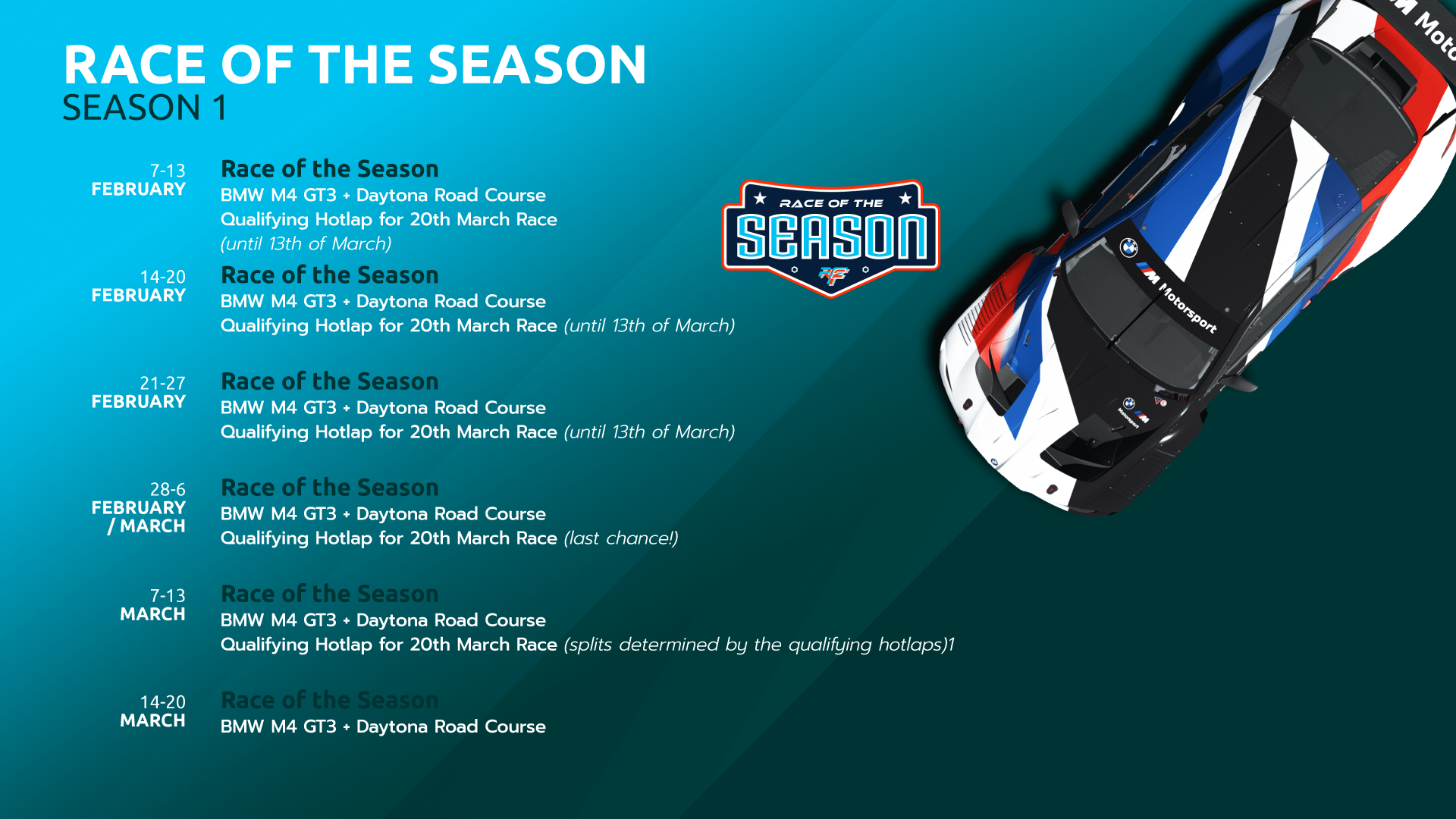 rFactor 2 Competition System | More Details: CLICK HERE
We are very excited about these new content additions to rFactor 2, and we hope you all enjoy the opportunity to take out on track some interesting and engaging new content within the simulation. Don't forget, if you want to join our expanding online community here in rF2, we have recently heavily revised our Competition System schedule – with regular 'seasons' of racing and special edition events that are open to anyone in the community. These new races present a fantastic opportunity to get yourself online and racing against your fellow community members, and feature a mixture of totally free content events, paid DLC, plus some of our new premium releases.
Starting today, February 7th, we will have daily scheduled races in the Alpine A110 Cup (Rookies Cup), USF 2000 (Open Wheel Sprint) and the brand-new Dallara INDYCAR IR-18 at various circuits – making it a great time to finally get involved and help us grow our online racing community!
The rFactor 2 Competition System can be found within the main menu of the rFactor 2 UI.
Season 1
Dates | 7th February to 20th March
Series | Alpine A110 Cup, Open Wheel Sprint, INDYCAR Open Challenge
Alpine A110 Cup
Car: Alpine A110 Cup (Steam Workshop: CLICK HERE)
Times: Daily, at the beginning of every hour
Format: 10 minute practice, 10 minute qualifying, 20 minute race
Open Wheel Sprint
Car: USF 2000 (Steam Workshop: CLICK HERE)
Times: Daily, 30 minutes past every hour
Format: 10 minute practice, 10 minute qualifying, 25 minute race
INDYCAR Open Challenge
Car: Dallara IR-18 INDYCAR (STEAM STORE)
Times: Daily at 9pm CET and 1am CET (3pm EST and 7pm EST)
Format: 10 minute practice, 10 minute qualifying, 40 minute race
Race of the Season
Date: Sunday 20th March
Time: 21:00 CET
Qualification: Hotlap competition to run 5 weeks through the season
Number of Drivers: 30
Number of Splits: Unlimited
Race Details: 45 minutes, 1 x pitstop – upgrade
Live Steam (top split) : Yes – TraxionGG YouTube
We hope you enjoy the new content, and we can't wait to see you all out on the track with us over the coming weeks. Remember, this is just the start of some very exciting times in the world of rFactor 2 – stay tuned to the Studio 397 website, social media and YouTube for more news and insights in the weeks ahead!