Get ready for some incredible racing action this year, as we announce the latest season of the Le Mans Virtual starting this September 17th with a brand-new track to rFactor 2 – the Bahrain International Circuit! 
That's right, following an incredibly successful year in 2021, Motorsport Games, the ACO and rFactor 2 are back again for another season of the premier endurance racing online competition, mixing real world teams and drivers with elite esport stars of today, racing together over a five round campaign that ends in the now famous Le Mans 24 Hours Virtual over the weekend of January 14th and 15th next year – a welcome return to the toughest endurance racing series in the world. 
More Info | Le Mans Virtual Website: CLICK HERE
This season, the Le Mans Virtual Series will run with a prize fund of US $250,000 and is set to feature both the LMP2 Oreca 07, and the full roster of GTE cars available within rFactor 2. Mixing the world of real and virtual is one of the key points of interest within this series, and as such, in order to accommodate the often packed schedule of our real world drivers, for the 2022/23 season a change in the rules no means that teams must field at least one professional driver in their car during an event this season, rather than having to run the full campaign as was the case in previous iterations of the championship.
The championship will again feature a five round campaign, with a brand-new track making its esports debut for round one, in the form of the Bahrain 8 Hours on September 17th…
Bahrain International Circuit

Laser scanned and built with incredible attention to detail, the Bahrain International Circuit is coming to rFactor 2 as part of the November 2022 Q4 content drop to the simulation! Set to feature in both the Grand Prix and Outer Circuit configurations, Bahrain has quickly established itself as a popular track amongst fans and drivers, and one that very often allows for some spectacular racing action – especially with GT and endurance racing machinery.
More details on the track and preview screenshots will be made available in due course, so stay tuned to the rFactor 2 website, Discord, forum and social media channels to hear all the latest news first!
Le Mans Virtual 2022/23 Calendar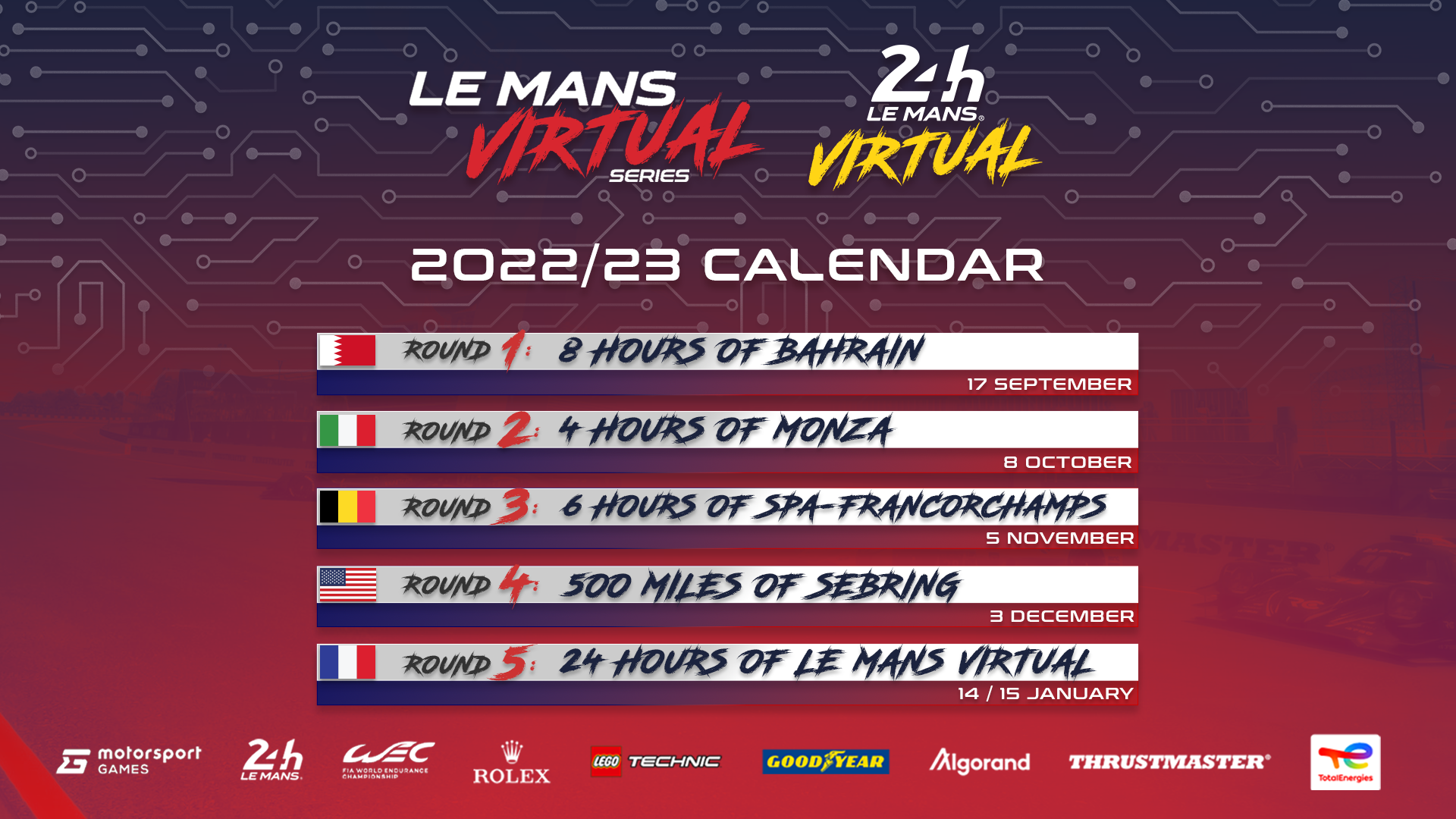 The 2022/23 Le Mans Virtual Series is going to be incredible, and we cannot wait to get the action started. With the addition of the new Bahrain Grand Prix circuit, we think the calendar this year is our best one yet – a true test of endurance esport racing skill and bravery – a championship not to be missed!
Le Mans Virtual 2022/23 – Coming soon to rFactor 2!