Hello sim racers!
New (Release Candidate) build day!
Featuring the latest developments and improvements created by the team at Studio 397, the July 2022 release candidate can be accessed via your rFactor 2 Steam account, under the release candidate branch option.
In this latest build update, you will find significant improvements to the gameplay experience of rFactor 2, ranging from our new anti-lock brake system and traction control behavioural changes, some clever new track limits functionality, right the way through to enhancements we have made to our dynamic track experience – changes that we consider substantial enough to provisionally label as Real Road 2.0.
These developments have undergone heavy testing by the internal Studio 397 development team, however, this release candidate has been made available for those of you who wish to get an early look at the future of rFactor 2, and to help us further iron out any unexpected issues ahead of the full public release in August. Changes of this scale will alter the way cars and tracks behave in the simulation, so let's take a look at the new change log, and some key highlights from this new build.
Update Notes
General
Updated Track Limits System taking into account many factors to award warning points for infringements, with drivers given a short amount of time post cut to give up any gained time or positions in race.
Ability to set Track Limits to None/Default/Strict
Ability to configure number of Track Limit Points before a Drive Through during race sessions.
Improved calculation of infringement during time off track, taking into account, time gained, distance travelled, throttle application, time off track, speed differentials, positions gained during race, wall riding and more.
During all sessions invalidate current lap and sometimes next lap, based on how close to the end of the lap and the size of the infringement.
During race sessions earn warning points, if 3 points are acquired in one go, or you pass the cumulative point limit threshold (5 by default) a drive through is given. The size of penalty increases for extreme cuts.
Pit Lane Exit violations are now logged and penalized accordingly (May require content updates)
Wrong Way Driving calculations have been tweaked to be more lenient when far from the track.
Strict mode intended for eSports, has harsher thresholds and invalidates all off track laps in non-race sessions.
Improved logging options and ModDev options for analysing cuts.
HUD
Added current Track Limits points to Penalties MFD Page in Race Sessions.
Graphics
Driver labels now correctly depth buffer regardless of display mode
UI
The first launch wizard controls configuration can now be re-run from the "Calibrate controls" page
Moved "Electronics" setup settings (TC and ABS) under the "Engine" heading, which has been renamed to "Engine & electronics"
Fixed damage multiplier setting description in singleplayer session settings
Moved damper setup settings to their own tab
Fixed sporadic empty car list on server join
Added "Track Limits Rules" singleplayer setting
Added "Track Limits Points Allowed" singleplayer race setting
Added Tender Springs to suspension setup page
Physics
Dynamic track temperatures based on weather conditions and cars driving on track
Added improved anti-lock braking and traction control systems. (Only available on the TEST version of the McLaren Senna GTR)
Added Traction Control Power Cut map to control the amount of TC to apply. (Only available for the new TC)
Added Traction Control Slip Angle map to control the target (maximum) slip angle before TC activates. (Only available for the new TC)
Added ABS/TC dash LEDs which show the amount of slip and show when the systems activate
Added Tender Springs functionality (Only available on the TEST version of the Porsche 991 GT3 Cup)
Networking
Cars that lag too much or teleport will have collision disabled for 5 seconds.
Sound
Fixed loops not restarting correctly
Fixed loud audio spike when loading into multiplayer sessions
Fixed random shift sounds in the garage
Separated TC and Pit Limiter events
Fixed audio loop points
Fixed spotter and start lights not playing or being delayed
Fixed game startup without audio device or with +nosound enabled
Performance: Sound system now uses another thread, eliminating random frame time spikes and improving game performance
Modding
Batched loading warning pop up messages together for fewer popups (Dev Mode/Scene Viewer)
Added warning popup for assets exported with default LOD Out for optimization debugging (Dev Mode/Scene Viewer)
Added cancel button to show no more messages that session (Dev Mode/Scene Viewer)
Fixed various content issues with Showrooms and Joesville (Dev Mode/Scene Viewer)
Added Sideview_UI showroom to ModDev for UI screenshots of cars.
Fixed an issue in MapConverter where it would crash with textures named *_M_<type>.TGA
Known issues
Tender Spring setup description is missing
Cut Detection is presently very strict on turbo cars (under investigation)
Ambient temperature can be set arbitrarily and might not correspond to weather conditions at the track location. This can cause track temps to be very different from the ambient temperature.
There is no feedback for players when their collision gets turned off (due to lag).
One dash LED which indicates ABS/locking does not turn on when locking wheels
Certain car/track combos may not have any sound if the number of effects is low
Driver labels do not toggle correctly in the monitor
Real Road 2.0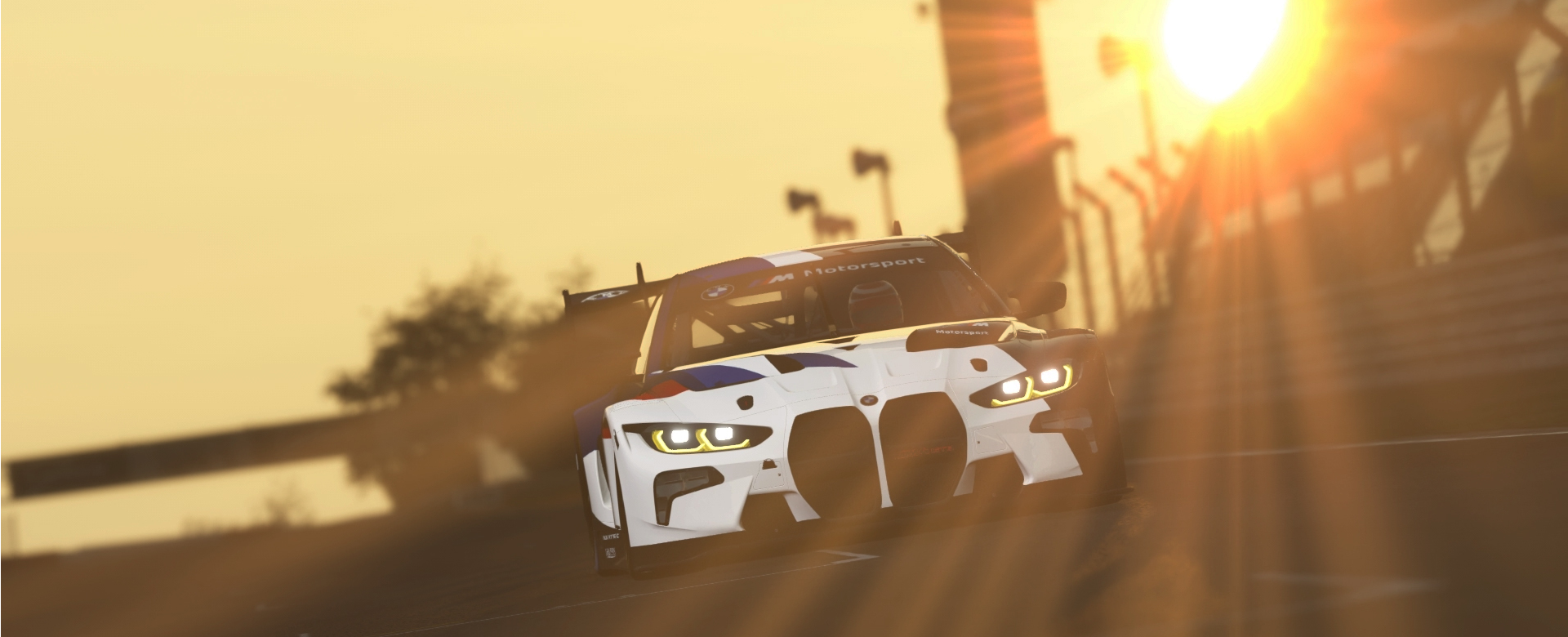 Essentially representing how the track behaves and interacts with the virtual world around it, the rFactor 2 Real Road system has undergone significant development for this new build. Now featuring track temperatures that change dynamically based on both weather conditions and the cars circulating and driving over it, Real Road 2.0 offers a major uplift to the realism levels of rFactor 2.
As part of this feature enhancement, track temperatures can be affected by a number of variables such as time of day, cloud cover, ambient temperatures, geographical location of the circuit and the act of other vehicles circulating, and warming the tarmac. Track temperature will initialise at the beginning of a session based on the weather conditions set by the player, and will dynamically change over the course of track running. Based on these interactions and atmospheric conditions, the track surface temperature will change and influence car and tyre behaviour over the course of a session. Furthermore, temperatures can also be heavily influenced by differing levels of shade on the racing surface – meaning that parts of the circuit under the cover of shadow will remain cooler and heat up at different rates than tarmac exposed directly to the sun's rays.
The addition of dynamic track temperatures is something our community here at rFactor 2 have requested for a long time, so the introduction of this feature set into the title is a very pleasing moment for the team here at Studio 397, and one we are looking forward to sharing with you all as we refine and improve in the months ahead.
With these changes in effect, our drivers will be exposed to another major variable of the on track experience, so be prepared to adjust both your driving style and tyre choices over longer stints – further expanding the immersion experience within rFactor 2.
UI Improvements

The development of our latest iteration UI is an ongoing project, one that is likely to continue to develop and mature into the immediate future. Following the major UI refresh we deployed towards the end of 2021, our main goal in the short term is to ensure a robust and clear user journey within the sim, fixing any outstanding issues that present themselves, and making further small steps forward in order to comply with the latest technical developments that release for the simulation.
As part of this latest Release Candidate update, we have taken the opportunity to deploy some more fine-tuning upgrades to the UI, addressing a number of issues identified since our last update, and adding support for the new features that have been introduced within the latest build.
Although only minor changes, it is worth pointing out a few of the key differences in this RC build, compared to the version players have become accustomed to in recent months.
In order to accommodate the new ABS and Traction Control changes introduced today, we have moved the "Electronics" setup settings to the newly created "Engine and Electronics" heading, renaming the section formerly known as "Engine". Furthermore, the UI now displays the surface temperature data on the header of any track session, pulling in the new parameters for our dynamic track system introduced as part of this build.
ABS and Traction Control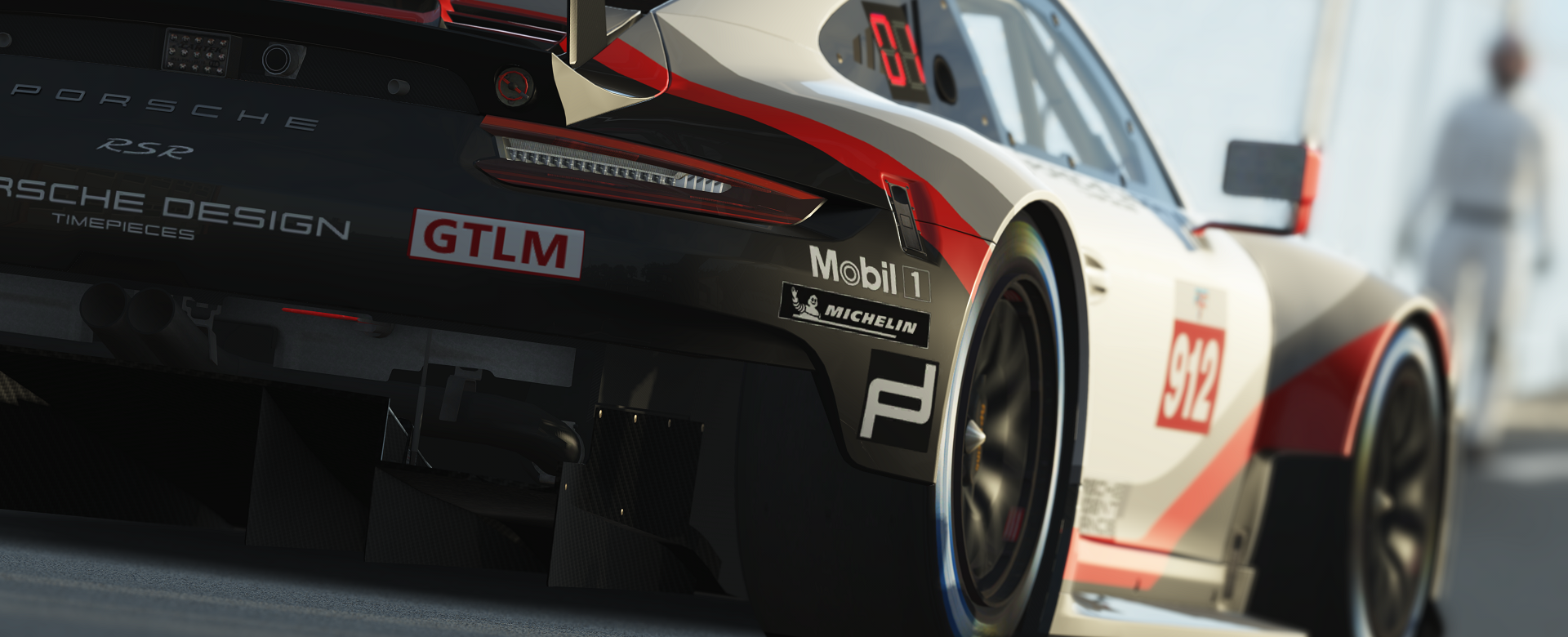 Another sizeable development that will come on stream as part of this release candidate build is the introduction of a major revision to our ABS and Traction Control simulation. For this July RC build, we have substantial reworked these two important electronic features of modern race cars, significantly expanding their behavioural characteristics in line with their real world counterparts, and adding a wealth of feature enrichment functionality.
The new ABS functionality utilises the same ABS onboard map as the original implementation, however, with these new developments drivers will be exposed to a much more accurate and realistic set of behaviours. Under heavy braking, when the tyres start locking up the ABS will activate and releases the brakes on an individual wheel basis, until grip returns and the ABS turns off again and brake pressure returns – exactly mirroring the mechanical functionality of real world ABS behaviour. ABS working hard? Expect quite a jolt through the force feedback!
In terms of traction control, in this new build we now have three onboard TC maps, these are as follows:
Onboard TC
Power Cut TC
Slip Angle TC.
The power cut TC controls how much power is cut when TC activates, with a higher map value simulating a higher level of power reduction. The slip angle TC controls how much lateral (side) slip a car can have before TC kicks in, with a higher map allowing less slip. Not all cars have these two settings, so one or both of these may be disabled, in which case they are controlled by the main "onboard TC" map. Next to this, the onboard TC map also controls the longitudinal (forward) slip the driven wheels can have before TC kicks in, again a higher map means less allowed slip.
Furthermore, additional dashboard ABS/TC lights will be introduced to cars with these features enabled.
In order to test out these ABS and TC changes, we have implemented these changes into the McLaren Senna GTR as a special test item that has been released at the same time as this build. Much like with the audio engine improvements, engine and brake cooling update and shift protection features, these enhancements will be rolled out to additional cars over the course of the weeks and months ahead. Please note, these changes are currently only available on the TEST McLaren Senna – further cars to be updated in due course.
Track Limits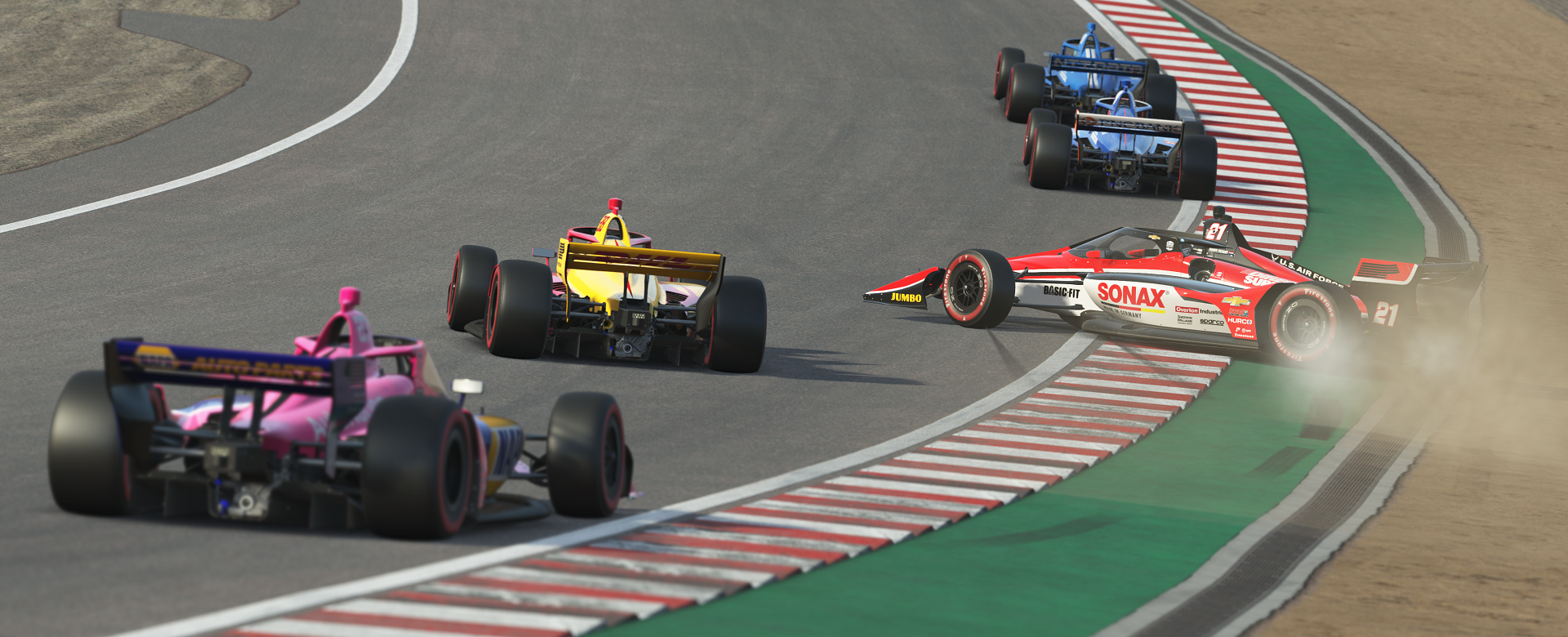 For this release candidate build, we have completely reworked the way track limit infringements are calculated within the software, with the aim to make a more robust and fairer solution for all users. Within this latest build update, we have developed functionality that allows our users to set three types of track limit settings: None, Default and Strict. These setting can be applied to both single player and also on a multiplayer server.
These settings link to a threshold for penalties and warnings for infringements. In non-race sessions, the penalty invalidates the current and sometimes following lap, depending on the strength of the cut. In a race event, drivers will be allocated penalty points. Once past a certain point threshold, which can be manually configured, the system will issue the offending driver a drive-through penalty.
In a race session, If the number of points earned in a single incident exceeds three points, the offending driver will be given an automatic drive-through penalty. In cases where penalty points are accrued in separate incidents, points are added to a tally, until the driver reaches the set amount of configured points, whereupon a drive-through penalty will be given.
If a driver finds themselves significantly exceeding the penalty points tally, for example via large cuts, the system will issue a stop and go penalty, with the stop time variable dependent on the severity of the cuts.
In order to help better inform players of the penalty point status, a new Driving Standard Dialogue will show when a driver is at risk of an infringement. In order to avoid a penalty, the driver will be offered a brief opportunity to slow down whilst the situation is calculated, however the required level of slow down will not be displayed.
If drivers perform an illegal overtake whilst off track, a dialogue will issue a warning to the offending driver, and recommend they give back the place, with a short period of time allocated for the driver to comply. The system will ignore cars that are off track, driving slowly, in the pits or have DNFd.
The new system also offers a considerable reworking of other track based infringements, such as wall riding, passing while under investigation, pit exit violations and driving the wrong way on track.
Tender Springs
A tender spring is an additional spring, usually much softer than the main spring and is used to alter total spring stiffness, usually up to a certain point in suspension travel, after which tender spring is fully compressed (bind) and does not compress any further – from that point any additional compression is provided only by the main spring and stiffness of the suspension from that point onwards comes only from the main spring. If a tender spring is of a relatively low spring rate (10-20N/mm for example), its typical usage would be, when the main spring is not long enough to cover full stroke of the damper. In such a case, at full rebound, the main spring would become loose. Having additional, very soft tender spring provides enough of length to keep the main spring correctly seated at all times. Such a soft tender spring is called 'helper' spring and it fully compresses under static load of a car.
At present, this feature has been added to the Porsche Cup car, found under the TEST heading in the car selection screen. Where appropriate, Tender Springs will be added to further content in the weeks and months ahead.
These new features form the main highlights of the July 2022 Release Candidate build of rFactor 2. Further changes can be found in the update notes log above, and make sure to stay tuned to the rFactor 2 website and social media channels in the coming weeks to find out about all the new and exciting content and improvements that are coming the way of the simulation this August!
rFactor 2 – Available now on Steam