Dear rFactor 2 community,
We're excited to share a new chapter in your rFactor 2 racing journey! Coming today, we're launching a public beta (with "Release Candidate") of our revamped rFactor 2 online system, fuelled by RaceControl technology.
We hope that this evolution in how online works for rFactor 2 will give you greater access to race against others online, bring skill based matchmaking to find you better races and ensure that drivers are incentivised to play fair against their opponents.
And as part of this new program, we're gifting the (recently updated) BMW M2 CS to all registered users of the new system 🎉
Not only that but we're bringing some quality of life fixes to the simulation, including the much awaited fix for those of you on the latest AMD drivers.
To find out more about more, keep reading…
What is the online Beta program? And how do I join?
Importantly, this is system that has been built from the ground up over the last year and therefore we need to thoroughly test this with patient racers that understand it might not all go perfectly! There will no doubt be a few hiccups along the way.
To ensure that you're up-to-date with development, and so that you can log issues please ensure you're part of our Discord community and navigate to the rFactor 2 Online section.
To participate, simply right-click on rFactor 2 in your library list in Steam then click "Properties" > "Betas" and select "Release Candidate" from the list and the new version will automatically download.
rFactor 2 Online – Key Features
Ranking System:
Safety Rank (SR): Represents your track etiquette. Start at bronze and climb to platinum by demonstrating responsible racing behaviour.
Driver Rank (DR): Based on your racing prowess. Beginning at bronze, compete and beat others to rise to the platinum echelon. Your Driver Rank determines which split you are in if there are more drivers registered than can be accommodated in one race. Note – your DR cannot exceed your SR, so make sure you drive safely!
Note: for a race to count towards towards your Rank, at least 5 drivers are required to be registered for that session.
Daily Races:
These races will be refreshed every week with a variety of content to sink your teeth into. Within daily races, there are different categories to unlock based on your Safety Rank.
Daily Races are designed to be fun, easy to enter and relatively short. They also have minimal impact upon your Driver Rank so you can race without fear of losing too much DR – but make sure you drive safely!
To help you, we also run multiplayer practice sessions for the upcoming race. You can see other racers here, learn from each other and get better without fearing for your SR and DR.
There are three categories for Daily Races:
Beginner – Open to everyone and currently every hour – these will always run free content
Intermediate – Open to Silver Safety Rank and currently run every 2 hours
Advanced – Open to Gold Safety Rank and currently run every 3 hours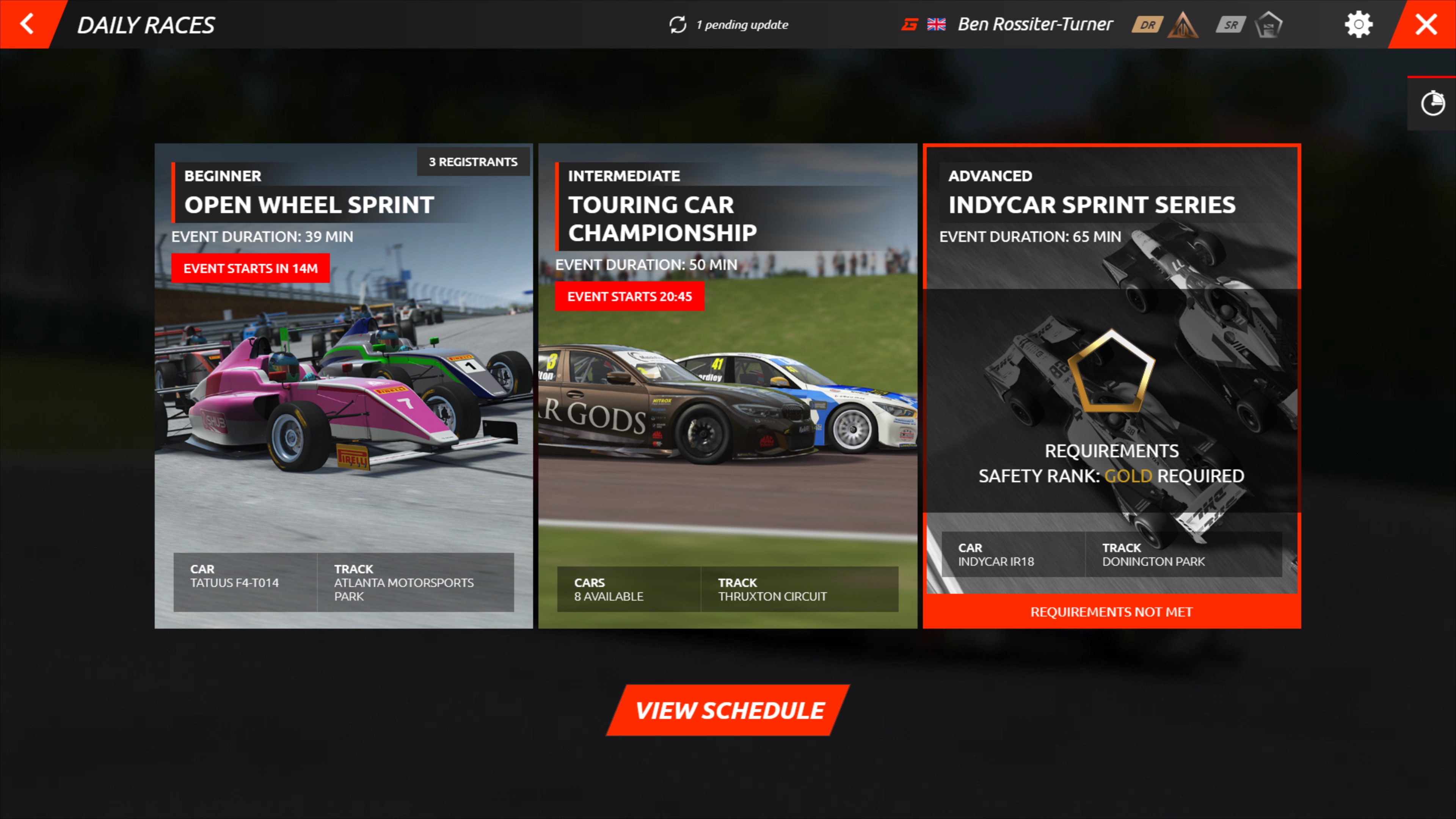 Special Events
These events will be happening weekly, they'll normally be a bit longer and with greater Driver Rank rewards as well. Sometimes they'll reflect real-life events but mostly they'll be what our admin team think you guys will enjoy!
Practice sessions run throughout the week and there's a leaderboard that your practice times will be a part of.
These races also feature real-world weather using API data to create the session so they match the part of the world that event is taking part in.
Driver Profile, Results and Statistics
All your races on the new rFactor 2 Online system are stored against your driver profile. In here, you'll see where you finished, the impact on your ranks and statistics for your online endeavours.
To access it, click on your name in the top-left of the screen.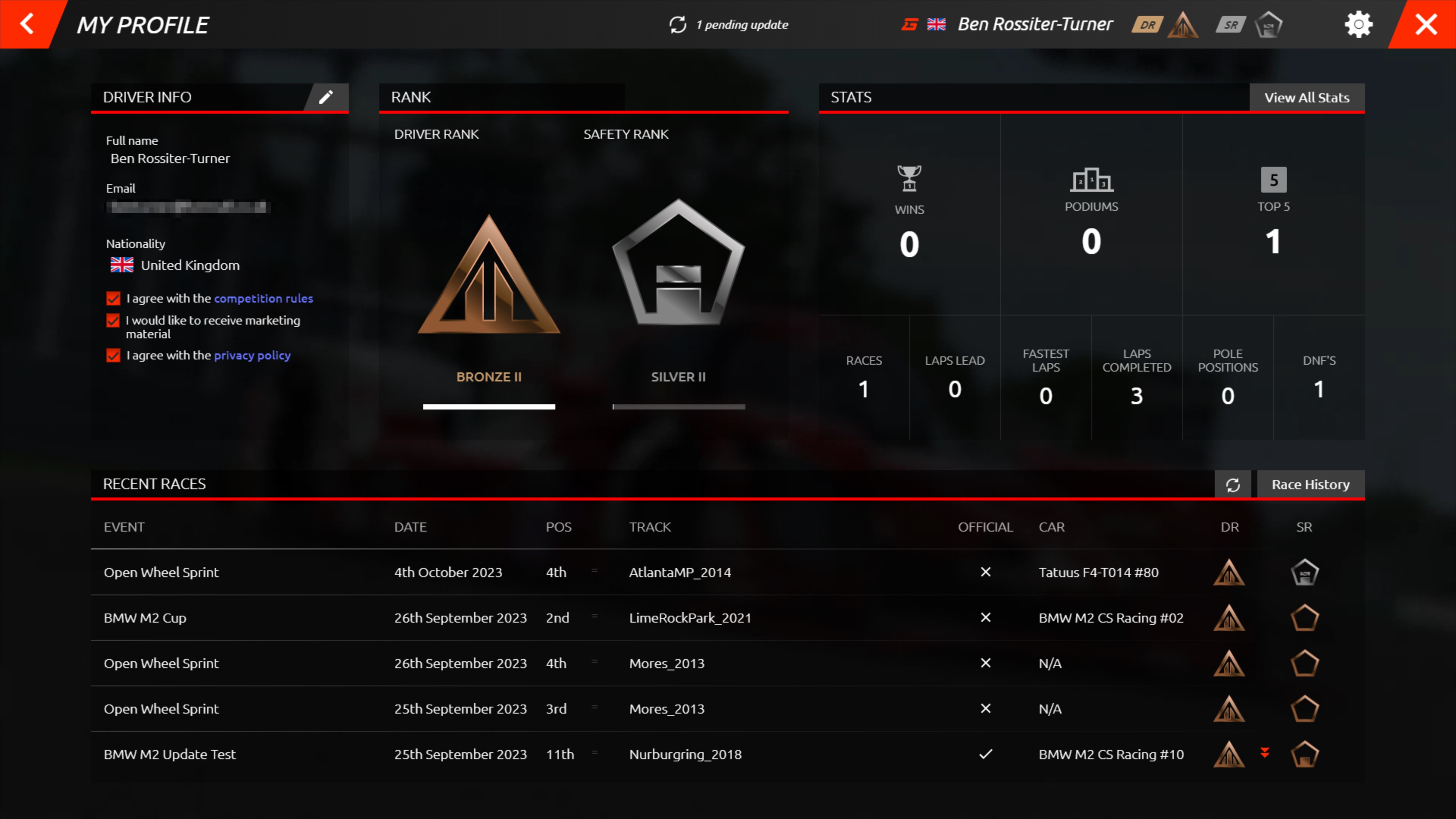 Server Hosting
We know that hosting your own server has sometimes been a bit of a challenge in rFactor 2 and through our Hosted Server option, you can use our in-game UI and AWS infrastructure.
You can purchase bundles of server minutes to use. The pricing is as follows:
1 hour – €1
6 hours – €6
12 hours – €9
24 Hours – €13
Please do note that servers will take some time to start depending on the type of content you've selected. This will normally be around 6 minutes but could be around 12 minutes for circuits like the Nürburgring.
Important: issues with server hosting should be logged at our support desk, available here: rFactor 2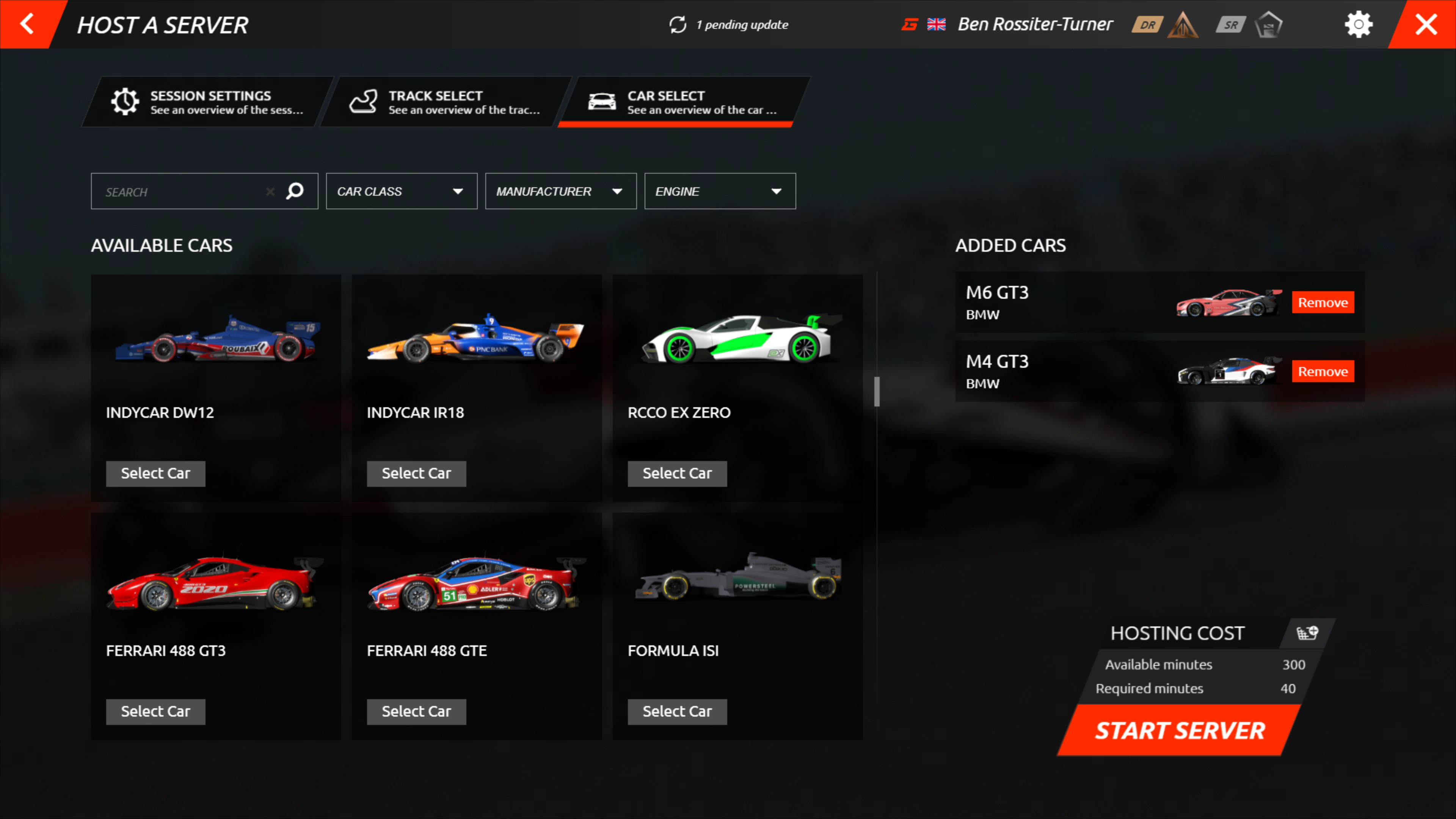 Community servers still work as usual but are now found in Online > Servers > Community Servers. Due to a version bump, you will not be able to access servers on the opt-out branch.
Schedule
Throughout our beta phase, the servers will remain available between 11am CEST and 2am CEST every day.
Depending on popularity we may add more pre or post release.
Join the Beta!
When you first click the online menu item, you'll be prompted to create an account the moment you access the online section on the beta version. Dive into a more streamlined, user-friendly, and engaging rFactor 2 online racing experience.
Remember, this is only the beginning. As we evolve and fine-tune the online experience and RaceControl, we'll bring even more features and benefits to the rFactor 2 community. Your feedback, as always, will be the compass guiding our journey forward.
Finally, we would like to thank those of you that dedicated time to testing the program and the development team, led by Andy – this would be possible without you all!
Get ready, racers. See you on the grid!
Frequently Asked Questions
How do I access in beta? – rFactor2 Online is in beta phase. To access the new experience, you need to opt-in to the release candidate branch via properties in Steam.
How do I create an account – Open rFactor2 and navigate to the Online button – a notification screen will appear with instructions how to create an account.
How do I change my name/email/nationality – You can do this in your profile by clicking on your name on the top navigation bar.
How do I Delete my account? – As detailed in the privacy policy when you sign up for an account you can do this through a request here.
I signed up, now what? – You're free to register for any of the scheduled daily races and special events. Build up your driver and safety ranking to compete in intermediate and advanced races. You can also try out hosting a server and race anytime with your friends.
Do I need to pay to use it? – Everything we're releasing today for rFactor 2 online is free to use for everyone who owns the sim.
What if I don't want to register for rFactor 2 Online? You can still access community servers in the online menu > servers > community servers.
What content comes with it? – By registering for rFactor 2 Online, users will be gifted the BMW M2 CS to their workshop. Users will only be able to drive content they own, but can still race others they do not own.
Did someone say Career mode? – We are intending to develop a more in-depth league system (that we are calling "career mode") but it does require more time and certainty of an expanded online player base for the sim.
Do I need rFactor2 to use it? – Yes, rFactor2 Online is only available for players who own rFactor 2.
Can I access any of the RaceControl information outside of the game? – Right now we don't support this but in the future we aim to have a separate hub for this information.
How do I increase my Safety Rank? – Your Safety Rank (SR) is dynamic and changes either up or down depending on how cleanly you race. Rating increases with clean laps and will decrease with collisions and penalties in qualifying and races.
How do I increase my Driver Rank? – Driver Rank (DR) is calculated by your recent online race results. The system uses an ELO algorithm to determine your performance versus other competitors. Your ELO score is then translated into a rank you can see and then used to calculate which split you should be racing in.
Can anyone race in a special event? – Different special events may have different entry requirements based on on your safety rating.
Can I race with my own custom livery? – No not currently, you can only race online with official rFactor 2 content. We may explore this feature for potential future updates.
Can I still race on my friend's server? – Absolutely, the primary rFactor 2 open server list is still open to access through the online menus. Simply navigate to 'servers' to see the open list of official and community servers online.
Can I make my own server for me and my team to practice on? – Yes, you can now host an online server through rFactor 2 Online. Time tokens can be purchased through the game or via the rFactor 2 steam store and redeemed through the 'Host a server' button in the server menu.
Other Release Candidate Features
As alluded to in the preamble, we've got a series of updates we've implemented into this release candidate to improve your rFactor 2 experience:
AMD Drivers – We've addressed and resolved a crash issue specific to AMD hardware users with particular drivers.
Mod Management – A change in this department allows you to designate downloaded mods as 'temporary' on the client side. This functionality ensures these temporary mods are deleted upon startup. Additionally, clients have the option to set all mods acquired from servers as temporary, providing a more efficient way to manage space and content.
Driving Line Aid Enhancements – We've incorporated added options for the 'Driving Line Aid', including settings for "Paddock" and "Paddock & Pit Entry" and making it easier for users to find their way onto tracks with complicated paddock areas. The game will default to the 'paddock' setting. Additionally, users can now use a specific key assignment to toggle the 'Driving Line Aid' within the game.
Track Limits – The system for handling track limits, especially in cases of illegal passes, has been refined. Scenarios where a pass was previously deemed illegal and later recognized as valid have been addressed for more consistent rule enforcement.
"Stabilize Horizon" – This feature feature has undergone modifications using a newly developed filtering method. We've added an extra stabilization step, enabled roll stabilization for the 'High' and 'Ultra' settings, and introduced a full horizon lock option for those requiring a fixed viewpoint.
AI – we've fixed an issue that could cause AI drivers towards walls whilst overtaking
Your feedback and patience have been instrumental in these developments. We will continue our efforts to enhance and refine rFactor 2 based on user needs and technical advancements.
Thank you for your continued support!
Release Notes
General
New feature allows servers to specify that downloaded mods should be treated as temporary by the client
The client can opt to mark all mods downloaded from servers as temporary
Temporary mods are deleted on start-up
Fixed crash on AMD hardware with certain drivers
Added extra options to Driving line aid for "Paddock" and "Paddock & Pit Entry". The game defaults to paddock setting for all users.
Added key assignment for toggling Driving line aid in the game.
Improved Track Limits handling of illegal passes with regards to when a passed car goes too slow to be counted, but then later becomes valid. This should no longer become valid again.
Reworked "Stabilize Horizon"-feature using a different method of filtering

Added an additional step of stabilization
Enabled roll stabilization for "High" and "Ultra" steps
Added full horizon lock option

Fixed an issue that could cause AI to drive towards left walls while overtaking, causing collisions
rFactor 2 Online
Added Daily Races online mode with practice servers
Added Special Events online mode with practice servers
Added Hosted Servers option with credit bundles available through the store
Added Driver Profiles and Statistics
Moved Store to the front page
Moved Servers to Online > Servers
rFactor 2 Online – Known Issues
If you register for two races, both event pages will receive the first event's server details when that race begins
Some circuits, such as Nürburgring may have the server start a few minutes later than expected – you may need to wait up to 4 minutes after a server is due to be started
Practice servers are becoming too full too quickly and may give a timeout error (we are currently working on this) – Races are unaffected so please still register
Practice servers not running through the night (reminder – we pause the service at 3am CEST)
Bottom split has the minimum drivers to make the race official (currently 5 rather than equal size splits)
Some nationality flags are not showing correctly
The schedule page does have incorrect times for some users
Some users are unable to submit reports
Navigation bar is sometimes not showing updated ranking after a race
Could not get your split error – for now, please try going back to the previous menu and enter the event page again or restart
Leaderboard has a bug where does not consider the specific track layout
Not all mod files being deleted on boot
The join server button occasionally does not activate – please try leaving and rejoin the event page to get the join server button
Password on hosted server is not working
Qualifying results are showing incorrectly
Incorrect rank shown on post-race screen
Profile/Email update is not saving