Race enthusiasts, the moment has arrived! Today, we're shifting gears from our "release candidate" phase to the much-anticipated full release of rFactor 2's latest features. Let's recap what's in store for you on the track.
Revamped Ranking System:
Safety Rank: Your commitment to clean racing earns you marks of distinction. Start with a bronze badge and ascend to platinum by showcasing your sportsmanship on the track. This will help you unlock new events.
Driver Rank: Your speed and skill could see you outpacing the competition. Kick off at bronze and chase down that platinum status as you overtake opponents and conquer the leaderboards.
Daily Races – Your Daily Dose of Adrenaline:
Fuel your racing addiction with events firing off every 1, 2, or 3 hours, tailored to suit every level of ambition, from beginner to advanced. These races are designed to be easier on your driver rank, allowing you to focus on the thrill of jumping into regular rFactor 2 races.
The beginner races will only use FREE content* so there's no excuse not to give it a go 😉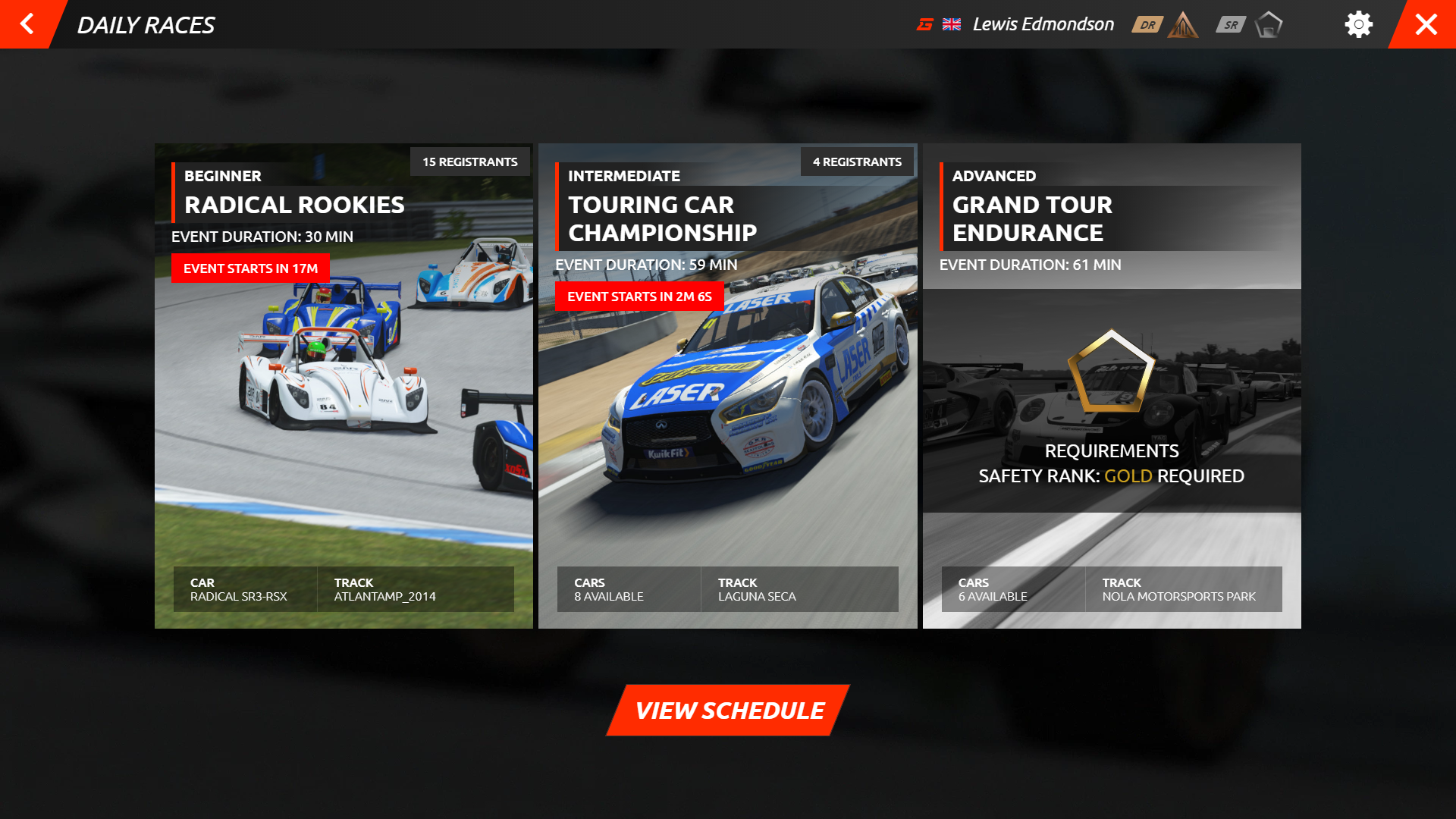 *keep reading for info on how to claim your FREE BMW M2 CS
Special Events – The Main Attraction:
Step into the spotlight with our Special Events, scheduled extravaganzas that promise more intensity and even greater impacts on your Safety and Driver Ranks. Utilise the weekly practice leaderboards to sharpen your skills and prepare for the grand stage.
In-Game Server Hosting – Your Race, Your Rules:
Harness the power to host your own races with our seamless in-game server hosting, giving you the freedom to select any car and track combination.
For those who prefer a more hands-on approach, the traditional server hosting options remain at your disposal.
You can purchase bundles of server minutes to use. The pricing is as follows:
1 hour – €1
6 hours – €6
12 hours – €9
24 Hours – €13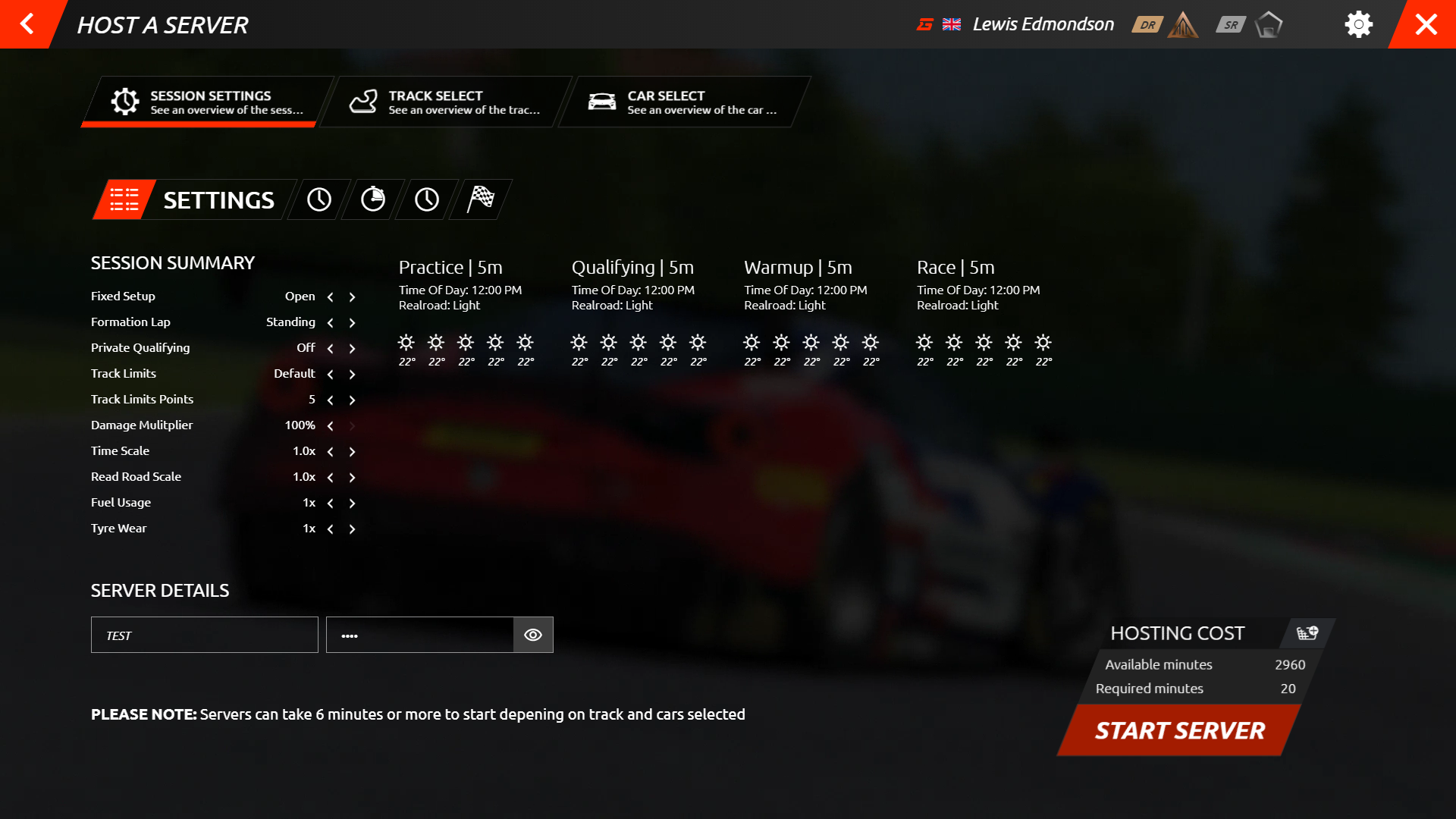 Exclusive Rewards & Incentives:
Choosing to register with our new online system is entirely up to you, but those who do will be welcomed with open arms and exclusive perks. Enjoy a free BMW M2 CS for your racing pleasure when you verify your email address – don't say we don't look after you 😉!
If you choose not to sign up, you can still access community servers as usual.
Schedule, Community and Support:
Join the conversation and get the support you need directly through our Discord channel. Raise a ticket, share your experiences, or simply chat with fellow racers. It's all happening here: rFactor 2 Discord.
The races change weekly on a Tuesday and you'll see the upcoming schedule every Monday on the rFactor 2 social media pages:
Twitter X
As we wave the checkered flag on our beta phase, we're thrilled to bring these features into the full release. It's an exciting time to be part of rFactor 2 online racing, and we're looking forward to seeing you on track. Strap in and prepare for an unparalleled racing journey.
Frequently Asked Questions – rFactor 2 Online
How do I create an account – Open rFactor2 and navigate to the Online button – a notification screen will appear with instructions how to create an account.
How do I change my name/email/nationality – You can do this in your profile by clicking on your name on the top navigation bar. Note: You can only do this once every 3 months otherwise you will need to open a support ticket on the rFactor 2 Discord
I signed up, now what? – You're free to register for any of the scheduled daily races and special events. Build up your driver and safety ranking to compete in intermediate and advanced races. You can also try out hosting a server and race anytime with your friends.
Do I need to pay to use it? – Everything we're releasing today for rFactor 2 online is free to use for everyone who owns the sim.
What if I don't want to register for rFactor 2 Online? You can still access community servers in the online menu > servers > community servers.
What content comes with it? – By registering for rFactor 2 Online, users will be gifted the BMW M2 CS to their workshop. Users will only be able to drive content they own, but can still race others they do not own.
Did someone say Career mode? – We are intending to develop a more in-depth league system (that we are calling "career mode") but it does require more time and certainty of an expanded online player base for the sim and is not scheduled for release at this time.
Do I need rFactor2 to use it? – Yes, rFactor2 Online is only available for players who own rFactor 2.
Can I access any of the RaceControl information outside of the game? – Right now we don't support this but in the future we aim to have a separate hub for this information.
How do I increase my Safety Rank? – Your Safety Rank (SR) is dynamic and changes either up or down depending on how cleanly you race. Rating increases with clean laps and will decrease with collisions and penalties in qualifying and races.
How do I increase my Driver Rank? – Driver Rank (DR) is calculated by your recent online race results. The system uses an ELO algorithm to determine your performance versus other competitors. Your ELO score is then translated into a rank you can see and then used to calculate which split you should be racing in. Special events generally have more rank points on offer than daily races.
Can anyone race in a special event? – Different special events may have different entry requirements based on on your safety rating.
Can I race with my own custom livery? – No not currently, you can only race online with official rFactor 2 content. We may explore this feature for potential future updates.
Can I still race on my friend's server? – Absolutely, the primary rFactor 2 open server list is still open to access through the online menus. Simply navigate to 'servers' to see the open list of official and community servers online.
Can I make my own server for me and my team to practice on? – Yes, you can now host an online server through rFactor 2 Online. Time tokens can be purchased through the game or via the rFactor 2 steam store and redeemed through the 'Host a server' button in the server menu.
How do I delete my account? – As detailed in the privacy policy when you sign up for an account you can do this through a request here.
Known Issues – rFactor 2 Online
Having your Windows timezone set to manual instead of "auto" can result in the times for events being incorrect and not being able to join events.
Practice servers are becoming too full too quickly and may give a timeout error – please be patient and try again in a few minutes or practice offline
Some servers (particularly practices) are sometimes experiencing extreme latency (lag) usually when many users join at once. We advise leaving these servers and rejoining.
Not all temporary mod files being deleted on boot – you may need to remove these manually
Some larger circuits (such as Nurburgring), have the server start a few minutes later than expected – you may need to wait up to 4 minutes after a server is due to be started
Changelogs (from previous main build)
General
Fixed crash on AMD hardware with certain drivers
New feature allows servers to specify that downloaded mods should be treated as temporary by the client
The client can opt to mark all mods downloaded from servers as temporary
Temporary mods are deleted on start-up

Added extra options to Driving line aid for "Paddock" and "Paddock & Pit Entry". The game defaults to paddock setting for all users.

Added key assignment for toggling Driving line aid in the game.
Improved Track Limits handling of illegal passes with regards to when a passed car goes too slow to be counted, but then later becomes valid. This should no longer become valid again.
Reworked "Stabilize Horizon"-feature using a different method of filtering

Added an additional step of stabilization
Enabled roll stabilization for "High" and "Ultra" steps
Added full horizon lock option

Fixed an issue that could cause AI to drive towards left walls while overtaking, causing collisions
Added half a second grace when a penalty just becomes valid as we are about to score a violation
Fix for track limits issues when a starting grid spot is inside the pit entry line
Tweaked default parameters, to be harsher on distance and time spent off track.
Added retry attempts and better logging when failing to connect to a server
rFactor 2 Online Changelog
Added Daily Races online mode with practice servers
Added Special Events online mode with practice servers
Added Hosted Servers option with credit bundles available through the store
Added Driver Profiles and Statistics
Moved Store to the front page
Moved Servers to Online > Servers