Get ready for ten incredible rounds of racing in the BMW SIM M2 CS Racing Cup.  Each round will be held on variations of the iconic Nurburgring, matching BMW excellence with the challenges of the Green Hell!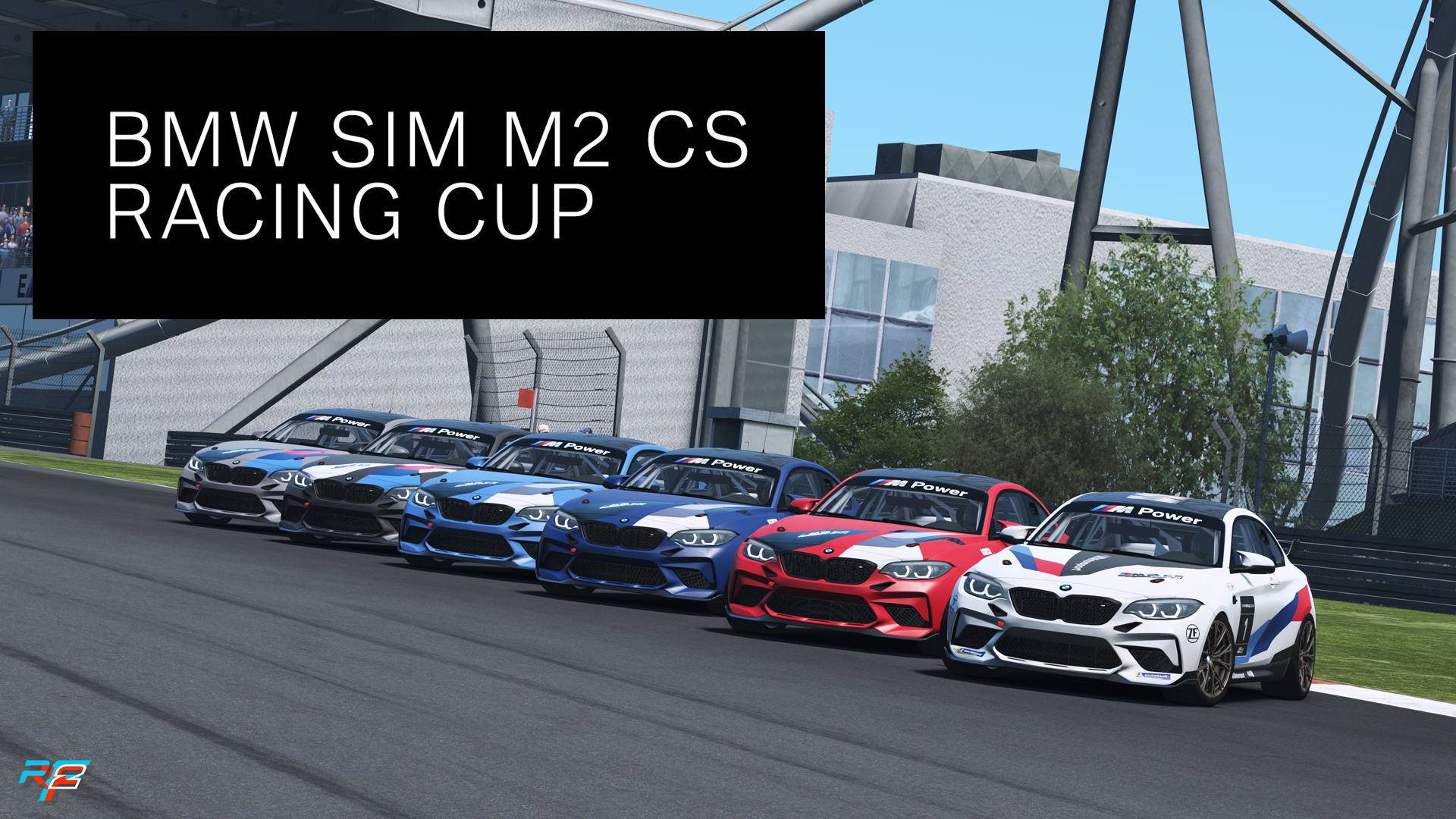 Prizes
Each round winner will be invited to the BMW SIM Live 2020 in Munich with the overall winner getting a taste of the BMW M2 CS Racing in 2021 on the racetrack.  Not just that, each round will offer some incredible cash prizes:
1st EUR 1000
2nd EUR 500
3rd EUR 250
Schedule
The races will take part on Wednesday evenings and feature a mix of conditions, just like the real track!  Times in CET.
19.02.20
20:00 CET
Round 1 – GP track, sprint, sun, 25 mins
11.03.20
20:00 CET
Round 2 – Nordschleife, sun, 45 mins
25.03.20
20:00 CET
Round 3, Nordschleife, rain, 45 mins
08.04.20
20:00 CET
Round 4, Nürburgring 24 Hours, 45 mins, sun
17.06.20
20:00 CET
Round 5, Nürburgring 24 Hours, 60 mis, mixed
01.07.20
20:00 CET
Round 6, Nürburgring Combined, 45 mins, night, dry
22.07.20
20:00 CET
Round 7, GP track, sprint, rain, 25 mins
19.08.20
20:00 CET
Round 8, Nordschleife, heat, 60 mins
16.09.20
20:00 CET
Round 9, Nürburgring 24 Hours, rain, 45 mins
14.10.20
20:00 CET
Round 10, Nürburgring 24 Hours, night, mixed, 60 mins
Registration opens Thursday at 13.00 CEST, dive into the rFactor 2 BMW SIM M2 CS Racing Cup qualifier and take on the world at the Nurburgring. Follow @bmwmotorsport Twitter for the latest news!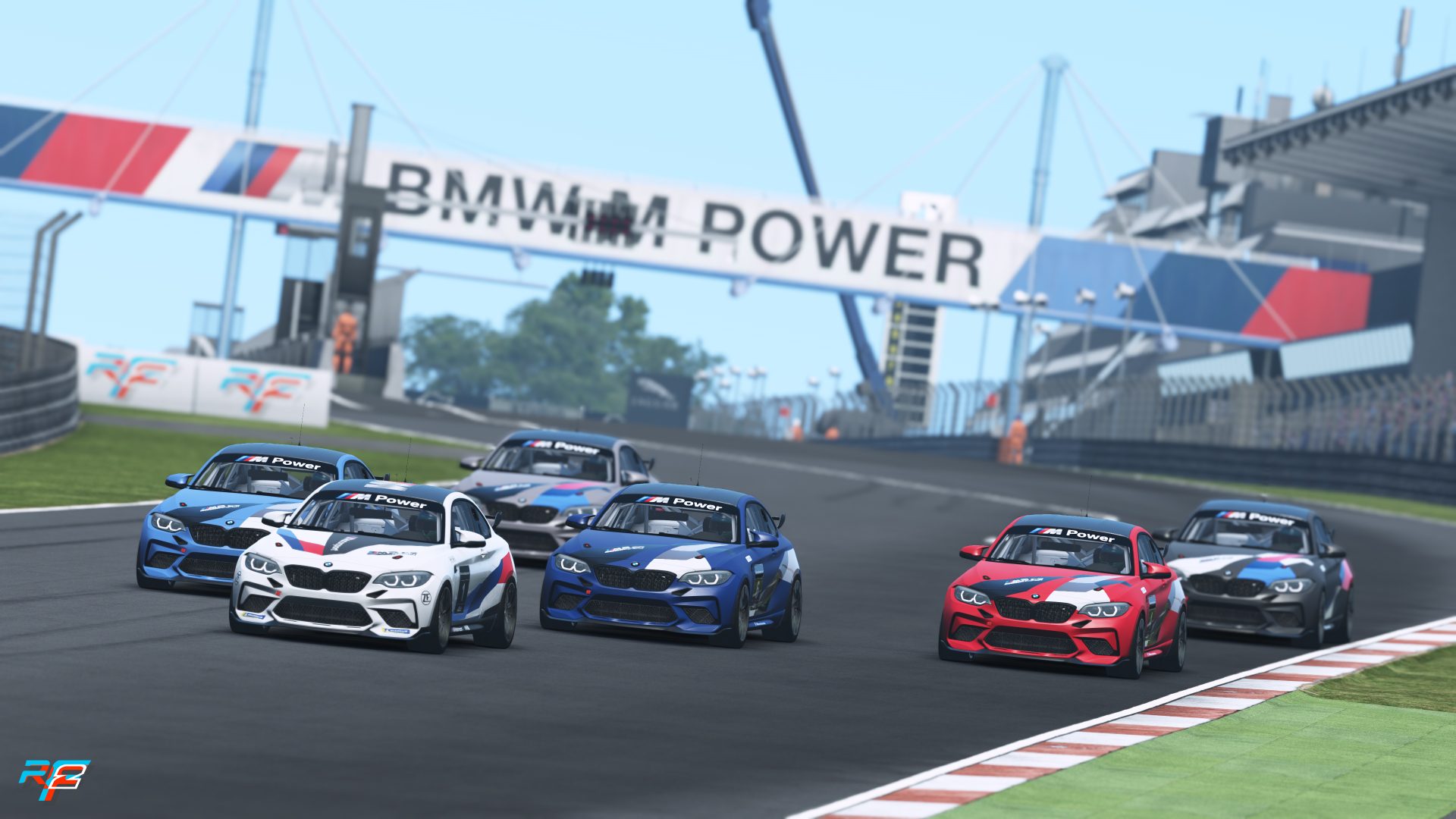 Format
So, how does it work!?
Initially – we will have a round of hotlaps in the BMW M2 CS Cup car starting from the 6th February until the 13th February.   The top 30 drivers will then compete in the live broadcast race on the following Wednesday at 20.00 CET.
We will then have qualifiers prior to each race with the top 30 taking on the race.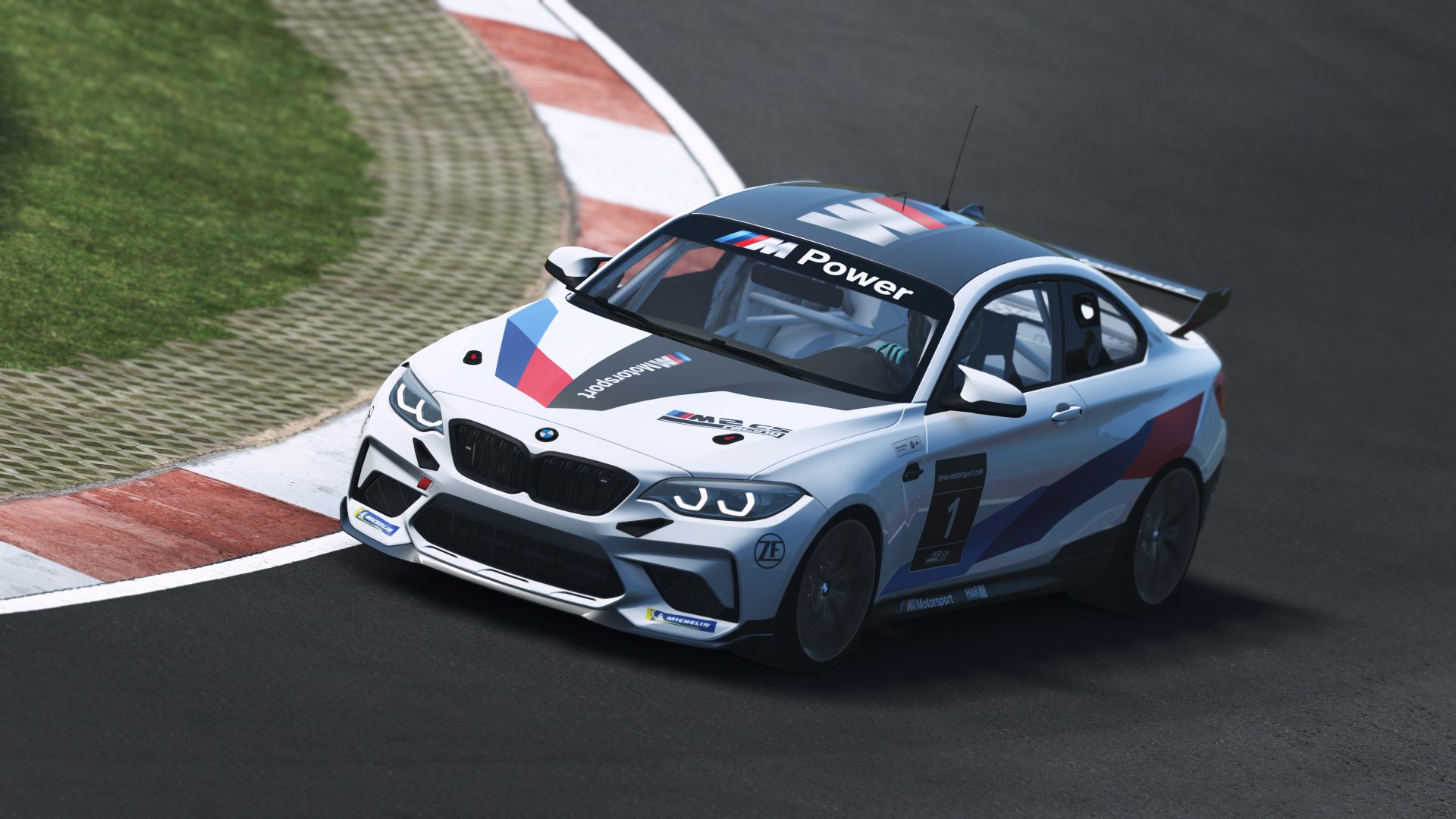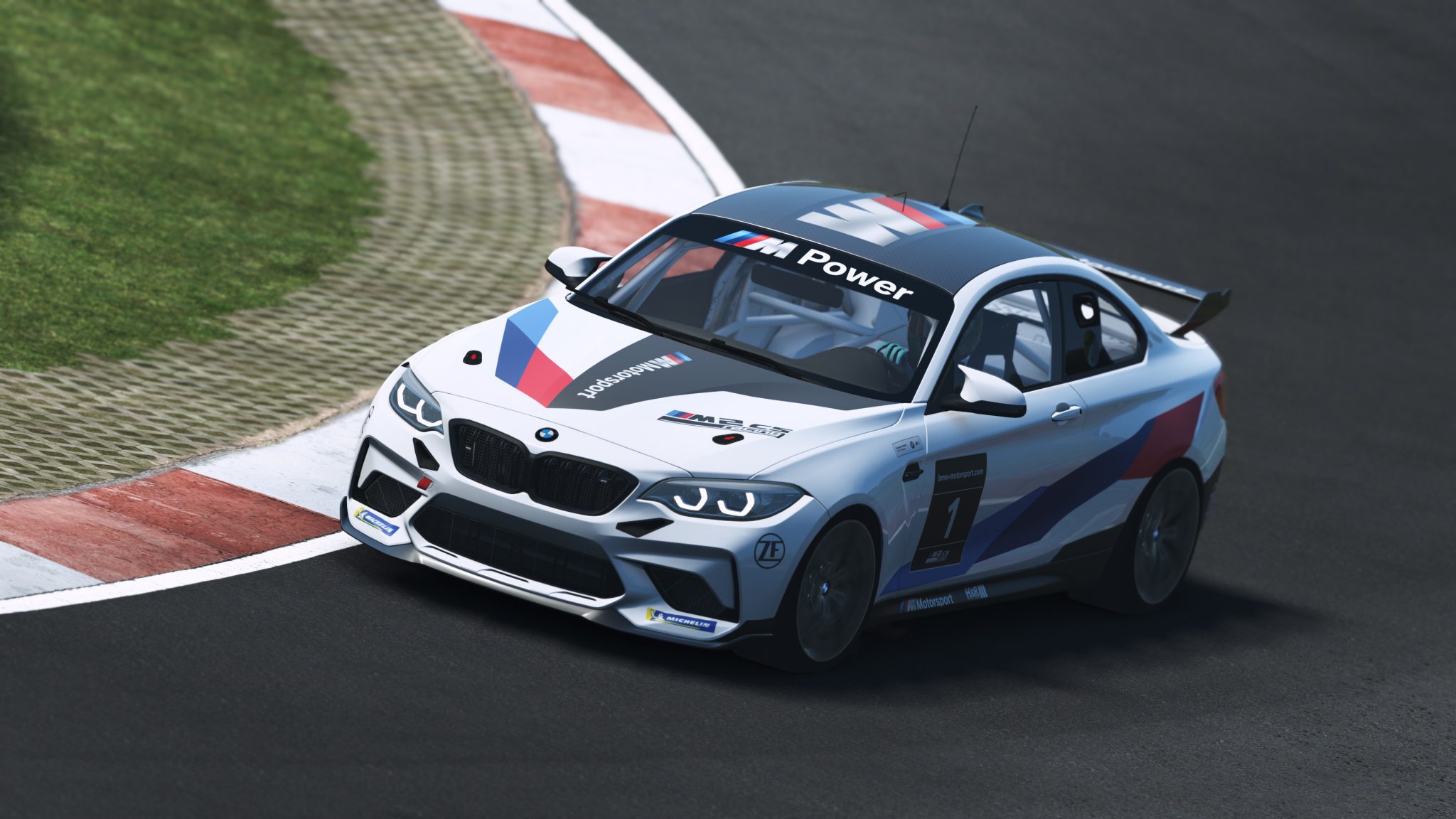 What do I need to start?
Before you begin, if you haven't already, you will need to have a copy of rFactor 2 installed and the BMW M2 CS!
If not, there are a few steps required to get going.
Step 1
Firstly create a Steam account, download and install rFactor 2 here
Then you will need to purchase the incredible BMW MS CS here.
Once installed, we suggest you setup your wheel and options in single player.
See here for a guide on what to do with your install
Step 2
You are ready to go! Click here to enter the BMW SIM M2 CS Racing Cup competition.
To get you going checkout the following;
Log into our competition system with your Steam account. Just click on the "Sign In" and follow the steps according to steam.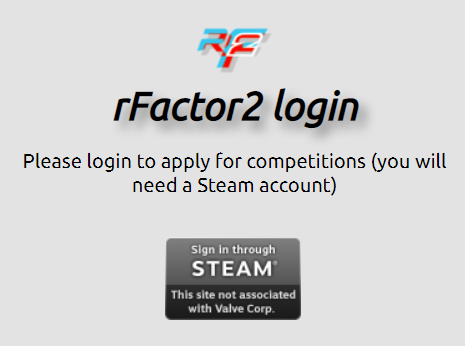 After that, you can subscribe to the current event.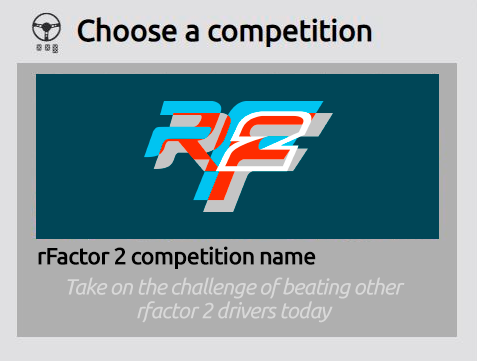 If you don't have an account on our competition system yet, you will need to fill in those details and create one.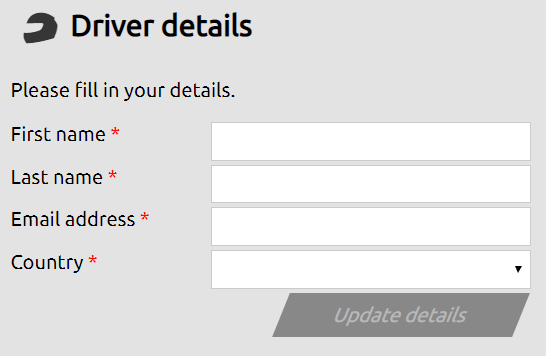 After you've done this, it´s time to sign up for the BMW SIM M2 CS Racing Cup.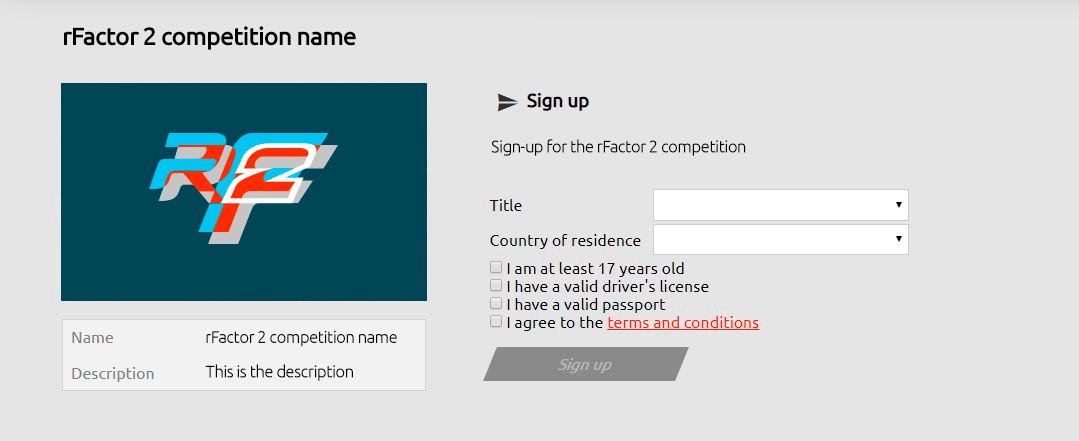 Make sure you read the terms & conditions and our code of conduct
The next step shows you the current session running, info about the event etc.
On the bottom left you will find the join button to enter the hotlap servers to create your fastest laptime on track.
Before you hit "join session", make sure you got Steam open, rFactor 2 installed, as well as the needed content for that round.

You will likely see a pop-up looking similar to this, make sure to Open Steam Client Bootstrapper here.

Steam will then notify you about joining the server. This won't pop up into to foreground so you might need to click on your steam window to see and accept it.
Choose your car livery, click on race and off you go.
During the session you can adjust your car settings to your liking. Good luck!
If you need help you can chat with us directly on Discord – click here https://discord.gg/CruX93K
Or visit the forum here
Rules
Alongside our code of conduct,  just some hotlap/time trial rules, we will be reviewing all laps that qualify in the top-30 and performing spot-checks, those that do not observe correct driving may have their lap removed or will be disqualified (DQ)
Observe the track limits at all times, if we observe track cutting that is unrealistic with all wheels in an off-track position the lap will be invalidated
Do not use off-tracks prior to the lap starting to gain speed
Do not use external software to modify performance
Respect your competitors
Good Luck!