The second annual Sim Formula Europe series returns to rFactor 2 in association with the InterClassics Virtual Dutch Grand Prix.
Prizes
1st Place | 4,000 EU and SimTag hydraulic 2 pedal system (Racer edition)
2nd Place | 2,000 EU and Sim-Lab P1-X sim racing cockpit Black and Speed1 Seat
3rd Place | 1,500 EU and Heusinkveld sim pedals Sprint (3 pedal set)
4th Place | 750 EU
5th Place | 500 EU
6th Place | 250 EU
7th Place | 250 EU
8th Place | 250 EU
9th Place | 250 EU
10th Place | 250 EU
Total Prize Pool Value | 13,500 EU
Extra!!!! Of the 60 fastest registered hotlappers who make it in to the qualification quarter-final races, Sim Formula Europe will randomly select a driver on December 19th to win a Cooler Master package that includes a headset, keyboard, mouse and mousepad…
Schedule
03.12.2020
09:00 CET
Hotlap Qualification begins – Zandvoort, McLaren MP4/8
13.12.2020
23:59 CET
Hotlap Qualification ends.
16.12.2020
From 20:00 CET
Qualification Quarter-Final Split 1 – Tatuus FT-60, Open Setups, Virginia International Raceway Full Course, 20 minutes.
Qualification Quarter-Final Split 2 – Tatuus FT-60, Open Setups, Virginia International Raceway Full Course, 20 minutes.
Qualification Quarter-Final Split 3 – Tatuus FT-60, Open Setups, Virginia International Raceway Full Course, 20 minutes.
19.12.2020
From 15:00 CET
Qualification Semi-Final – Tatuus FT-60. Open Setups, Botniaring, Long, No Chicane layout, 30 minutes.
17.01.2021
From 13:00 – 16:30 CET
Finals Day – McLaren MP4/8, Zandvoort, format TBC
Format
So, how does it work!?
A hotlap qualification process will be used to identify the top 60 fastest drivers registered to take part in the competition. Those top 60 drivers will be invited to take part in a three split Qualification Quarter-Final event race at the Virgina International Raceway Circuit (Full Course) driving the Tatuus FT-60 formula car. Each race will last for 20 minutes without a requirement to perform a pit stop, and the top 10 finishers from each split will move forward into a combined 30 car Qualification Semi-Final 30 minute race at the Botniaring Circuit (without chicane), driving the Tatuus FT-60. The top nine finishers of the Botniaring Semi-Final race will automatically qualify for the Finals Day races on January 17th.
Each Qualification Quarter-Final split will be made up of 20 drivers from the hotlap qualification phase. The configuration of each split participants will be communicated during the invitation phase at the close of the hotlap competition. Sim Formula Europe and Studio 397 reserve the right to promote drivers who failed to make the top 60 times into the Quarter-Final races, should qualified drivers be unable to commit to the Quarter-Final event. Should this be necessary, the next fastest driver from position 61 down will be invited to participate, until such a time as the three splits are full. Should drivers from either split one or two be unable to attend, the next driver down will be promoted up 1 place in the ranking.
Heusinkveld Peregrine Competition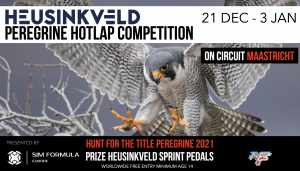 The Peregrine Returns. After the mod competition we now start the hotlap to the finals. The Peregrine Falcon is the fastest animal on Earth. Capable of reaching speeds in excess of 389 km/hour this graceful bird can easily outrun a modern race car. With its incredible manoeuvrability, lightning fast speeds, superior aerodynamics and strategic insight, the Peregrine Falcon is the perfect ambassador for our brand-new esport racing series.
THE HEUSINKVELD PEREGRINE HOPTLAP COMPETITION
PRIZE
The winner of the Heusinkveld Peregrine event to be held on 13th January will take home a set of the spectacular Heusinkveld Sim Pedals Sprint pedals, a 3 pedal set of high-end sim racing hardware that introduces the user to the next level of realism and adjustability.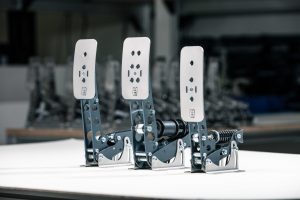 SCHEDULE
22.12.2020
17:00 CET
Hotlap Qualification Begins – Maastricht, 2019 Audi R8 LMS GT3 EVO
04.01.2020
23:59 CET
Hotlap Qualification Ends
13.01.2020
20:00 CET
Heusinkveld Peregrine Finals Race – Audi R8 LMS GT3 EVO 2019 Peregrine Mod, Maastricht, 30 minutes, open setups, rolling start, formation lap, no pitstops.
FORMAT
How does it work?
The event will begin with an initial hotlap competition using the Maastricht Street Circuit mod and the Audi R8 LMS GT3 EVO 2019 car within rFactor 2.
Drivers will have the opportunity to set an unlimited amount of laps on the server, with the fastest 10 drivers at the end of the qualification period then invited to take part on the broadcasted Heuskinveld Peregrine Mod Competition race on Wednesday 13th January 2020.
Should a driver be unable to attend the race event having qualified for the finals day race, Sim Formula Europe and Studio 397 reserve the right to promote drivers outside the top 10 qualification times, in order of the leader board finishing position.
The race will be held on the Maastricht Street Circuit (link here) using a specially created livery mod of the Audi R8 LMS GT3 EVO 2019, containing the 10 winning liveries from the recent Heusinkveld Peregrine Livery Competition. The fastest driver of the hotlap competition will have first choice of livery design for the race, down to the 10th place hotlap driver. Sim Formula Europe reserve the right to invite additional guest drivers to the race at their discretion.
Race Details:
Car: Audi R8 LMS GT3 EVO 2019 with Peregrine Livery Mod.
Track: Maastricht Street Circuit
Qualification: 20:00 CET – 20 minutes
Race: 20:20 CET – 30 minutes. Race will be a standing start from a full formation lap. Setups will be open and can be changed between qualification and the race. Weather will be 3pm in game time, with 20 degrees humidity and 15 degrees temperature, cloudy conditions.
The overall winner of the race will be crowned the Heusinkveld Peregrine 2021  champion, and take home a set of the outstanding Heusinkveld Sim Pedals Sprint.
Please note, the minimum age of participate is 14, worldwide entry.
The 10 finalists of the Sim Formula Europe 2021 series may not enter this competition.
The event will be broadcast live on the various Studio 397 media channels.
PUBLIC VOTE FOR THE BEST MOD DESIGN 2021
10 fastest racers and the 10 nominated mods come together in one final race.
3 days before the Final Race, each of the 10 finalists will have to select one of the nominated liveries which they will use for the race event (fastest driver first choice, second fastest 2nd choice etc)
3 days before the race Sim Formula Europe will post on the SFE Facebook and Instagram page 10 separate posts containing a picture of the livery, the name of the designer and the name of the driver who selected that design. As of that moment people can start voting by liking (one or more) pictures of the 10 mod designs until January 22nd at 23:59 CET
ONLY the likes on the post on Sim Formula Europe Facebook and Instagram pages will be counted in the vote. The livery with the highest number of likes will be confirmed as the winner
The overall livery design winner will be announced on Saturday, January 23rd 2021 and uploaded officially in rFactor 2.
What do I need to start?
Before you begin, if you haven't already, you will need to have a copy of rFactor 2 installed and the McLaren MP4/8 and Zandvoort Circuit.
If not, there are a few steps required to get going.

If you have all the content and know what to do enter now.
Otherwise read our mini guide below!
Step 1
Firstly create a Steam account, download and install rFactor 2 here
Then you will need to download both the Audi R8 LMS EVO GT3 and Maastricht Street Circuit,
Once installed, we suggest you setup your wheel and options in single player.
See here for a guide on what to do with your install
Step 2
You are ready to go! Click here to enter the Heusinkveld Peregrine Competition.
To get you going checkout the following;
Log into our competition system with your Steam account. Just click on the "Sign In" and follow the steps according to steam.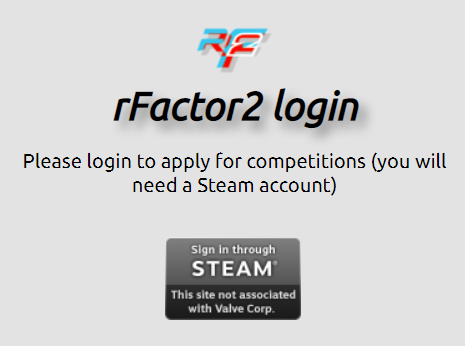 After that, you can subscribe to the current event.
If you don't have an account on our competition system yet, you will need to fill in those details and create one.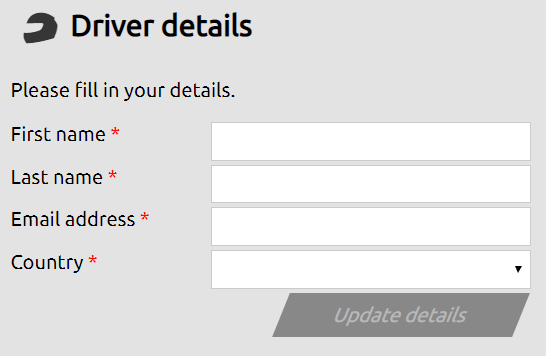 After you've done this, it's time to sign up for the Sim Formula Europe 2021 Competition.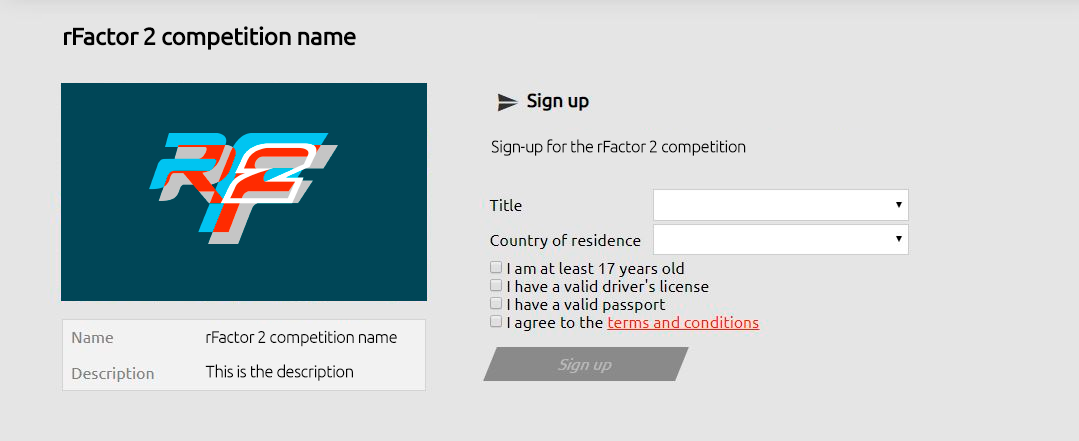 Make sure you read the terms and conditions and our code of conduct
The next step shows you the current session running, info about the event etc.
On the bottom left you will find the join button to enter the hotlap servers to create your fastest laptime on track.
Before you hit "join session", make sure you got Steam open, rFactor 2 installed, as well as the needed content for that round.

You will likely see a pop-up looking similar to this, make sure to Open Steam Client Bootstrapper here.

Steam will then notify you about joining the server. This won't pop up into to foreground so you might need to click on your steam window to see and accept it.
Choose your car livery, click on race and off you go.
During the session you can adjust your car settings to your liking. Good luck!
If you need help you can chat with us directly on Discord – click here https://discord.gg/CruX93K
Or visit the forum here
Rules
Alongside our code of conduct,  just some hotlap/time trial rules, we will be reviewing all laps that qualify in the top-60 and performing spot-checks, those that do not observe correct driving may have their lap removed or will be disqualified (DQ)
Observe the track limits at all times, if we observe track cutting that is unrealistic with all wheels in an off-track position the lap will be invalidated
Do not use off-tracks prior to the lap starting to gain speed
Do not use external software to modify performance
Respect your competitors
Good Luck!