Welcome to the last roadmap update of the year! We decided to end the year with a bang, with a new car pack and the first iteration of our updated material system being released real soon now. We have a lot to share, so I'm afraid this roadmap grew a bit bigger than it normally would. So let's get started!
Looking Back
December is always a month where we look back at the year. We started the year having just announced the DX11 graphics engine as the new default and in January we introduced a brand new trailer. A lot has happened since.
In the first quarter of the year, we announced that we would start our first laser scanned track, Sebring. We also continued to work on Zandvoort and signed a license with Portland. A lot of time was spent on improving performance of the DX11 engine, resulting in build 1110 that brought significant improvements as well as a brand new HUD and a few other fixes. We also released the first third-party paid content with KartSim, featuring three tracks and two karts. Finally we released the liveries of the GT3 paint competition as an update to the existing pack.
In the second quarter we kicked off with the Luminis DevCon, a developer oriented conference where we showcased rFactor 2 along many other things our parent company worked on. A few weeks after we were present at the Jumbo Racing Days in Zandvoort, where we collaborated with the KNAF, SRVN and CitySimRacing to show a broad audience how exciting simracing is. After teasing the five cars earlier, we also released the Endurance Pack, featuring a few new code features as well, such as position lights and in-car TC and ABS support. Soon after we updated our GT3 pack with those features too. To please the fans of historic content, we released both the Brabham BT44B and March 761 and we announced a third car from the same era, the McLaren M23. Improvements were also done to our tTool for modders. And we started doing community nights!
The third quarter kicked off with our presence at Chinajoy followed by the SimRacing Expo, where we announced and released three brand new McLaren historic race cars, the previously announced M23, the MP4/8 and the MP4/13. All of those were going to be used in the rFactor 2 qualifiers for the McLaren Shadow competition. Historic fans could also enjoy a big update to Longford, and we released Sebring, marking a new milestone in accuracy and attention to detail. A new build and demo was released alongside updates of the GT3 and Endurance pack, leveraging feedback we got from our visit to Duqueine Engineering, and we announced the second third-party pack from Reiza Studios, which incidentally should be out early 2019. We also for the first time showed a glimpse of the new material system, and we announced that we obtained a license to the Nurburgring, which we intend to release at the end of Q1 next year. Also fully laser scanned of course.
The fourth quarter of the year started with the release of Botniaring, a local and quite exciting track. Build 1112 was released with enhanced wheel support, and we announced no less than six cars to be featured in the upcoming Tatuus pack next year. We also started teasing upcoming GT3 cars, as well as more details about our new material system. Ongoing work also includes improved modding tools. And of course we could finally tell the world we had been working with Amazon Games on The Grand Tour Game that allows you to "play the show", to be released in a few weeks from now!
The year in statistics: We released a total of three major code updates, a number of tracks and no less than fourteen new cars.
Competition
As we announced in November´s roadmap our competition system is now moving into a more serious testing. During the holidays we will host a hotlap competition each day, starting off with the two GT3 packs on Zandvoort on December 26th. A new hotlap competition will be activated every day at midnight (CET) until New Years. In January we will start hosting daily races. We have 2 focus points. One is to get the community racing and second is to gather valuable data from our competition system. While we are still merging this system into our new UI, we still need to get data on backend and performance. Remember this is early access, so there might be alterations during the competitions – such as a restart if needed. However our initial tests have worked out great and we now feel we should include each and everyone of you. We´ve currently set a time slot of 17:00-21:00 as our event time, however once our competition is building obviously other timezones should be favoured as well. Are you ready? speaking of ready…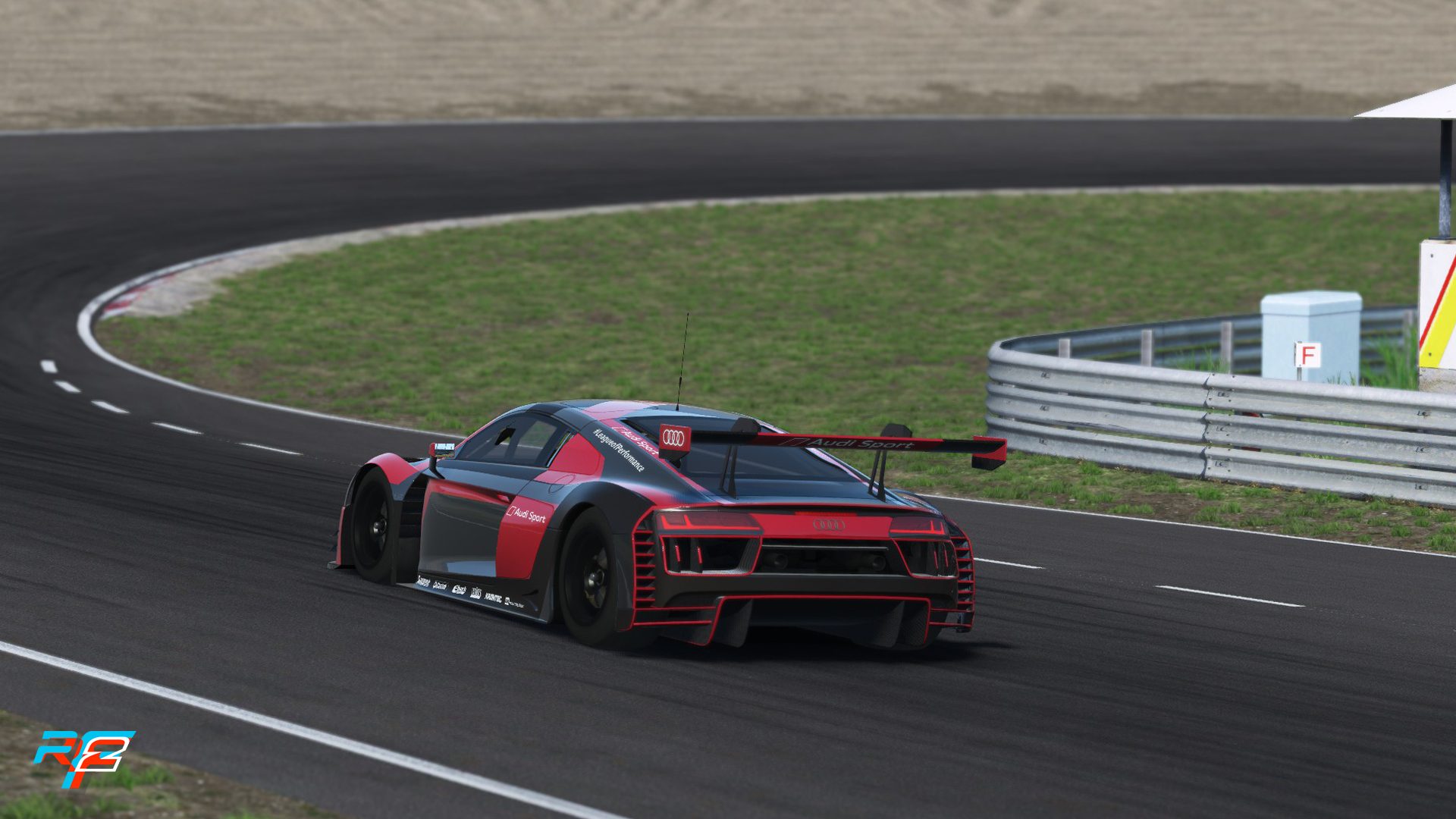 GT3 Challengers Launch Stream
As mentioned elsewhere you might have seen the upcoming DLC with 5 new GT3 cars, the pack is being presented live and with the chance to WIN and to RACE it live as well. Tomorrow at 19:00 CET, Rene and Marcel will talk you through the new Material system and cars. Then we will switch over to Jimmi who is broadcasting 2 races. First race will be YouTuber´s only on Sebring – then after this race we will share the competition password. Then it will be open until the split is full. 2nd race is on Mores, the "mini-championship" winner will get 10 GT3 Challengers pack DLC keys to give away to their community. Remember you can still enter our giveaway here: https://gleam.io/INIxQ/rfactor-2-christmas-giveaway-2018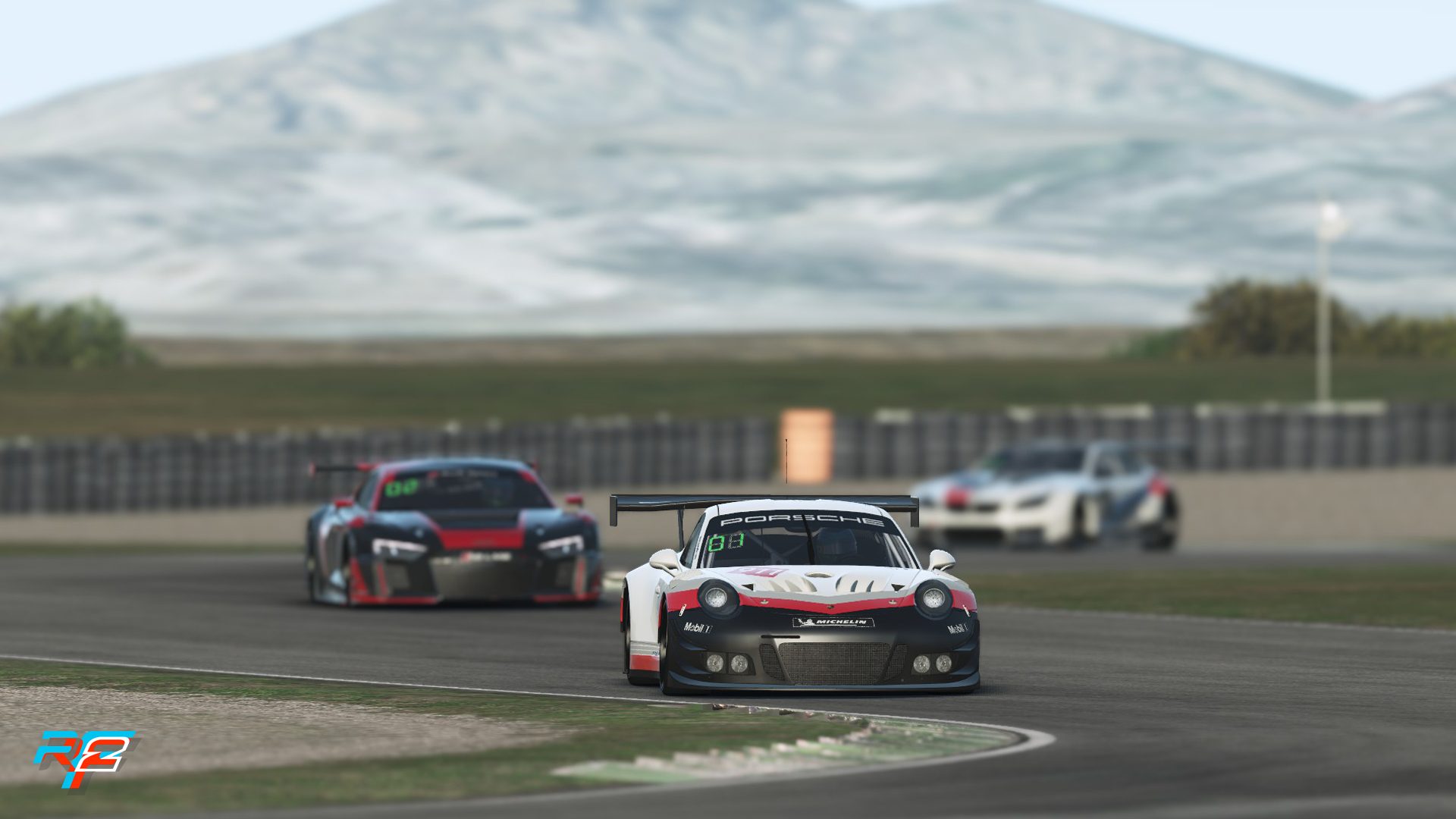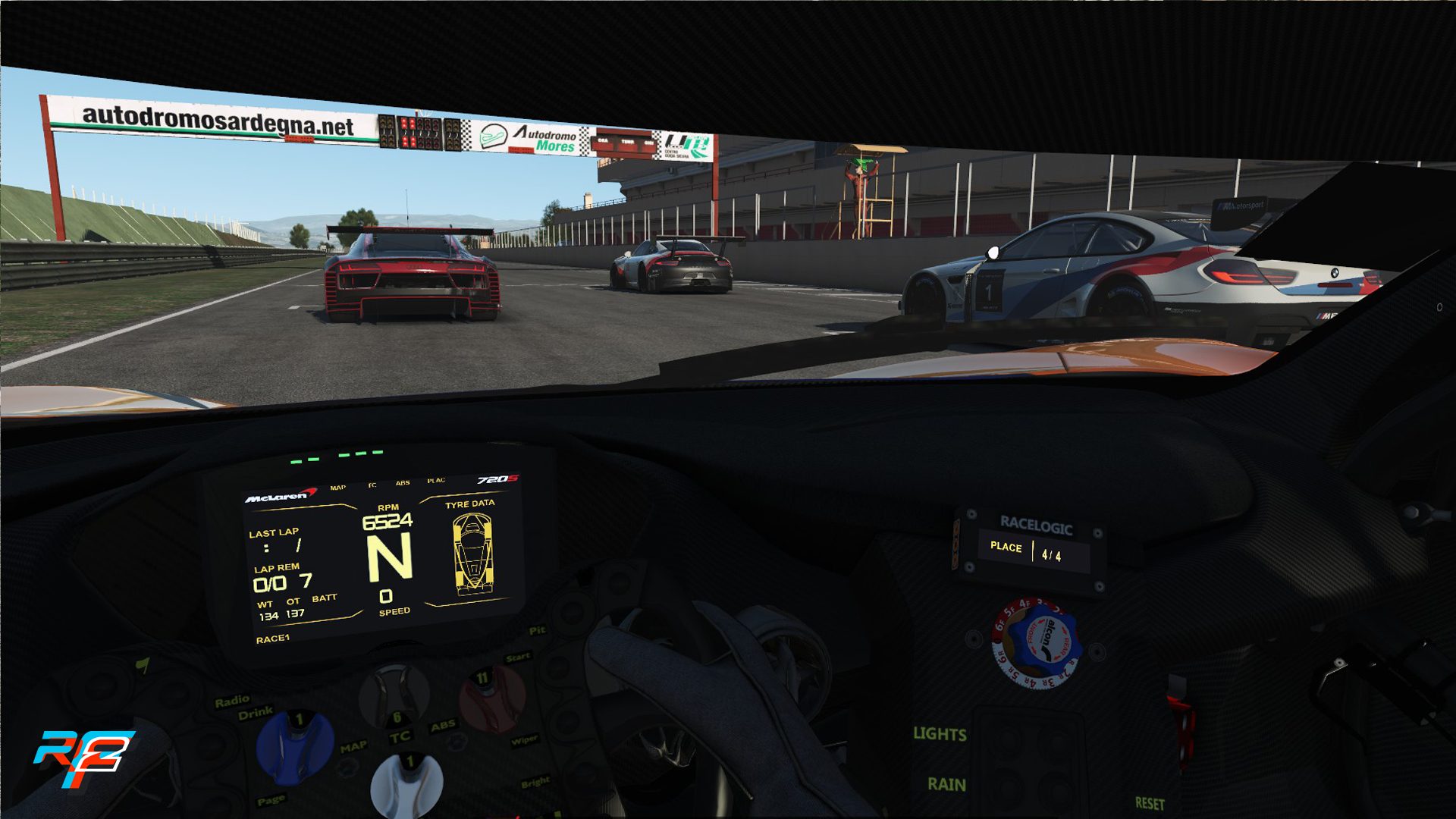 Material System
During the Sim Racing Expo last September we showed the very first preview shots of the material system we have been working on for the last half year or so. In the last roadmap of the year, we want to take the opportunity to look back at the things we implemented for this system, as well as look ahead at its incremental release over the next couple of months.
Let's first take a step back at the challenge we had when we started, so you better understand why we made the changes we did. When we took over the development of rFactor 2 a little over two years ago now, we wanted to make sure we upgraded the graphics engine and future proof it, all without sacrificing backwards compatibility. Our first steps therefore were to develop a DX11 based engine that rendered exactly the same as the old DX9 one. This then allowed us two things. First of all we could implement VR support and second of all we could start using more modern techniques such as using a post processing library. It also enabled us to add proper support for rain, with raindrops that ran across the car bodies and windscreen and proper wipers to clear you windscreen again. We also used the opportunity to implement puddle maps for the tracks and linked them to our realroad system so puddles would show up in locations where there was water according to your dynamic realroad system. At his point we also made DX11 the default and removed support for the DX9 engine subsequent builds.
However, it did not fix one core aspect of the graphics engine, namely support for Physically Based Rendering, a technique that has become the de facto standard in the industry.
What is PBR? – some of you may ask. Well Physically Based Rendering has become the buzz word in the games industry, to encapsulate a whole new way of doing art. It demands big changes to how art is produced but the benefits are certainly worthwhile as it delivers much more consistent and predictable results. In the past artists were only able to create textures that looked good in specific conditions and would not behave naturally as the lighting changed. When broken down this new pipeline is actually comprised of two parts, PBR concentrates on light conservation ensuring that a surface can not reflect more light than it receives – this helps to ensure that the balance between specular and diffuse reflections are always correct. The next key part is Image Based Lighting. This helps ensure assets react to the surrounding environment more naturally, meaning that all different surfaces can be lit by the environment correctly – all the way from mirror reflections down to the roughest matte rock surface. All this combined results in a pipeline that is much more intuitive for artists to produce realistic results, especially with a range of industry standard values for different materials. There are two different types of pipeline implementation out there: Metallic/Roughness and Glossiness/Smoothness. Our implementation is very similar to Metallic/Roughness.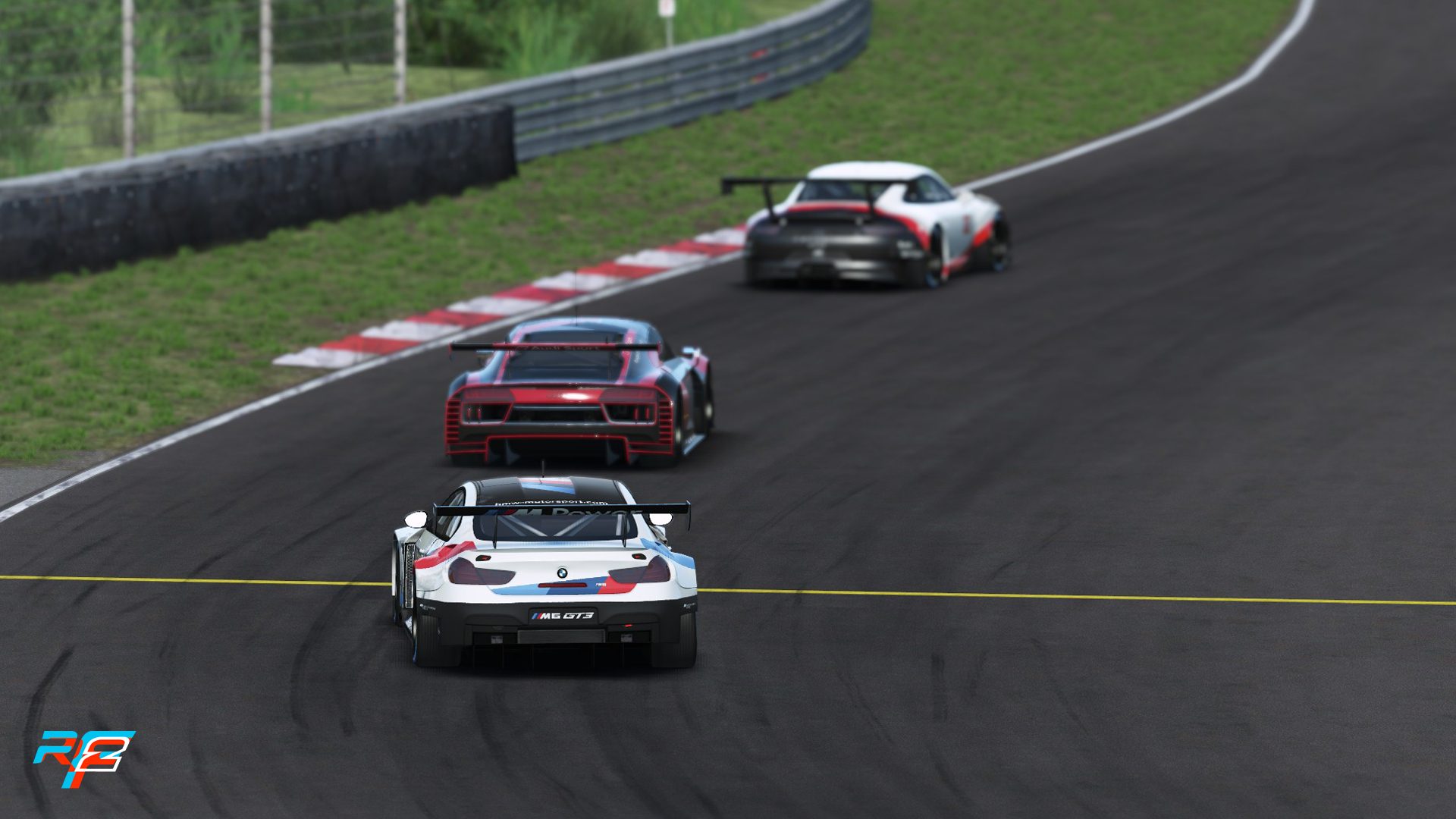 Implementing this was challenging for us for several reasons.
First of all, like with everything we did, we needed to stay compatible. What made this hard is that we knew there were some fundamental issues with our lighting model that prevented us from properly introducing PBR and getting the desired results. Therefore we first needed to go deeper and address the lighting model. A year ago we took the first step in that direction when we introduced "Image-Based Lighting for Ambient", improving how ambient light got rendered on tracks and introducing ambient probes that could be strategically placed to create the right atmosphere.
The next step was to implement a convolved cubemap specular as part of our IBL system, which was an important basis for starting work on new materials. The material system we developed allows us to use unique and specialized parameters for each shader instead of relying on standard settings. The first materials we worked on were the PBR car paint shader with support for clear coats that fully used the IBL system we described above and allows a car body to be made of up to 6 different materials and a generic PBR shader that can be used to emulate a broad range of materials and covers a lot of things you see on a track. We have worked hard to ensure that the generic shader matches game industry standards, as well as being extremely flexible to be used on the majority of objects. Terrain and Road surfaces are obviously something that need more specific solutions though. Prototyping work there has already started and we are looking to give them a complete overhaul too.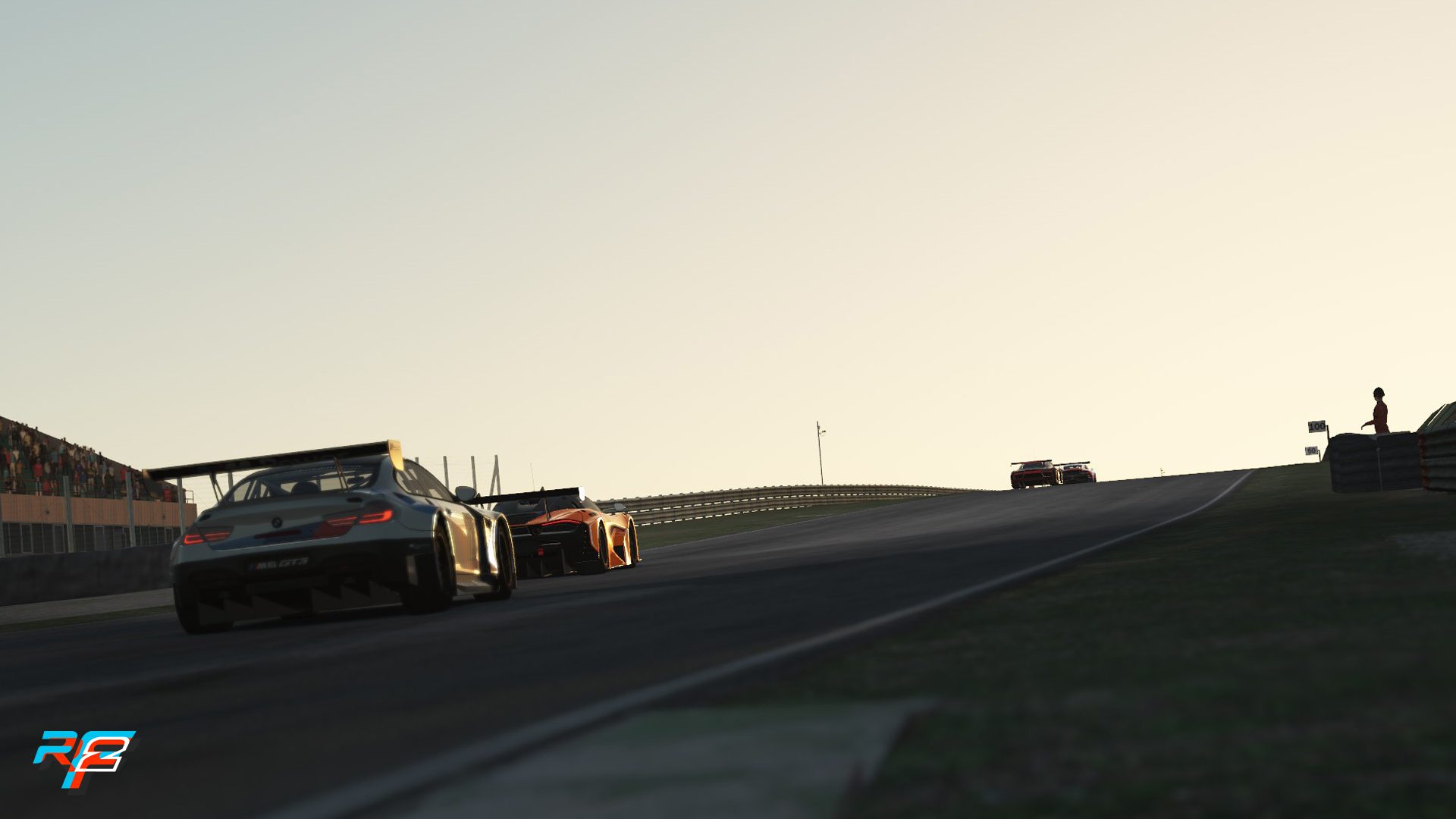 This is where we are now. We are far from done, both in terms of developing the system and in terms of adapting existing content, but we decided to not try and do an "all in one, big bang release" but instead choose a more phased approach that we choose more often when making big changes.
We anticipate this phase to take a couple of months, during which we will transition things step by step. This also means the first release, that we will release really soon now, has a few minor known issues and the overall look of the game will improve. That said, the results of the materials we have developed so far were encouraging enough for us to decide to apply them to the new cars we are building.
Let's first discuss some of the known issues. Obviously one is that we have not converted most content yet, which means that many of the cars and tracks you will be using now are more or less still looking the same. Another known issue is that our post effects are not fine-tuned yet to the new materials. That means in some conditions they produce unbalanced results, like too much glare. We are currently comparing our output to that of industry standard ray tracing solutions to make sure our output matches such solutions and when we are happy with that we'll re-calibrate the post effects to work with realistic light intensities from things like headlights and solar specular. If it bothers you, we recommend you turn those effects down a notch or two for the moment.
So… Where do we go from here?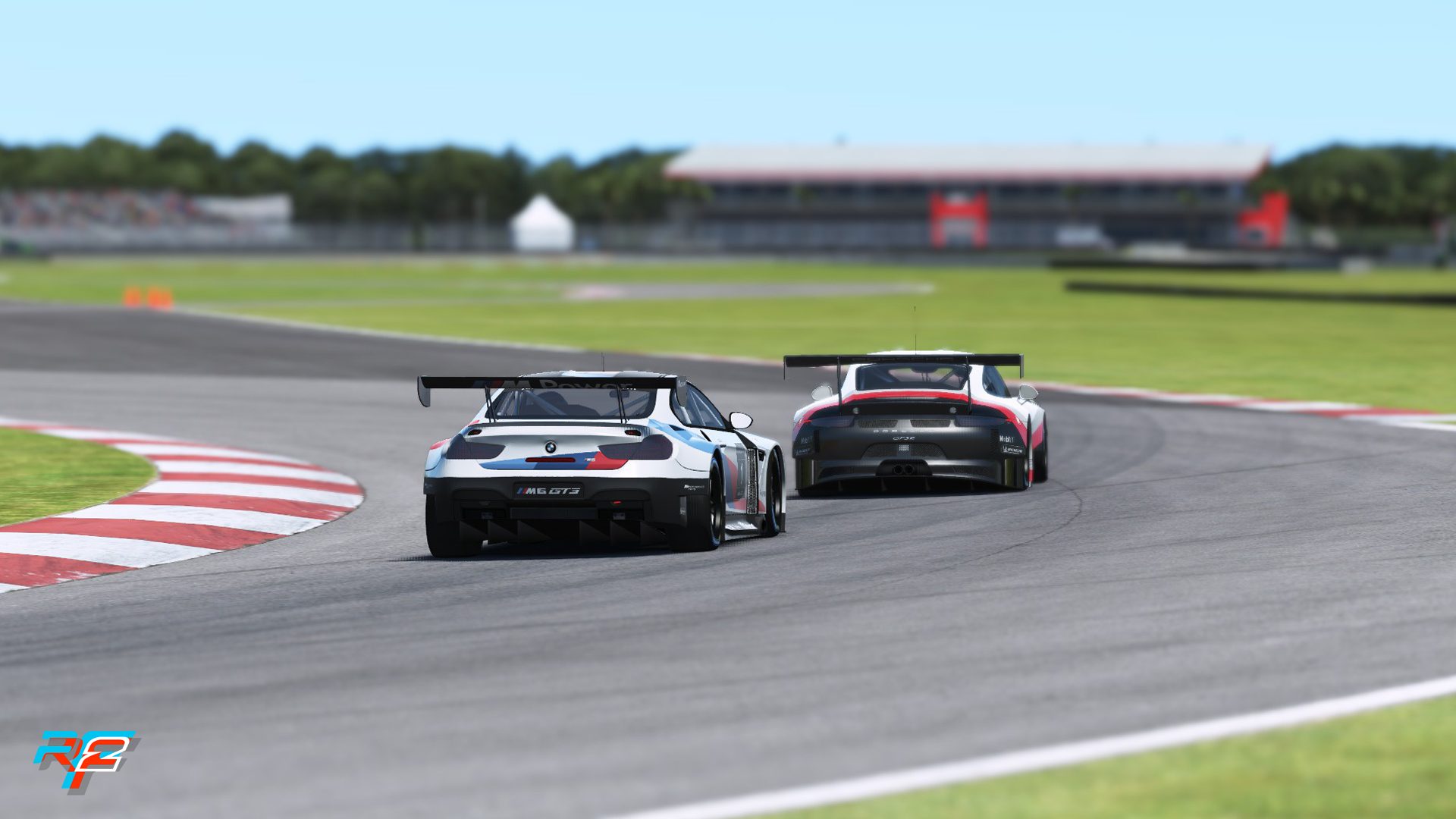 Looking Ahead
The first release of the new cars will not yet include instructions on how to paint them using the new materials. Therefore they will also not come with a template. We intend to provide extended documentation as well as templates in an update we plan in January. That is also the month we start updating other content and help our modding community do the same. We are polishing the workflows for defining materials, providing a wide selection of materials that can be consistently used on cars and tracks. Our next steps will be to continue development of a few very specific materials for things like realroad, curbs, grass and possibly a few other things, such as an improved system for rendering clouds. Our goal is to have materials on all major pieces of content by the end of the first quarter and to do smaller tweaks in the second quarter, making the whole system more robust and possibly further optimizing certain aspects of it.
Talking about tooling, we will also release our Max plugins for up to date versions, and we are looking at other types of tools too that should help modders and ourselves to create new content. And of course there are many other topics we should update you on, such as the competition system and UI. They are probably taking a bit longer than we all expected, but I'm confident that we will see them materialize in 2019, and since this update is already almost the size of a book, I propose we save some of that for the next edition. If you're still reading at this point, we would like to wish you and your loved ones a great holiday and all the best for the future on behalf of everybody in and around Studio 397!