When you work hard, times just flies by, so it's not a surprise that it feels like we just wrote our previous roadmap some days ago.
The roadmap this month takes us to the second-smallest, most densely-populated country in the world and home to many past and current racing drivers. But not just there. We basically travel everywhere and show you what´s happening in the big rFactor 2 world. No matter if you are looking for build updates, news about upcoming content or where to find the right competition for you, it's all here and it's called Roadmap!
Formula E Monaco e-Prix
If you had not already guessed from our introduction, the big news this month is the announcement of a new track, the Monaco e-Prix, which twists and turns through the beautiful city streets. Scheduled to be released at the same time Formula E drives the real race, this track is based on laserscan data and CAD from Formula E, ensuring an accurate layout. The track complements our existing Formula E portfolio, which features the recently released "Gen 2" car, as well as the Hong Kong and Lester tracks, and puts us in the lead in terms of Formula E content in any racing simulation.
Updates on work in progress
Later this year we are going to go 64 bit only with our rFactor 2 builds. This move was triggered by the fact that Steam hardware surveys show us that only 0.5% of our users are still on a 32 bit build, whilst within the global Steam community, this number is less than 2% too. All hardware you can buy for many years now is 64 bit, so it's time to move forward. Doing so will save us time building and testing code, which we can then spend on improving the simulation as a whole.
There are several bits of documentation we're currently adding. First of all, we have a guide on how to create your own car pack.  For our modding community we have now documented the new IBL/PBR based car shader, detailing how to use it when creating your own car.
In our ongoing UI  previews we share with you some of the things that are in right now and being actively tested. One important one is the matchmaker, which will make a triumphant return back in game! For now it's the bare minimum to assure it's working, but we intend to use the flexibility the new UI allows us, to add more features.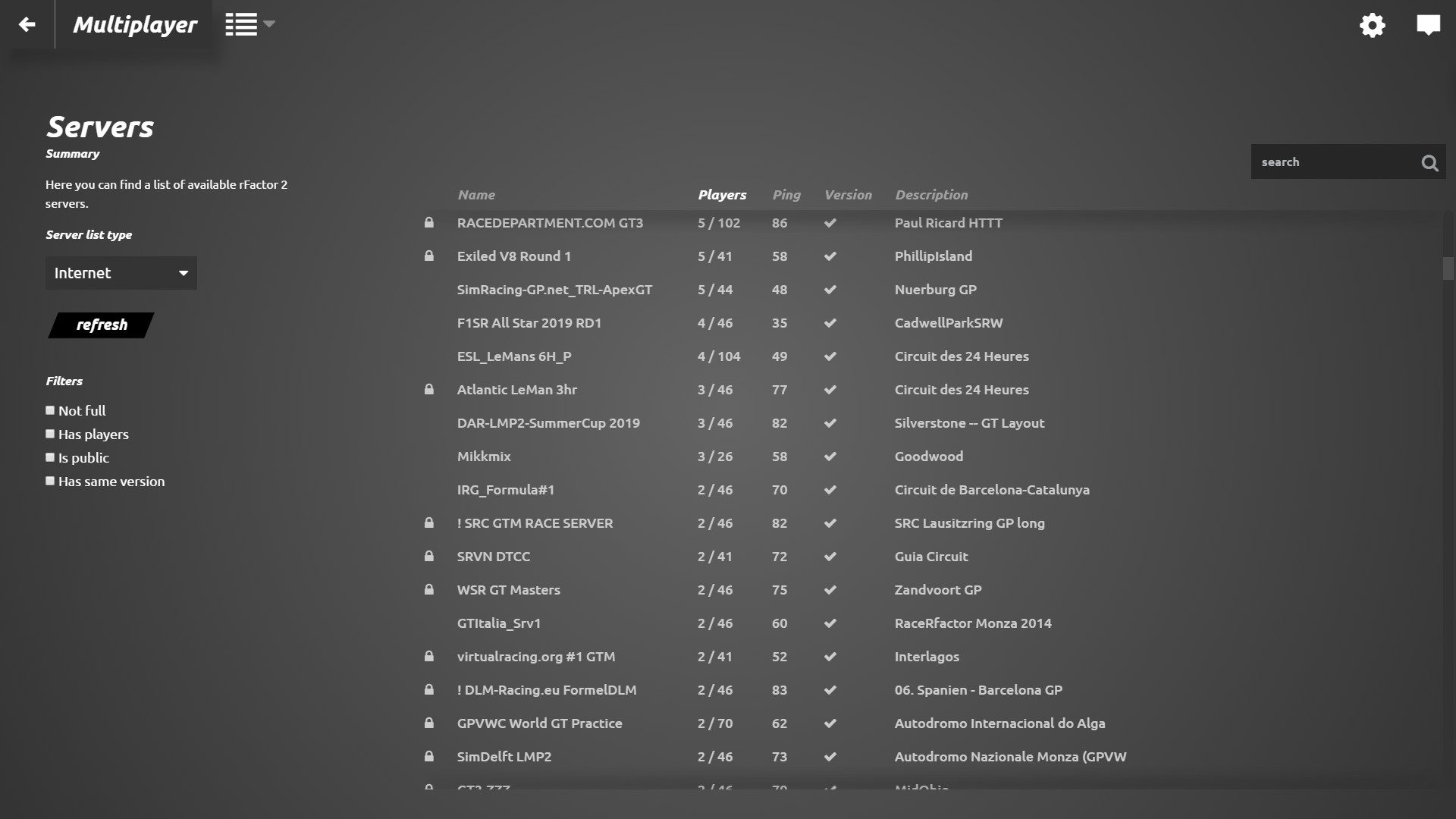 And just something gadgety-cool and nouveau to look forward to, a live trackmap/loading screen drawn from the actual track data – because what's more useful than a track map before you blast out on track, and look it even has the pitlane (click on the image below to see it in motion)!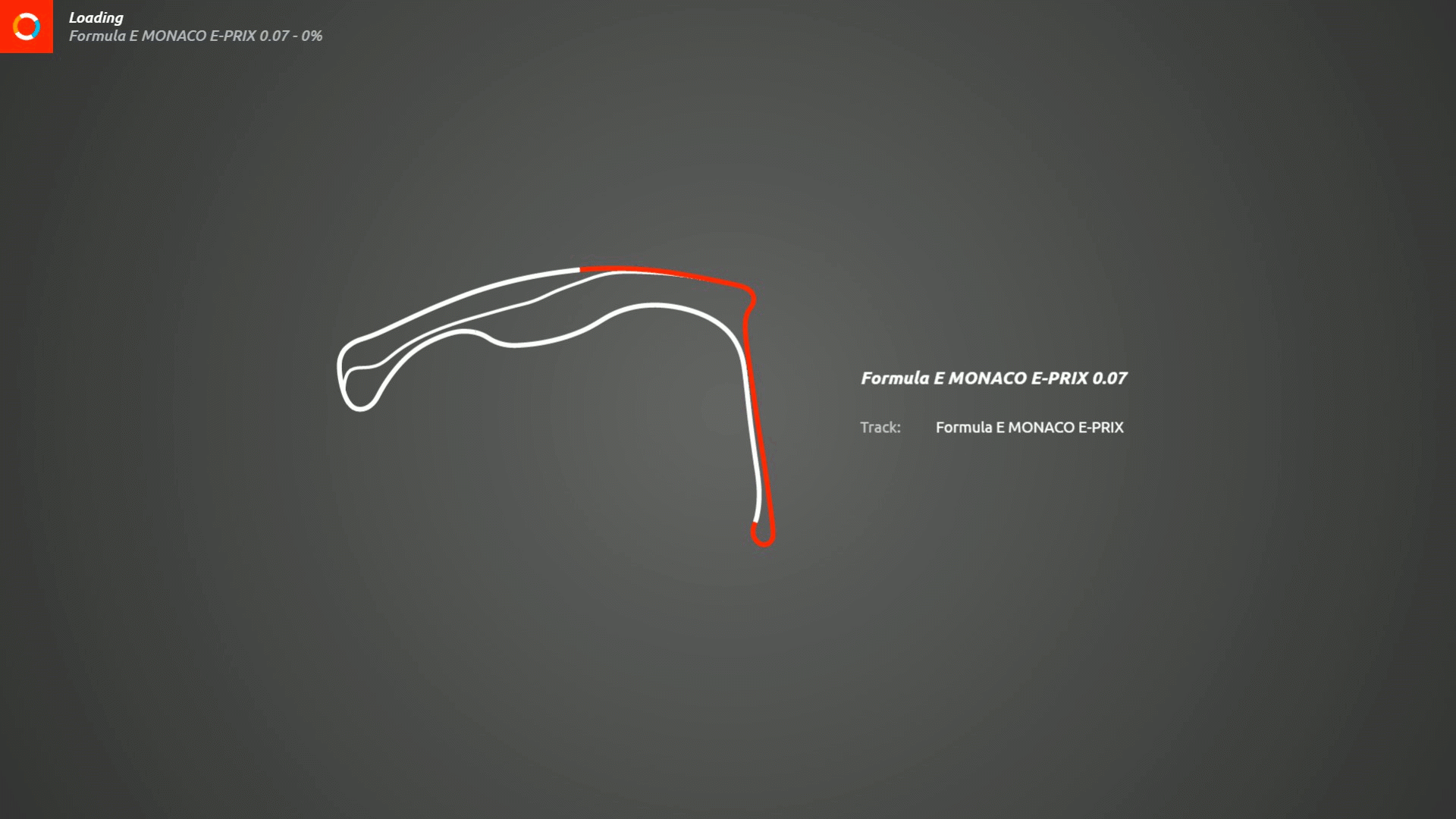 With the announcement of the second of three iconic tracks in progress, it's time to take a look at the progress on the Nürburgring. Last month we reported we were pretty much on schedule, and that is still the case.
On the side of cars, now that the Formula E Gen 2 car has been released, we're shifting our focus again to the Tatuus cars. They're all drivable, the models and sounds are mostly done and we're now tweaking and bugfixing them.
Community and Competitions
As promised on last years Simracing expo already, we continue our efforts to bring more activations and competitions to rFactor 2, enabling our drivers to enjoy racing in different championships around the globe. We want to make sure that you can find not just the best competitions in our Sim, but also the best drivers, while also giving people the chance to move their way up the leader-board and put their name on the map for drivers to look out for.
A1esports
We are more then happy to welcome A1 Telekom as one of our new partners with their A1 esports series. It´s already the third season, but new to this esports event, which features an offline final in Vienna, is rFactor 2 now. This esports championship is open to all drivers that live in a german speaking region (Germany, Switzerland, Austria, Lichtenstein and Luxembourg). If you live in one of these regions, the 7.000 Euro prizepool is surely something worth going for. On top of that you also get invited to the Offline Final in Vienna, racing on a stage. We are sure that this will be a blast. Wondering what you need to do for that or where to sign up? Just use this link. Happy Racing!
ESL MAPFRE Season 2
We started the journey with ESL and their first rFactor 2 Championship a while ago and what a journey it was. Awesome offline final, close racing action and great broadcasts. You missed that? How could you, it was for 20.000 Euro?! But don´t worry, ESL just announced their second season and it will soon be underway with the qualifier. More infos about that can be found on their site.
Verified on Discord!
Last, but not least, on the community side we are proud to announce that we now have a formally verified Discord server. We would like to invite you to drop by for an informal chat. Most of the time, there are people from Studio 397 around and you will definitely always meet a few friendly community members willing to help and answer question, or just willing to hop in a race with you!
Go to: https://discord.gg/rfactor2
…and have a great month!