Track update day!
This is something we have been looking forward to delivering for quite a while now – AI updates for the Circuit d'Azur track within rFactor 2. As a firm favourite of drivers and motorsport fans alike, even if the tight and twisty nature of the layout isn't always an ideal combination to encourage much overtaking on the circuit – unless your rival makes a pretty substantial mistake, and with the barriers this close to the racing line, that prospect is highly likely over the course of a race distance, Circuit d'Azur has proven to be a popular inclusion to our track content within rFactor 2 since we released back in late 2019.
On the subject of making mistakes, it has become apparent that our AI drivers within rFactor 2 would be a little too prone to making unforced errors out on this track, and a select number of cars would make racing against computer controlled opponents at Azur more of a chore than a pleasure within the simulation. Of course, a track like this always presents challenges with such a wide selection of content as is available in rFactor 2, however we've taken the opportunity in recent weeks to firmly revisit the behaviour of AI cars in practice, qualifying and race conditions at this circuit, and we feel this new update is firmly a step in the right direction to allow AI to drive in a much more sensible way when in a race weekend.
Of course things can always be improved further, especially once global AI behaviour parameters have been updated across rFactor 2 in the future, but for now we believe this latest release offers a substantially improved player experience, and we hope the many hundreds of laps completed by our development team provide you with an experience on this iconic track that you can enjoy when racing the many varied cars available within rFactor 2.
Azur | rFactor 2 Steam Store: Click Here.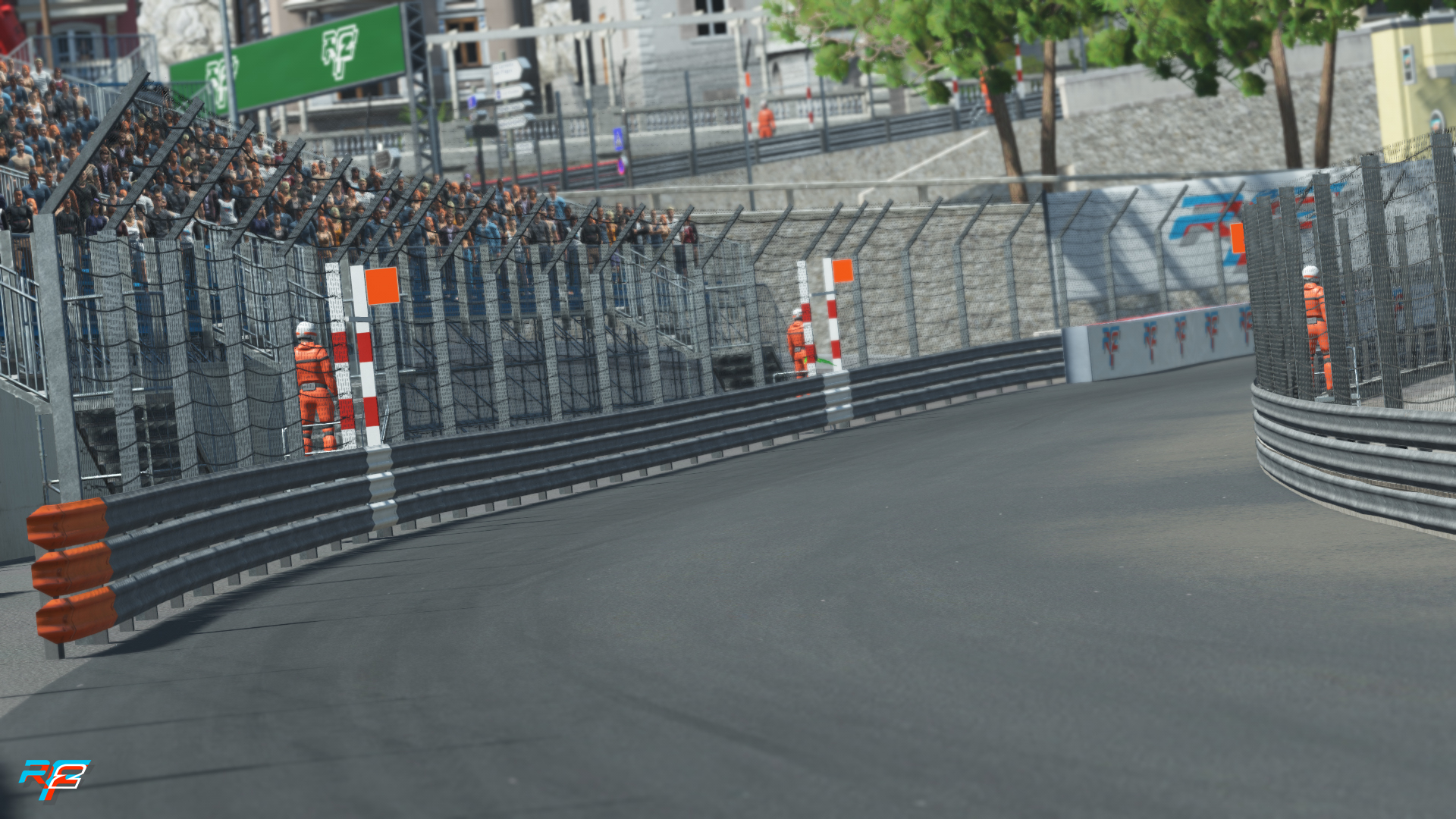 Circuit d'Azure V1.15 Update Notes
Revised Cut Corridors
Slightly safer AI lines between St Devote & Casino
Improved Armco Barrier Collision Meshes
Fixed lack of collisions on Media Centre in pit lane
Fixed collisions in T1 run-off
Regenerated real road profiles
Fixed Starter Worker Safety Car Animation
Fixed Some Illegal NoRainZones
Fixed Wet Road in Tunnel
Fixed some material errors
Fixed issues with marshals/yellow flags online
Updated Crowds
Removed Driveable tag from unnecessary objects
Slightly reduced rearview distance
Improved AI Fast Path
The Circuit d'Azur track update is available now on Steam, and if you are hopeful of further track updates in the near future, stay tuned… we've got a couple of new ones set to appear in the very near future. 
Circuit d'Azur – Available now in rFactor 2.