Roadmap day!
Hello everyone out in rFactor 2 land, and welcome to the end of yet another month of 2021. As is tradition, today is our latest monthly roadmap update, where we share with you all a little about where we've been, and where we are going with development and all things rFactor 2.
As always seems to be the case nowadays, September has shot by in an absolute flash. Out in the real world, much of Europe has enjoyed a mild resurgence in summer weather, which I'm sure we can agree is very much welcomed, and back at base here at Studio 397 we've continued working exceptionally hard behind the scenes to put together a lot of new and exciting things for our community to experience. Much of what we are working on at present is rather sadly not at a point where we can speak about things in any great detail, and trust me – that is as frustrating for us as we are sure it will be for all of you. That said, we ask for a little more patience as we edge closer to being able to tell you more about some of the various things we have underway, and I'm sure at the end of it all we will see general agreement that it has been worth the wait…!
So, enough of telling you about not being able to tell you about stuff, and let us move on to some things in the pipeline to get excited for in the not so distant future.
We are hiring

Studio 397 Careers | More Details | CLICK HERE
No doubt, those of you who follow the rFactor 2 social channels have spotted this one already – Studio 397 are looking to expand our team! That's right, with plenty of exciting developments in the works, and with the power of our new owner Motorsport Games behind us, now is the perfect time to go out to market and recruit new talent to join our existing team here at the Studio.
We are incredibly excited to finally be in a position to push forward with this recruitment process, one that we trust will help us strengthen our established team to support us to push forward in our efforts to accelerate development of rFactor 2.
In order to ensure we offer the simplest means possible of sharing with the community our available vacancies, we recently launched a new careers page on the Studio 397 website, accessible via the careers tab at the very top of the homepage. Here, we have posted details of the current available opportunities, we details for each role of the kind of skills and experience we are looking for from perspective employees.
This page will be maintained and updated as we progress through this process, and we invite you all to take a look and see if you are ready to take the next step in your own career, and become part of the team!
New rFactor 2 Release Candidate
Following our last RC deployment to the public branch of the sim, very shortly we will take the opportunity to deploy a new 'Release Candidate' build of rFactor 2. Available via the 'beta' tab of rFactor 2 on Steam, the new RC will be made available for anyone who wishes to opt in early to review the latest round of fixes, tweaks and improvements that we are bringing to the simulation, ahead of deployment to the main public branch of the software.
In this new build update, we have taken the opportunity to address the recent sound and 'exaggerate yaw' bugs that have been reported by the community. Although workarounds exist for both of these situations, and they seemingly don't impact all users, this new build should squash those particular issues once and for all.
One of the key changes for this new build is work we have undertaken to facilitate faster loading times within the simulation – a topic that we have seen discussed by our community on a number of occasions in the past. Due to the software having to build shaders each time you first load into a new track, often players can find extended loading times that fall outside an acceptable period of time. Of course, these loading times reduce dramatically upon second load of that track, but we still wanted to investigate if any opportunities exist to reduce the initial load period, and improve the user experience of participating in races and sessions within rF2.
The development team have worked hard to understand where efficiencies can be introduced into this process, and we now believe we have developed a solution that should see players experiencing shorter loading periods with both the game itself, loading into tracks, and also when switching between series.
The new Release Candidate build is set to be deployed in the very near future, and subject to avoiding unexpected issues, should be moved into the main public branch of rFactor 2 within the next few weeks.
Release Candidate Update Notes:
Game Loading
Optimizations to Game Loading and Series switching.
Optimizations to Texture Loading.
Added the ability to load cached track files from the component to improve loading times.
Improved shader loading and added pre-built shader cache to improve loading times.
UI
Fixed an issue where Exaggerate Yaw would default to -80%
GFX
Minor pass on cloud texture balancing.
Adjusted PFX settings to allow for more exposure in low light conditions.
Audio
Updated minimum number of audio effects to 32.
Modding
Updated ModDev to save and load CBASH and RRSHD files into track folders so that they can be packaged with content.
Detect if VisGroups affect collision and log this occurrence and in ModDev only show a pop up.
Windscreen rain effects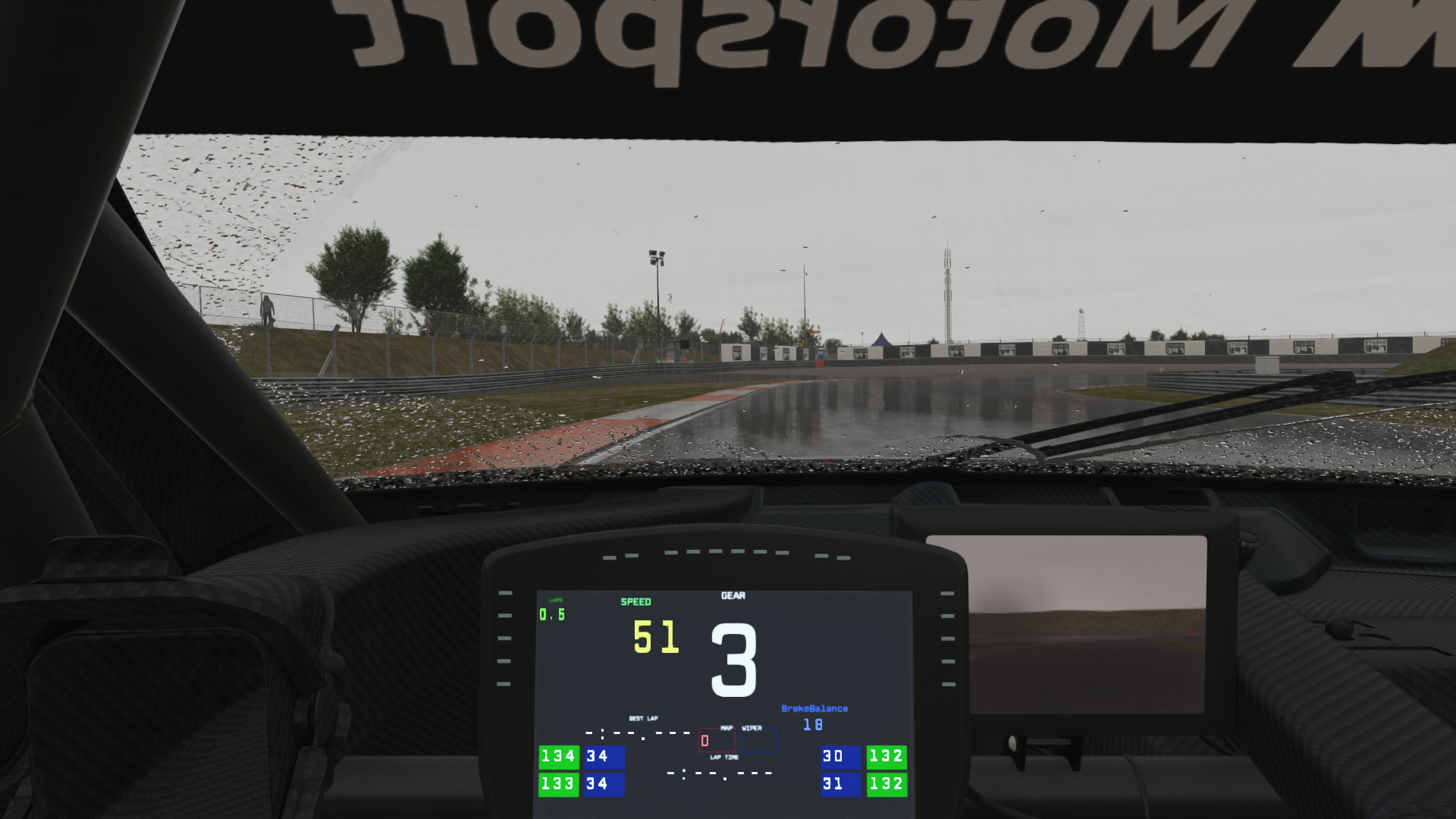 An aspect of the rain implementation in rFactor 2 that we have always considered ripe for improvement is the way rain drops are represented on the windscreen of our cars. Although this was improved massively over the very early implementation of this visual back in the days of initial development, we firmly believed the simulation would greatly benefit from improvements into this highly immersive aspect of wet weather driving.
Having spent time recently to upgrade how rain driving looks in rFactor 2, from the introduction of SSR to the various tweaks and iterations of our wet weather visuals, now feels like very much the right time to dedicate some attention to this aspect of the experience – after all, the way rain rests and move on the windscreen is one of the most visually prominent areas of the wet weather driving experience.
In order to improve this effect, we have spent time looking at how the rain shaders interact with the windshield, and if these might cause any performance impact. After quite a bit of back and forth with different iterations, we now feel like we are pretty close to the finish line with developing this improvement and bringing out in the public build of rFactor 2. We still have a little work to do in order to ensure this works effectively on the many windshield types present within the sim, but we can safely say the current upgrade certainly looks massively improved over the current solution.
Tatuus Updates

Tatuus in rFactor 2 | Steam Workshop: CLICK HERE
Further to our recent release of the free Tatuus MSV F3-020 back in July, we are currently taking the opportunity to revisit our wide selection of Tatuus models within the simulation as we look to apply a few further fixes and improvements across the full spectrum of cars. Aimed at ensuring each model remains full up-to-date and accurate in comparison to their real life counterpart, the new developments will bring various visual improvements, as well as tweaks to how the cars behave on track… and oval configurations!
At present, we are finalising testing with these new changes, and anticipate a public release should possible in the very near future. Although this is an important update, we most certainly haven't done with our relationship with Tatuus just yet… stay tuned for more on that one in the months ahead!
Looking back on September
As always, the month just passed has been a busy one for us here at the Studio. As well as working on the continual development of rFactor 2, bringing new features to our Competition System and developing the next wave of new and updated content for the title, we've also been hard at work ensuring the start of the new Le Mans Virtual Series and Le Mans Virtual Cup held within rFactor 2 goes off without a hitch. This is by far the biggest esport series of the year for rFactor 2, and building on the incredible success of last season, forms an important aspect of our daily business.
That said, while we are all working exceptionally hard to make sure everything is firmly in place for these two exciting new series, we are also highly motivated to ensure we don't take our foot off the gas with rFactor 2 itself. As mentioned elsewhere within this roadmap post, a lot of the work that has been going on at the studio in recent months remains under wraps until a later date, but that hasn't stopped us from still finding time to bring about a few interesting new developments over the course of the last four weeks…
Zandvoort V2.58 Update

Zandvoort 2021 | Steam Workshop: CLICK HERE
Right at the very start of the month we released a substantial free upgrade to our existing Zandvoort Grand Prix Circuit, bringing the track up to 2021 specification and taking the opportunity to basically rework the whole project from the top to bottom. Essentially this meant that what started out life as a PBR shader update, ended up with our track team touching up almost every aspect of the track – from trackside furniture to the circuit layout and roadmesh itself – the 2021 Zandvoort update represented what is basically a brand-new release of the Dutch venue.
With a track that was now fully accurate in terms of layout and dimensions, we were keen to ensure we could time release to tap into the hype of the return of the Dutch Grand Prix to the Formula One schedule. This would mean that many of our artistic decisions had to be based on how the track was represented at a certain period of time, before the arrival of the Formula One teams for the big race itself.
As ever with these things, almost as soon as we passed that deadline, Zandvoort then went out and made significant visual changes to the way the track was presented! Frustrating as that was, we resolved to revisit the track in rFactor 2 again after the Grand Prix, and update everything to bring the current visuals as shown during the F1 race – and frankly, we think the track looks simply fantastic now with this fresh lick of paint.
Additionally, we also spent time addressing a few issues that came to light since we released the track, as well as giving the AI another once over and applying the "Alonso line" into turn 3.
Tiillotson T4 Series Released

Tillotson T4 Series | Steam Store: CLICK HERE
Thanks to our friends at KartSim, September would see the release of the brand-new Tillotson T4 Series to rFactor 2, alongside an exciting short esport series where the winner would win a drive in the real world Tillotson T4 Series World Cup!
The kart was developed in conjunction with Tillotson to produce the most realistic representation of this vehicle anywhere in sim racing, and we are sure you would agree that anyone who has taken this out on track will be surprised just how nimble and raceable the T4 Series is.
Adding this new kart into the simulation is the latest effort to increase the content offering within KartSim in rFactor 2, and brings the total number of KartSim vehicles to 5, with a further 10 tracks available in the consumer version of the software.
Competition System

Indianapolis & Silverstone | Steam Workshop: CLICK HERE
The rFactor 2 Competition System continues to provide regular and exciting online racing for our community, as well as supporting some of our big high profile esport activations such as our premium Formula and GT Series. Having been born of the desire to bring together our community in one single and easy to use platform, we are pleased with how initial development has been receieved – however, changing priorities within the studio means that developments within the Competition System will have to slow over the next couple of months, as we spend our resources on other aspects of the simulation.
That said, we most certainly haven't lost sight of our desire to make the Competition System as good as it can be, and we still have a very healthy roadmap of developments to look forward to in the year ahead. To give you some insight into our future plans, you can find an extract from the most recent Competition System blog post by Marcel below:
We are pretty happy with where we are with the competition formats right now. We'll always keep adding new formats as we go forward, but we feel we can currently cover most competition formats that we want, so it's time to put a big green checkmark next to it! Recent blogs already indicated that we were prioritizing the implementation of ratings based on user feedback. The algorithms are in place, we've worked on code that includes all past competitions into the system, and we started on the UI to show all of this information. I don't expect this feature to be released until early next year though, as other things outside the competition system are currently being prioritized. Protests and decisions as well as the first iteration of stewarding support are likely to follow after that. We might then prioritize roles and team based driving before we continue our broadcast integration and support for offline championships.
Competition System Blog – Now featuring themed development topics

Our bi-weekly Competition System blog has been a great success, and we have thoroughly enjoyed reading the different types of questions and suggestions our community have raised over the past few months. We hope that by opening up the opportunity for our community to directly ask questions about the CS, we have provided some useful insight over this period, and have helped our players to understand what and where our Competition System development focus has been placed.
That said, all good things must come to an end, and we feel that now is the right time to reassess the purpose of the Competition System blog going forward, and see if we can find ways to make this a more useful resource for our community.
We really like the opportunity to engage regularly with our users on topics they wish to know about, and for that reason, we've elected to redefine the Competition System blog into a series of themed topics, where we define what the subject matter will be about, and then invite our community to submit questions based on that topic. For the next two weeks, and the first blog in this new series, the subject will be 'Tracks' – and already we've had quite an influx of questions – keep them coming!
For those of you who missed our bi-weekly Competition System Blog posts during September, fear not, you can catch up on all the latest questions and answers on the handy links below:
Competition System Blog | Week 20 | CLICK HERE
Competition System Blog | Week 21 | CLICK HERE
Competition System Blog | Week 22 | CLICK HERE
Recommended Viewing – rFactor 2 Esports Competitions

Tin top saloons…. GTE sports cars…. GT3 closed tops…. long distance endurance racing…. electric world championship racing… top level open wheel formula cars and… the Le Mans Virtual Series… yup, you guessed it – October is packed to the rafters full of incredible and exciting esports racing events for your viewing pleasure! No matter what your preference, it's more than likely the month ahead will have something for you to enjoy watching as the collection of rFactor 2 esports series continues to go from strength to strength.
To help you in the quest of navigating through the vast array of different broadcasts on offer, check out our handy collection of some key highlights heading into October. Set a date in the diary, lock the doors and pull up a comfy seat for the night – any one of these races are sure to produce an outstanding and entertaining viewing experience for you to enjoy!
1st October | 20:00 | Formula Challenge Round 5 – Monza | rFactorLive Twitch / TraxionGG YouTube
4th October | 19:00 | BMW SIM M2 Round 5 – Spa | rFactorLive Twitch / TraxionGG YouTube
4th October | 20:00 | GT Pro Round 5 – Spa | rFactorLive Twitch / TraxionGG YouTube
8th October | 20:00 | GT Challenge Round 5 – Spa | rFactorLive Twitch / TraxionGG YouTube
9th October | 20:00 | RCCO eX World Championship Round 9 | Motorsport.TV
9th October | TIME | VEC 6h of Monza Round 1 | VEC YouTube
15th October | 20:00 | Le Mans Virtual Cup Round 2 – Spa | TraxionGG YouTube
16th October | TIME | Le Mans Virtual Series Round 2 – Spa 6 Hours | TraxionGG YouTube
18th October | 19:00 | BMW SIM M2 Round 6 – Indianapolis | rFactorLive Twitch / TraxionGG YouTube
18th October | 20:00 | GT Pro Round 6 – Indianapolis | rFactorLive Twitch / TraxionGG YouTube
22nd October | 20:00 | GT Challenge Round 6 – Indianapolis | rFactorLive Twitch / TraxionGG YouTube
30th October | 15:00 | GTR24h Le Mans 24 Hours | GTR24h YouTube
So there we go folks, another month is in the books, and we continue looking forward to the final portion of 2021 – another strange year, but one that continues to yield exciting developments and improvements in the world of rFactor 2. Wherever you, and whatever you are doing, have a great October, and we look forward to catching up with you once again in our next Development Roadmap post. Happy racing!