Hello sim racers,
Surprise! Yes, a little earlier than usual we at Studio 397 are pleased to present to you the very latest rFactor 2 Development Roadmap post for October!
As we step into the final throws of the month of October, Christmas decorations are already starting to make their way into shops, and the usual seasonal adverts begin to slowly but surely make their presence known on the TV – none of which we at the Studio have had time to fully take in, as we've been working flat out on all things rFactor 2 for you to enjoy! OK, that's an exaggeration, we have actually been out of the office occasionally, and juggling a work / life balance aside, we have managed to pull together quite a few goodies for the run-up to the end of the year – some of which we think will make many within our community very happy indeed…
While we appreciate the last couple of months have been a little slower in terms of news than has become customary of late, I'm sure you can all appreciate that working on large projects like the current Le Mans Virtual Series alongside our normal development priorities can sometimes mean we need to prioritize our resources, coupled with having quite a few bigger pieces of work with longer lead times (more on those another day), it sometimes means we can't talk much about what we are currently working on at the studio. While this is a shame, it is very much part of the development cycle of a live product like rFactor 2, and as we pride ourselves on our transparency within our growing community, it has certainly been a little frustrating for us these last couple of months having to keep most of our work under wraps from you all.
That said, for a lot of the bulk of that work we need to ask you all to remain patient as we close in on those magical announcement dates, however not everything remains under wraps thankfully, which moves us nicely onto some of the topics of our latest development roadmap…
Driver Labels Return – New and Improved!

At last! Yes, we've heard you all loud and clear, and now is the time to finally reveal the much anticipated and often requested return of driver labels is right around the corner! We took the decision to remove this feature from rFactor 2 back when we originally released the current UI for the simulation, and although it has often been a debate around if these should indeed return or not in future, we couldn't help but notice many of you out in the community have been very vocal about us needing to get these back in the simulation.

While bringing them back was of course very important, especially to our Stock Car community members, we really didn't want to simply re-enable the original basic version of driver labels, and so with a bit of time spent looking at how they can be made more aesthetically pleasing, and with new functionality, we are delighted with the current version in testing – as can be seen on the previews above.
Immediately you will notice the new version follows much more closely to our visual structure within rFactor 2 – benefitting from a new font and sizing format, plus the addition of fade characteristics and background shading. With this new version, we've also taken the opportunity to add driver penalties – should a driver or AI be in receipt of a DT or Stop & Go penalty, this will now be shown with a visual representation on the driver label above the car!
The newly refreshed driver labels will be made available as part of the upcoming Release Candidate build of rFactor 2 – enjoy!
Steam Halloween Sale – Massive Savings

Sale season begins! Over on Steam, many titles will be enjoying some nice discounts for the discerning gamers, and we at rFactor 2 are no different! Running from today until November 1st, the rFactor 2 base game will be available to purchase with an exceptional discount of 80%, meaning that depending on where you are buying from, you will be able to pick up rFactor 2 for as little as around 6 Euros! A bargain if we do say so ourselves!
If you are not already part of the rFactor 2 community, head over to rFactor 2 on Steam and secure yourself a bargain!
New Opt-Out Build and Release Candidate

Earlier today, we deployed a brand-new Release Candidate update of rFactor 2 to the current RC build within Steam. This new update comes ahead of an anticipated deployment of our current Release Candidate to Opt-Out early next week. With RC to Opt-Out set to happen at the very early part of November, that means we are set to put together a brand new Release Candidate build that will of course include the above-mentioned return of Driver Labels, plus a couple of new physics features that we hope should provide some nice additional options for our community to enjoy. With that RC build right around the corner, we aren't going to get into those details right now, we think we will save that bit of excitement for the release notes of the build when it deploys in the near future.
As for the latest RC update, the release notes of which can be found below.
rFactor 2 Release Candidate Update Notes:
Steam Build IDs:
Client 7618186
Dedicated Server 7618200
Controller Profile Updates (General)
Set Exaggerate Yaw to 0
Fixed various missing 'Clutch-In' entries that had been deleted by accident
Fanatec Podium Wheelbase DD1/2
Default "Steering resistance type":0,
Added pedal inputs
Thrustmaster T300RS Racing wheel
Looking Back on October

The month of October has been an incredibly busy one for us at the studio, even if we've not been able to say or release much into the public domain during these last few weeks. As mentioned at the start of this roadmap post, the first fruits of those labours are starting to trickle out now with our new RC and driver labels, and we've got a few more things coming down the line that should make for a very exciting few weeks ahead. Ahead of all that happening, as is tradition, let's take a few moments out to reflect on the work we have achieved during October, with a select few highlights mentioned below:
Recruitment – The Search Continues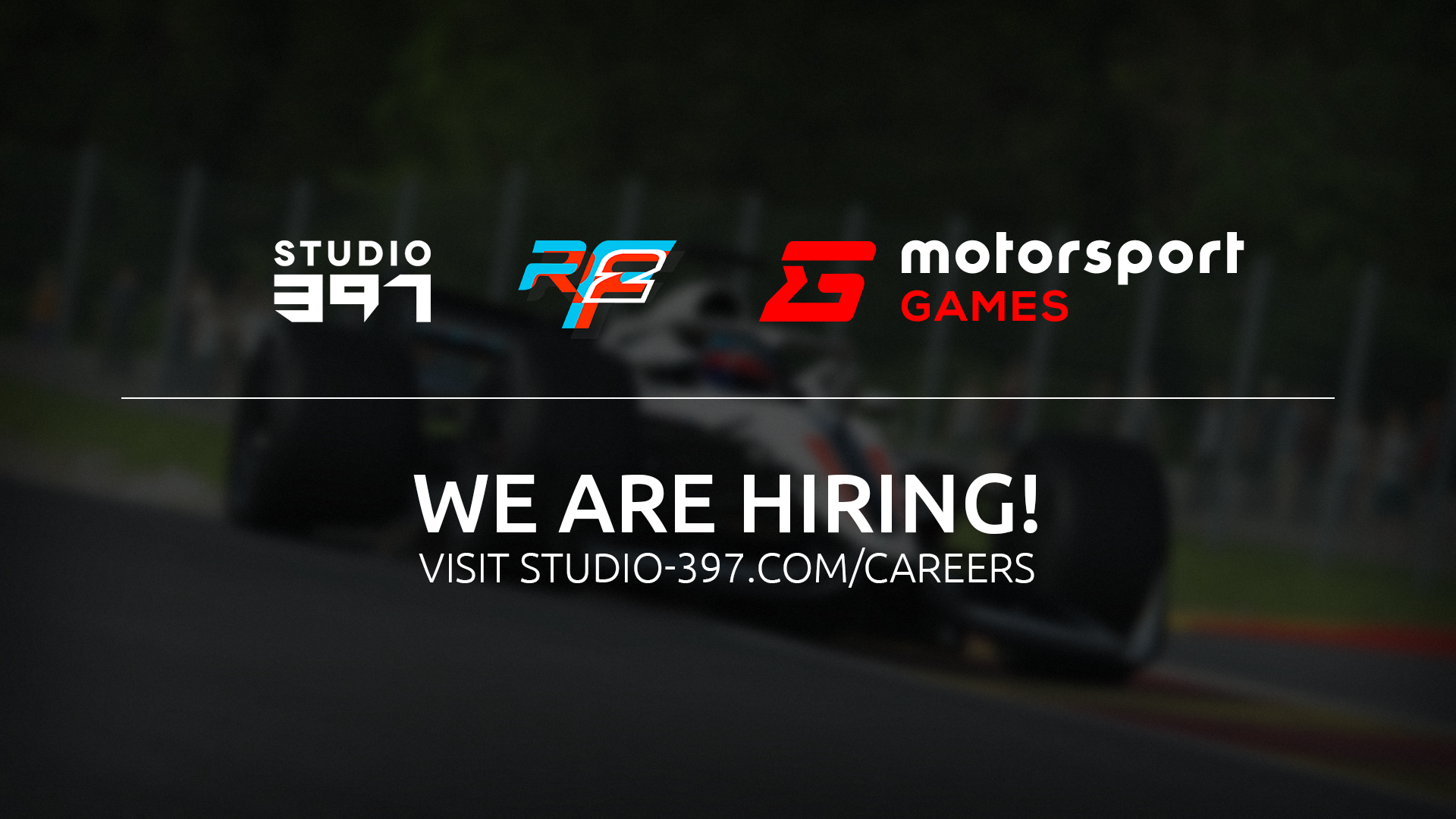 Many of you will, we are sure, be aware that the rFactor 2 team have been looking to expand our workforce in recent weeks. With positions across the team open for the right candidates, we at Studio 397 are incredibly excited about this opportunity to bring new talents into the family, and help us continue pushing forward with development of our great simulation.
Our recruitment campaign is still very much ongoing, and we would love to hear from people who feel they have the required skills and experiences to help us expand the team. If you've not yet seen our various social media messages, or if you've missed the new 'Careers' tab on the Studio 397 website, check out THIS LINK to see what opportunities we currently have available, and we look forward to hopefully hearing from some of you in the near future!
New rFactor 2 Blog

October would see a hugely popular change to our regular bi-week Competition System blog posting from the Studio. Originally developed to help clear up any topics our community wished to raise on the new Competition System within rFactor 2, we felt the blog had run its course and very much served its initial purpose. We didn't want to lose this valuable communication tool with our community, as we very much like to share as much as possible about the development state of the software, so we took the decision to try a different format for the blog going forward – changing to a more generic 'The rFactor 2 Blog' and featuring different topics each fortnight.
Our first topic, Tracks, proved to be very popular indeed (link below), and although initially planned for this week (Wednesday 27th October), topic #2 (Cars) has proven to be even more popular still, with well over 150 questions already submitted! Thanks to the number of submissions, and annual leave arrangements, we have decided to delay release for another week – so stay tuned on Wednesday 3rd November for a bumper edition of the blog!
The rFactor 2 Blog | Tracks | CLICK HERE
Tatuus Updates

Tatuus | Steam Workshop: CLICK HERE
So far we have no less than seven Tatuus models within rFactor 2, all of which are free to players via the rFactor 2 Steam Workshop, and October would see some nice improvements brought to some of these cars in order to maintain the most up-to-date experience with these outstanding little beasts within the simulation. Key changes for the new Tatuus update would be the introduction of an oval configuration for the USF 17 and PM 18 cars, plus a range of visual and audio tweaks to really help players immerse themselves in the world of one of national motorsports most impressive and prolific open wheel car manufacturers.
We love these little Tatuus models in rFactor 2, and we very much hope our community enjoy driving them just as much as we do ourselves. Models representing series such as British Formula Three, W Series, Asian Formula Three, the Road to Indy and much more – these are great cars to acquaint yourselves with the nuances of racing formula style machinery, as well as providing some incredible racing action!
Release Candidate Updates

At the very start of October, we deployed a brand-new Release Candidate to rFactor 2, introducing a number of new things we firmly believe helps in our mission to continue improving and progressing the way rFactor 2 behaves in the hands of our fantastic players.
Without doubt, the most significant improvement of the current Release Candidate has to be the introduction of improved loading times within the software, both at UI level and when loading into a track session. These changes have already been reported by the community to deliver strong real-world time savings when performing loading instances within the title.
We are excited to see how well these improvements have been received by our players, and we cannot wait to gather your reactions from the upcoming RC, which should be deployed in the very, very near future!
In preparation for moving the current RC to our main Opt-Out branch of rFactor 2, October would also see the introduction of a minor hotfix release on October 23rd, as well as the above-mentioned update, addressing a variety of aspects within the current RC build.
You can check out the contents of the current Release Candidate build in our September Development Roadmap post, found above and HERE.
Competition System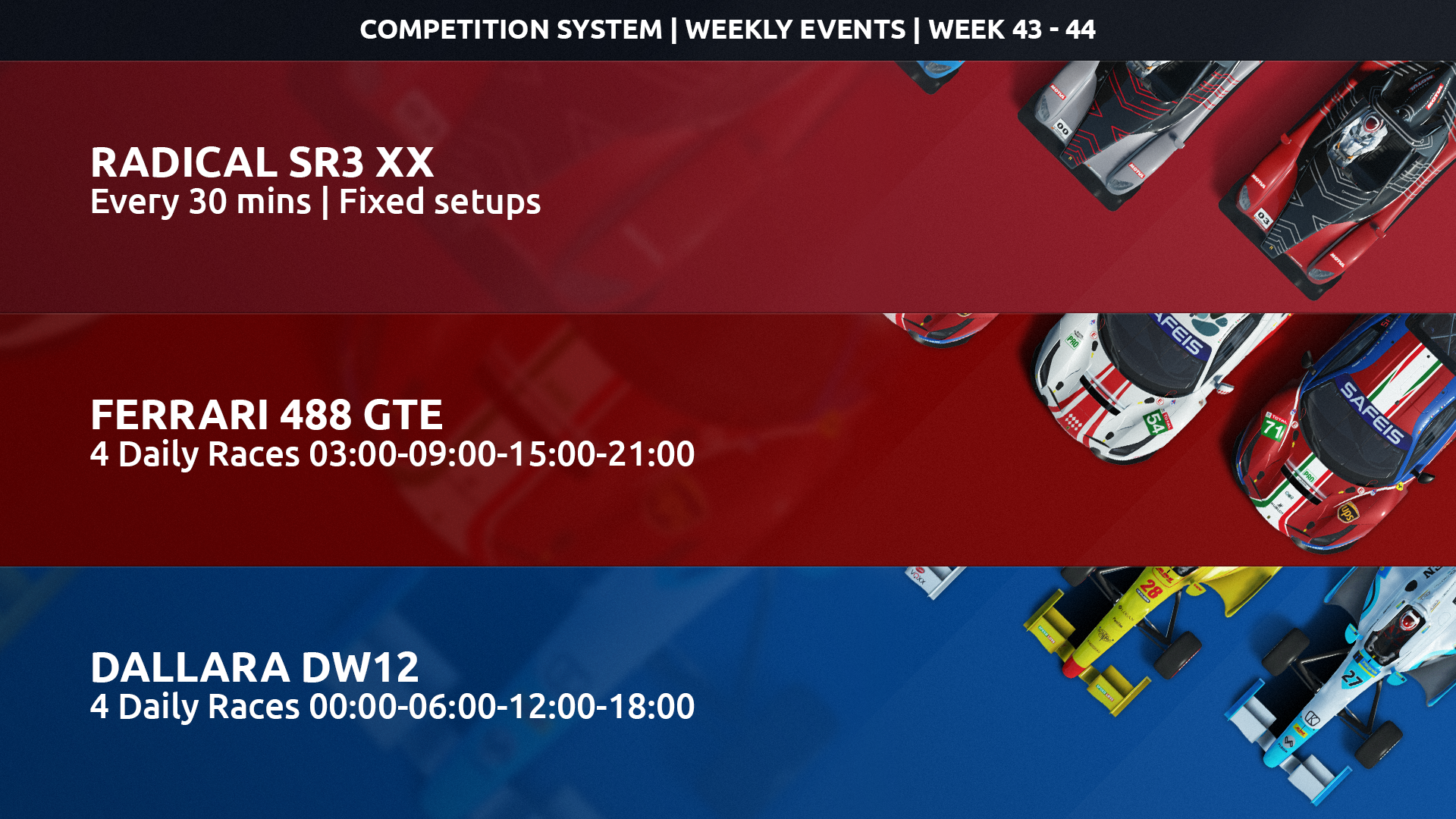 By popular demand, the rFactor 2 Competition System now features a much more regular schedule of racers for our drivers to enjoy. Starting out with races held every 30 minutes in both the Tatuus MSV F3-020 and the Radical SR3 XX, plus regularly scheduled events in the Ferrari 488 GTE and a Competition System debut for the Gen 2 Formula E series, we believe our collection of races offers a great mix of free and paid content, held at regular and convenient times, that should give plenty of opportunities for our players to race within the simulation.
Moving in to week 43-44, the Competition System would see the addition of the Dallara DW12 IndyCar in place of Formula E on the regularly scheduled events list, and the removal of the Tatuus MSV F3 from rotation. To keep abreast of the latest Competition System schedules, make sure to stay tuned to the rFactor 2 Twitter feed for all the latest news (rFactor 2 Twitter – click HERE).
If you haven't yet tried our Competition System in rFactor 2, you will find it under 'Competition' in the main rFactor 2 UI. Simply navigate to the series in which you want to race, sign up, register for your desired session and come join in the action!
Recommended Viewing – rFactor 2 Esports Competitions

2021 has witnessed the hugely successful continuation of our GT Pro and GT Challenge series in rFactor 2, as well as a debut to the open wheel equivalent in Formula Pro and Challenge, four categories of racing that have firmly established themselves as the de facto premium places to race competitively in rFactor 2. All good things come to an end as they say, as both GT and Formula series have now run to their conclusion for the season – but that most certainly doesn't mean the racing action has to end!
Over the next few weeks rFactor 2 esport fans have plenty to look forward to, as such incredible events such as the ongoing Le Mans Virtual Series and Cup head into the sunset of their respective campaigns, plus of course the thrilling conclusion of the new RCCO eX World Championship is set to be on your television screens this November 25th – so plenty left to look forward to in the next few weeks.
30th October | TIME | GTR24h 24 Hours Le Mans | GTR24h YouTube
6th November | 13:00 | VEC 8 Hours of Spa | VEC YouTube
12th November | 19:00 | Le Mans Virtual Cup Round 3 | TraxionGG YouTube
13th November | 13:30 | Le Mans Virtual Series Round 3 | TraxionGG YouTube
23rd November | 20:00 | RCCO eX World Championship Round 10 | Motorsport.TV
As always, thank you for taking the time to read our new Development Roadmap post, and we wish you all a happy, safe and fast November!