Hello sim racers,
Just before we all scurry off and do festive things over the next few days, it's time to carve out a bit of space and get yourselves on your racing rigs – our special (and surprise) holiday season DLC drop has arrived!
Two brand-new cars make up this new release, as we continue to add to our British Touring Car Championship offering – and introduce the 2022 BTCC season to rFactor 2, as well as adding a car that plenty of you have been asking us about in recent months – the beautiful Porsche 911 GT3 Cup 992 – developed with help from rFactor 2 ambassador and real world Porsche cup driver, Rudy van Buren!
We've found it exceptionally difficult to keep our lips tightly sealed about this drop these last few weeks, as we know you probably didn't expect it having become accustomed to our new for 2022 quarterly release schedule, but we just couldn't help ourselves than to put this together, as it feels wrong at Christmastime not to put something exciting under the tree, doesn't it?
With this final release of the year, we've managed to really pull out the stops and make a mammoth effort to put our resources into expanding our 2021 and 2022 British Touring Car Championship field into rFactor 2 – a licence and content that we are exceptionally proud of, and cars that we see seem to have been well received by our sim racing community. We really hope you enjoy these extra additions, and we look forward to signing off from 2022 positively, with much more to come in the new year!
BTCC 2022 Season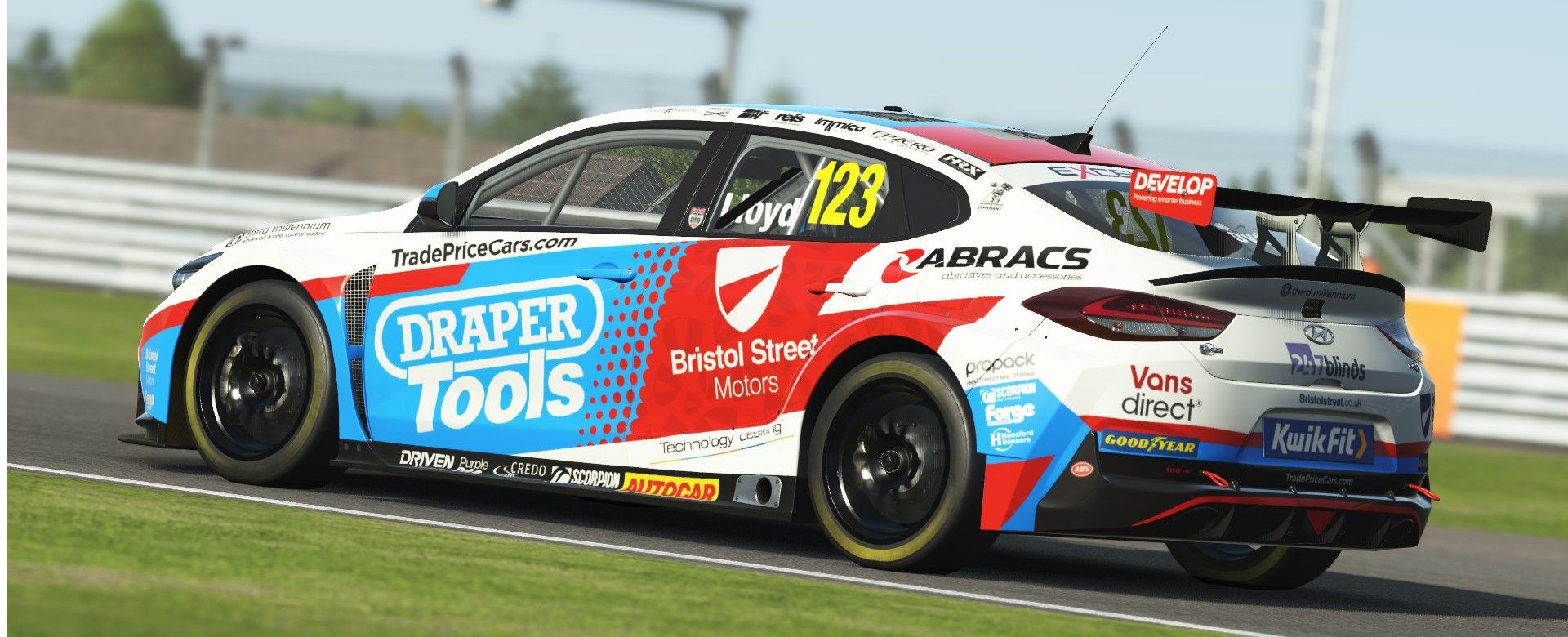 BTCC Update | Steam Store: CLICK HERE
A free update to anyone who owns the respective 2021 BTCC car(s), the 2022 update introduces every team, driver and livery of the 2022 British Touring Car Championship season for the cars released thus far, plus a promise to include the 2022 season liveries on the upcoming BTCC content – 32 official liveries to adorn the eight car models that make up the 2022 field.
As well as all the drivers of the current BTCC season, the 2022 update also adds a revised tyre model and full Balance of Performance across the grid, making the art of not just driving, but winning, in a BTCC car all the more exciting and enjoyable out on the track.
Porsche 911 GT3 Cup (992)

Porsche GT3 Cup 992 | Steam Store: CLICK HERE
Developed in conjunction with both Porsche themselves, and real world Porsche Cup driver and World's Fastest Gamer winner Rudy van Buren, the new Porsche GT3 Cup 992 is an incredibly exciting car on which to tackle the various race circuits available within rFactor 2.
Producing a driving experience that is sure to keep drivers on their toes like only a Porsche Cup car can, this is a brutal yet engaging vehicle that offers up a little something for everyone – whilst making that stunning Porsche noise that we've all come to love in recent years.
Built with supreme attention to detail – a lot of you have been waiting patiently for this one, and we are pretty sure you will all find it has been very much worth the wait!
BTCC Vauxhall Astra

Vauxhall Astra BTCC | Steam Store: CLICK HERE
The venerable Astra is now coming to the end of its competitive lifecycle in the British Touring Car Championship, however despite its advancing years and lack of development in recent times, the car remains an exceptionally enjoyable front-wheel-drive racer, and one that remains very popular with fans of the sport – something we expect will transfer to the virtual version in rFactor 2.
Shorter in wheelbase than many of the British Touring Car field, the Astra offers a different and more lively driving experience than most NGTC spec cars – something we think will be enjoyed a great deal by our community once you get used to the new driving experience.
Content Updates

As well as the new goodies to enjoy, we've also got a bunch of free updates to existing content within the simulation. From the substantial improvements to the StockCar 2018, to the more housekeeping changes brought forward to some of our existing tracks, these updates are all aimed at bringing together a more coherent and improved experience in rFactor 2 – something we've thoroughly enjoyed achieving throughout 2022, and look forward to more of the same into the New Year and beyond!
Below, please find details on the various content updates that have been released as part of this end of year release:
Bahrain v1.11
Fixed Track Limits GP layout T10 exit
Optimized Visgroups
Animated night visuals on Sahkir tower
Fixed DRS on alternate layouts
Daytona v1.17
Various minor performance optimizations
Improvements to Road, Grass and Water materials
Fixed Oval layout camera clipping
Sebring v1.15
Fixed Pit Exit Cut Detection on full circuit layouts
Fixed various minor issues
Fixed Rolling Start Issues
Minor Optimization
Minor Gap Fixes
Nordschliefe v2.43
Updated pit lane cut corridors, pit exit cut detection on all layouts.
Reviewed fast rolling starts, all layouts
Don't render Ferris wheel on low track detail setting
Circuit d'Azur v1.19
Fix for orange ambient online
Optimization and fixes to Track Detail settings
Minor LOD optimizations
Minor optimization to reflection mappers
Updated Water materials
Minor updates to road and terrain materials
Laguna Seca v1.21
Reviewed cut corridors in pitlane (around rear path connections)
Fixed terrain gap outside of final turn
Curb Collision Fixes T7 & T9
Botniaring v1.07
Fix for black raindrops on car windscreens when raining
StockCar 2018 v2.25
Updated 3D models (flaws/rain effects).
Updated liveries & Paint Templates.
Updated brake torque.
Updated aero package.
New shaders applied to all objects.
New digital dash.
New sounds added for new sound engine.
V2 tyre update (52 Compounds).
Added wipers for road course wet weather racing.
Updated all default setups.
Implemented RCD Talent file.
AI improvements (all tracks they run on).
Caterham Academy v1.11
Fixed windshield looking milky when crashing the car
Fixed rain not clearing windshield
Vanwall LMH v1.13
Added a bop upgrade
Fixed tire wear
Added shift protection
Added some more gear ratios
Changed rev limit to 9100
Fixed rear brake calipers being on the wrong side
BMW 330 v1.17
Added 2022 teams
Added new tires
New engine cooling
New water/oil radiator settings
Added 5kg weight penalty
Updated tire textures and materials to match other cars
Removed alcohol sponsors
Ford Focus v1.31
Added 2022 teams
Added new tires
New engine cooling
New water/oil radiator settings
Updated tire textures and materials to match other cars
Hyundai i30 v1.31
Added 2022 teams
Removed generic liveries
Added new tires
New engine cooling
New water/oil radiator settings
Updated tire textures and materials to match other cars
Infiniti Q50 v1.37
Added 2022 teams
Added new tires
New engine cooling
New water/oil radiator settings
Added 4kg weight penalty
Updated tire textures and materials to match other cars
Toyota Corolla v1.47
Added 2022 teams
Added new tires
New engine cooling
New water/oil radiator settings
Added 2022 teams
Updated tire textures and materials to match other cars
rFactor 2 In-Game Store
rFactor 2 In-Game Store | More Details: CLICK HERE
Don't forget, this August we brought online the brand new, and in-game rFactor 2 Store – where players have the opportunity to quickly and easily see what content is available within the simulation, and to easily identify the very best purchasing options and sale offers on every item available for rFactor 2.
Presented in a much more streamlined and intuitive design than the default Steam Store, with added simplicity to help you understand which items are already within your Steam inventory, the new rFactor 2 in-game store really is the best way to browse and purchase content within rFactor 2!
The final release of 2022 is here – new cars, new season update for the BTCC and lots of fun to be had – thank you to everyone for making 2022 a fantastic year for rFactor 2 – enjoy the festive holidays, and see you out on track!
rFactor 2 Q4 2022 Bonus Drop – Now Available!