Just a few weeks ago, in our latest roadmap, we announced that Le Mans was coming to rFactor 2. Now, on the weekend that the 2019 edition of this famous 24h race is held, as the real cars pass the checkered flag after yet another memorable race, the racing won't stop! We are proud to announce the release of the Le Mans 24h track, available immediately!
For those of you who can't wait, here's the link to the store, where you can buy your copy of the track right now and start driving!
Background
The story of the creation of this iconic track goes all the way back to the days when Studio 397 was founded, almost three years ago now. I guess, when we chose the name of our company we already showed our intention.
Being new to the game obviously meant that we had to first introduce ourselves to the Automobile Club de l'Ouest (ACO) and build a relationship with them. Such things always take time. Over the first two years, we met regularly, explained our ideas and plans, and listened to their feedback. In that same time period, we also entered into discussions with various other tracks and car manufacturers and showed that we were serious about making rFactor 2 the most realistic racing simulation for everybody who enjoys the experience of driving race cars. All these things led to a licensing agreement, roughly a year ago, that all parties were happy with.
Just in time too for doing a laser scan of the 2018 track, as obviously Le Mans only exists in this configuration for a couple of weeks a year. With the license in place and the scan in our possession, production work started a little over half a year ago, with us balancing our track team resources at the time between three big tracks, the Nürburgring, already in production at that time after we announced it at SimRacing Expo last year, Monaco and Le Mans.
As with Sebring, our goal was to create the most realistic model of Le Mans possible for any consumer-oriented racing simulation available. By pairing our highly accurate physics with a very detailed road mesh, we have recreated the track in a way that makes you feel every bump and curb out there.
Graphically, we have used our latest shaders on this track. Improvements to our lighting model and materials are still in full swing. So whilst you will find this track already looks gorgeous, it is safe to say we will do an update once everything is finalized later in the year, and we will provide a more in-depth update on this process in one of our upcoming roadmaps.
Enough said about production and background. Let's take a closer look at all 13.6 kilometers of this track!
A lap around the track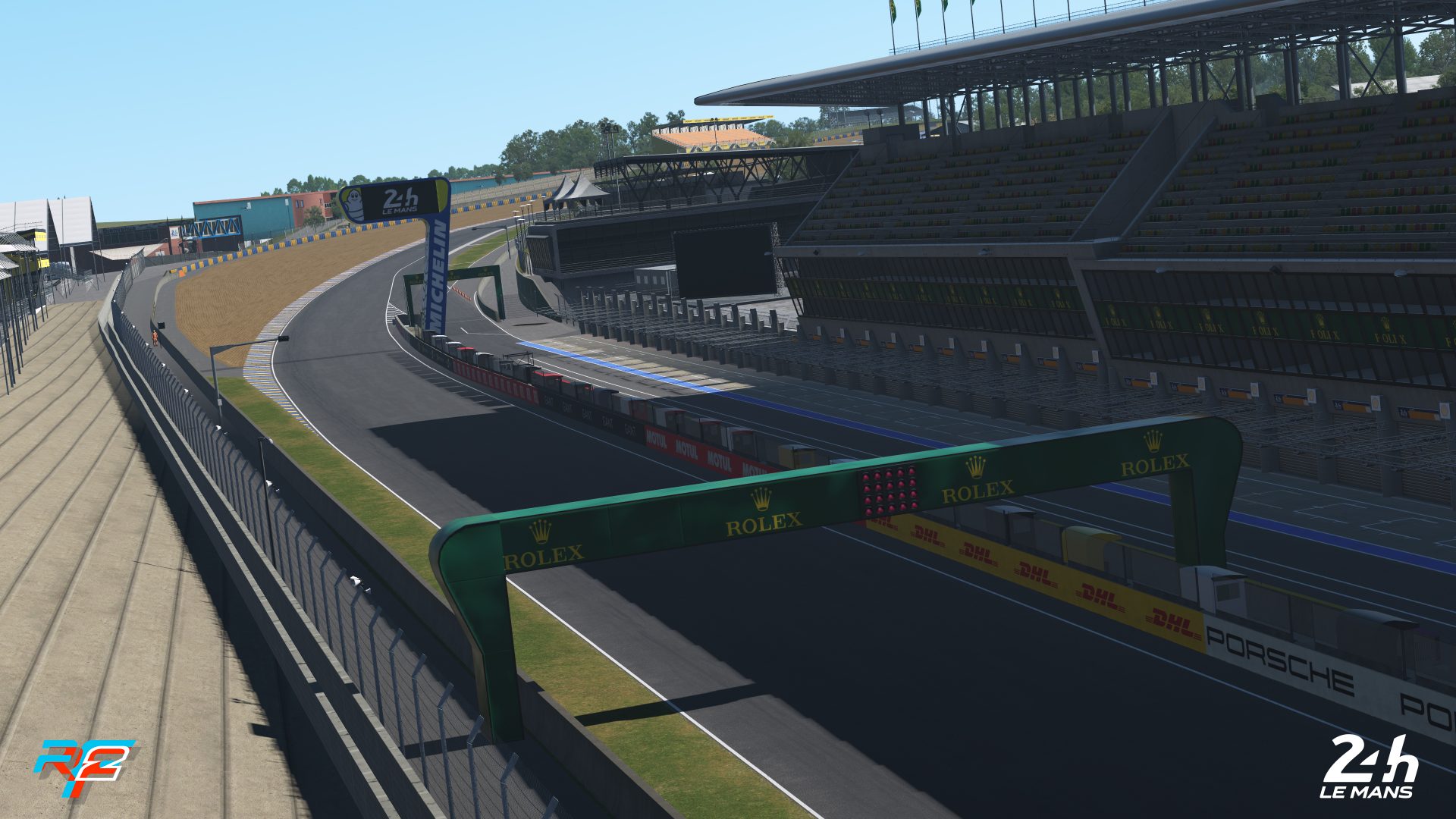 We'll start our lap from the pit lane, with an impressive pit building on our right and lots of spectators on grandstands on the other side, as we merge onto the main track on the inside of the Dunlop Curve.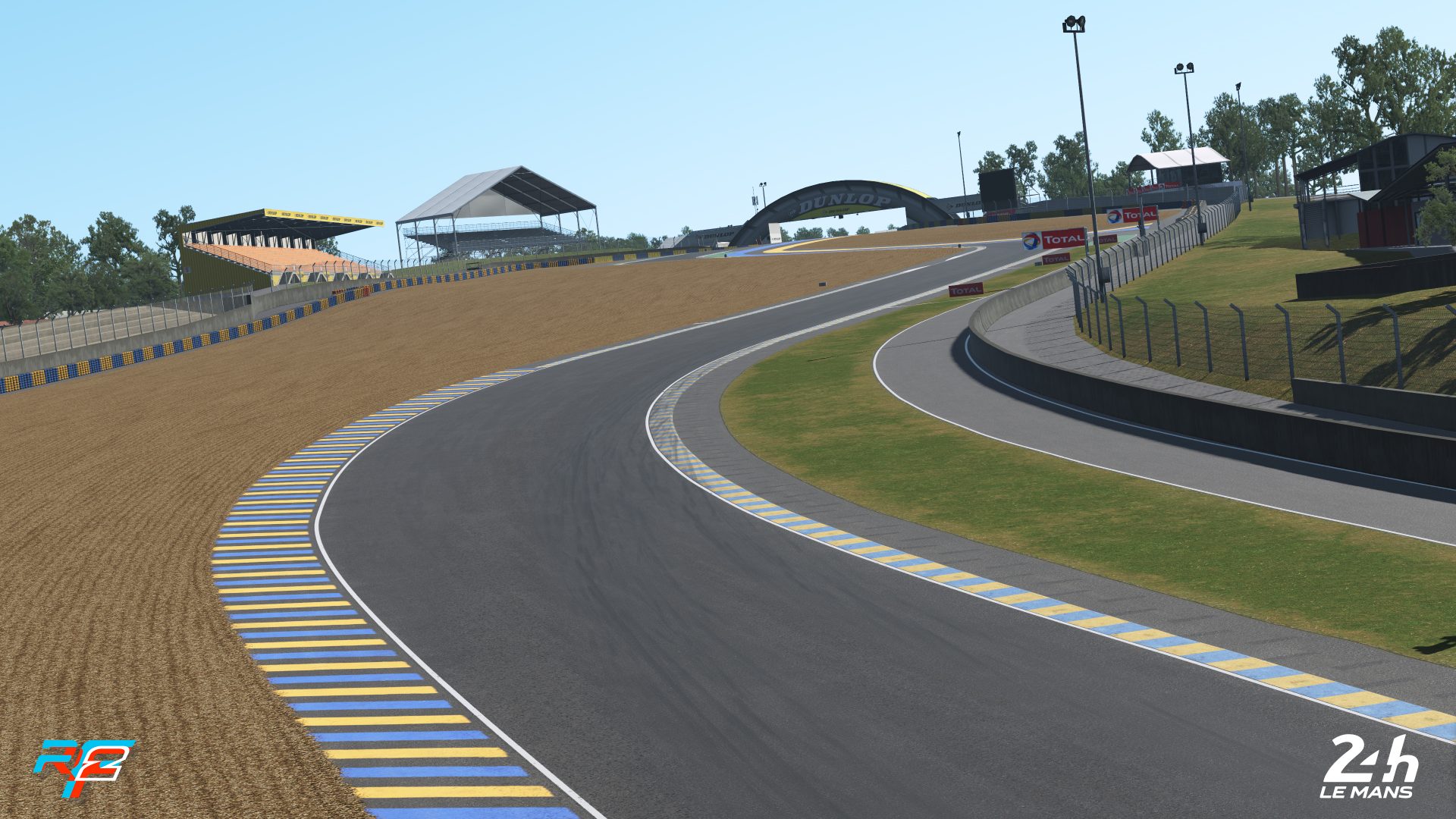 This high-speed turn leads into the Dunlop Chicane, a left-right combination that is followed by the famous Dunlop Bridge.
After that, it's downhill through the sweeping Esses, a series of fast turns.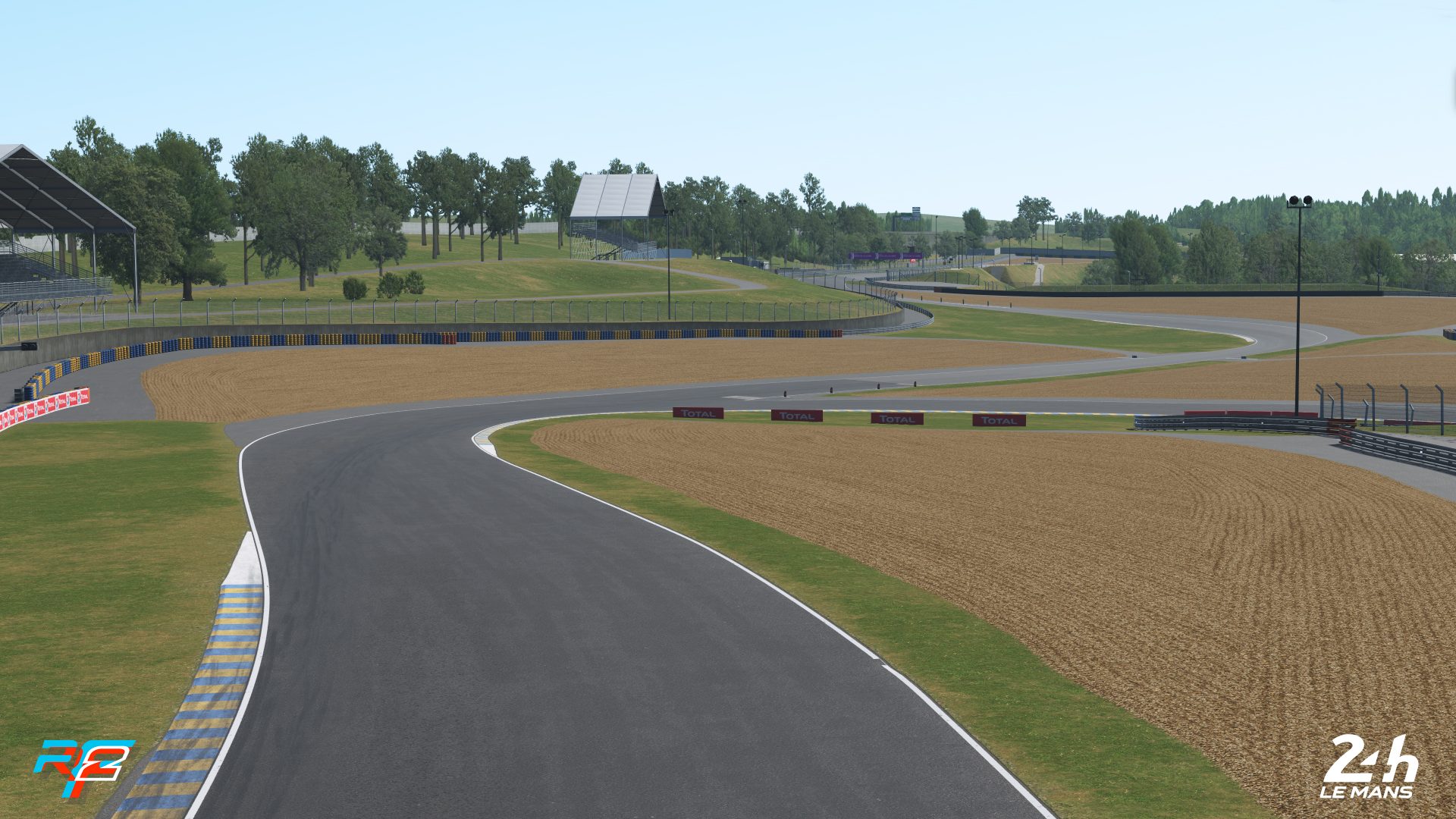 Then it's on to one of the many great corners on the track: Tertre Rouge, a fast right hander that takes us onto the longest straight on the track, so having a good exit here is crucial.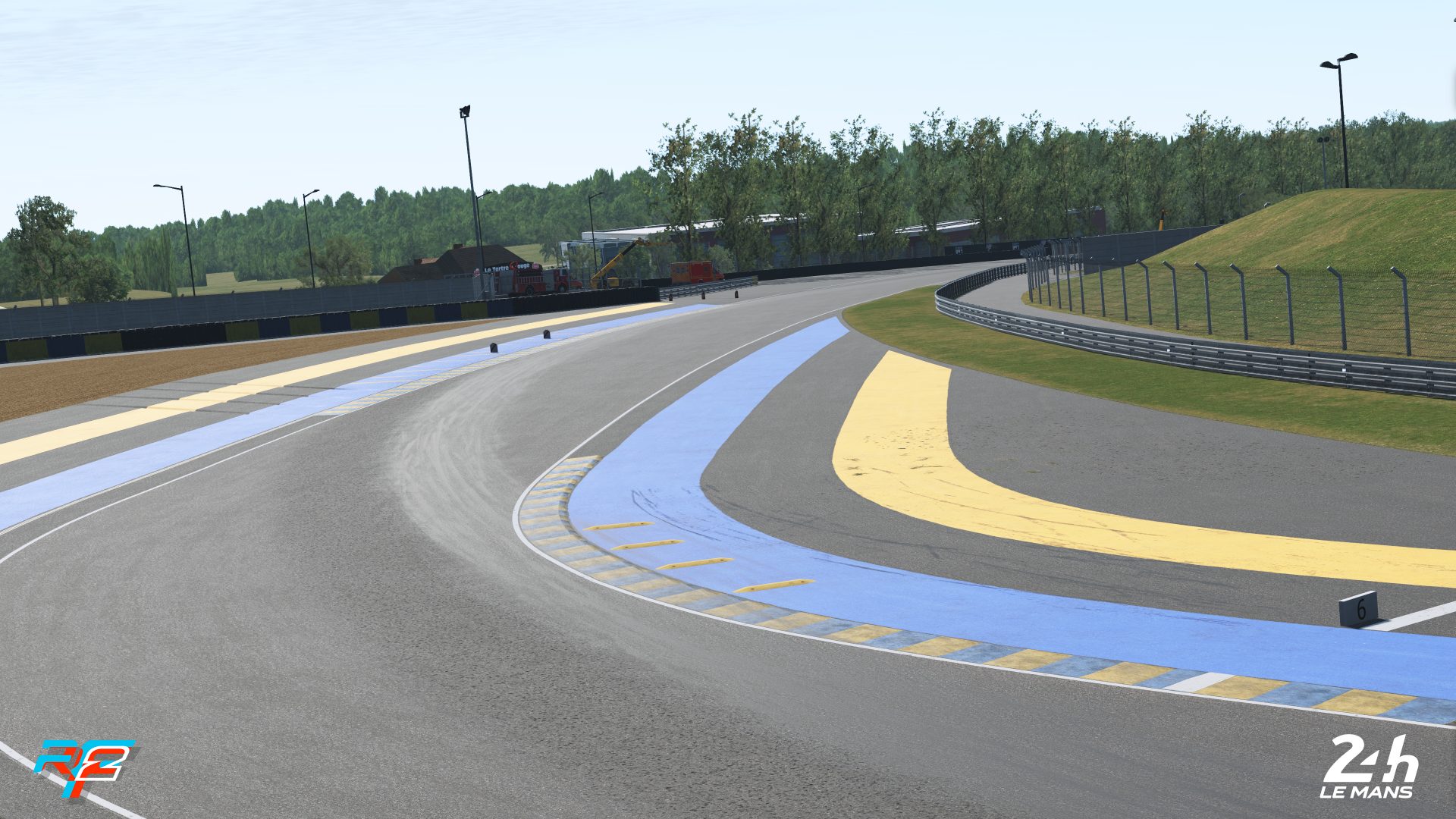 The Mulsanne Straight, or Ligne Droite des Hunaudières as the French call it, in old times was a long straight.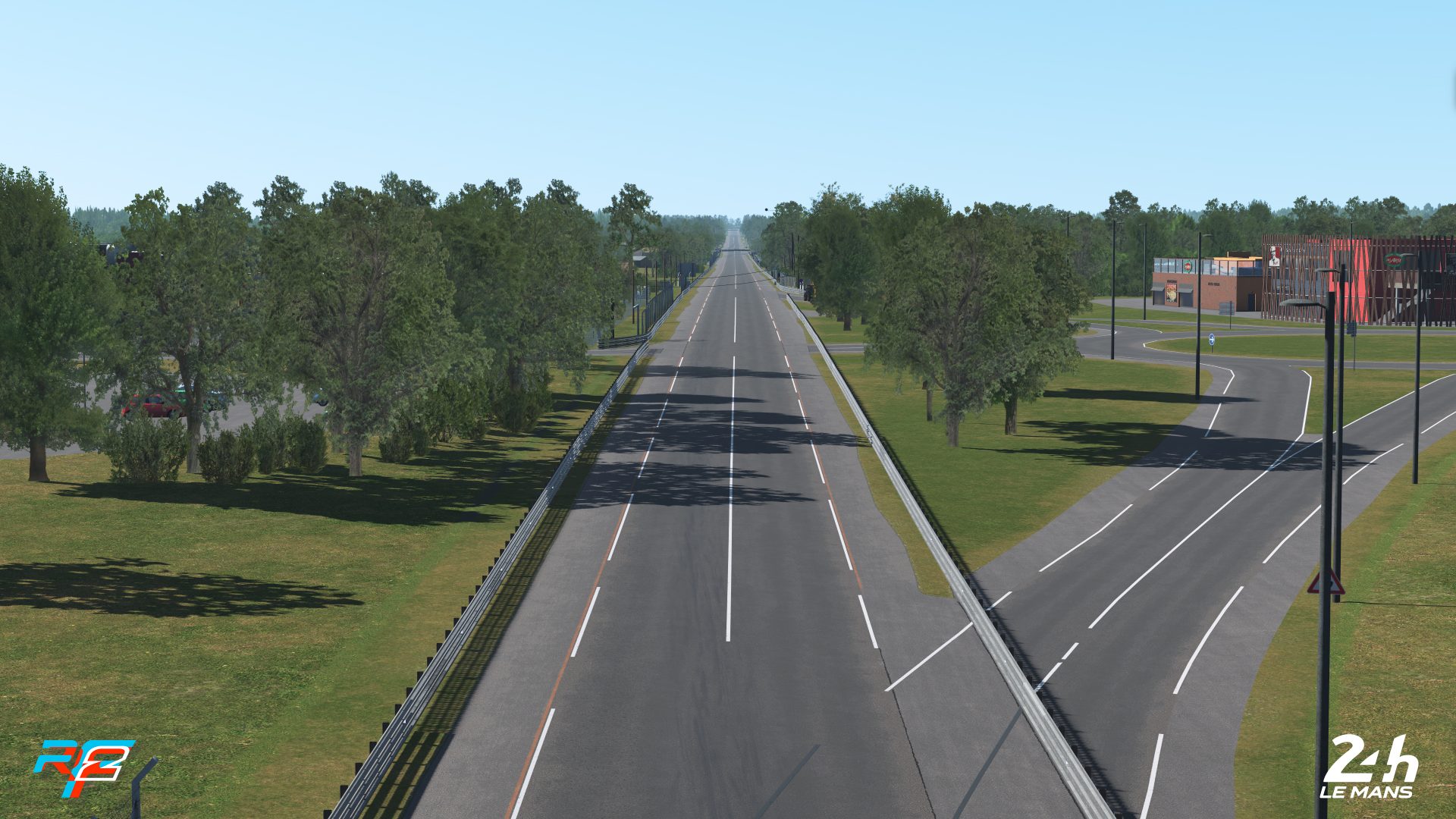 Since 1990, it's been broken up by two chicanes.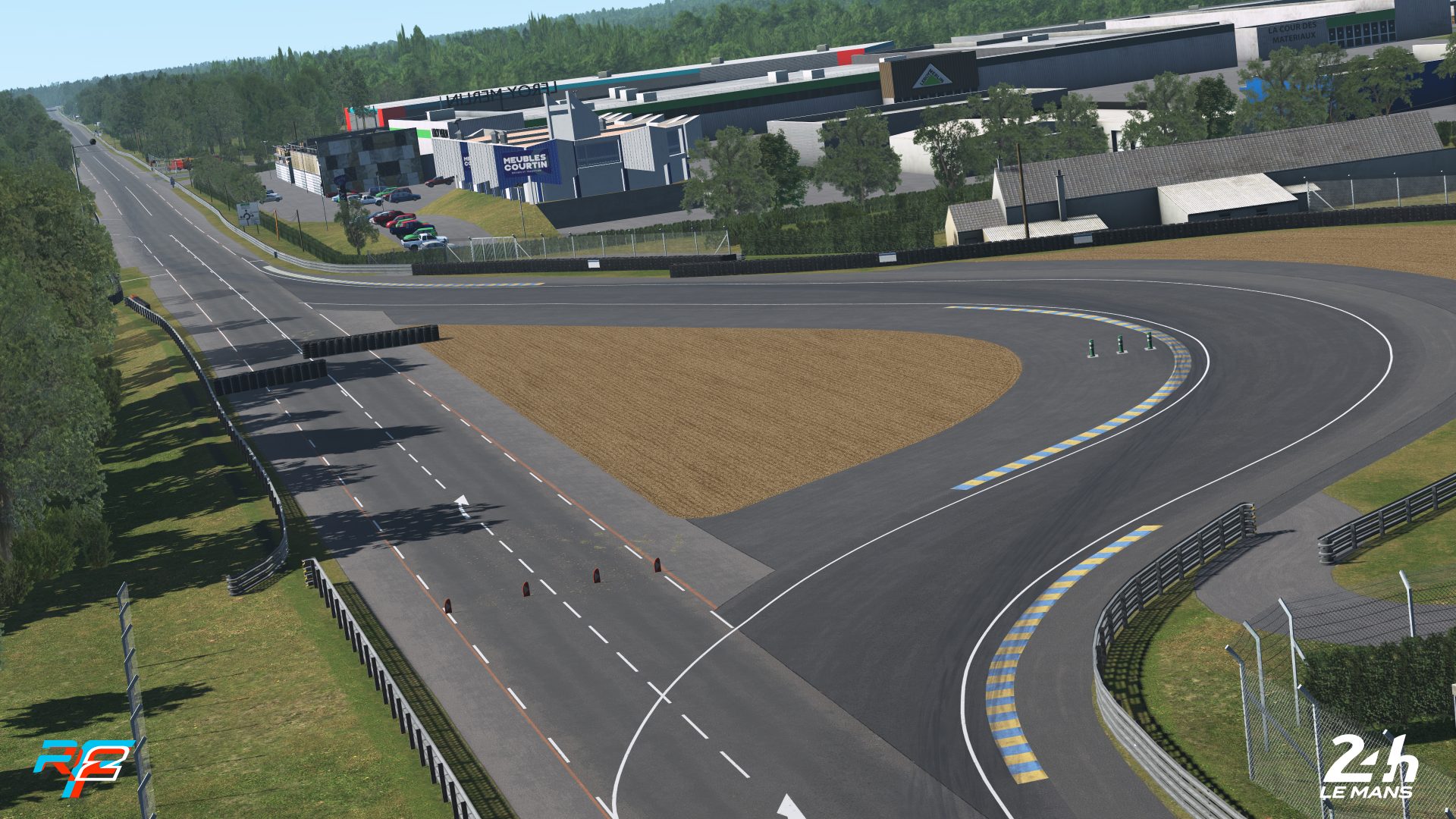 At the end of the straight, jumping over a slight hill, we end up in Mulsanne Corner, where you brake really hard and brake discs glow ferociously. Again, having a good exit onto the next straight is important here.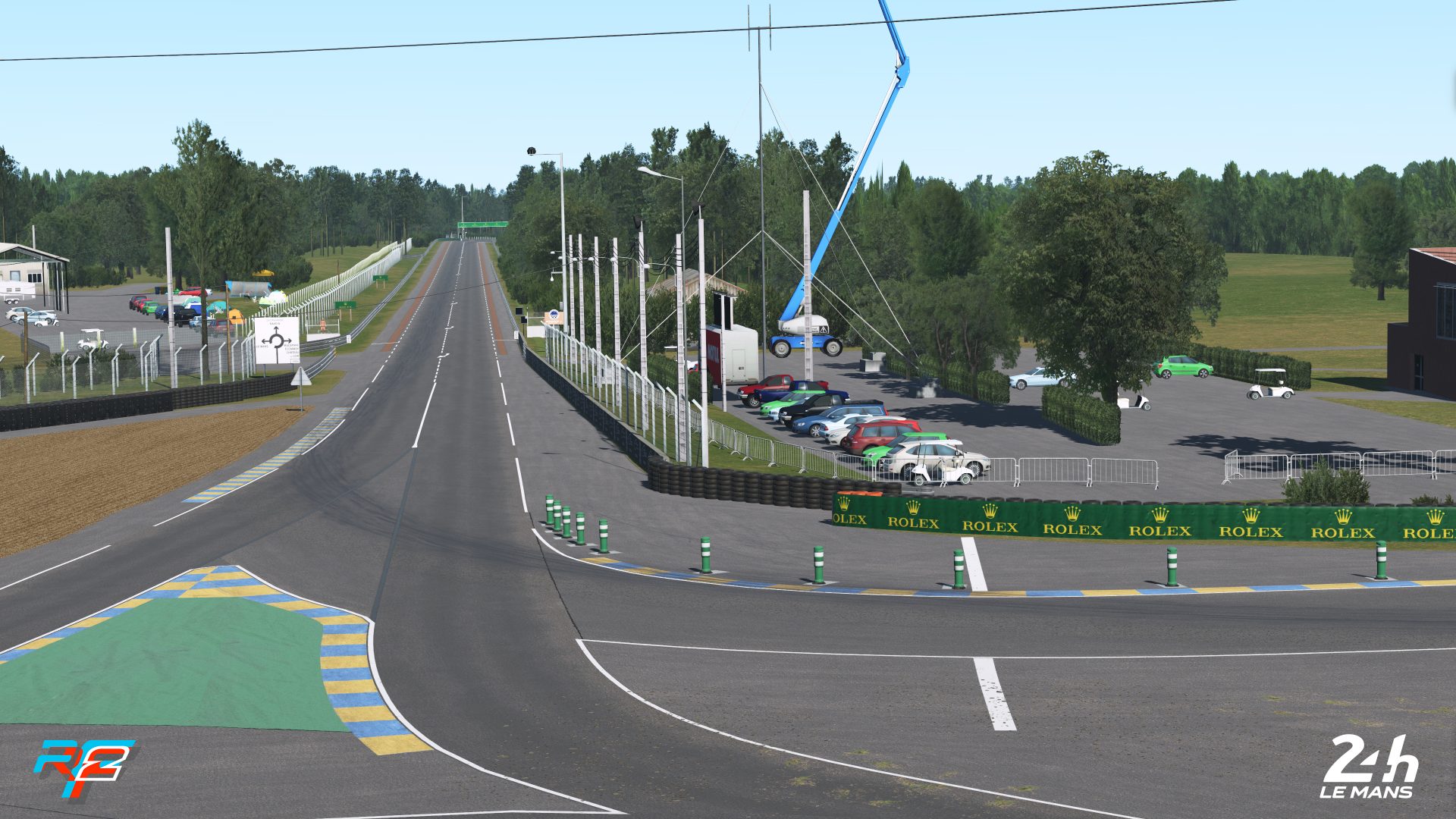 The next straight takes us to Indianapolis, a very technical corner where you first go right at high speed and then have to brake hard into a 90 degree left hander with some banking. If you mess up your approach here, you'll pay for it as there is not a great deal of run-off area unless you abort the left hander completely and go straight on.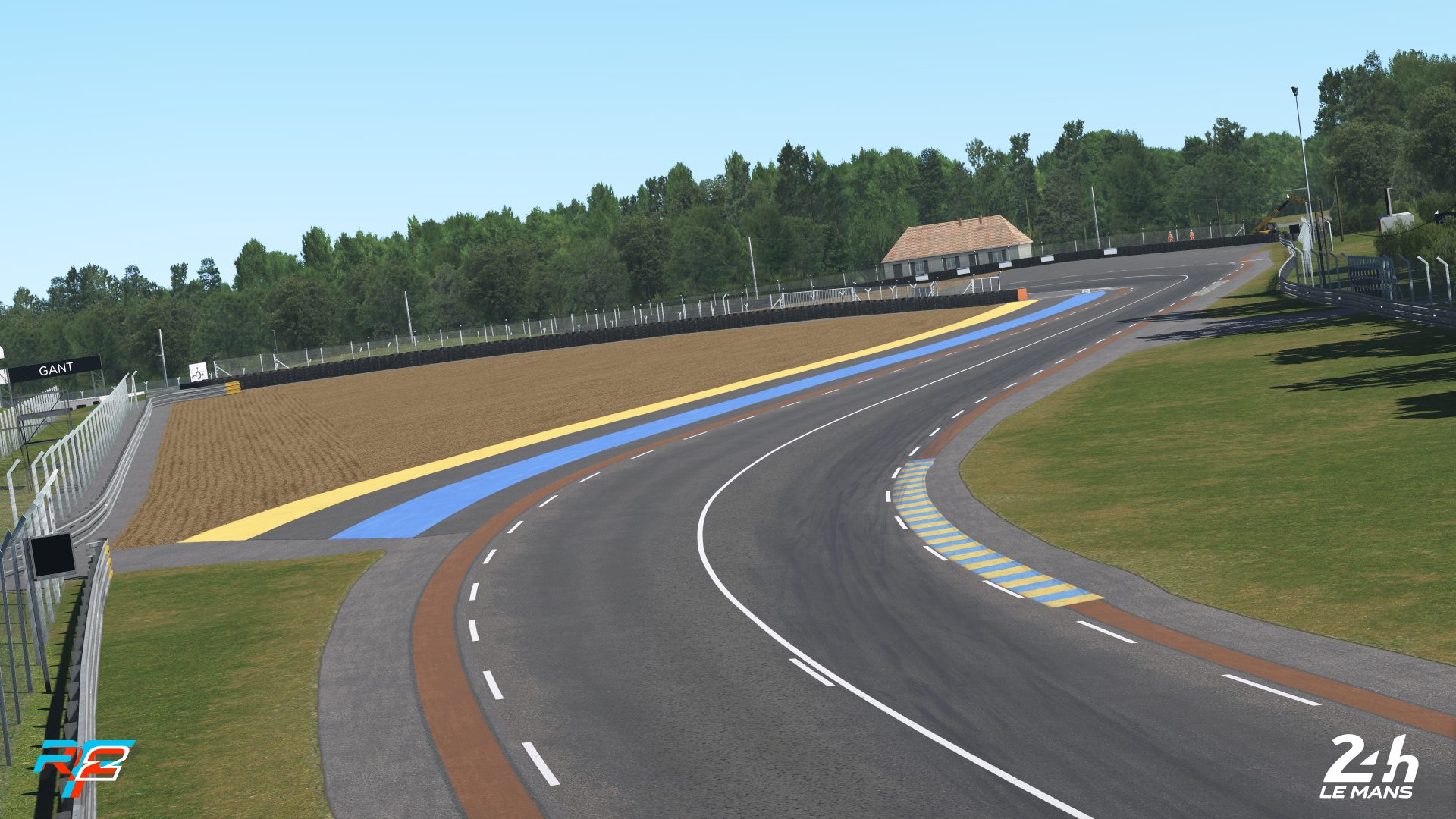 From Indianapolis it's only a short sprint towards Arnage, a slow right hander that is followed by a straight that leads us to one of the most exciting parts of the track, the Porsche Curves.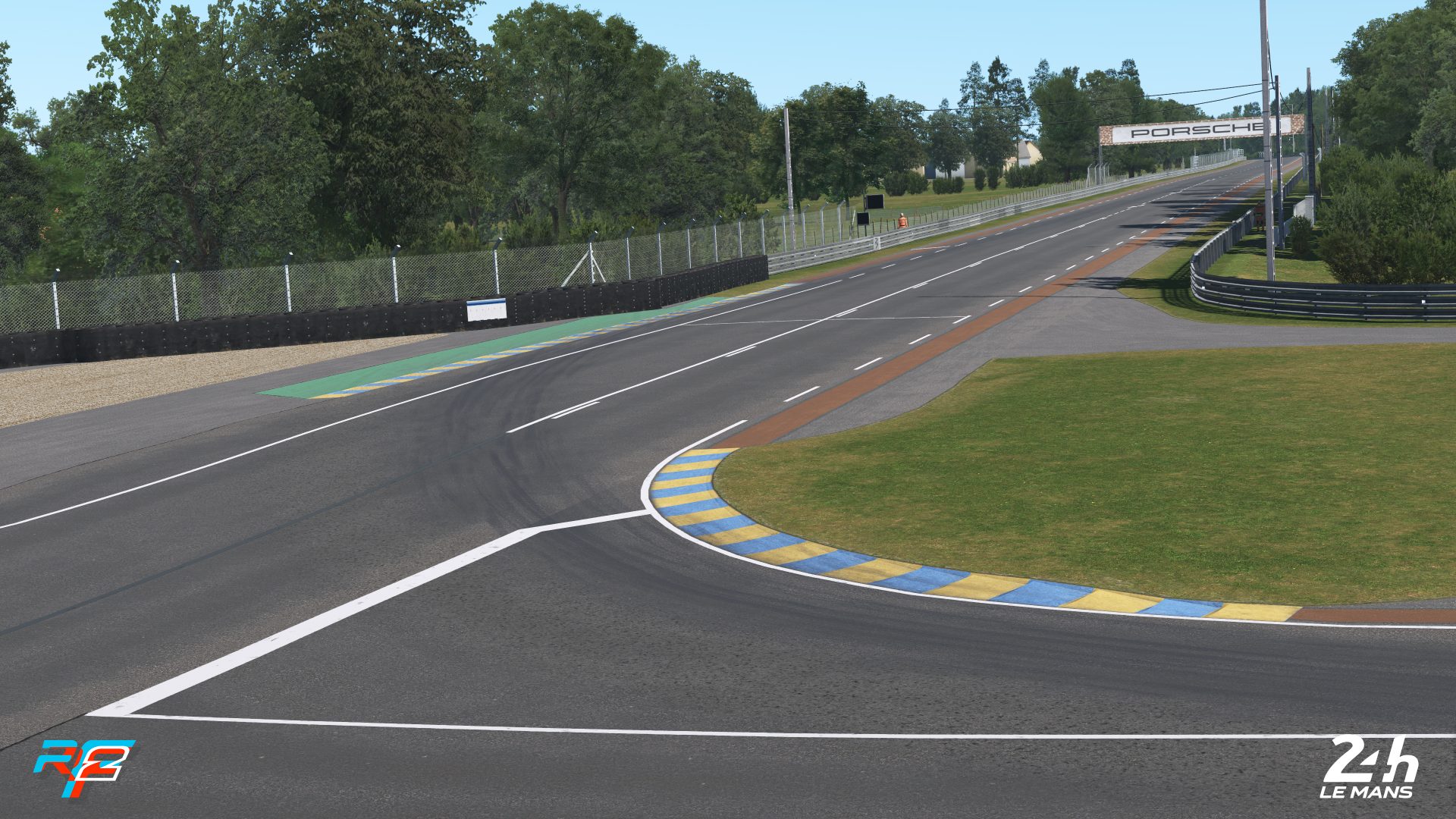 Here you have to be brave to keep your foot down, and even though recent changes have introduced larger run-off areas, the walls are still dangerously close so you most definitely don't want to get it wrong here.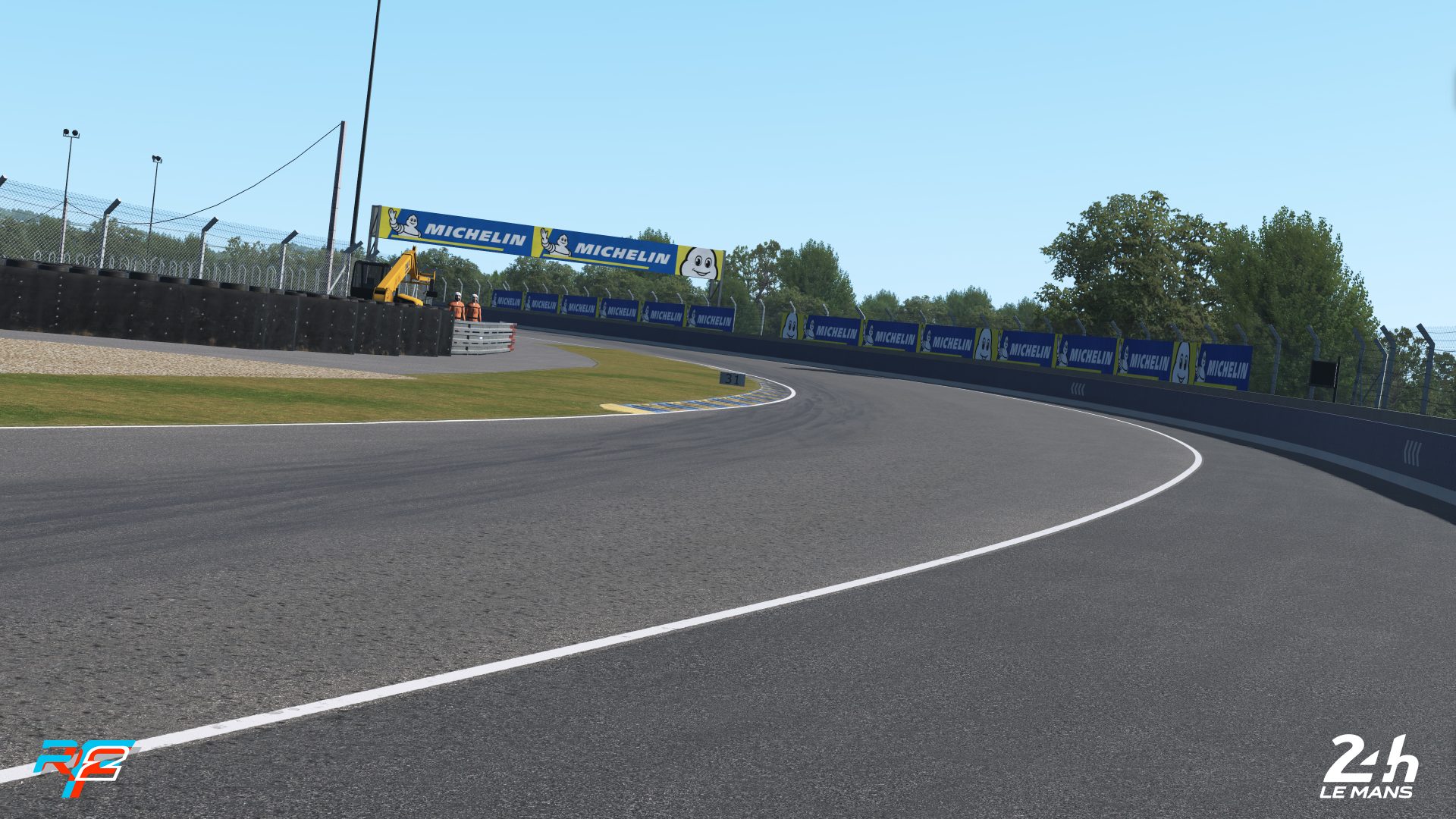 Next up, we have the Corvette Curves followed by the Ford Chicanes, a series of two chicanes that slow the cars right down. Alternatively, this is where you shoot straight ahead to dive into the pits.
Coming out of the chicanes, you end up back on the main straight to start another lap.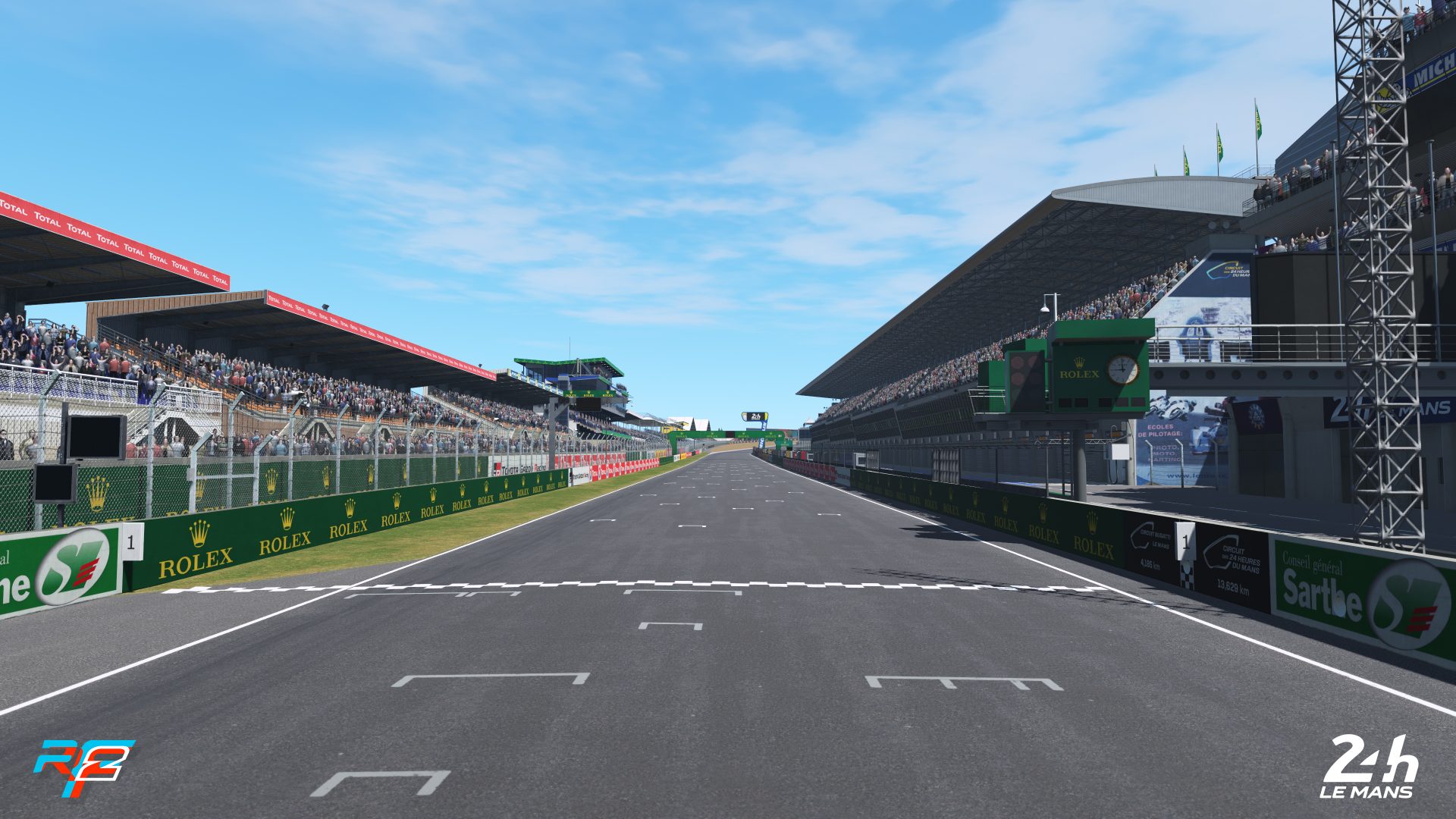 This ends our tour of the track.
Build changelog
With the track release comes a new build too. As always we advise people to update their dedicated servers and game clients. In fact, Le Mans requires this new build.
rFactor 2 version: 1.1112
Steam Build IDs: 3921932 (client), 3921933 (dedicated server)
Changes:
Improved performance logging to be faster and give more information.
Fixed skewed driver labels on triple screen multi-view (cockpit and track-side full-screen cams).
Removed aggressive threading as it's not that helpful.
Improved timing to help avoid stutters and real-time freezes.
Improvements on materials and lighting (see article above for full description).
Implemented all new 'digital flags' – for 'Circuit des 24 Heures du Mans'.
Summary
We wish you all a lot of fun racing this track in many different classes of cars. Keep practicing, and maybe one day we will all see you driving in the real event. In any case, enjoy your weekend. We'll be back with more news soon. We definitely have a few more surprises up our sleeves this year!