The first update of the new UI public beta is here! Although it's taken a bit longer than anticipated, we've addressed a lot of issues as you can see from the changelog below. We held off on this release for a bit longer than we anticipated, as we felt we had to get a number of problems fixed in this next update. Going forward we anticipate we can get roughly two updates per month done for the new UI, with smaller fixes and added features, and also addressing a few other issues in every new build. Below the changelog we've added some known issues and work in progress, This is not an exhaustive list but should cover what we're currently looking to release in the next updates or are working on for a later update. As always we would like to give a big thanks to you, the rFactor 2 community, for the detailed reports and feedback.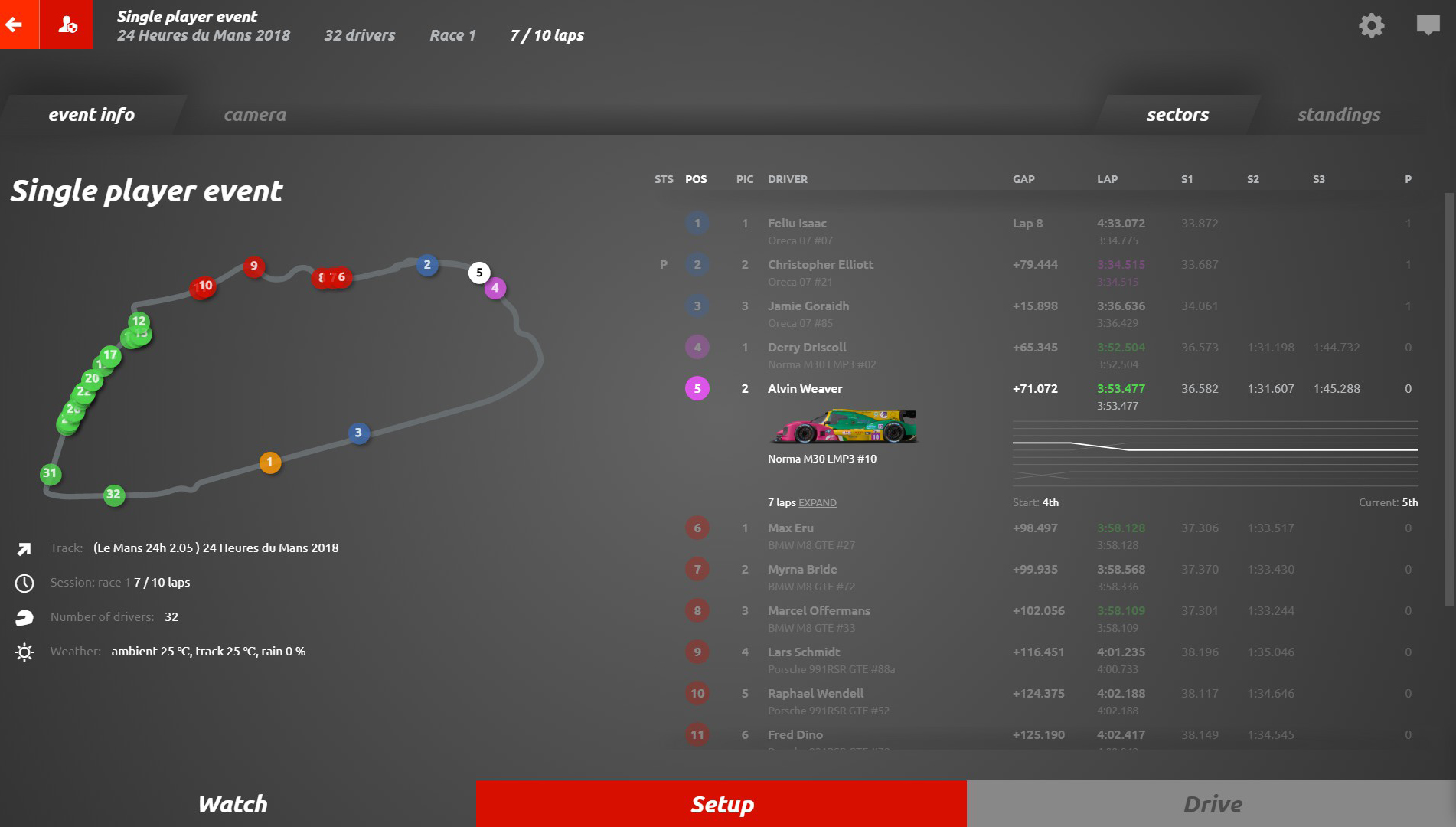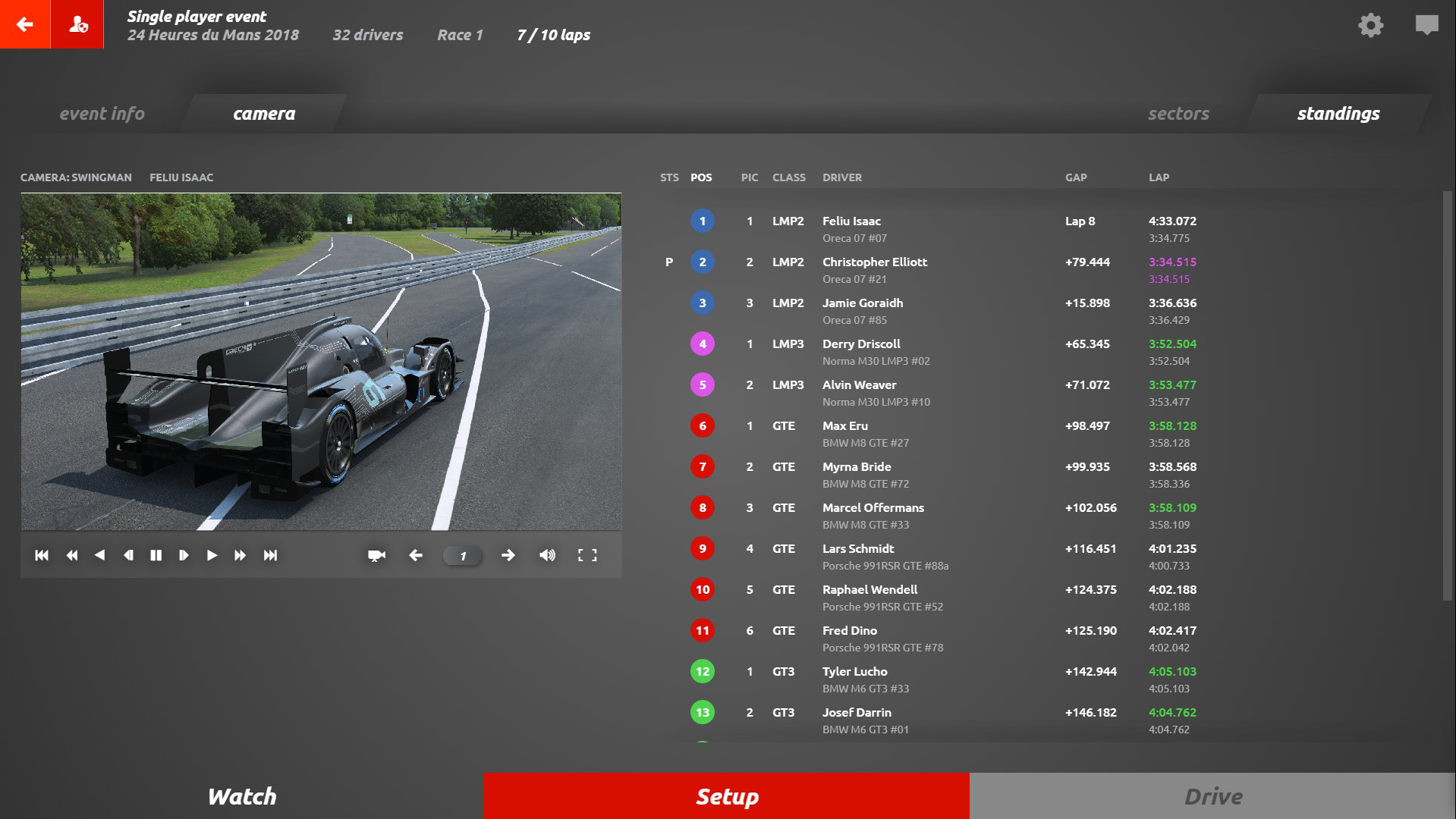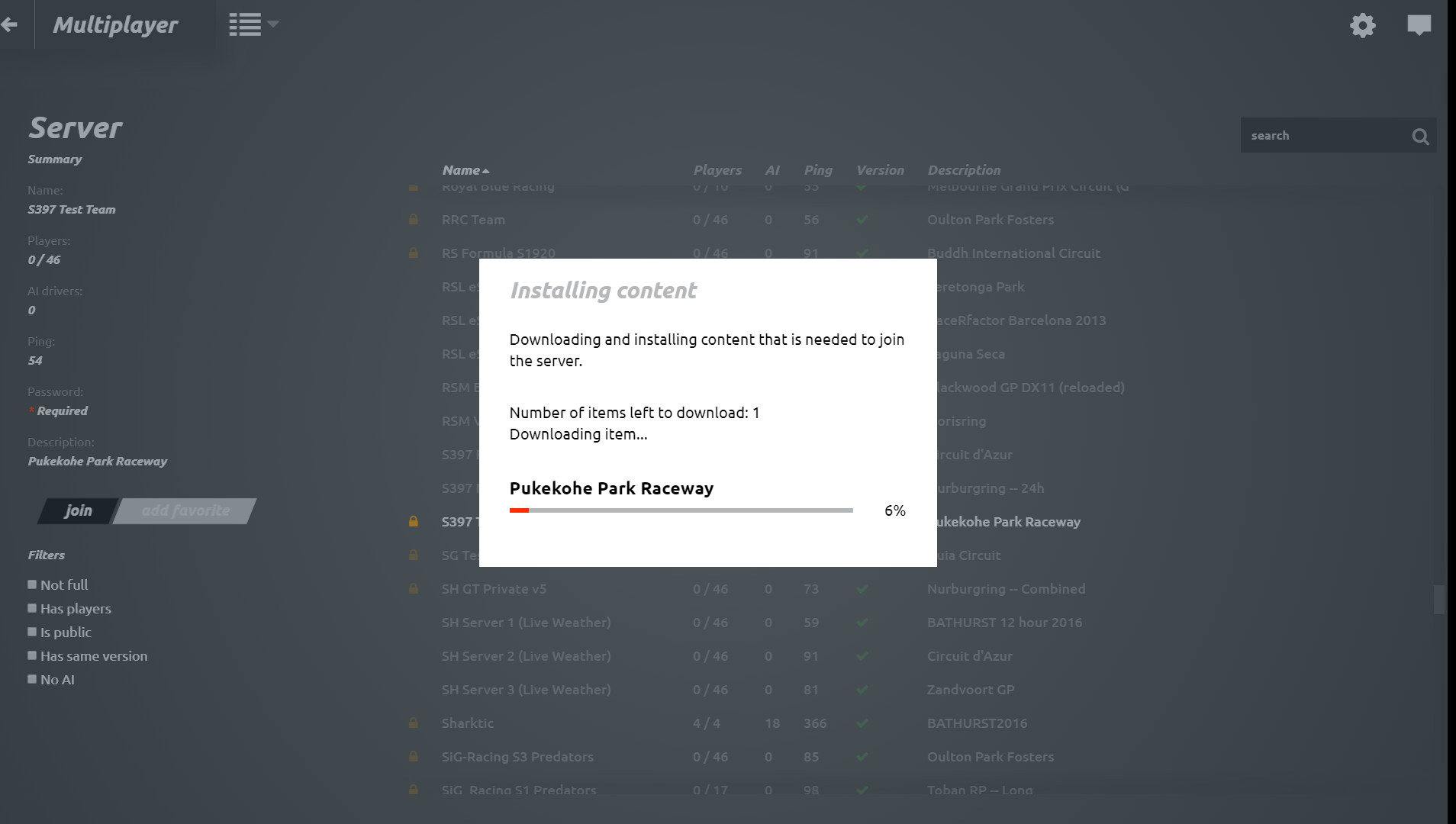 Changelog
New UI: public_beta: Steam Build ID 4648512
'Favorite servers' will only update when manually refreshed.
Added tyre wear, temperatures and hot pressures to the garage page, so you can see those after you get out of your car.
Added practice, qualification and race progress in the event screen.
Added brake wear to garage page, so after you get out of your car, you can see how much your brakes have worn.
Added plugin management tab to options, allowing you to enable and disable installed plugins. This still requires a restart after making changes.
Added class color coded icons and class names to event standings if such an event has more than a single class.
Added a replay 'seeker' that is now drag-able so you can immediately see where you are in the replay.
Added confirmation dialog when deleting a setup
When you select a car, track or series, you will now return to where you came from, instead of going back to start page or in some cases the race page.
Fixed the missing package download and install process when joining a server.
Fixed the missing blinking cursor in text fields.
Fixed that you could always start driving again in sessions, even after for example being classified as DNF in a race. Now correctly disables the button when needed.
Removed certain display settings that shouldn't be available when in a session.
Key assignments now show the key modifiers, such as ALT and CTRL.
When clicking a folder in save setup, the setup name is no longer lost and goes blank.
Server text commands do now work when pressing 'return'.
Fixed the intermittent pace car loading error on track load

Removed additional pace cars "Clio Cup" and "Pace Car With Lights" from base install.

In VR, fixed a glitchy loading screen in the headset in both the old and new UI.
In VR, fixed a flashing desktop mirror while track loads in both the old and new UI.
Updated openvr libraries.
Fixed the lag when other clients joined a server.
Fixed AI limit of 19 when adding them in single player using 'session controls'.
Removed old UI images that would appear sporadically.
Known Issues
Showroom does not go full screen when pressing 'return'.
After content install in VR rFactor 2 does not restart. A workaround for now is to restart manually.
There is still a black band on the bottom half of the track loading screen.
Some are seeing some micro stutters in the new UI, more prominent in VR, we are aware and working on a fix.
Unrelated to UI, but we are also aware of the erratic throttle behavior of the AI cars, and we are looking into that.
Work in Progress
Add skin download progress bar while on a server that allows custom skin transfers.
Config tool sporadically fails to launch up after clicking PLAY for setting graphics resolution, VR or post effect levels.
Team creation in the showroom is missing.
Material editing in the showroom is missing.
Forced setup and/or upgrades.
Car (re)selection when on a server.
Resume from replay.
Sporadic 'white screen' on server exit.
Steam Build ID information here:
https://forum.studio-397.com/index.php?threads/latest-build-update-rfactor-2-1-1117-now-available.64516/