Update time!
Virtual kart racing fans have many, many, many reasons to be cheerful today, thanks to a substantial new update release for the popular KartSim content within rFactor 2 – adding a full PBR refresh of the entire collection of karts and tracks, two brand-new vehicles and four new circuits – a whole host of great things to race and discover in the premium kart racing offering within rFactor 2.
As many hundreds of thousands of racing hopefuls can attest, karting is a fantastic way to get out onto the racetrack for a (relatively) modest amount of money. From drivers looking to take their first tentative steps into professional motorsport, to hobbyists and career karters that just love the unfiltered fun that is so unique to the sport, kart racing is without doubt one of the most direct, intense and purest forms of racing anywhere in the world.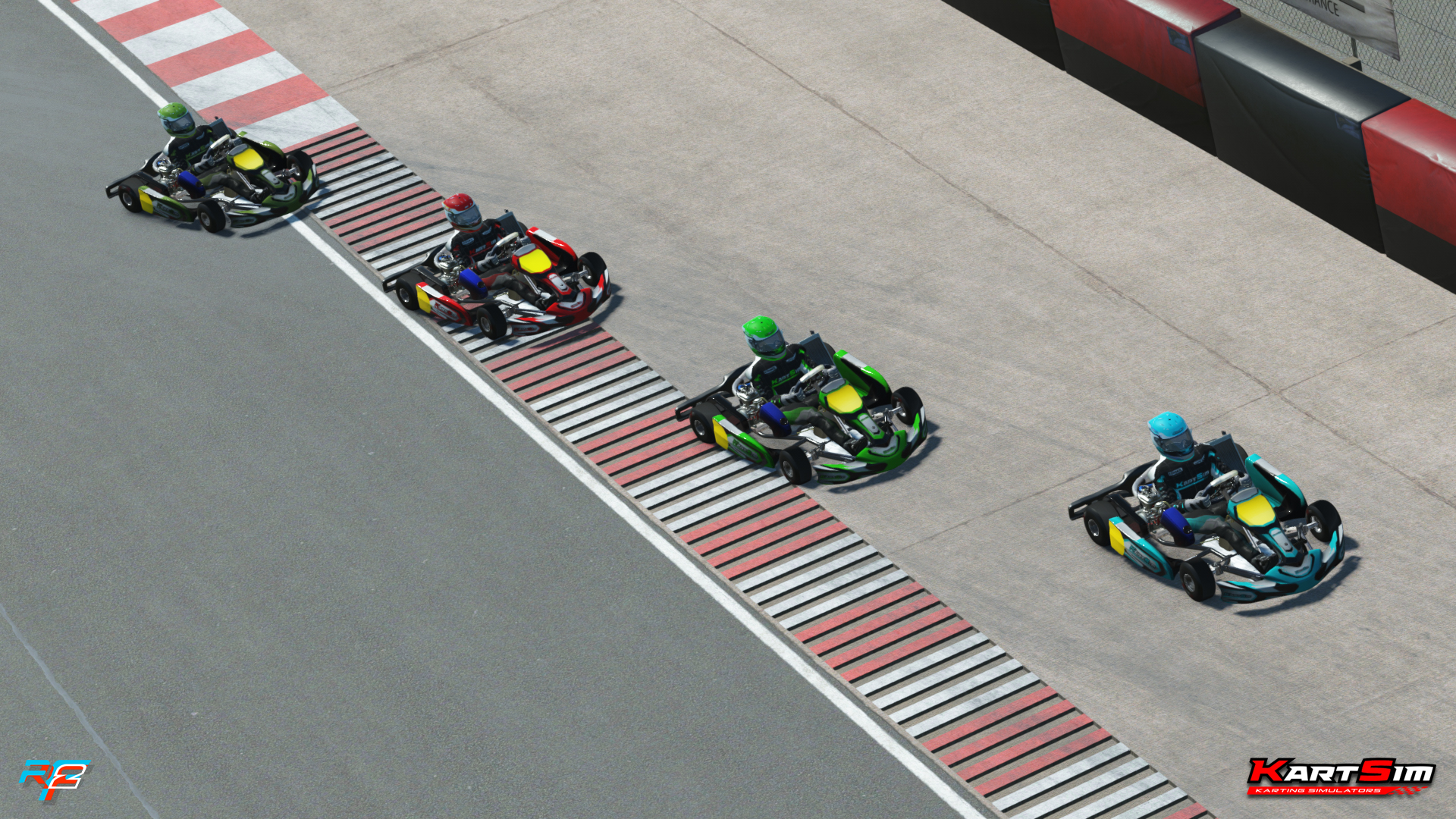 KartSim Esports Pack | Steam Store: CLICK HERE
Despite having a wide global appeal, like all motorsport, karting still requires serious money to compete at the sharp end of most championships – often pushing the sport out of the reach for all but a fortunate few. Thankfully, just like when we sim racers look to replicate other forms of racing on our PC's, the virtual world can be our place to share in those very same thrills and spills of competitive action – and in our KartSim pack, the experience behind the wheel offers a great insight into how these powerful yet light machines can be wrestled around a wide variety of faithfully recreated venues available within the software.
Developed with a precise attention to detail in a bid to produce the most authentic kart racing experience possible, KartSim has already set the bar exceptionally high with their current content range, and now we have the pleasure of a major new build update – adding a full PBR refresh of all the content currently available, plus the added bonus of two new karts and four new circuits on which to go racing – good times roll on!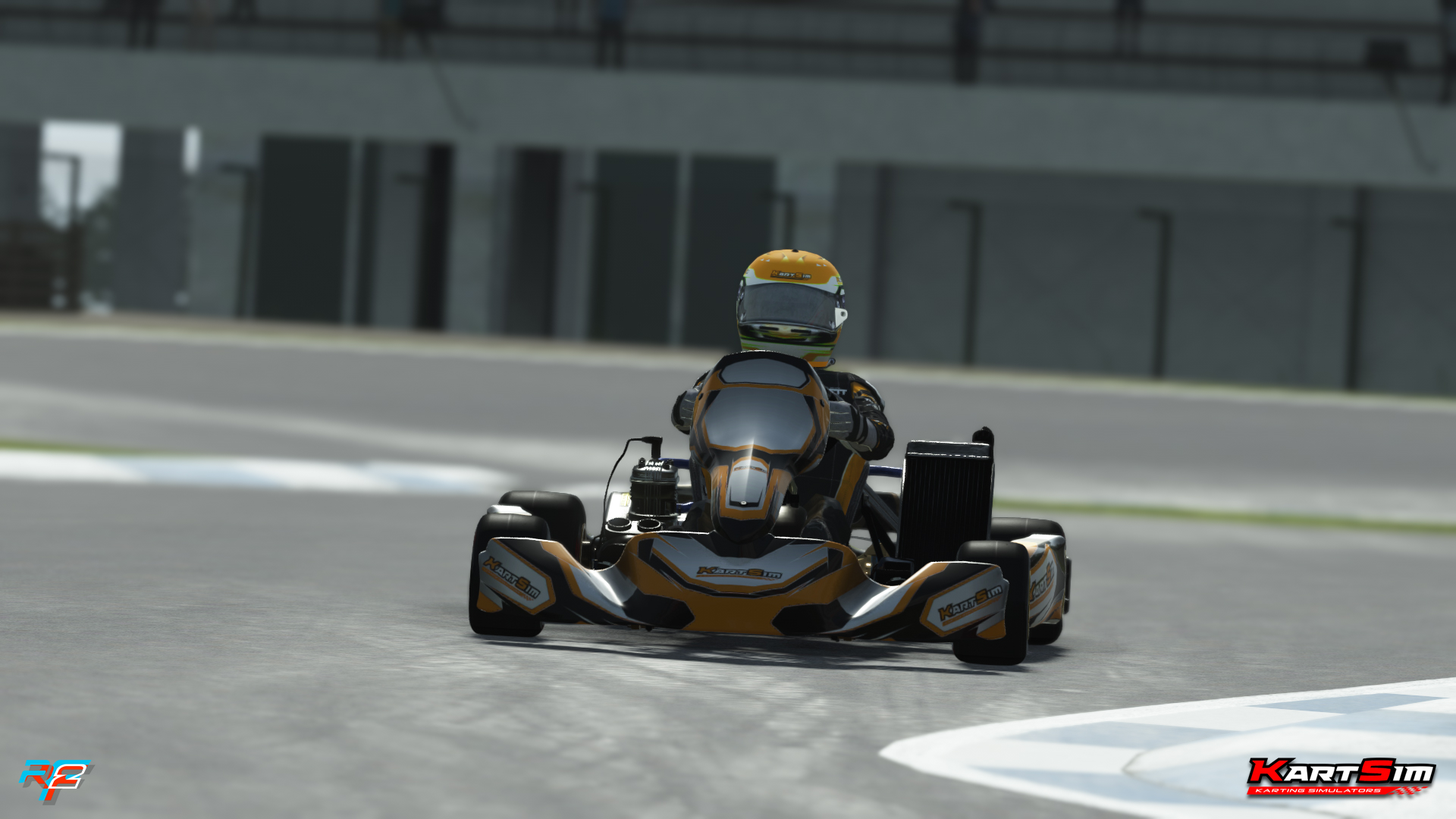 KartSim European Track Pack | Steam Store: CLICK HERE
KartSim Change Log
X30EU MINI CADET 2021 v1.72 – New Model aimed for young sim racers 8-13 years old
X30 2021 v1.67 – New PBR shaders, Scaled helmet and updated driver model, New Tyre 2d Art, New icons for recently released Rf2 UI
RENTAL 2021 v1.67 – New PBR shaders, Scaled helmet and updated driver model, New Tyre 2d Art, New icons for recently released Rf2 UI, New Sounds
KZ EU 2021 v1.71 – New shifter kart model!
Whilton Mill 2021 v118 – New Consumer track
Larkhall WSKC 2021 v116 – New Consumer track
PFI 2021 v126 – New PBR Shaders, New AI, Update to tracks
Buckmore 2021 v122 – New PBR Shaders, New AI, Update to tracks
Glan Y Gors 2021 v128 – New PBR Shaders, New AI, Update to tracks
Zuera 2021 v110 -New Consumer track
Wackersdorf 2021 v110 -New Consumer track
Kristianstad 2021 v112 – New PBR Shaders, New AI, Update to tracks
Alaharma 2021 v114 – New PBR Shaders, New AI, Update to tracks
Adria 2021 v118 – New PBR Shaders, New AI, Update to tracks
Joining the already impressive collection of highly detailed circuits and vehicles within the KartSim offering, today the new PBR update also brings with it two exciting new karts for our drivers to enjoy, with the introduction of the IAME Senior X30 and the new Shifter Kart, the IAME KZ! Before we move on, let's take a closer look at these new machines:
New Karts
KartSim Upgrade Pack | Steam Store: CLICK HERE
A racing kart is a racing kart, four wheels, a seat, engine, chassis and steering wheel right? Wrong! Despite the premise of karts being a very simple one, the various different types of machinery that exist within the sport mean that drivers can have a wildly different experience behind the wheel dependent on which type of vehicle they so choose. From basic, low speed rental machines with safety bumpers, brake lights and a relatively simple steering action, to fantastically fast karts that have obscene amounts of power for their weight, gears and a direct steering input that requires use of brakes and throttle just as much as the wheel to get round corners – variety is very much the spice of life, and things just got a whole lot more spicy with the introduction of not one, but two very different new machines to the KartSim world…
IAME Mini Cadet X30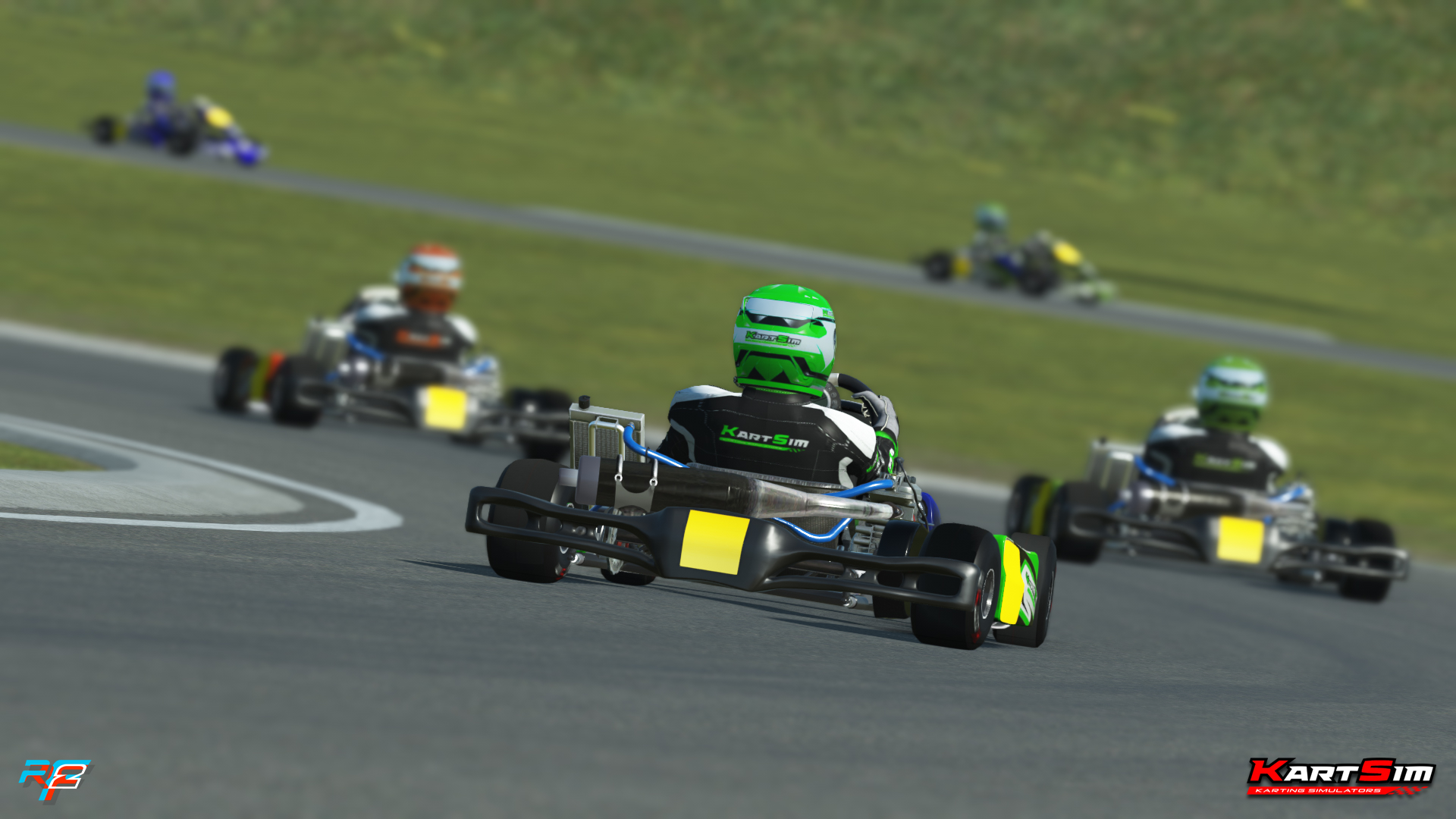 In the real world, the IAME Mini Cadet X30 is aimed at younger drivers around the 8 – 13-year-old range, however that doesn't mean this new model is anything short of exciting to drive, far from it. Featuring a water cooled 60 cc engine, perhaps this kart is a more settled vehicle that some of its bigger brothers, but the X30 still requires drivers to master karting techniques like brake and throttle steer, and it can certainly punish anyone who doesn't obey to the rules of carrying the maximum amount of momentum around the circuit at any given time. Thanks to the lower overall horsepower of the Cadet X30, keeping up that minimum speed is more important than ever, and should you find yourself getting too crossed up mid-corner, you will find it very difficult to recover that time loss as your rivals swarm past in a pack so closely matched they almost appear to be running together as one! Primarily used in the IAME Euro Series and local National championships, the Mini Cadet X30 isn't the fastest machine in the collection, but it's one that certainly encourages great, close racing action.
IAME KZ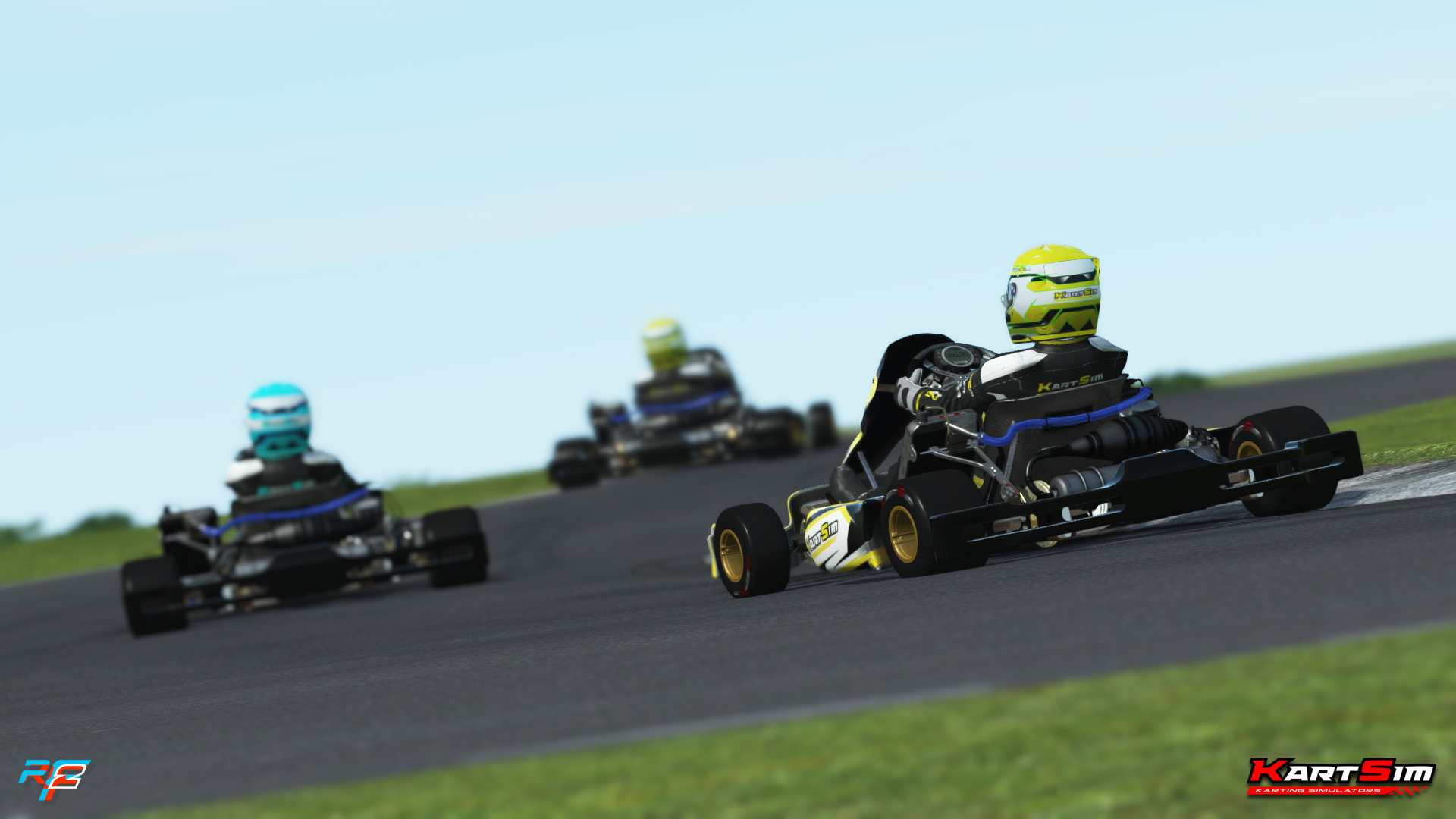 The biggest, fastest, craziest and most powerful kart within KartSim; the new IAME KZ is the very first 'shifter' kart to be introduced into the KartSim world – and it's a crazy ride!
Almost too powerful for a traditional kart track, the IAME KZ comes complete with a 6 speed manual gearbox and 125 cc racing engine – bolted to a chassis that weights barely more than an adult person. Needless to say, the way the IAME KZ is driven is wildly different to any other type of kart within the simulation, with outlandish speeds possible to achieve and fantastically short braking distances, this kart will keep drivers firmly on their toes regardless of the type of circuit in use. Very firmly a kart used by seasoned, senior drivers, the IAME KZ is the chassis of choice for the official European and World Championships in kart racing, offering KartSim players the chance to experience the absolute pinnacle of real world kart racing from the comfort of their own home. As an added bonus, as these karts are so incredibly quick, taking to a full size racetrack is also very possible, opening up some incredible combination opportunities to really experience just how quickly these machines can travel.
New Tracks
Thanks to the seemingly endless enthusiasm for kart racing on both an amateur and professional level, and the inevitable additional conveniences that come with requiring considerably less land space to build a track than one would need for a full size circuit, kart tracks are plentiful in their number around the world – from high level professional grade facilities that would put most national racetracks to shame, to the more sedate and simple constructions often found at your local venue hosting arrive and drive activities.
With this fantastic diversity of venues to tap into within the world of KartSim, this new release brings with it not one, but four new circuits on which to try out the varied machinery found within the pack. With two circuits based in the United Kingdom, and two new venues from Europe, the update today brings the total collection of racing venues to 10 – all in full PBR graphical glory!
Whilton Mill 2021

The first of the new pair of UK tracks to come to KartSim, Whilton Mill has been a popular venue for karters since first opening its doors to the racing public, offering a fine driving experience across the 1200 m circuit length. Based in Daventry in Northamptonshire, Wilton Mill is often considered an ideal candidate for the many test days undertaken by drivers, and the circuit remains a mainstay on many national competition calendars throughout the racing year. Popular with 'arrive and drive' guests as well as hosting high level professional championship races, Whilton Mill is fast, flowing and an exciting layout that produces great racing action.
Larkhall WSKC 2021

Larkhall is one of the premium kart racing circuits in Scotland. Having recently undergone a major refurbishment programme to increase the circuit length to 1140 m, the new Larkhall venue is very much at the forefront of modern standards in terms of both facilities and safety. Now holding the honour of the longest kart racing lap in Scotland, Larkhall plays host to regular 'arrive and drive' public events, as well as professional meetings for both the British Championship and West of Scotland Kart Club events, who are based at the Merryton Road venue.
Zuera International Circuit 2021

The first of our European pack new creations, the Zuera International Circuit is a high profile professional racing venue based in the Zaragoza region of Spain. Running to a total lap length of 1700 m, The facilities and circuit at Zuera are of the highest standard in Spanish kart racing, and the venue remains a regular on the FIA European Kart Championship calendar, having been raced on by a vast number of current Formula One drivers, including the likes of Max Verstappen and Lando Norris during their junior careers. From a driving perspective, the track is fast, open and quite bumpy, which should lead to plenty of drama and opportunities to overtake during the course of a race.
Wackersdorf 2021

Another regular of the FIA European Championship calendar, Wackersdorf is a fine example of some of the best kart racing tarmac in Germany. Based in Wackersdorf, Allemagne, the track comes in a just over 1220 m in length, featuring a fearsomely fast final sector closing off what is a generally a very technical and entertaining overall layout. Recognized as one of the premier outdoor karting facilities in Germany, Wackersdorf recently benefited from a full circuit resurfacing in 2018, and with the track coming in at between 9 and 12 meters in width, this is another layout where kart racers enjoy multiple opportunities to race with and alongside their opponents.
Updated Tracks
As well as the new additons to KartSim, existing circuits have also undergone a pleasing transformation with the introduction of full PBR shader technology, substantially uplifting the visual aspect of the tracks and introducing a collection of smaller fixes and improvements.
Adria

Alaharma

Buckmore Park

Glan Y Gors

Kristianstad

Paul Fletcher International

Competition System Races
Aligning with this new release, we are also very pleased to confirm the KartSim content will be coming to our rFactor 2 Competition System! Set to go live from today (Saturday 10th July), Competition System drivers will have the opportunity to take part in regular short races within the system, with different tracks rotating throughout the day as we offer up sharp, short and exciting racing across the full spectrum of content within the pack!
The Competiton System will host 15 races per day from Saturday to Thursday (except Wednesday for maintaince day) using the UK track pack, with Friday to Tuesday set to feature the circuits that form the European Track Pack.
These events should produce a very different online racing experience for our drivers, one that we really hope will be embraced by the community and lead to some thoroughly enjoyable and entertaining side by side action.
In order to access the races, load up your rFactor 2 install, navigate to the Competition tab within the UI, locate the KartSim events and sign up for the races you fancy – simple, and fun!
Buying Options – Packs, Items and Deals
As the substantial amount of content that makes up the KartSim offering within rFactor 2 continues to grow, we have introduced some new Steam Store pack options to offer up the best collection of deals for our sim racing community. Ideal for those just getting started in the world of virtual karting, or a great option to add the latest content to your existing collection, below you can find the different packs on offer within the rFactor 2 Steam Store, and the contents they contain:
A great discounted package featuring all 10 of our consumer UK and European Kart Tracks and all of our 4 consumer kart models. Ideal for Esports competitions
Steam Store: CLICK HERE
Already own everything, but want to add the four new tracks and two new karts released today? Grab the KartSim Upgrade Pack – a specially designed collection aimed to offer the cheapest and easiest way to add the new content to your growing collection!
Steam Store: CLICK HERE
This pack adds the IAME X30 EU Mini Cadet 2021, the X30 Senior 2021, the Rental and the new IAME KZ shifter kart to your rFactor 2 instal.
Steam Store: CLICK HERE
A great discounted package featuring all 5 of our consumer UK Kart Tracks and all 4 of our consumer kart models. Ideal for Esports competitions. Pack includes Whilton Mill 2021, Larkhall WSKC 2021, Paul Fletcher International 2021, Buckmore Park 2021 and the Glan Y Gors venue, plus the IAME X30 EU Mini Cadet 2021, the X30 Senior 2021, the KZ Shifter and Rental karts.
Steam Store: CLICK HERE
A great discounted package featuring all 5 of our consumer European Kart Tracks and all of our 4 consumer kart models. Ideal for Esports competitions. Pack includes Zuera 2021, Wackersdorf 2021, Kristianstad 2021, Alaharma 2021 and Adria 2021, plus the IAME X30 EU Mini Cadet 2021, the X30 Senior 2021, the KZ Shifter and Rental karts.
Steam Store: CLICK HERE
Some great content that should lead to exceptional racing. The KartSim team have done a fantastic job of bringing the full PBR treatment to these karts and tracks, and we hope our community enjoy hitting the virtual tarmac and sampling how pure racing is felt within rFactor 2. If you like going fast, sideways, side-by-side and 2 inches from the ground, all at the same time, you are going to love these karts!
KartSim is available now in the rFactor 2 Steam Store